Stunning Beach Hotels Design Lovers Should Visit
A vacation isn't something we do regularly. It requires a lot of planning and can be very expensive. So when you do, you should be staying in a hotel that is not just comfortable and relaxing but also pretty to look at. Beach holidays are perfect in July, right in the prime of summer where you can really enjoy the hot weather. Many holidaymakers all over the world consider the luxury and aesthetical beauty of hotels and their rooms an important part of their trip. This is why design hotels rely almost entirely on aesthetics, they are notable for their unique, elaborate, and luxurious design. Here is a rundown of the top five stunning beach hotels that will inspire your next five-star vacation.
Iniala Beach House, Thailand
Iniala Beach House is the ultimate beach retreat and a beautiful showcase of the work of ten international designers including Irishman Joseph Walsh, Eggarat Wongcharist, the Brazilian Campana brothers, and Mark Brazier Jones, who also designed sets for the Fifty Shades of Grey movie. It harbors each of its own unique characters, and these extraordinary designers use a modern take on traditional Thai craftsmen's techniques to achieve this artistic design.
The luxury beach villa experience is taken to artistic heights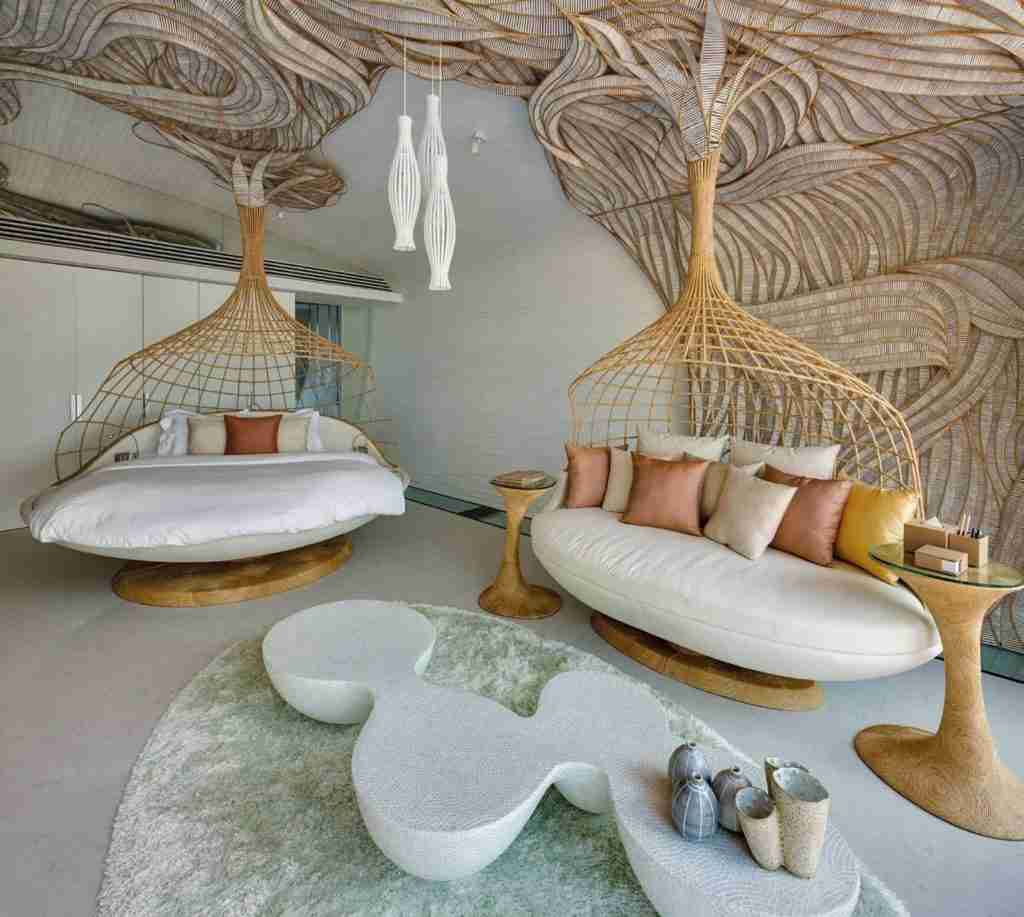 Nestled between palm trees and just a few steps away from the stunning idyllic Natia Beach in Thailand's Phuket Island, this beach house a masterpiece of design that fuses traditional Thai architecture with organic contemporary forms amid a world of sublime luxury, art, and seclusion. In 2018, Iniala Beach House was awarded by Conde Nast Traveler's Readers' Choice Award, as one of the best resorts in the world.
The Oberoi Beach Resort, United Arab Emirate
Amidst the unique Al Zorah nature reserve and set on the quiet stretch of beach in Ajman, 56 miles from Dubai airport, the Obeiro's first ultra-modern beach resort features Scandi-style interiors, glass-fronted villas, and an 85-meter pool. The lobby mixes Scandinavian furniture with a woolen rug in earthy tones and walls adorned with antique Carved doors from Oman. A sophisticated design, a natural palette, and chic modern artworks made for a distinctly Oberoi experience. The rooms are very spacious and well-thought.
This super-sleek hideaway resort brings authentic luxury to Ajman
This luxury beach hotel has a sophisticated contemporary architecture that was designed by Italian architect Piero Lissoni, who has opted for minimalism over the usual UAE maximalism. From the white stucco, geometric wood and parting glass, Italian-made furnishing, and textiles, you can sense his design flair in every detail.
Sani Club Hotel, Greece
Nestled in ancient olive groves and the surrounding hills and situated in a green bay in Kassandra, Sani Club is an intimate collection of low-rise bungalows with magnificent views over Mount Olympus and the Aegean. The charming and luxurious bungalows combine contemporary design with soothing blue and white hues -each one with its own lush garden or private pool. The blue and white décor reflects on the traditional Greek colors and a relaxing atmosphere.
This stylish hotel impresses with its sophisticated open-plan interiors
Sani club hotel is one of the best hotels for families in Greece. If you like being close to nature, action, contemporary interior, and lots of space, this hotel might just be perfect for you- think airy and bright rooms, lush fabrics, elegant furniture, and lots of glass.
Chena Huts By Uga Escapes, Sri Lanka
Nestled amongst the golden dunes and the lush greenery at the ocean's edge in Yala, Chena Huts by Uga Escapes blends Sri Lanka's most celebrated features – its exotic wildlife and its tropical beaches. Although far from the city, this five-star resort is not without modern comforts. The 14 distinctive safari-themed cabins are spacious and complete with modern amenities. The huts are the epitome of comfort and style, with a shaded deck that houses a plunge pool, and eco-friendly properties.
A stunning villa that gives a luxurious and natural feel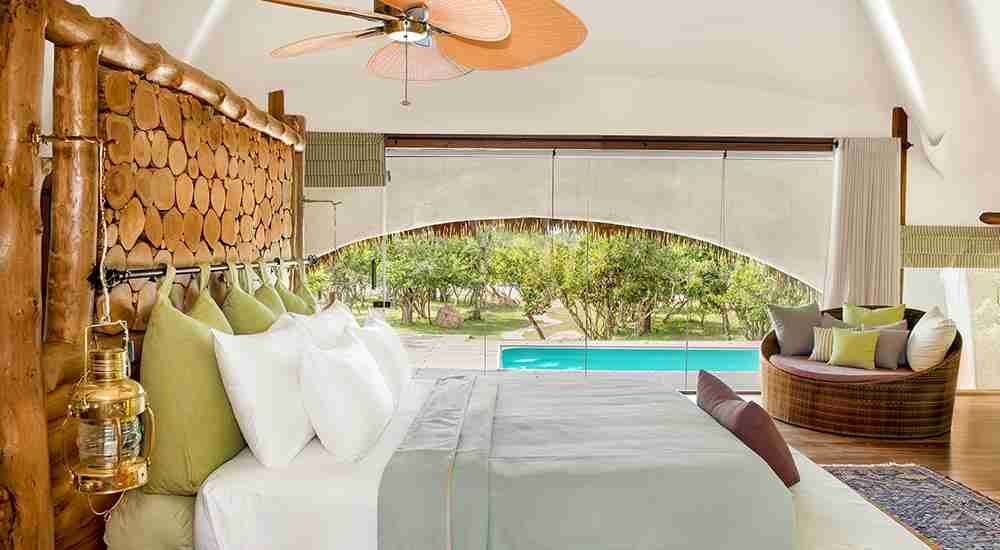 The luxurious bathrooms feature twin vanity consoles and free-standing bathtubs. The cabins are designed to blend in with their natural surroundings. The interiors gently emphasize the 'safari' theme, with wooden décor, log furniture, and rustic motifs that belie the ultra-modern comfort and convenience within.