13 DIY Ideas to Repurpose Things You Would Usually Throw Away
"One man's trash is another man's treasure." We all know what that means, and we all have things that have outlived their usefulness around the home.
However, you can solve this issue if you're creative enough to think outside the box. For those who want to do their part for the environment, save some money, and improve the aesthetics of their homes, we've compiled a list of 13 creative ideas to repurpose common home items.
So, before tossing anything into your garage, polluting the environment, or necessarily calling waste management services, consider some of these innovative solutions first:
1. Turn Your Vintage Suitcase Into Furniture
A DIY suitcase chair is an excellent option for anybody wishing to bring a little retro style into their house. Consider repurposing old baggage into a stylish sitting set instead of tossing it.
Imaginative homeowners can easily turn their old suitcases into new sitting arrangements. All you need is an old suitcase (obviously), 4 wooden legs, cushions, acrylic paint, drills, diamond grinding wheels, and a saw to make yourself a retro-inspired chair. It might sound complicated, but we guarantee you, it's worth the effort!
2. Need a New Bookshelf? Use a Ladder!
What if you don't have enough bookshelves but have a lot of ladders and are trying to save money? DIY projects like this one may awaken your creative side and help you save the environment!
You can use the framework of a ladder in many ways by transforming it into a plethora of intriguing objects: towel racks, kids' clothing racks, and even shoe racks (just attach wood sections to the original framework).  All you need to carry out these ideas is a little bit of imagination (well, and a few nails and a hammer).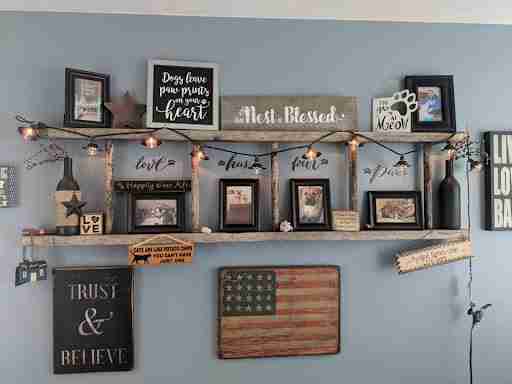 3. Turn a Classic Bowler Hat into a Lamp
Do you know how much a classic bowler hat lamp costs at various internet retailers, such as Amazon? It may cost as much as 100$. Isn't it crazy?
You may manufacture one for free if you have an old bowler hat that you no longer need! If you're looking for something contemporary, classical, and attractive to increase your home's aesthetic value, this is it!
4. Don't Throw Away Old Tennis Rackets – Turn Them into Mirrors!
Mirrors are the most effective technique to create a spectacular and stylish impact on your decor. They don't only visually enhance a space but also bring light and depth to the interior, much as windows do. Large or small, a mirror can do wonders for the aesthetics of a room by serving as its focal point.
DIY tennis mirrors are a great way to incorporate used rackets into your home decor while also providing an opportunity to recycle these unneeded parts.
5. Turn an Old Piano into a Funky Desk
You could even turn an old piano into a workstation for your home office by repurposing it! The makeover may be as complicated or simple as you like. You can make it funky and creative by adding drawers or shelves for storage.
Simpler still, this method essentially turns the piano into an irregular-shaped table. The keys can be removed or left on display. Aside from that, the piano would be just like any other table.
6. Even a Bathtub Can Become a Furniture
Let's face it. It's so much better to build your own clawfoot bathtub sofa if you're enamored with the idea and the look but can't afford a thousand-dollar one from a retailer!
There isn't much instruction on how to cut cast iron or refinish a bathtub on your own, so the procedure might be a bit experimental and based mostly on trial and error. However, with determination, a little work, and assistance from a friend or a professional, your bathtub sofa will transform your living room into an aesthetic paradise in less than a week!
And the most significant part is that you will do something wonderful for the environment!
7. Make Your Own Hanging Wardrobe
Most people would be surprised at how simple this DIY project is. Instead of tossing out old chairs you no longer seem to need, do some repurposing by hanging them on the wall! All you need is a rope, nails, and a hammer, and you're all set to hang up your favorite shirts and dresses!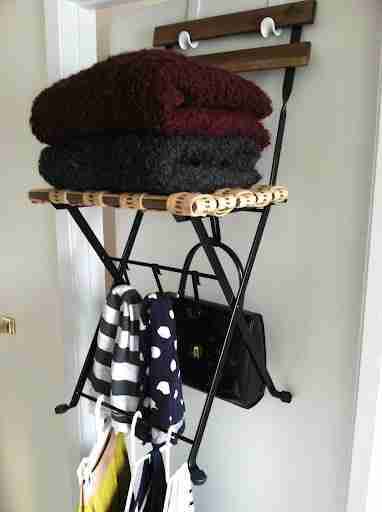 8. Create Your Own Aquarium by Upcycling an Old TV
You have a dinosaur-era television in your attic? You know, the ones with the odd buttons that you have to flip to the side? However, if you can think outside the box, you can save it from the scrap heap. Yes, you can't compare it to today's flat-panel televisions, but you sure can transform it into a one-of-a-kind fish aquarium!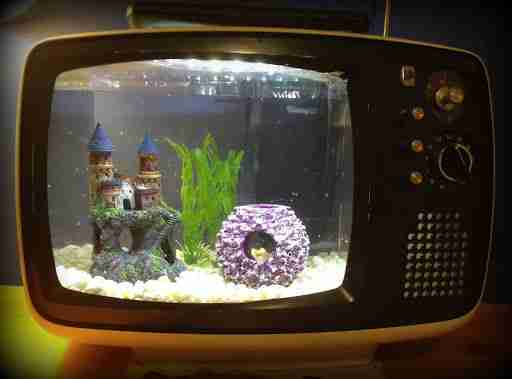 9. Get Yourself a New Sink with an Old Bicycle
Yes, it looks like something you can buy from IKEA! But why not create one yourself instead of paying hundreds of dollars on a ready-made one?
You may freshen things up a little by painting the bicycle your favorite color, adding a flower basket to the handlebar, and perhaps even a new toothbrush holder to match the antique aesthetic of your bathroom!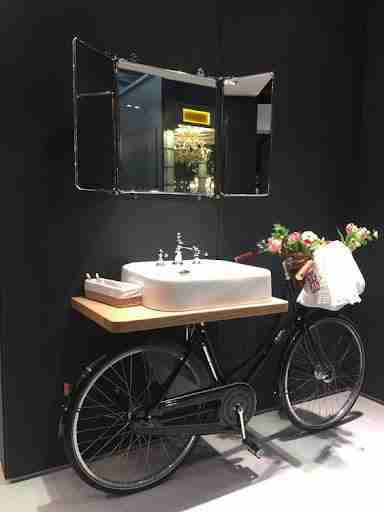 10. Old Bicycle Wheel – New Living Room Clock
On Amazon, you can buy a similar accessory for around $130. There is, however, a way to obtain one for free. Rather than tossing out your old bicycle's wheel, use it to build a unique living room watch!
We have to admit, constructing your own bike wheel wall clock is a terrific way to personalize the look of your home and, particularly – your wall!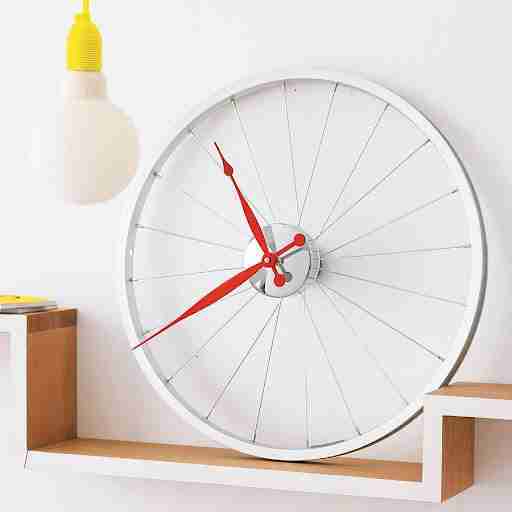 11. Don't Go Buying New Wall Hooks If You Have Old Wrenches
Isn't it gorgeous and vintage-looking? If you're into DIY design projects, this is a great one for you.
Yes, it's absolutely possible to create stylish and long-lasting clothing or key hangers out of a real wrench. If you want to brighten up your home while ensuring that you never lose your keys, this is the perfect creative and practical design solution.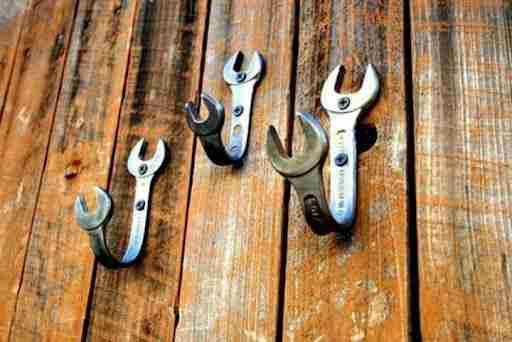 12. Have a Cup of Morning Coffee on a Skateboard Table
Adding a skateboard coffee table is an easy way to add color, creativity and functionality to any space. This DIY project's multicolored wood decks might easily become the star attraction. With the addition of a steel frame to the bottom of an old skateboard, you can add extra safety and successfully transform your house into a creative haven of your own!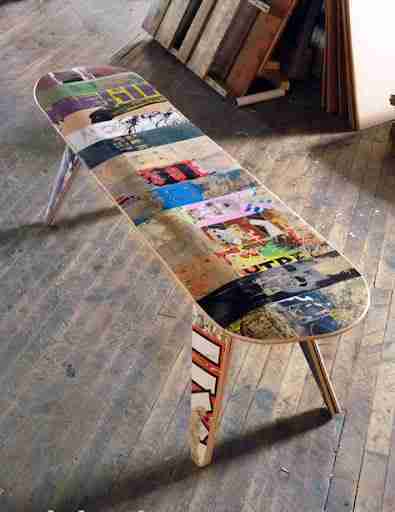 13. Be Creative With The Lighting
Who says lighting can be boring? Last, but not least on our list of creative ideas is this pendant lamp decoration.
Yes, it is possible to turn any wine bottle into a piece of home décor. And you can never go wrong with bringing a little fall into your house as the weather gets a bit colder. Plus, you may use hanging lights like these in every home area to create a beautiful cozy atmosphere.
We promise this wine bottle DIY will appeal to anybody who enjoys reusing glass bottles (and who needs an excuse to drink wine).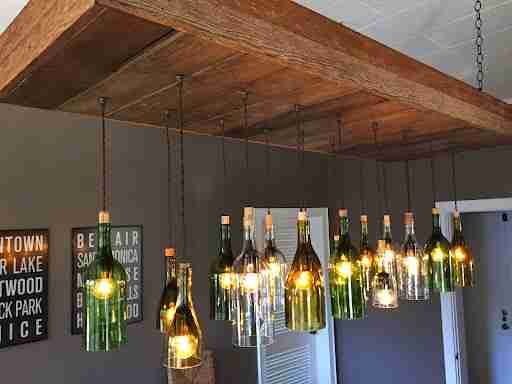 Are You Ready To Give Your Home a One-of-a-Kind Look?
Rather than tossing old furniture, refinish or restore it. A little creativity and imagination can help you save money, reduce your environmental footprint, and reuse your garbage! So, can you think of more creative ways to reuse and repurpose your old household items?