4 Steps to Upgrade Your Home with Knotty Alder Cabinets
Knotty alder cabinets may look imperfect, but this imperfection is what makes them different from other types of wooden cabinets. Knotty alder cabinets, as their name suggests, are made of alder wood, which is cut in a way that forms knots, wormholes, pecks, and minerals. These features are pretty visible.
Many homeowners install knotty alder cabinets to create a rustic design in their kitchens and bathrooms. Although some can find knotty alder cabinets outdated, many others think they are attractive and fashionable.
Knotty alder is easy to find on the market at an affordable price, which makes it ideal for homeowners on a tight budget. Knotty alder cabinets offer a natural beauty that resembles that of country homes.
However, it is still possible to get alder cabinets without knots and those characteristic imperfections. Carpenters work on the wood to eliminate the blemishes and knots from the alder's surface. In this way, you can either have knotty alder cabinets or knot-free cabinets.
Knotty Alder Cabinets Price
The price of knotty alder cabinets varies depending on the shape, size, and design. These cabinets are installed in bathrooms and kitchens. The price of knotty alder bathroom vanity can range from $3000 to $8000. Cabinets that measure 10×10 inches are often more expensive than I-shaped cabinets and pieces that are 9' x 10' in width. To cut the long story short, they are only suitable for homeowners who look for inexpensive cabinets.
Additionally, alder is not a tree that can be found and replaced without a problem. It is not an endangered tree. The alder tree felling does not affect the environment, which reduces its production cost.
Are Knotty Alder Cabinets Outdated?
It is difficult and unfair to claim that a knotty alder kitchen seems outdated. These pieces of furniture can be easily combined with wood beams on the ceiling and a kitchen island with red granite. Knotty alder cabinets are combinable, customizable, and affordable.
Knotty alder cabinets do not need extra decoration, since each piece of wood has its own patterns. They can add a more minimalistic touch. The wood has knots, wormholes, and worm tracks that are perceived from afar.
Who are knotty alder cabinets for? They are intended for people who want wooden cabinets that maintain their natural look over time. People are going for minimalistic and natural looks right now. Hence the fact that knotty alder cabinets are one of the favorite options for kitchens and bathrooms.
How To Update Knotty Alder Cabinets
Although knotty alder cabinets are low maintenance and easy to customize, you can stain them to give them a more pronounced look. Whitewashing can help. They will look renovated after this.
Whitewashing is staining or applying a semi-transparent stain on the wood to create a smoother surface. Since the cabinets will have a tinge of gray, they can suit most kitchen decoration styles. So, paint the walls of your kitchen and then whitewash your knotty alder cabinets to achieve the desired rustic vibe you are looking for.
Can you paint your knotty alder cabinets? Sure, you can. You can paint them so that they are compatible with the color of your kitchen walls. The problem with this is that painting knotty alder cabinets is a little tricky and takes time.
Generally, knotty kitchen cabinets are versatile and can match granite countertops and stainless steel stoves.
Revamping your knotty alder cabinets
Vamping up your rustic alder cabinets is possible and relatively easy. Here are some guidelines.
Clean and sand the surface.
It is of paramount importance that the surface is completely clean and free of dust. Start by dusting the corners and the wood. Vacuum the sharp edges with a handheld vacuum cleaner.
Seal the knots properly.
The knots must be sealed before you start painting the cabinets. Not doing so will cause the wood to deform or pop out. So, cover the knots with a shellac sealer in an even way. It will be absorbed by the wood quickly.
Sand the first coat of sealer.
Clean again. Get rid of possible sealer remains on the surface. Use a cloth for cleaning or a handheld vacuum cleaner for dusting. A cloth can be sufficient.
Two coats of paint.
Two coats of paint will transform the appearance of your knotty alder kitchen cabinets. You should let the paint sit and apply a second coat after the first coat dries.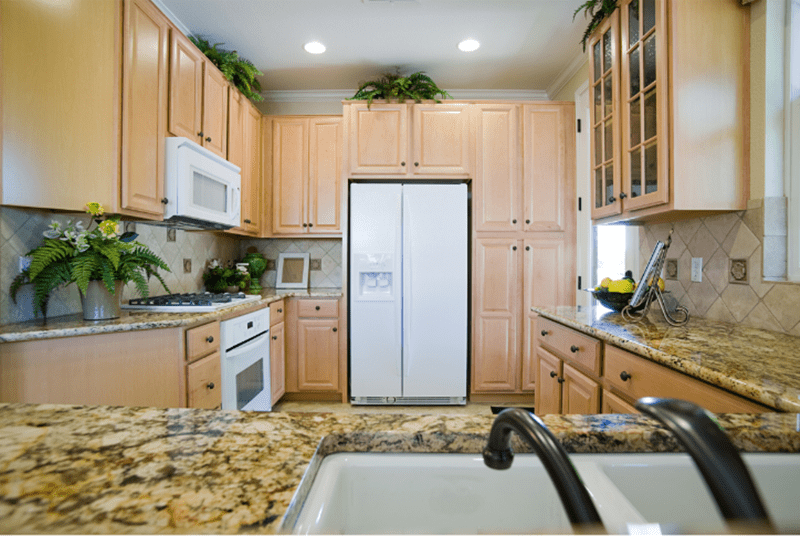 In a nutshell… 
Definitely, knotty alder cabinets are trending now because they add the rustic touch that many people love. Minimalism and rustic styles are in now. That's why many are installing knotty alder wood cabinets. The internet is awash with amazing knotty alder cabinet ideas.