The Pros and Cons of Limestone Countertops
Limestone countertops are made with a type of stone (limestone) that forms from a mixture of different minerals, such as calcium carbonate and other solid minerals that add hardness.
Today, countertops can be made with several types of milestones like travertine, oolitic, and fossiliferous. These limestone countertops are equally durable, water resistant, and offer a wide range of designs. On the other, limestone can be found in a variety of shapes and colors. It can be granular, massive, or clastic. Any of these shapes is suitable for the manufacture of limestone countertops.
Other uses of limestone include the manufacture of decorations for walls, trims, and veneers. Its features make it a great ally for the construction of limestone countertop bathrooms and limestone kitchen countertops.
When choosing a limestone countertop, make sure you get the countertop that best fits your kitchen or bathroom. You have to take into account many factors. Aesthetics and durability are two factors. In this blog, we'll take a look at some limestone countertops' pros and cons. Check it out!
(Image credit: Tonje Bjerknes)
What Colors Does Limestone Come In?
Contrary to popular belief, limestone countertops are not only white. These counters are available in a wealth of colors like red, yellow, and even neutral. This means you will not be limited to white and off-white solely.
As you may know, limestone is not unicolor and has patterns. Besides the limestone models that are ivory and brown, which are generally more expensive, some limestone countertops have fossilized patterns and different shades that combine perfectly with different types of floors and help sophisticate the space.
When choosing this material for your kitchen and bathroom counters, bear in mind it will never be as shiny as marble and granite. Some stones can be granular, while others are harder.
Now, let's move forward with the limestone countertops' pros and cons.
Pros of Limestone Countertops
1. Natural
Limestone countertops are modest but modern and will always look natural above all. They are gray, white, off-white, and ivory. Their neutral colors provide a more natural look.
2. Uniqueness
Limestone countertops are luxurious because of their textures. When picking up this material for your kitchen and bathroom counters, you will realize each stone is patterned differently.
3. Longevity
Limestone countertops can last 50, 60, and up to 70 years without showing scratches or a bad appearance. Added to that, they have been a trend for decades, so do not expect them to go out of fashion in the next years. They are always in and amazing!
4. Maintenance
Although limestone counters are durable and can withstand the test of time pretty well, they get damaged when badly cared for. They are neither low-maintenance nor high-maintenance, but they do require frequent cleaning. They can retain their timeless elegance as long as they are properly maintained.
If they are not shiny as in the first years, you can polish them to recoup their brightness. Most of these cabinets have smooth granular surfaces.
5. Heat resistant
Limestone countertops are the perfect furniture pieces for kitchens. They resist heat very well. Try putting a hot pan on them and you will see nothing will happen to them.
6. Inexpensive or at least cheaper than other stones
Limestone is the alternative to granite and marble because it has a lower price tag.
Cons of Limestone Countertops
1. Maintenance
Unfortunately, you will have to clean your limestone countertops more often than other types of countertops. These pieces require a bit more maintenance and upkeep.
2. Not scratch-free
They can easily scratch and be careful not to spill acids on them.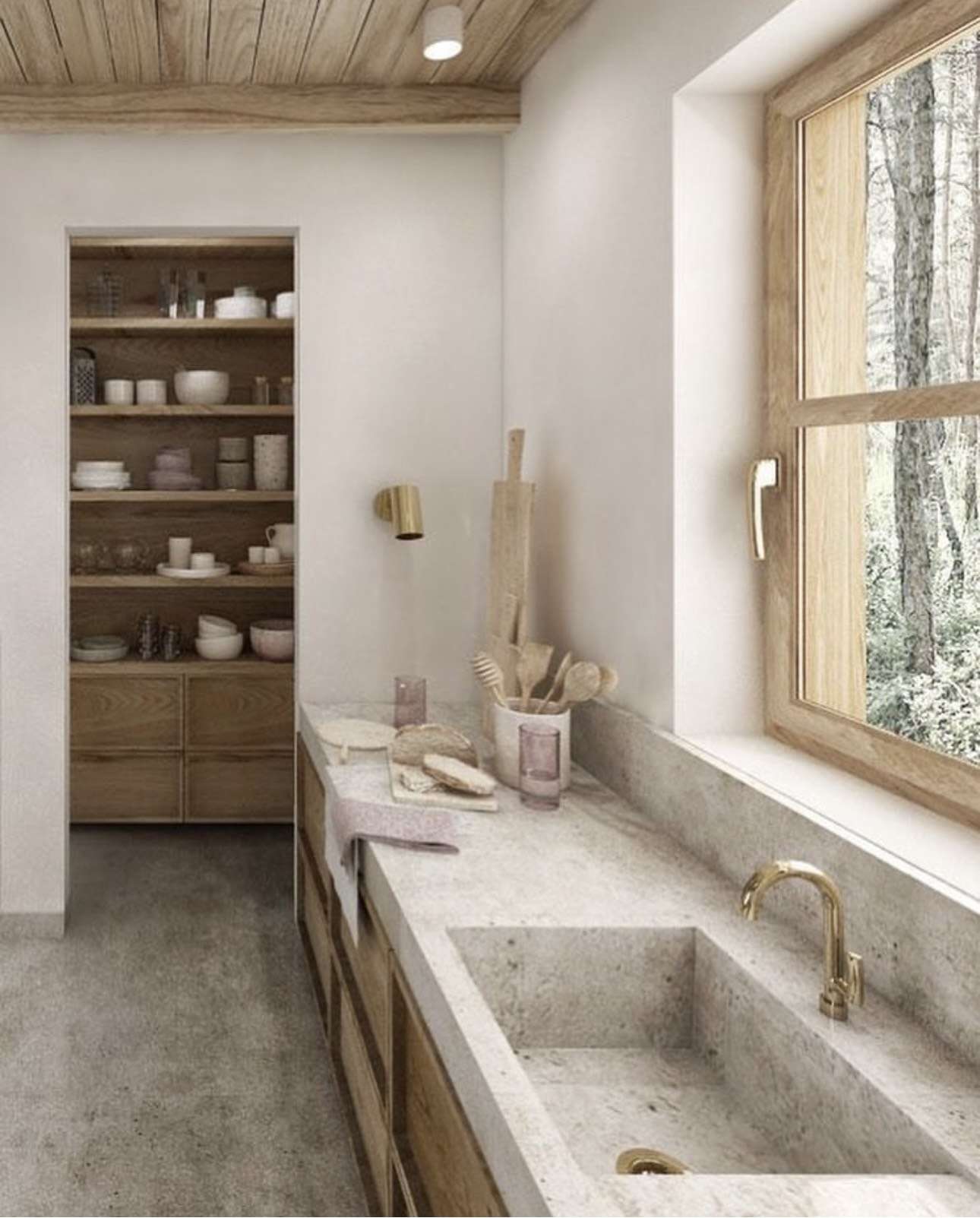 (Image credit: Earthen Co Interiors)
Care and Maintenance of Limestone Countertops
While limestone countertops are heat resistant, they scratch easily. The following tips will help you clean and keep your cabinets on top.
Sealing
Sealing helps prevent blemishes on the surface can appear. These countertops can easily stain with oil, fingerprints, or liquids, hence the importance of regular upkeep with soft detergents. Sealants are, however, more efficient because they protect limestone countertops from this stuff.
Cleaning
Whenever you cleanse these counters, ensure you use only mild soap and soft pieces of cloth to scrub them. Do not use any harsh detergent that can ruin their appearance. Cleaners with a neutral pH are more advisable than traditional cleaners. The market is abundant with neutral cleaners today.
Scratches
We have previously explained that these countertops are not immune to scratches. Happily, there's a solution. Use a polishing compound or boards to protect the areas where you cut meat and vegetables. Put placements to protect the countertop.
Stains and Discoloration
Limestone countertops may discolor with use over time. To remove stains and prevent rapid discoloration, prepare a mixture of flour and hydrogen peroxide. Getting a poultice can help, as well.
Limestone Vanities
(Image credit: Decor Pad)
The Appeal of Limestone Vanity Bathrooms
Limestone countertops are a great addition not only to the kitchen but also to the bathroom. They decorate these spaces very well, actually.
This material has hues and diverse tones that match plenty of bathroom designs. Certainly, limestone is best for kitchens and bathrooms because its colors can match many interior designs.
Limestone counters are available in red, beige, off-white, yellow, and brown. You can make your bathroom brighter or darker, or do whatever you want.
In all cases, limestone countertops modernize spaces and make any kitchen or bathroom look like they are in a mansion. Limestone is elegant and best of all, the limestone countertops' cost is not that high. Generally, these additions work better when combined with brighter or bolder elements and blend with wall colors.
Limestone is a construction material that adds luxury to the house and can be adapted to many particular design requirements. The best side of these countertops is, by far, the fact they are customizable.
Summary
In conclusion, limestone countertops have pros and drawbacks, but their pros outweigh their disadvantages undoubtedly. They are inexpensive or at least, more affordable than marble and granite. They add luxury to the kitchen and bathroom and other areas of the house when properly and wisely installed. They are sophisticated and stand the test of time. And finally, they are a natural choice.