10 Easy Ways to Decorate your Home for Easter
Easter is fast approaching, and there is nothing quite filling like adding some holiday flair in your home to get in the spirit of the season. There is so much more to Easter than chocolate eggs- it is the time when you can look forward to a cheerful spring after a gloomy winter.
A time to connect with family and friends and make good memories. Sprucing your home for the holiday is so much fun when you do it with your loved ones. With friendly bunnies, cheerful colors, and baskets overflowing with Easter eggs, Easter decorations should reflect the joy and happiness that often comes with spring. For this reason, we have rounded up our 10 easy ways to decorate your home for Easter. These ideas will add a touch of whimsy to your Easter celebration.
Easter wreath
Wreaths are not just confined to Christmas celebrations alone. Whether you make one yourself or buy one from the store, hanging a beautiful Easter wreath on your door is a great display of the Easter spirit. It is a warm welcome and a way to impress your guests right from the entrance of your home. Consider getting the ones with pastel colors featuring spring flowers, chicks, easter eggs, or rabbits.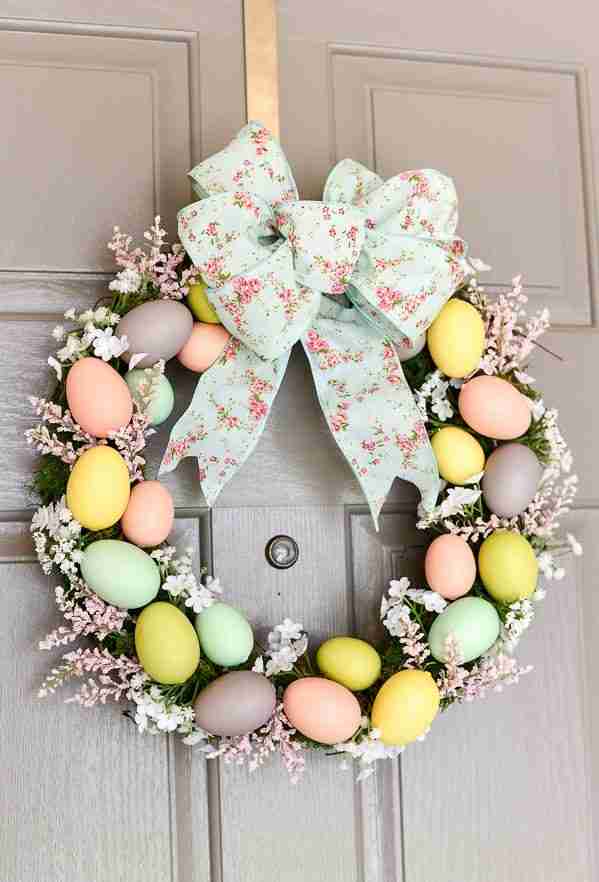 Image Source- A Pumpkin & A Princess
Fresh cut seasonal flowers
Displaying seasonal flowers and ferns is a simple yet sophisticated way to decorate your home for the Easter Holidays. A creative way to do this is by creating a delightful seasonal centerpiece. Fill a vintage teacup with your favorite flowers or ferns and place it on the dining table and tables around your home. If you have old perfume bottles sitting on your vanity, consider using them as a glass vessel, they are perfect for this purpose.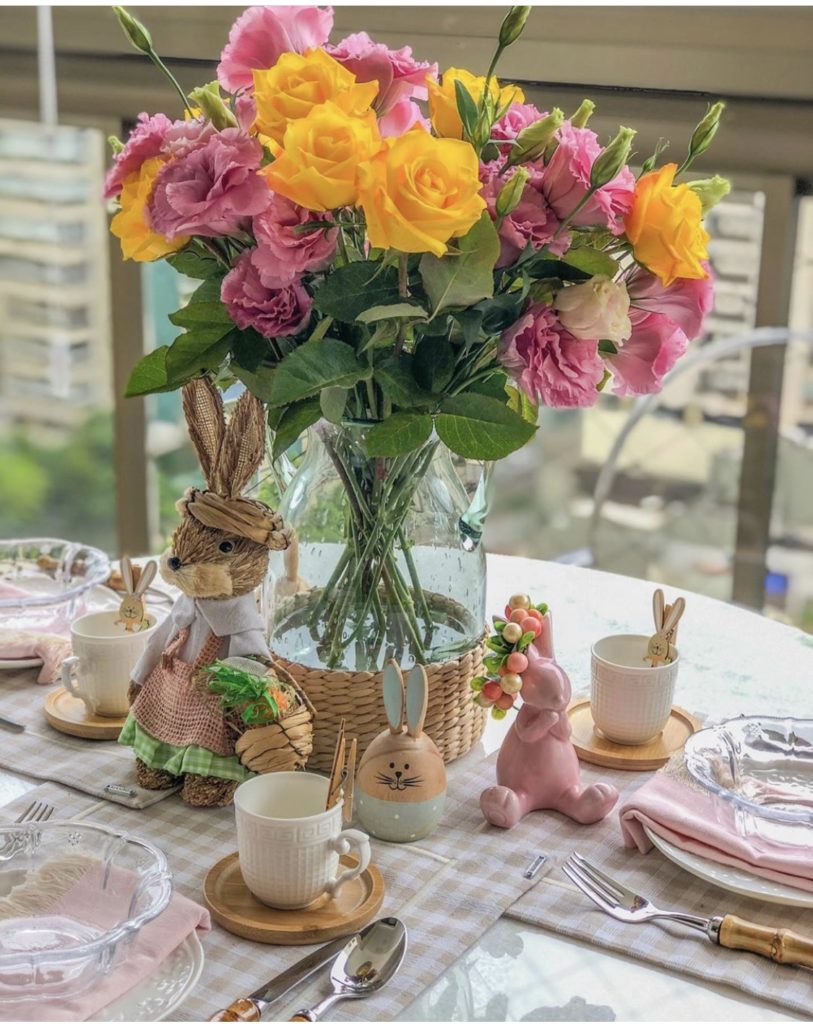 Image Source- Instagram @Mesadossonhos
 Festive Easter Tablescape
A brilliant way to decorate for Easter is by setting a festive table. Make the most out of the spring shades with a beautiful arrangement of flowers on your dining table. Pink tulips, white tulips, crocuses, or daffodils, and glassware paired with gold silverware are perfect for making a phenomenal Easter tablescape. Remember to add pound cake bunnies as a finishing touch!
Image Source- Instagram @chcesiezyc_official
Natural and Crafty Eggs
Easter eggs are perfect for holiday decoration and can signify spring and new beginnings. A little turmeric, beet, and cabbage are a couple of ingredients that can go a long way when it comes to organic egg design. You can dye eggs, place them in bowls, and use them to decorate around your home. Just don't forget to boil them first!
Image Source- Instagram @Trinity.Studio
Tabletop Treats
We absolutely love the idea of a 2/3 tier vintage cake stands for your Easter table centerpiece. Not only does it create an incredibly stunning display that will appeal to your guests, but it also makes your easter table look delicious as the day easter candy itself.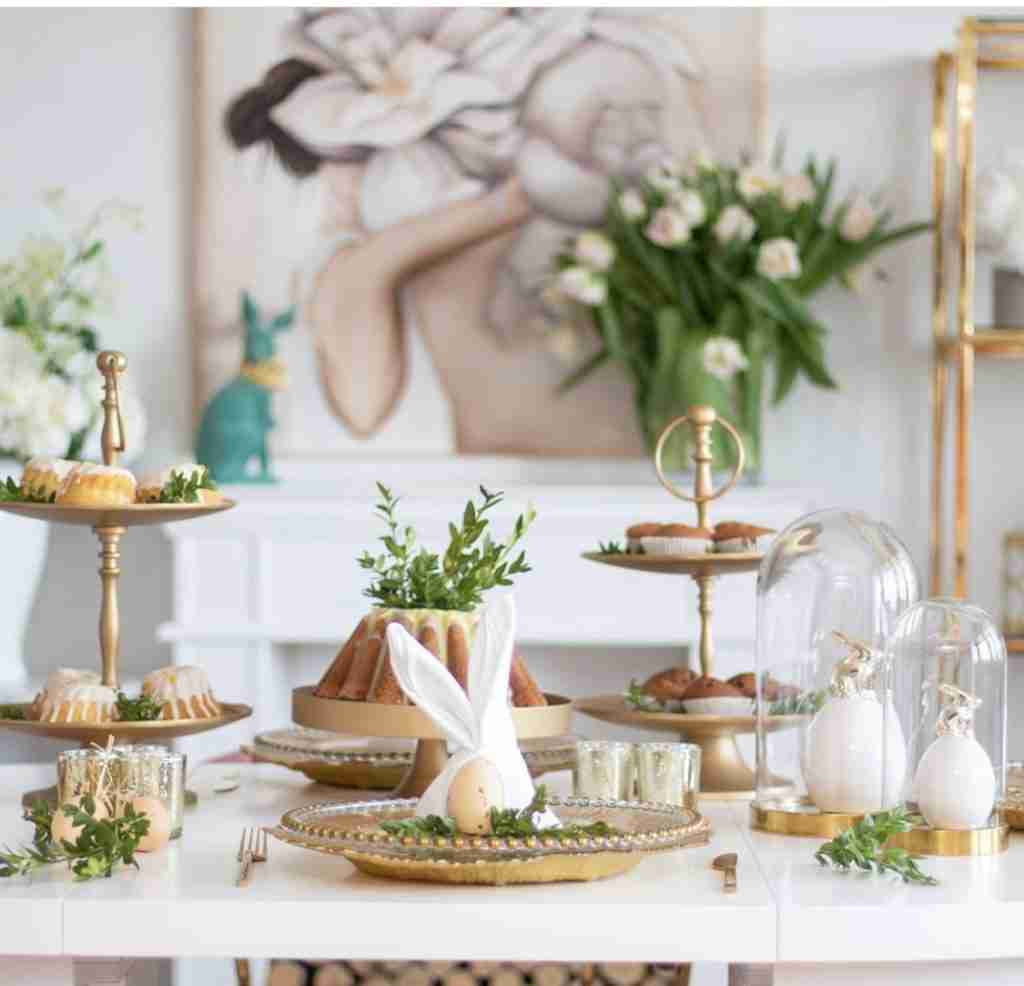 Image Source- Instagram @mrs_edithh
Tabletop Trees & Hanging Ornaments
Just like Christmas trees, a beautifully decorated Easter-themed tabletop tree is a great way to add some holiday flair to your home. These plastic ornaments can be store-bought or custom made, either way, it is a good way to inject a bit of spring fun into any room.
Image Source- Instagram @GinandInteriors
Display Easter Bunnies Around Your Home
Nothing shows Easter spirit like Easter bunnies! One way to decorate your home for Easter is by displaying Easter bunnies in eye-catchy places around your home. Consider placing a plush pastel Easter bunny on the couch. You could also display a plastic Easter bunny on your kitchen corner, windows, chair, or the back of the toilet.
Image Source- Instagram @katarzynklekowska
Yarn Craft Easter Eggs
Easter eggs made from yarns are great for a beautiful colorful table centerpiece or Easter decoration. It is also a very fun Easter craft activity for kids. You can get really creative with the colors and shapes for your egg. Whether you use soft colors or vibrant spring colors, this will add some unique and artistic features to your decor.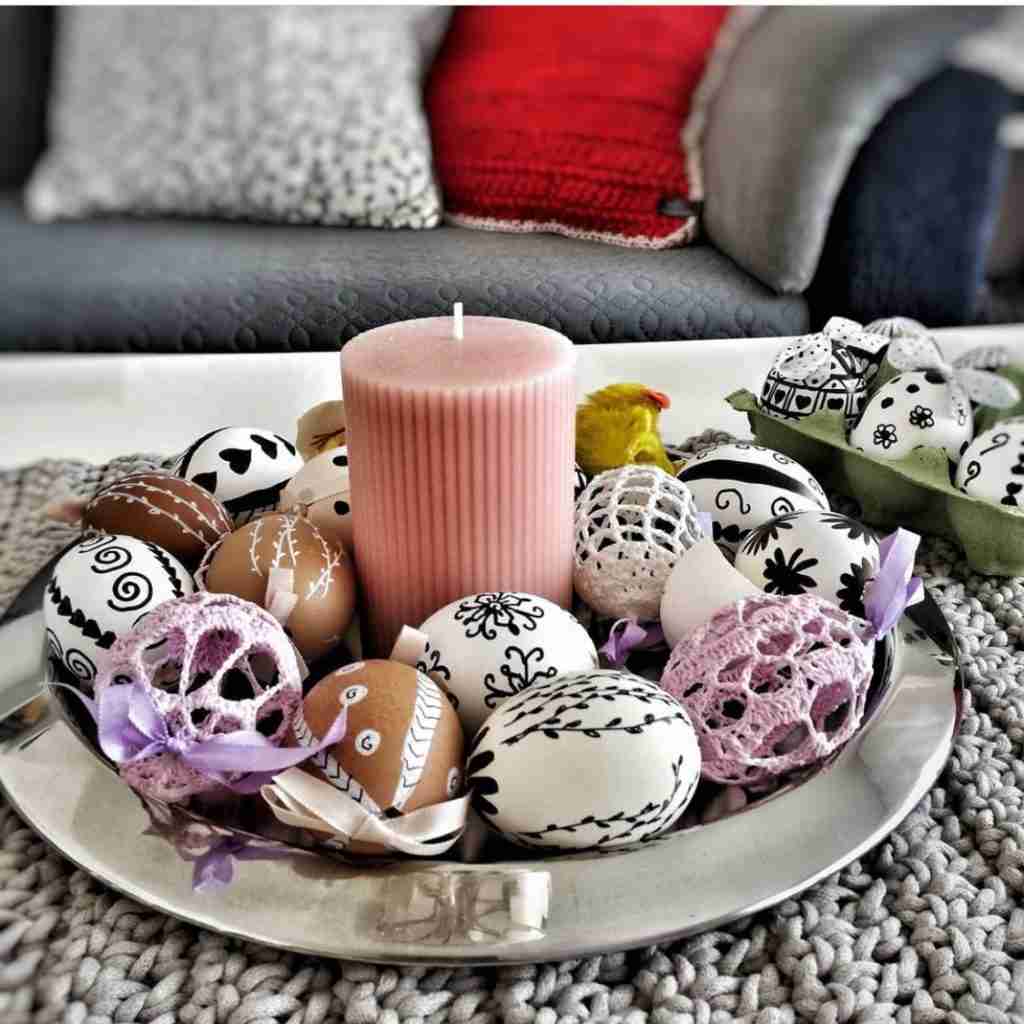 Image Source- Instagram @lidkarybka
Make Candy Jars
Now everyone loves a sweet treat, especially at Easter! Easter candy jars are also a great way to add some Easter flair to your home's interior. Making them at home is a fun family activity and it allows children to show their creativeness. Why stick to the usual egg chocolates? You can add your favorite chocolates and whatnot.
Image Source- Stacy Freeman
Think outside the box
There is no rule when decorating your home for Easter. Every year, people come up with so many creative and unique decor ideas. Let your decor also reflect on your personal style, who knows? you might start a trend for others to follow. Most importantly, make sure you enjoy the process! Have a wonderful Easter celebration, filled with lots of love and fun.
Image Source- Driven by Decor