120 It Ends With Us Quotes
If you're an avid reader of romance novels or captivating books in general, you'll like these "It Ends With Us' quotes! 
'It Ends With Us' is a heart-wrenching romance story written by Colleen Hover. It was published by Atria Books on 2nd August 2016. The book narrates the story of Lily Bloom and her tragic romance with Ryle Kincaid.
It also covers Lily Bloom's past, including her upbringing in an abusive environment, her entry into an abusive relationship, and her escape from that relationship.
"A brave and heartbreaking novel that digs its claws into you and doesn't let go, long after you've finished it." says Anna Todd, bestselling author
As of 2023, the book has sold 1,000,063 copies in over 20 languages. It won the Goodreads Choice Awards for Best Romance in 2016. This captivating and unforgettable tale of love currently has a movie in production — starring Hollywood big shots like Blake Lively as Lily Bloom and Justin Baldoni as Ryle Kincaid. The 'It Ends With Us' movie is scheduled to release in theaters on February 9, 2024. 
If you've read the book, then you already know how awesome it is— and if you haven't, THEN HURRY! Because you're in for a treat!
Without further ado, here are our favorite 120 It Ends With Us Quotes.
It Ends With Us Quotes
1. "It stops here. With me and you. It ends with us."― Colleen Hoover
2. "There is no such thing as bad people. We're all just people who sometimes do bad things."― Colleen Hoover
3. "You can stop swimming now, Lily. We finally reached the shore."― Colleen Hoover
4. "Fifteen seconds. That's all it takes to completely change everything about a person."― Colleen Hoover
5. "Naked truths aren't always pretty."― Colleen Hoover, It Ends with Us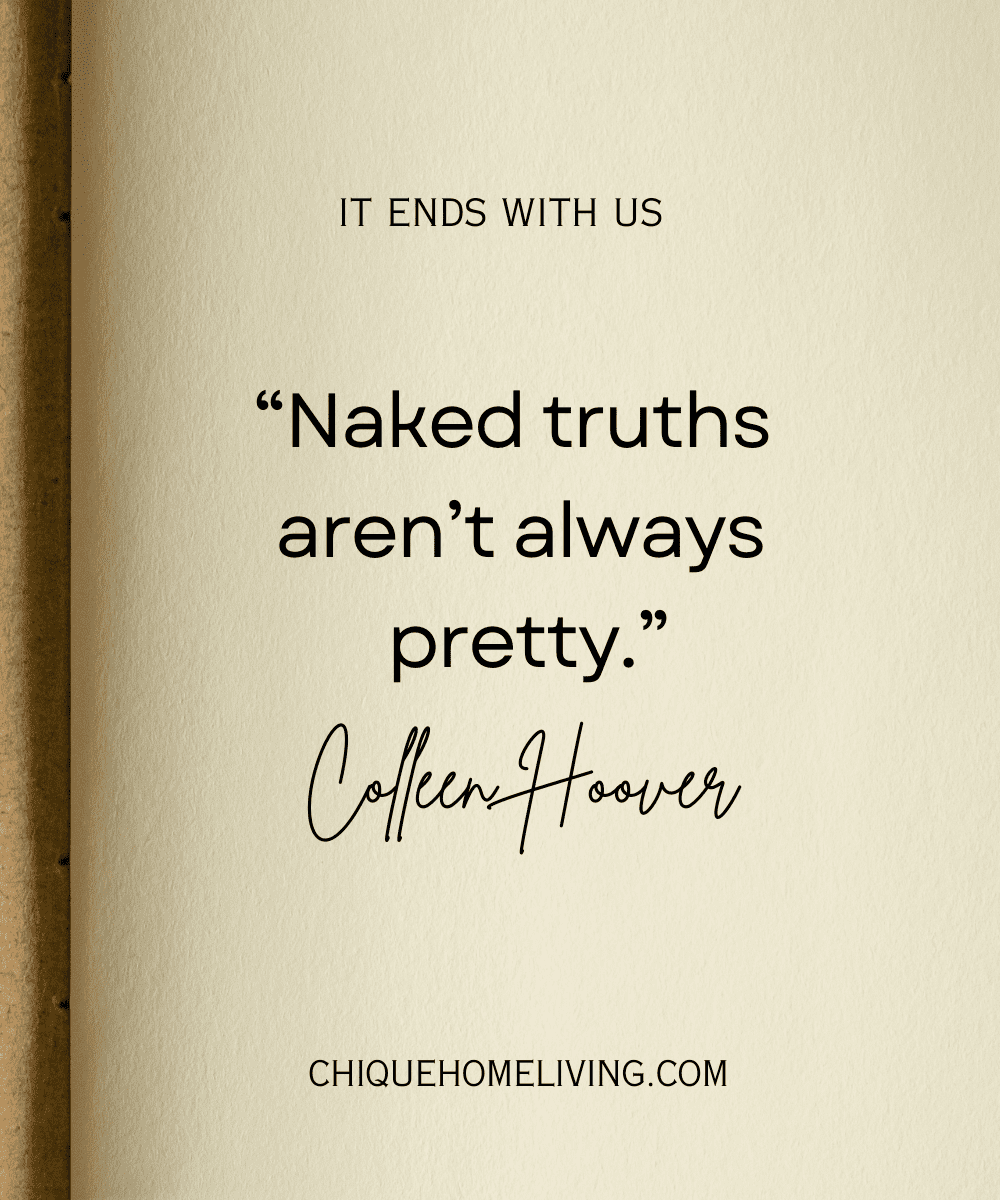 IT ENDS WITH US QUOTES
6. "Preventing your heart from forgiving someone you love is actually a hell of a lot harder than simply forgiving them."
― Colleen Hoover
7.  "Lily, Atlas says just keep swimming. —Ellen DeGeneres"― Colleen Hoover
8. "I love it when the night sky makes me feel insignificant"."― Colleen Hoover
9. "Just because someone hurts you doesn't mean you can simply stop loving them. It's not a person's actions that hurt the most. It's the love. If there was no love attached to the action, the pain would be a little easier to bear."
― Colleen Hoover
10. "I hope you defy the odds of most dreams and actually accomplish yours."― Colleen Hoover, It Ends with Us
11. "You are my wife. I'm supposed to be the one who protects you from the monsters. I'm not supposed to be one."
― Colleen Hoover
12. "Just because we didn't end up on the same wave, doesn't mean we aren't still a part of the same ocean."
― Colleen Hoover
13. "Sometimes even grown women need their mother's comfort so we can just take a break from having to be strong all the time."
― Colleen Hoover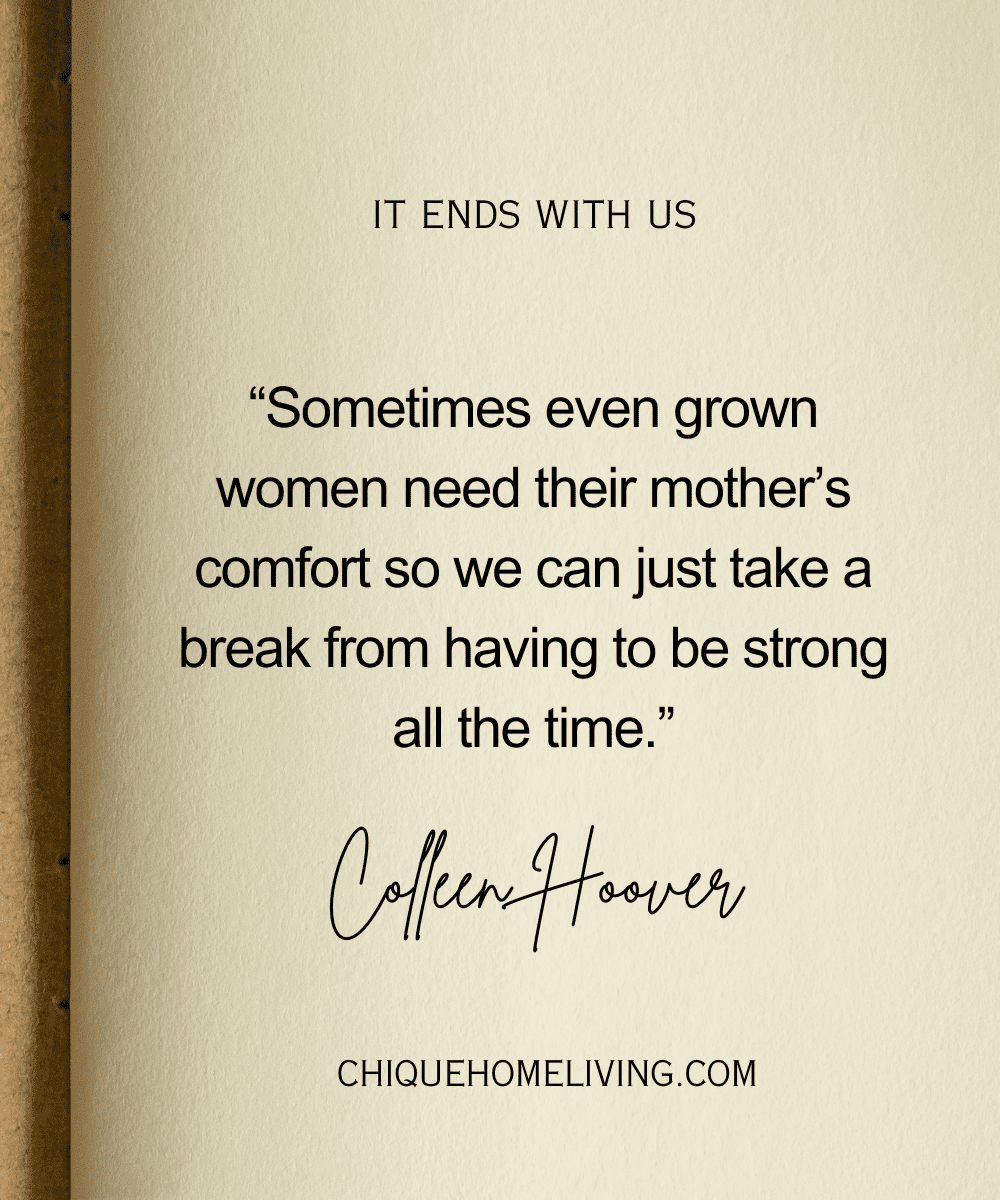 IT ENDS WITH US QUOTES
14. "Our eyes, locked together, speak more naked truths than our mouths ever have."― Colleen Hoover
15. "Shouldn't there be more distaste in our mouths for the abusers than for those who continue to love the abusers?"
― Colleen Hoover
16. "As his daughter, I loved him. But as a human, I hated him."― Colleen Hoover
17. "I'll keep pretending to swim, when really all I'm doing is floating. Barely keeping my head above water."― Colleen Hoover
18. "And as hard as this choice is, we break the pattern before the pattern breaks us."― Colleen Hoover
19. "Maybe love isn't something that comes full circle. It just ebbs and flows, in and out, just like the people in our lives" ― Colleen Hoover
20. "No one is exclusively bad, nor is anyone exclusively good. Some are just forced to work harder at suppressing the bad."
― Colleen Hoover
21. "But sometimes you can't control where your mind goes. You just have to train it not to go there anymore."
― Colleen Hoover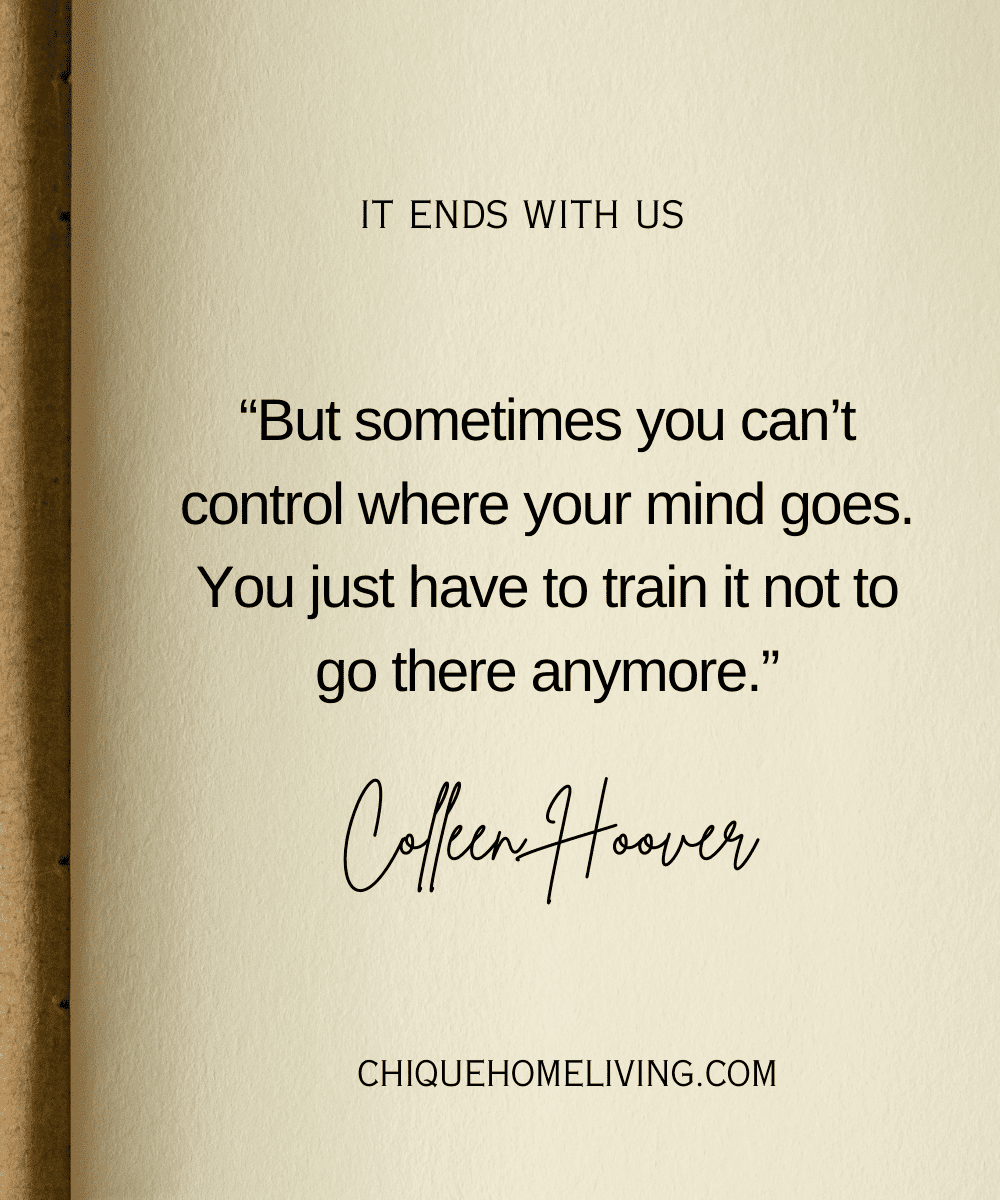 IT ENDS WITH US QUOTES
22. "My favorite conversations are the ones with no real answers."― Colleen Hoover
23. "All humans make mistakes. What determines a person's character aren't the mistakes we make. It's how we take those mistakes and turn them into lessons rather than excuses."― Colleen Hoover,
24. "I feel like everyone fakes who they really are, when deep down we're all equal amounts of screwed up. Some of us are just better at hiding it than others." ― Colleen Hoover
25. "He pulls back to look down at me and when he sees my tears, he brings his hands up to my cheeks. "In the future… if by some miracle you ever find yourself in the position to fall in love again… fall in love with me."― Colleen Hoover
26. "Everyone deserves another chance. Especially the people who mean the most to you."― Colleen Hoover, It Ends with Us
27. "You warned me. You said one time with you wouldn't be enough. You said you were like a drug. But you failed to tell me you were the most addictive kind."― Colleen Hoover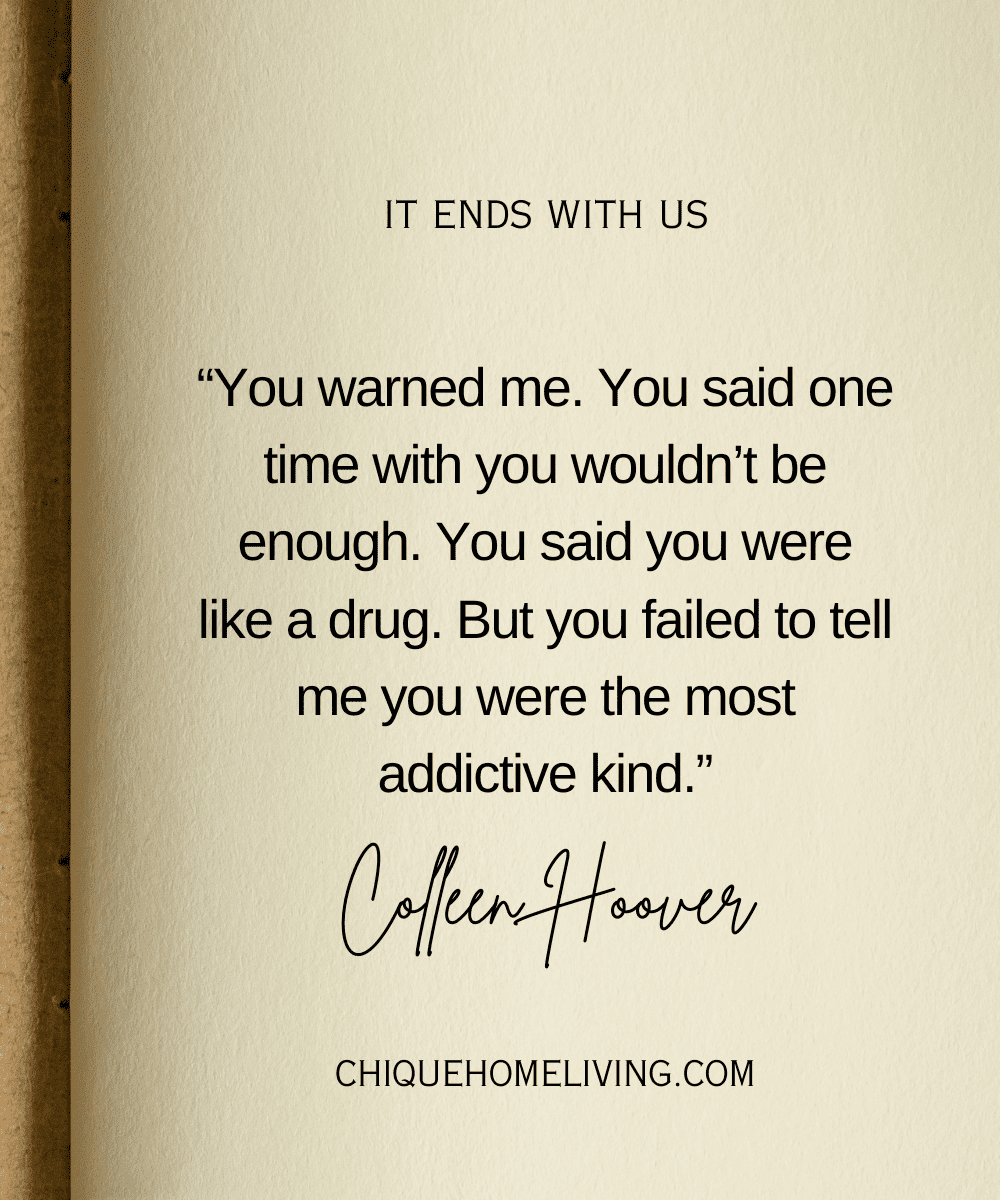 IT ENDS WITH US QUOTES
You may also enjoy our article on:
150 Dance Quotes That Are Inspirational And Funny
120 Mind Your Own Business Quotes
28. "Mom: A doctor, Lily? AND your own business? I want to be you when I grow up."― Colleen Hoover
29. "Until he comes back for me, I'm just going to keep pretending to be okay. I'll keep pretending to swim, when really all I'm doing is floating. Barely keeping my head above water."― Colleen Hoover
30. "Do you have any idea how many doors I've knocked on to find you?"― Colleen Hoover
31. "I feel like everyone fakes who they are, when deep down we're all equal amounts of screwed up. Some of us are just better at hiding it than others." ― Colleen Hoover
32. "My heart is pounding like it wants out. I wish I could give it a way out. I'd set the mother-fucker free right now if I could."
― Colleen Hoover
33. "I smile, loving how his words feel against my skin. Inside my heart."― Colleen Hoover, It Ends with Us quotes
34. "When life gets you down do you wanna know what you've gotta do? . . . Just keep swimming. Just keep swimming. Just keep swimming, swimming, swimming."  Colleen Hoover
35. "But then this morning I had to tell him goodbye. And he held me and kissed me so much, I thought I might die if he let go.
But I didn't die. Because he let go and here I am. Still living. Still breathing. Just barely."― Colleen Hoover, It Ends with Us
36. "In the future . . . if by some miracle you ever find yourself in the position to fall in love again . . . fall in love with me."
― Colleen Hoover, It Ends with Us
IT ENDS WITH US QUOTES
37. "In the future… if by some miracle you ever find yourself in the position to fall in love again… fall in love with me." He presses his lips against my forehead. "You're still my favorite person, Lily. Always will be."― Colleen Hoover, It Ends with Us
38. "Life is a funny thing. We only get so many years to live it, so we have to do everything we can to make sure those years are as full as they can be. We shouldn't waste time on things that might happen someday, or maybe even never."
― Colleen Hoover, It Ends with Us
39. "A happy Atlas was near mind-blowing. It made me want to uncover every single thing about this world that he likes and give it all to him." ― Colleen Hoover, It Ends with Us
40. "sometimes—not very often at all, actually—a voice will penetrate past my ears and reverberate straight down through my body." ― Colleen Hoover, It Ends with Us
41. "I don't know how he calmed me down without even talking, but he did. Some people just have a calming presence about them and he's one of those people." ― Colleen Hoover, It Ends with Us
42. "And when you love someone, seeing them sad also makes you sad."― Colleen Hoover, It Ends with Us
43. "I kiss her on the forehead and make her a promise. "It stops here. With me and you. It ends with us."
― Colleen Hoover, It Ends with Us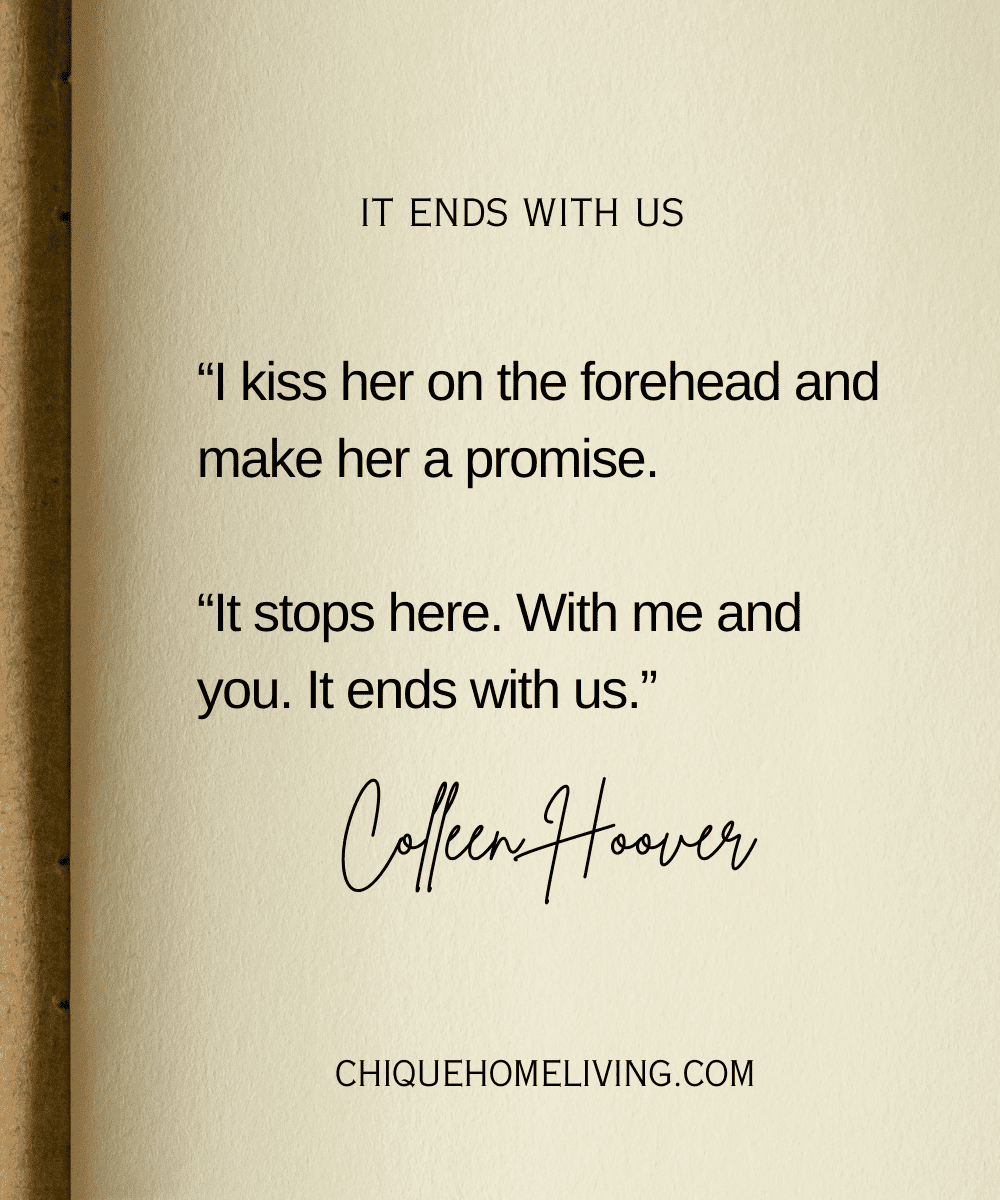 IT ENDS WITH US QUOTES
44. "Atlas kept swimming, and look at him now. He swam all the way to the fucking Caribbean."― Colleen Hoover, It Ends with Us quotes quotes
45. "You're only human. And as humans, we can't expect to shoulder all of our pain. Sometimes we have to share it with the people who love us so we don't come crashing down from the weight of it all." ― Colleen Hoover
46. "I think that's one of the biggest signs a person has matured—knowing how to appreciate things that matter to others, even if they don't matter very much to you." ― Colleen Hoover
47. "You're the most important part of my life, Lily. I want to be what brings you happiness. Not what causes you to hurt."
― Colleen Hoover, It Ends with Us
48. "I am a brave and bold businesswoman with zero fucks to give for men in scrubs."― Colleen Hoover
49. "I'm sorry about that. I'm sure you didn't miss me like I missed you, but sometimes the things that matter to you most are also the things that hurt you the most. And in order to get over that hurt, you have to sever all the extensions that keep you tethered to that pain. You were an extension of my pain, so I guess that's what I was doing. I was just trying to save myself a little bit of agony." ― Colleen Hoover,
50. "That's what fifteen minutes can do to a person. It can destroy them. It can save them."― Colleen Hoover, It Ends with Us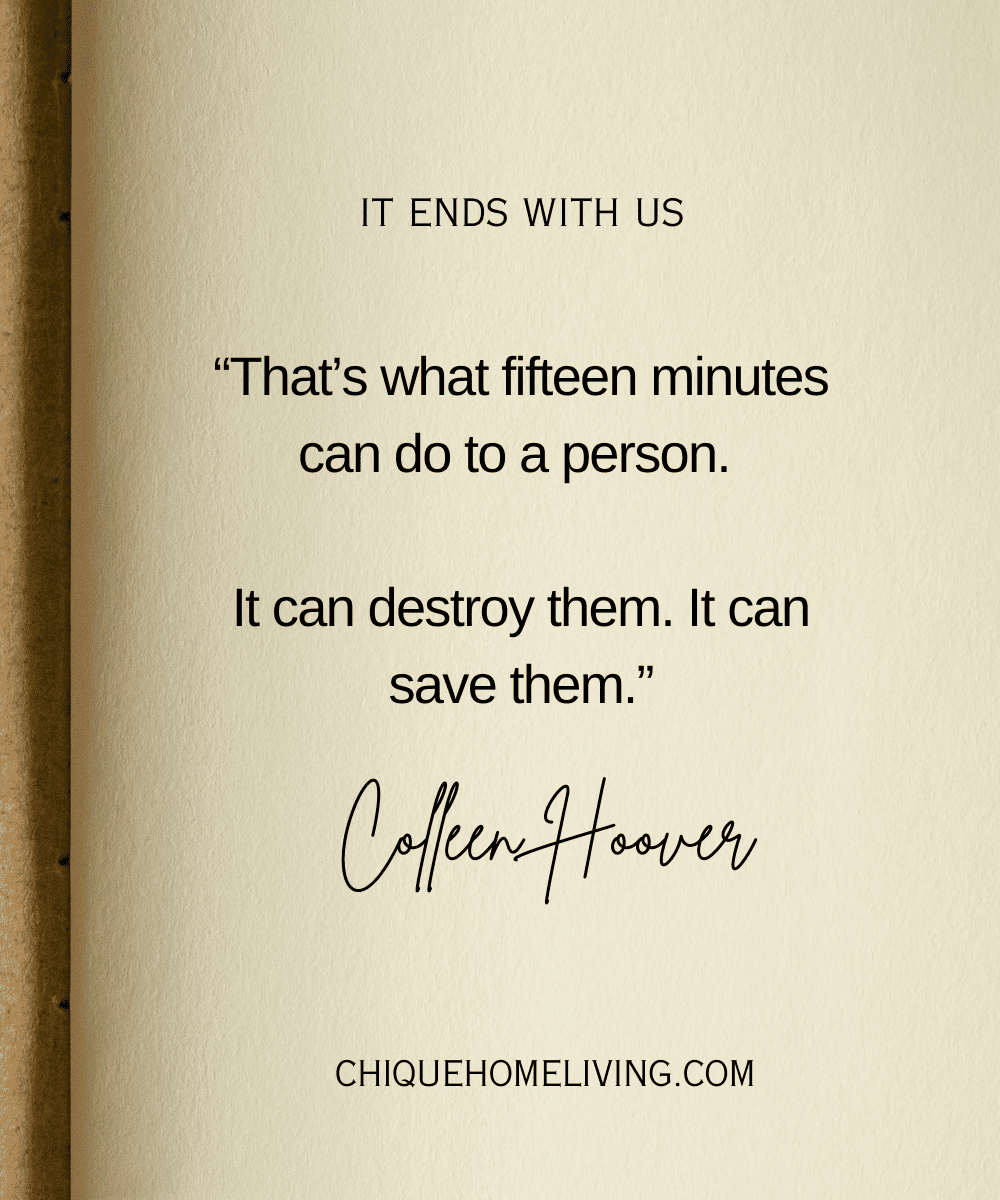 IT ENDS WITH US QUOTES
51. "When life gets you down do you wanna know what you've gotta do? . . . Just keep swimming. Just keep swimming. Just keep swimming, swimming, swimming."― Colleen Hoover
52. "I'm sorry about that. I'm sure you didn't miss me like I missed you, but sometimes the things that matter to you most are also the things that hurt you the most. And in order to get over that hurt, you have to sever all the extensions that keep you tethered to that pain. You were an extension of my pain, so I guess that's what I was doing. I was just trying to save myself a little bit of agony." ― Colleen Hoover
53. "And people like my father are the problem. Instead of helping others, people use the worst-case scenarios to excuse their own selfishness and greed."― Colleen Hoover54. "Every incident chips away at your limit. Every time you choose to stay, it makes the next time that much harder to leave. Eventually, you lose sight of your limit altogether, because you start to think, 'I've lasted five years now. What's five more?"― Colleen Hoover,
55. "Of course I want to succeed, but at this point I'm not even sure if that matters. I had a dream and I busted my ass to make it come true. Whatever happens after today is just icing on the cake."― Colleen Hoover
56. "All humans make mistakes. What determines our character is whether we turn those mistakes into excuses or lessons."
― Colleen Hoover
IT ENDS WITH US QUOTES
57. "The last thing you want to do is lose sight of your limit. Please don't allow that to happen….. We all have a limit. What we're willing to put up with before we break."― Colleen Hoover
58. "It's not a person's actions that hurt the most. It's the love. If there was no love attached to the action, the pain would be a little easier to bear. He" ― Colleen Hoover, It Ends with Us
59. "Cycles exist because they are excruciating to break. It takes an astronomical amount of pain and courage to disrupt a familiar pattern. Sometimes it seems easier to just keep running in the same familiar circles, rather than facing the fear of jumping and possibly not landing on your feet." ― Colleen Hoover
60.  "just keep swimming"― Colleen Hoover, It Ends with Us quotes
61. "Maybe love isn't something that comes full circle. It just ebbs and flows, in and out, just like the people in our lives."
― Colleen Hoover
62. "I want you so, so bad and I swear, once you have sex with me you'll never hear from me again. I promise."― Colleen Hoover63. "I don't know why I always feel like crying when I'm around him. When I think about him. When I read about him. It's like my emotions are still tethered to him somehow and I can't figure out how to cut the strings."
― Colleen Hoover, It Ends with Us
64. "Just because someone hurts you doesn't mean you can simply stop loving them. It's not a person's actions that hurt the most. It's the love. If there was no love attached to the action, the pain would be a little easier to bear."
― Colleen Hoover
IT ENDS WITH US QUOTES
65. "In all the time we've spent together, I think we both sort of knew this wasn't a forever thing. I'm not sure why, because I could easily love him that way."― Colleen Hoover, It Ends with Us
66. "You don't put pressure on me to be something I'm incapable of being. You accept me exactly how I am."
― Colleen Hoover
67. "People spend so much time wondering why the women don't leave. Where are all the people who wonder why the men are even abusive? Isn't that where the only blame should be placed?" ― Colleen Hoover, It Ends with Us
68. "Lily. Life is a funny thing. We only get so many years to live it, so we have to do everything we can to make sure those years are as full as they can be. We shouldn't waste time on things that might happen someday, or maybe even never."
― Colleen Hoover69. "I love it when the sky makes me feel insignificant."― Colleen Hoover, It Ends with Us
70. "Imagine all the people you meet in your life. There are so many. They come in like waves, trickling in and out with the tide. Some waves are much bigger and make more of an impact than others. Sometimes the waves bring with them things from deep in the bottom of the sea and they leave those things tossed onto the shore. Imprints against the grains of sand that prove the waves had once been there, long after the tide recedes." ― Colleen Hoover
71. "My whole life, I knew exactly what I'd do if a man ever treated me the way my father treated my mother. It was simple. I would leave and it would never happen again." ― Colleen Hoover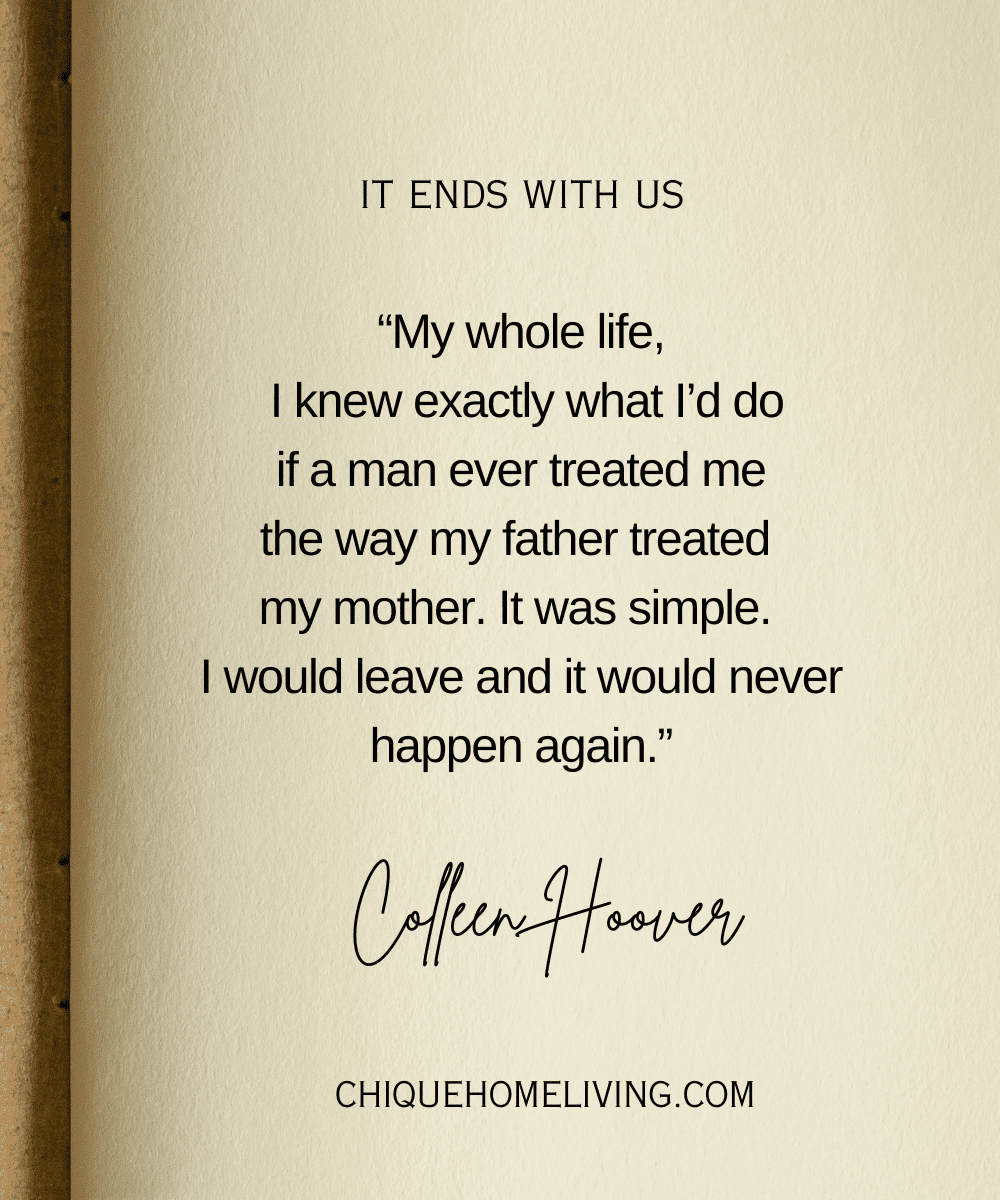 IT ENDS WITH US QUOTES
72. "Preventing your heart from forgiving someone you love is actually a hell of a lot harder than simply forgiving them."
― Colleen Hoover, It Ends With Us 
73. "I'm sure there's more substance in the love between two adults than there is between two teenagers. There's probably more maturity, more respect, more responsibility. But no matter how different the substance of a love might be at different ages in a person's life, I know that love still has to weight the same." ― Colleen Hoover, It Ends with Us
74.  "I don't like that I was never fully able to let go of him, no matter how hard I tried."― Colleen Hoover, It Ends with Us quotes
75. "I think about how sometimes, no matter how convinced you are that your life will turn out a certain way, all that certainty can be washed away with a simple change in tide – Lily Bloom (It Ends with Us)" ― Colleen Hoover, It Ends with Us
76. " I love him. I still do and I always will. He was a huge wave that left a lot of imprints on my life, and I'll feel the weight of that love until I die. I've accepted that." ― Colleen Hoover, It Ends with Us quotes
77. "Don't tempt the scorpion if you don't want to get stung." ― Colleen Hoover
78.  "it's so twisted, it's brilliant!"― Colleen Hoover
79. "You should get some Rodan and Fields. The amp roller works wonders for scarring."― Colleen Hoover
80. "I'm just going to keep pretending to be okay. I'll keep pretending to swim, when really all I'm doing is floating. Barely keeping my head above water." ― Colleen Hoover
IT ENDS WITH US QUOTES
81. "Maybe love isn't something that comes full circle. It just ebbs and flows, in and out, just like the people in our lives. Just because we didn't end up on the same wave, doesn't mean we aren't apart of the same ocean."― Colleen Hoover
82. "Did I mention he was wearing a onesie? I'm talking a legit, full-grown man in a SpongeBob onesie."
― Colleen Hoover
83. "but sometimes the things that matter to you most are also the things that hurt you the most. And in order to get over that hurt, you have to sever all the extensions that keep you tethered to that pain."
― Colleen Hoover
84. "I haven't been able to get you out of my head. I don't know why. At work, at home. All I can think about is how crazy it feels when I'm near you, and I need you to make it stop, Lily." He stops pacing and faces me. "Please make it stop. Just once—that's all it'll take. I swear." ― Colleen Hoover
85. "You touch her again, and I'll cut you f*cking hand off and shove it down your throat, you wortless piece of sh*t!"
― Colleen Hoover
86. "Plants need to be loved the right way in order to survive. So do humans. We rely on our parents from birth to love us enough to keep us alive. And if our parents show us the right kind of love, we turn out as better humans overall. But if we're neglected . . "
― Colleen Hoover
87. "And sometimes when I feel that much emotion, something inside of me just snaps."― Colleen Hoover
88. "We only get so many years to live it, so we have to do everything we can to make sure those years are as full as they can be. We shouldn't waste time on things that might happen someday, or maybe even never." ― Colleen Hoover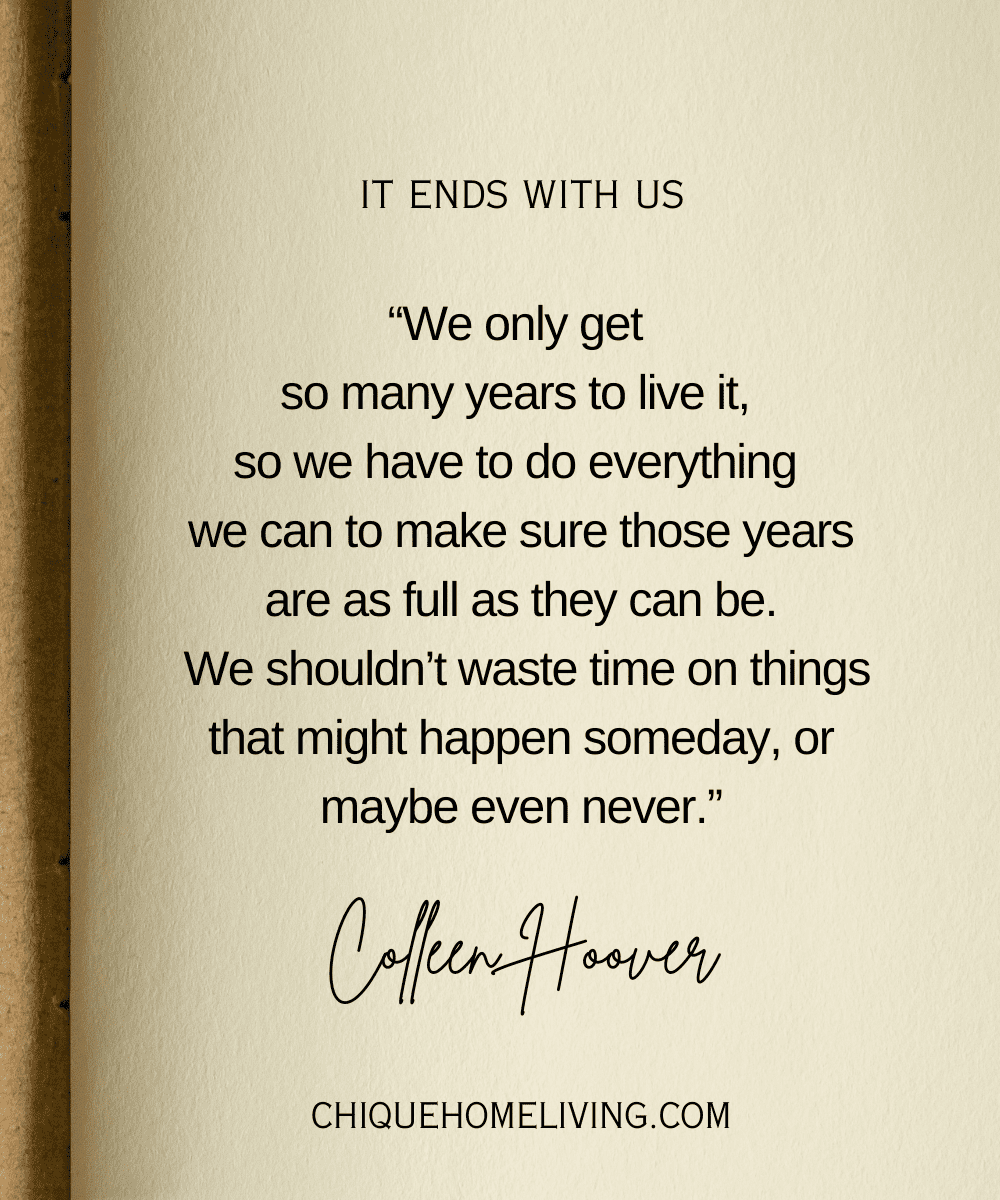 IT ENDS WITH US QUOTES
You may also enjoy our article on:
120 Mind Your Own Business Quotes
89. "When my life is good enough for you to be a part of it, I'll come find you. But I don't want you to wait around for me, because that might never happen."― Colleen Hoover
90. "I was too mad. I'm not even sure who I'm mad at. I just kept thinking about our country and the whole world and how screwed up it is that people don't do more for each other"― Colleen Hoover
91. "I had that picture made the day after I took it," he says. "It's been in my apartment for months now, because you were the most beautiful thing I'd ever seen and I wanted to look at it every single day."― Colleen Hoover
92. "Some risks are never worth taking. Especially when those risks failed you in the past."― Colleen Hoover
93. "It was nice meeting you, Lily Bloom. I hope you defy the odds of most dreams and actually accomplish yours."
― Colleen Hoover
94. "I feel like everyone fakes who they really are, when deep down we're all equal amounts of screwed up. Some of us are just better at hiding it than others." ― Colleen Hoover, It Ends with Us quotes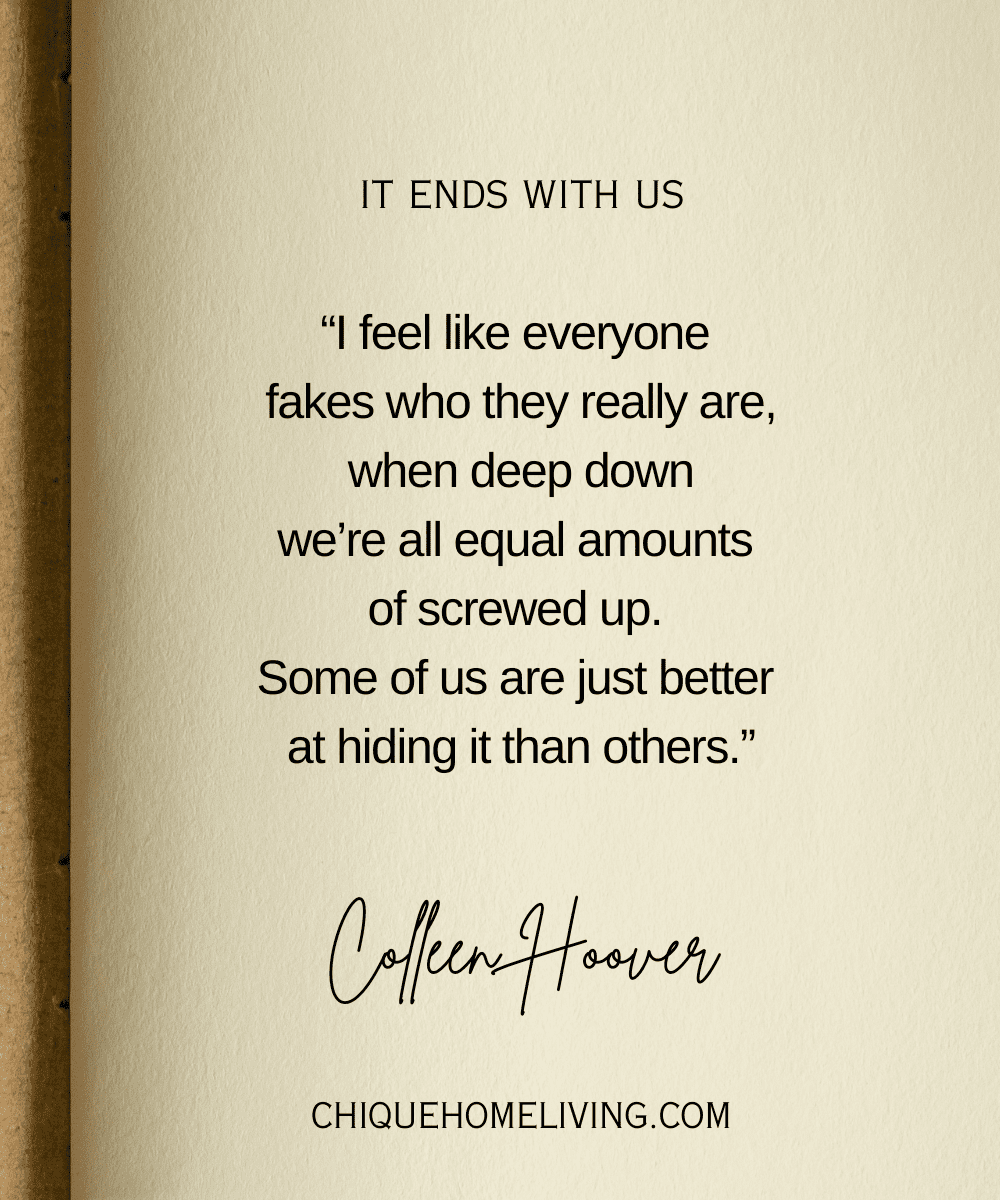 IT ENDS WITH US QUOTES
95. "I think about how sometimes, no matter how convinced you are that your life will turn out a certain way, all that certainty can be washed away with a simple change in tide."― Colleen Hoover
96. "We'd just been two people who helped each other when we needed it and got our hearts fused together along the way."― Colleen Hoover
97. "truly loves you, he wouldn't allow you to take him back. He would make the decision to leave you himself so that he knows for a fact he can never hurt you again. That's the kind of love a woman deserves,"― Colleen Hoover
98. "We both kissed a lot. We both laughed a lot. We both loved a lot. We both breathed a lot."― Colleen Hoover, It Ends with Us
99. "Instead of helping others, people use the worst-case scenarios to excuse their own selfishness and greed."
― Colleen Hoover
100. "When you experience it firsthand, it isn't so easy to hate the person who mistreats you when most of the time they're your godsend." ― Colleen Hoover
101. "Sometimes it seems easier to just keep running in the same familiar circles, rather than facing the fear of jumping and possibly not landing on your feet."― Colleen Hoover
IT ENDS WITH US QUOTES
102. "We're all just people who sometimes do bad things."― Colleen Hoover
103. "He presses his lips against my forehead. "You're still my favorite person, Lily. Always will be."
― Colleen Hoover
104. "Not everyone is homeless because they choose to be. They're homeless because there isn't enough help to go around. "
― Colleen Hoover
105. "I pull my keys out of my purse and he walks up to me and snatches them from my hand." ― Colleen Hoover
106. "Sometimes an unexpected wave comes along, sucks you up and refuses to spit you back out"
― Colleen Hoover
107. "This isn't my excuse, this is my reality."― Colleen Hoover
108. "But it'll feel better. This is just human nature, healing an old wound to prepare for a fresh new layer. That's all."
― Colleen Hoover
109. "I think good comedic timing is one of the most important things about a person's personality."
― Colleen Hoover, It Ends with Us quotes
110. "I can't for the life of me figure out how people function from day to day when they like someone this much."
― Colleen Hoover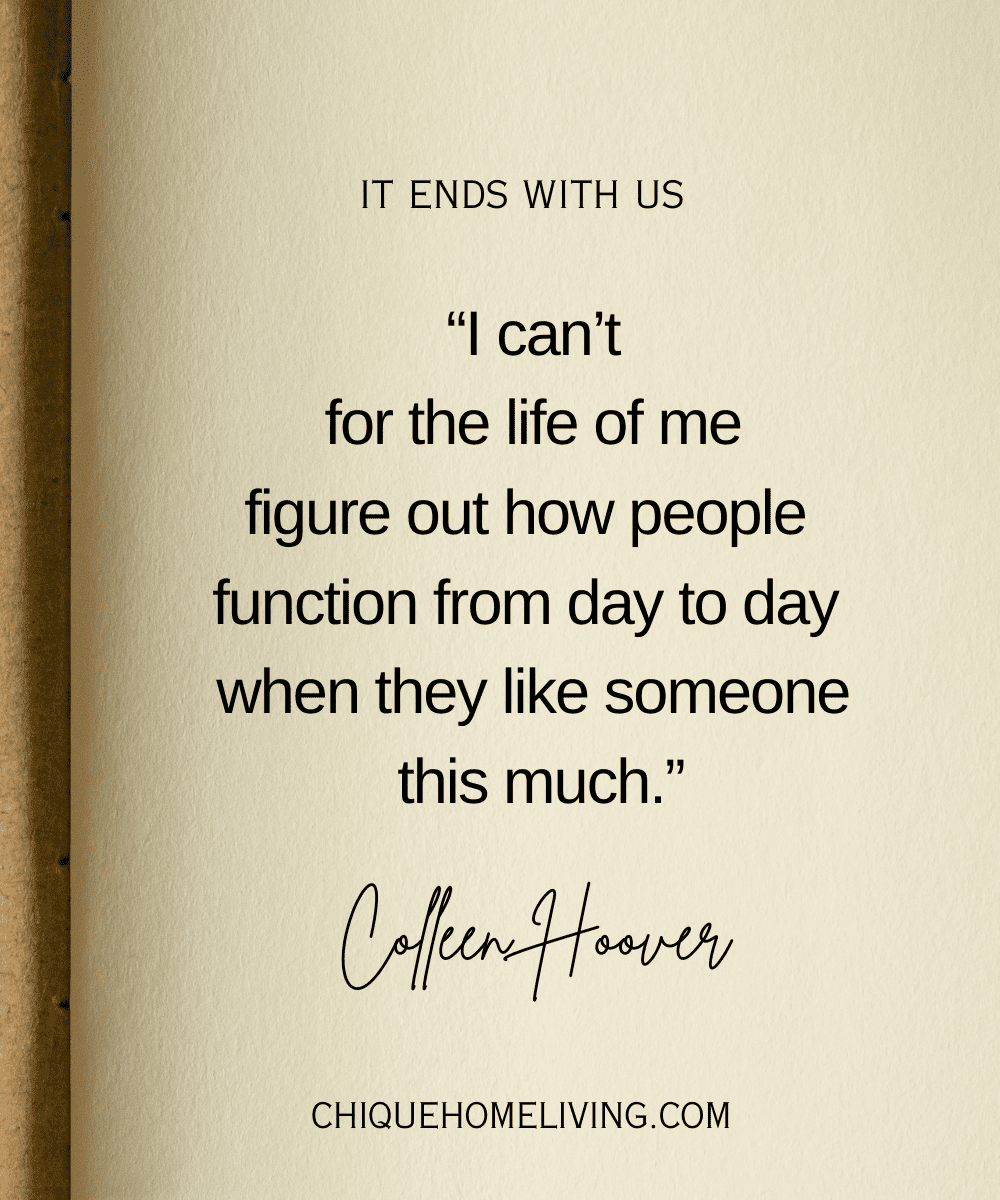 IT ENDS WITH US QUOTES
111. "But sometimes you can't control where your mind goes. You just have to train it not to go there anymore"
― Colleen Hoover
112.  "Because I've been feeling like drowning lately, and sometimes people need a reminder that they just need to keep swimming."― Colleen Hoover
113. "You saved my life, Lily….And you weren't even trying."― Colleen Hoover
114. "I told her I wanted to write it for women like her. I also wanted to write it for all the people who didn't quite understand women like her."― Colleen Hoover
115. "Things that hurt her just get swept under the rug, never to be brought up again."
― Colleen Hoover, It Ends with Us
116. "I hope you defy the odds of most dreams and actually accomplish yours." ― Colleen Hoover,  It Ends With Us
IT ENDS WITH US QUOTES
117."My favorite conversations are the ones with no real answers"― Colleen Hoover
118. "I'm way too selfish to have children."― Colleen Hoover
119. "It was about her. I wanted the man who treated her how she deserved to be treated to be given the honor of giving away her daughter. ― Colleen Hoover
120. "It stops here, With me and you, It ends with us."― Colleen Hoover, It Ends with Us quotes
You may also enjoy our article on:
85+ Age Is Just A Number Quotes