5 Important Things to Know About Live Edge Tables
Live edge tables have been existence since the genesis of furniture. These tables are well known for giving living spaces an unmatched allure. Live edge tables are relatively affordable and they have a reputation for longevity. Making a live edge table is easy and time-effective. Settlers would make tables chairs and beds while building their homes using the braw wood.
The live edge designs were promoted by an award-winning architect and designer who was known as George Nakashima who showcased his live edge collection in 1946. After that, the designs found their way into modern homes and their popularity has grown even bigger.
Live edge tables have gained even more popularity in the past decade. This has been a result of renowned interior designers integrating the designs into their projects.
What makes live-edge tables unique is that they are versatile. They can be used at home, in offices, restaurants, and other spaces. They come in various types as live edge console tables, live edge coffee tables, live edge dining tables, and live edge epoxy tables. Live edge tables are also very flexible as they can be used for either indoor or outdoor settings.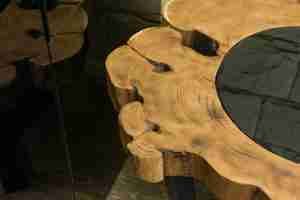 If you are there wondering what live edge is, or are looking to add live-edge furniture to your space, this is everything you should know.
What Are Live Edge Tables?
Live edge is a term derived from the natural edge left on a piece of wood. Unlike the modern furniture that has been properly cleaned, a live edge is just as it left the tree. The knots and cracks are also left untouched bringing out even more natural beauty in it.
Live edge designs are top-notch works of art. The furniture is usually handcrafted by woodworkers who have gained crafting skills over the years. They cut the table, sand it, and do some hand finishing to give it a final exquisite look. The live-edge tables come in different colors, cuts, and designs thus giving you choices.
What to Look For When Buying a Live Edge Table
Shopping is not an easy task. It is not, especially when buying something foreign to you or something you want to introduce to your household for the first time. Here are two tips to help you with making your choice.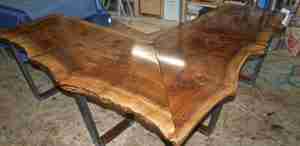 woodcuts
A wood slab is normally cut lengthwise from the tree and has a live edge on both sides. It is mostly used to make live edge coffee tables and live edge dining tables due to its substantial length.
Burl is the most expensive cut. It comes from trees that have a very large rounded outgrowth. The deformity of the tree is what we call burl. It has some really beautiful grain patterns and a unique and bumpy edge thus making it very expensive.
Features and traits
They are also referred to as butterflies. They have usually inlaid pieces of wood across a crack. They are placed there to prevent the crack from widening further. Moreover, they add some beauty to the tabletop as well.
There are options of whether you want a table with bark or no bark. During crafting, the craftsman may decide to take off the bark or leave it. However, in most cases, the bark is usually removed and edges are sanded down a bit.
How well will a live edge table fit in my decor?
The most amazing thing about live-edge tables is their timeless design. You could change everything in your house a couple of times but the live-edge table in your home will never seem misplaced no matter the design and colors.  Live edges have a tendency of complementing every home whether it's a modern or rustic country home.
A cozy home is everything we sort after when decorating our homes. Wood illuminates a sense of coziness and comfort to a room. The live-edge tables complete the natural appearance by adding movement to the room that's made of sharp corners and straight lines.
Wood comes in a neutral shade which always marries the existing decor of a room.  A live edge table is a statement piece too, it brings out an art factor in your house besides serving as a table. So, in responding to the question of whether it will fit into your decor, a live edge table is a part of the very decor.
How To care For Your Live Edge Table
Maintenance and care are key factors to ensure anything lives longer and in good condition. Live edge furniture too needs some level of care. Live edge wood is not porous, meaning it is not prone to absorbing moisture thus ensuring it remains in great shape. Live edge tables get even more beautiful with time because they are made of natural material.
For basic maintenance of live-edge tables, wipe them using mild soap, water, and a clean rag. While wiping the table, it is advisable to use distilled water. This is because tap water may leave behind mineral deposits and residues that could have a negative reaction to the wood. Avoid using harsh chemicals that would otherwise damage the wood. It is also important to keep it off heat and abrasives.
How Much is a Live Edge Table
The price of a live edge table is dependent on many factors such as its size, how unique it is, the process of production, the cut, and the customizations made. Live edge furniture is not mass-produced thus there is a cost-saving during production.
Each piece is produced from one tree and it's made with lots of attention, love, and care thus getting the beautiful end product we get to enjoy. Therefore, given all the factors to consider, live-edge tables vary in price.  However, with as low as £2,500 you can get your own piece.