24 Modern Roof Garden Design Ideas
 Are you looking for exciting ways to enliven and add modernity to your terrace garden? These modern roof garden design ideas will inspire you to transform your boring rooftop into a refreshing outdoor retreat. 
Terraces and roof gardens are the icing on the cake when it comes to buildings because they give people the ability to enjoy the scenery of the surrounding. There is no better feeling than unwinding and spending quality time with your loved ones in a beautiful rooftop garden. If you're lucky enough to have a rooftop, it's only right to put it to good use.
To relish your rooftop to its fullest potential, you need to formulate a design that will give it a convivial touch and a modern edge. Creating the terrace garden of your dreams is only the perfect inspiration away.
When planning a rooftop makeover, think about how you use the space. Do you entertain guests regularly? If so, you may need comfortable seating and a bar. If you host barbeques and dinner get-togethers, you may need an outdoor kitchen space for convenience. So, how you intend to use the space is crucial to the design and elements needed.
No matter the size or layout of your rooftop space, there are a plethora of ideas to create an alluring garden that will make anyone green with envy. In this article, we have curated 24 elegant and modern roof garden design ideas to inspire you.
Without further ado, let's find out what they are!
1. Opt for a Built-In Concrete Bench
A clever way to incorporate seating into your modern roof garden design without taking up too much space is installing a built-in seat. Concrete is a far more durable material than wood or metal. They do not get damaged by strong winds, rain, or UV Rays—which makes them ideal for outdoor spaces.
They are low maintenance and only require a professional polish and grind every 5-8 years. Although, concrete benches cannot be moved like regular garden furniture, which limited flexibility in terms of design.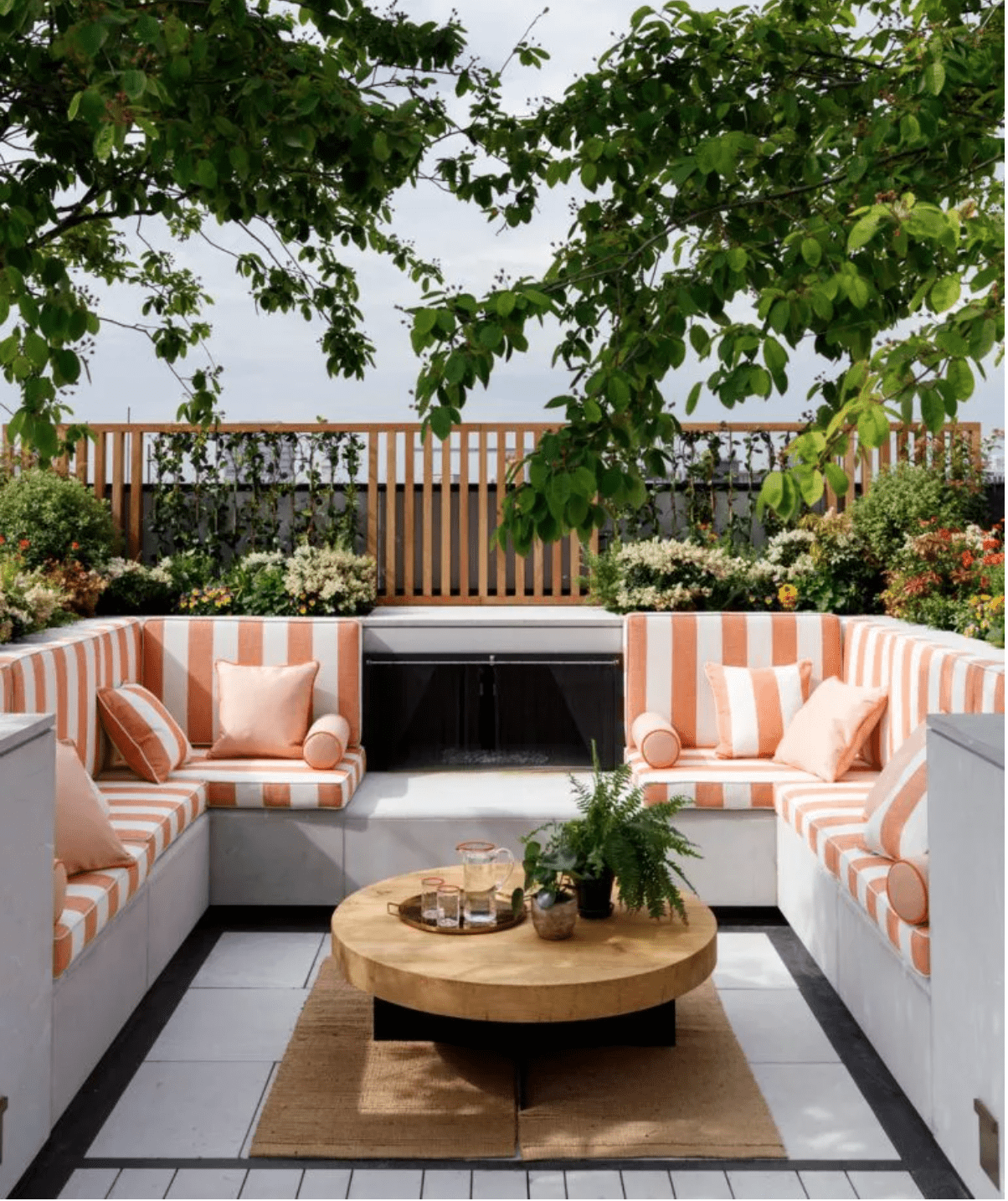 PHOTO: STUDIO ASHBY/ HAY DESIGNS
2. Stick to Neutral Colors
Modern designs often have a clean and minimalist look to them. The use of neutral colors is the simplest way to introduce modernity and sophistication to your terrace garden. Plus neutral colors are so much easier to work with.
Since gardens often have a lot of greenery, bold colors may overwhelm the space. Some of the most popular colors in contemporary interior design are white, black, beige, brown, sage green, greige, cream, and tan. A neutral color scheme is easy on the eyes and is proven to promote relaxation— which is perfect for those balmy summer afternoons.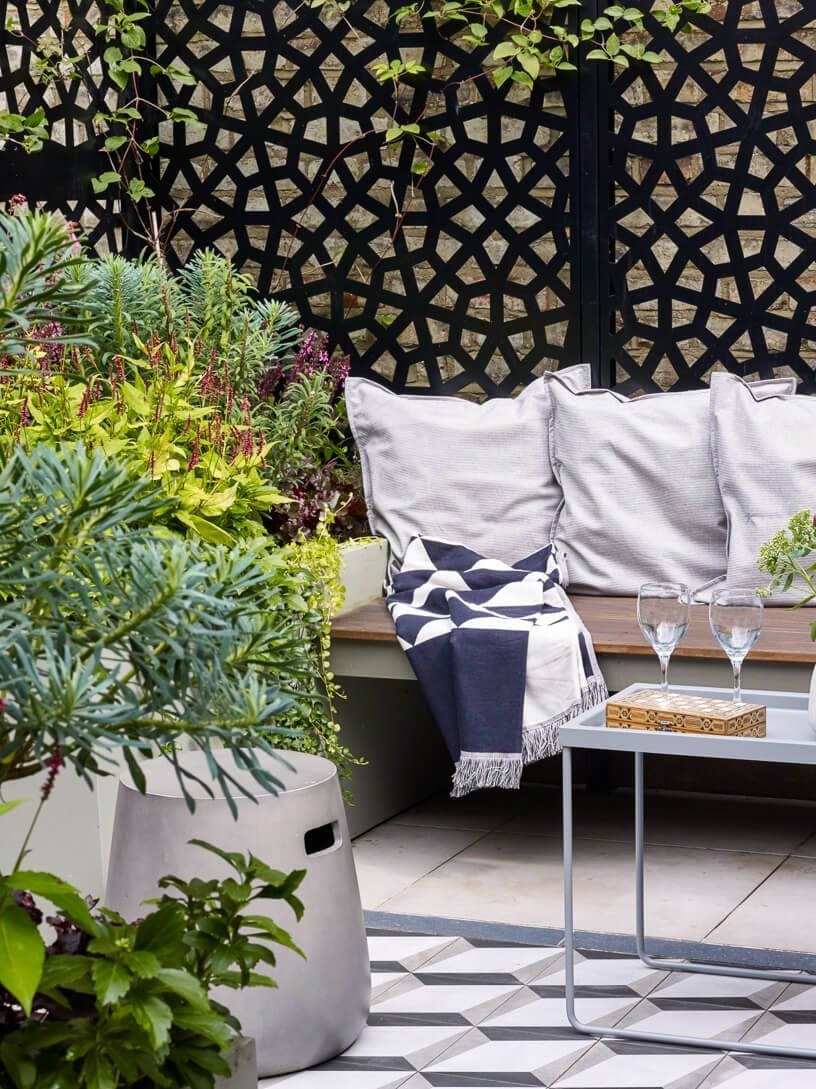 PHOTO: GEORGIA LINDSAY LANDSCAPE DESIGN
3. Create Zones to Make it Inviting
If you're blessed with space on your rooftop garden, consider creating a zone to meet different purposes. Small spaces may only contain a lounge or dining area. Big spaces can do all; a lounging area, kitchen area, and dining section.
When designing spaces like this, make sure that all feel connected by keeping the design style cohesive. Put a contemporary spin to it and bring indoor elements outside. Combine textures, patterns, and colors to create a clean, calming, and inviting environment.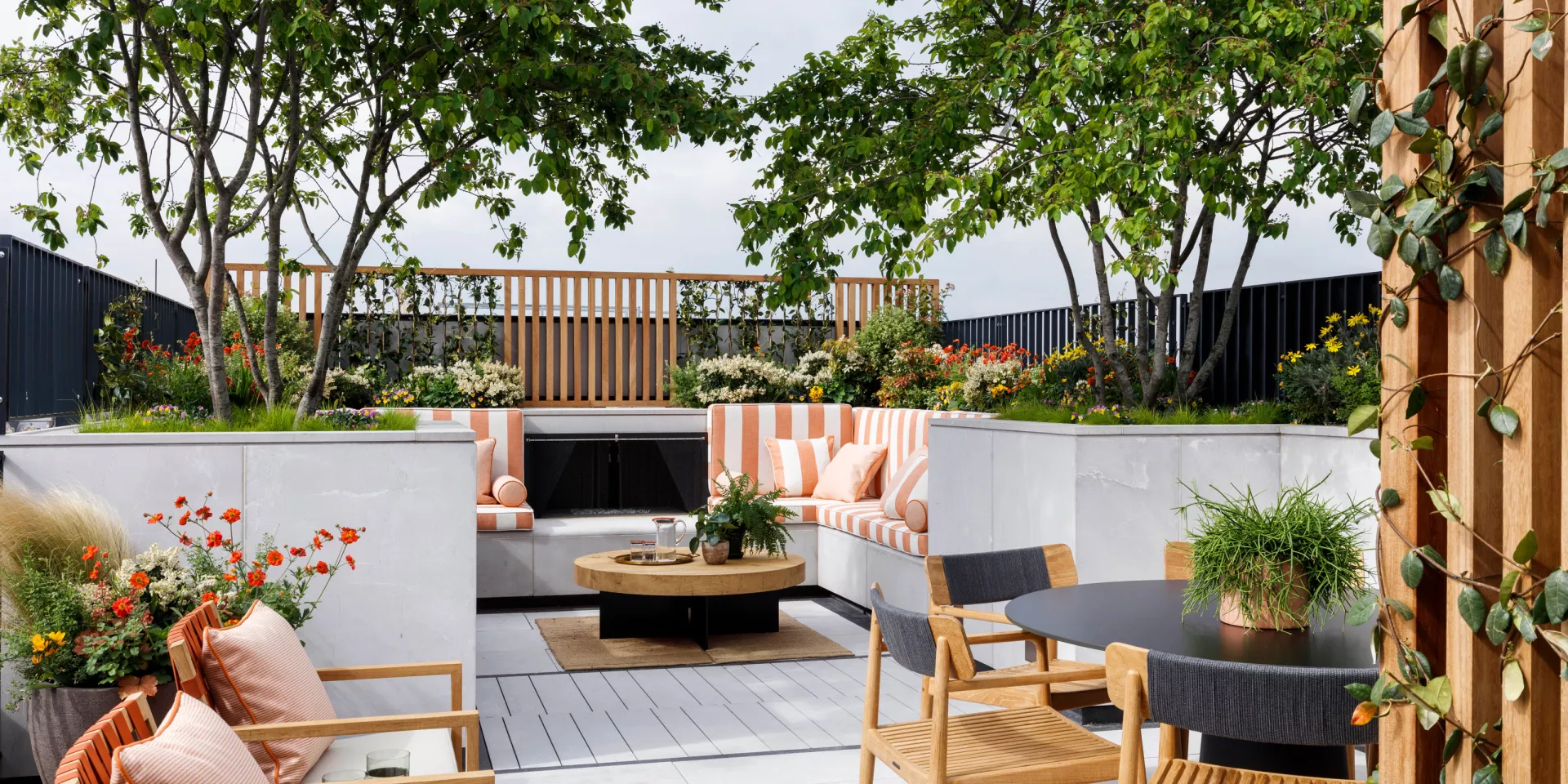 PHOTO: STUDIO ASHBY/ HAY DESIGNS
4. Choose a Design that Complements Your Surrounding
If you have a pretty neighborhood, create a sense of cohesion and an effortless modern space by opting for a design to complement the area.
Take color ideas from the environment to incorporate into your modern roof garden design. This will create a seamless flow and your roof terrace space will harmoniously blend into your surrounding.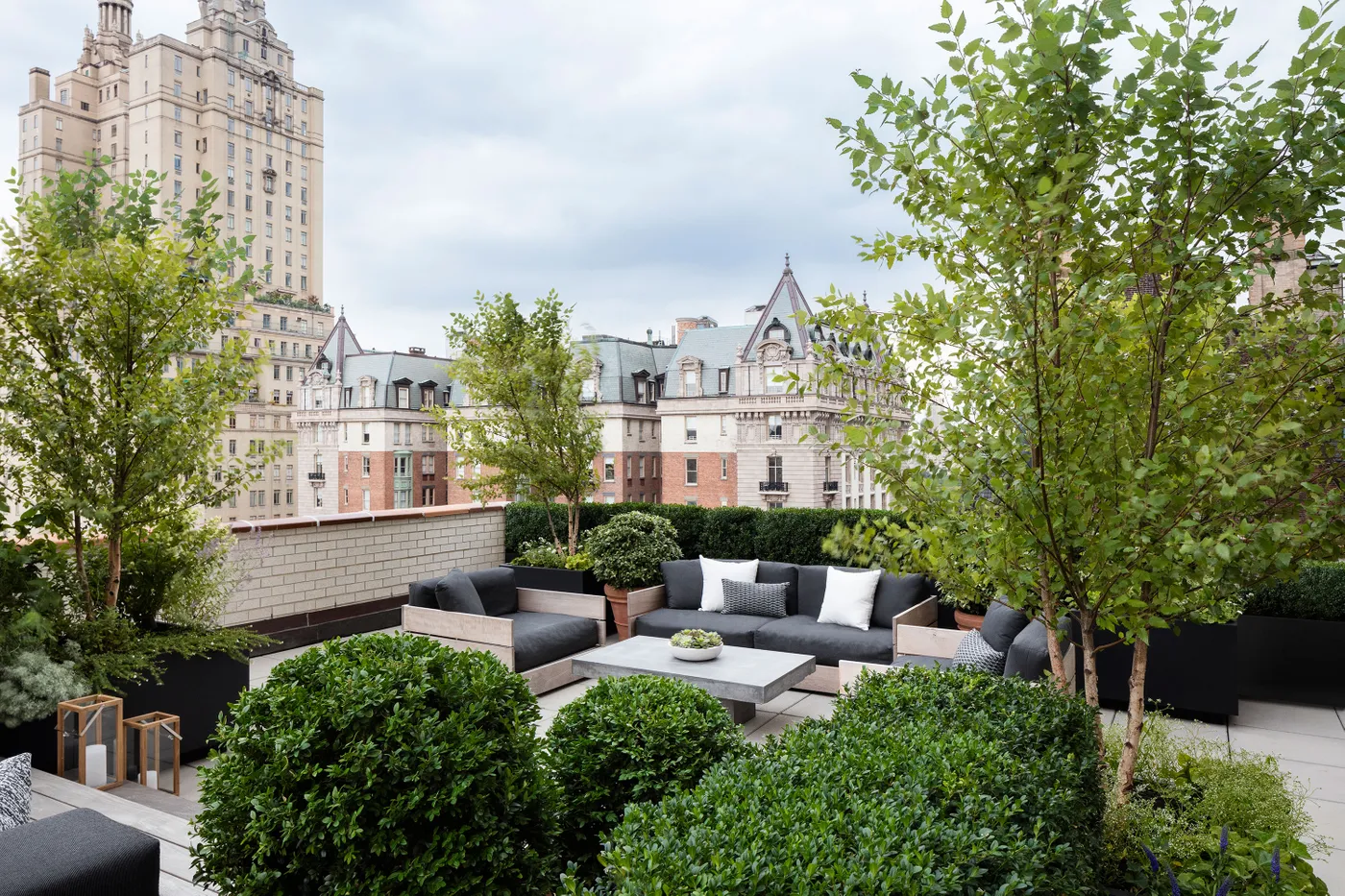 PHOTO: NICHOLAS CALCOTT
5. Incorporate a Water Feature
A water feature will instantly add tranquility and a zen-like ambiance to your rooftop garden. They are favored for bringing life and calm to a garden whilst also improving the aesthetic appeal of the space.
Plus, a water feature can serve as your garden's focal point. Water features for rooftop gardens can vary from a waterfall fountain, statue fountain, wall fountain, freestanding fountain, rock pond, or birdbath.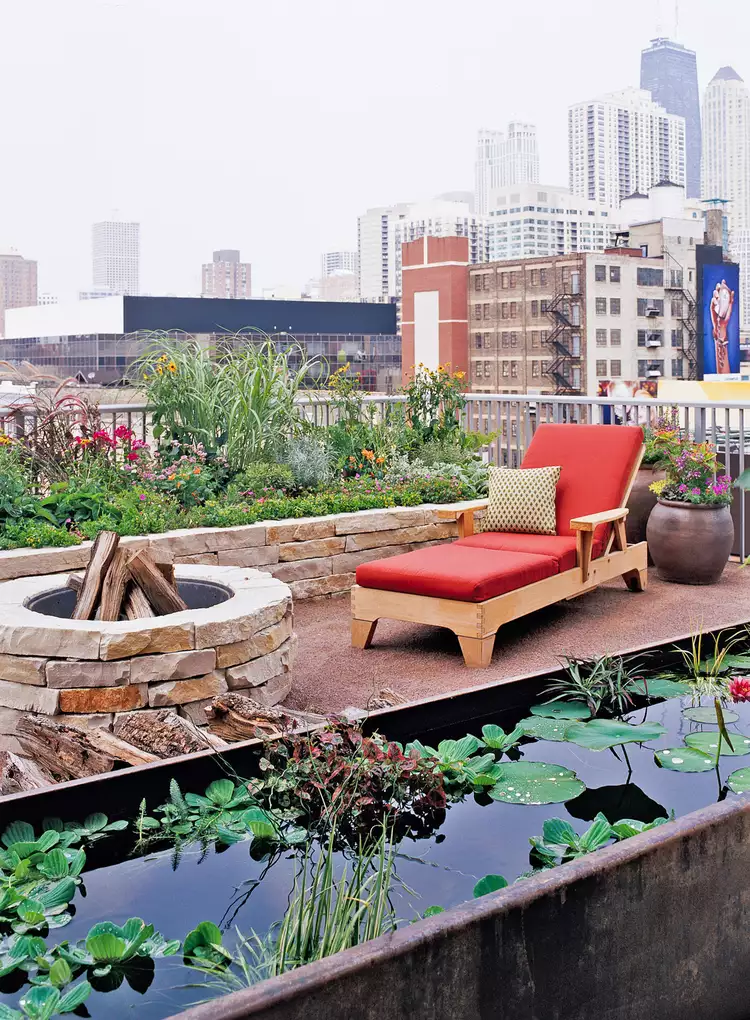 PHOTO: MARTY BALDWIN
6. Bring in Large Potted Plants
What's a garden with greenery? Potted plants are a must-have modern roof garden design element. Large pot plants are an easy way to add some greenery and sophistication to your space. The white pots can make the space feel more fresh and modern.
According to Award-winning garden designer Chris Beardshaw, the best plants for container gardening are Alphines, Hastas, Scented Pelargoniums, Agapanthus, Lavender, Echium, and Cosmos.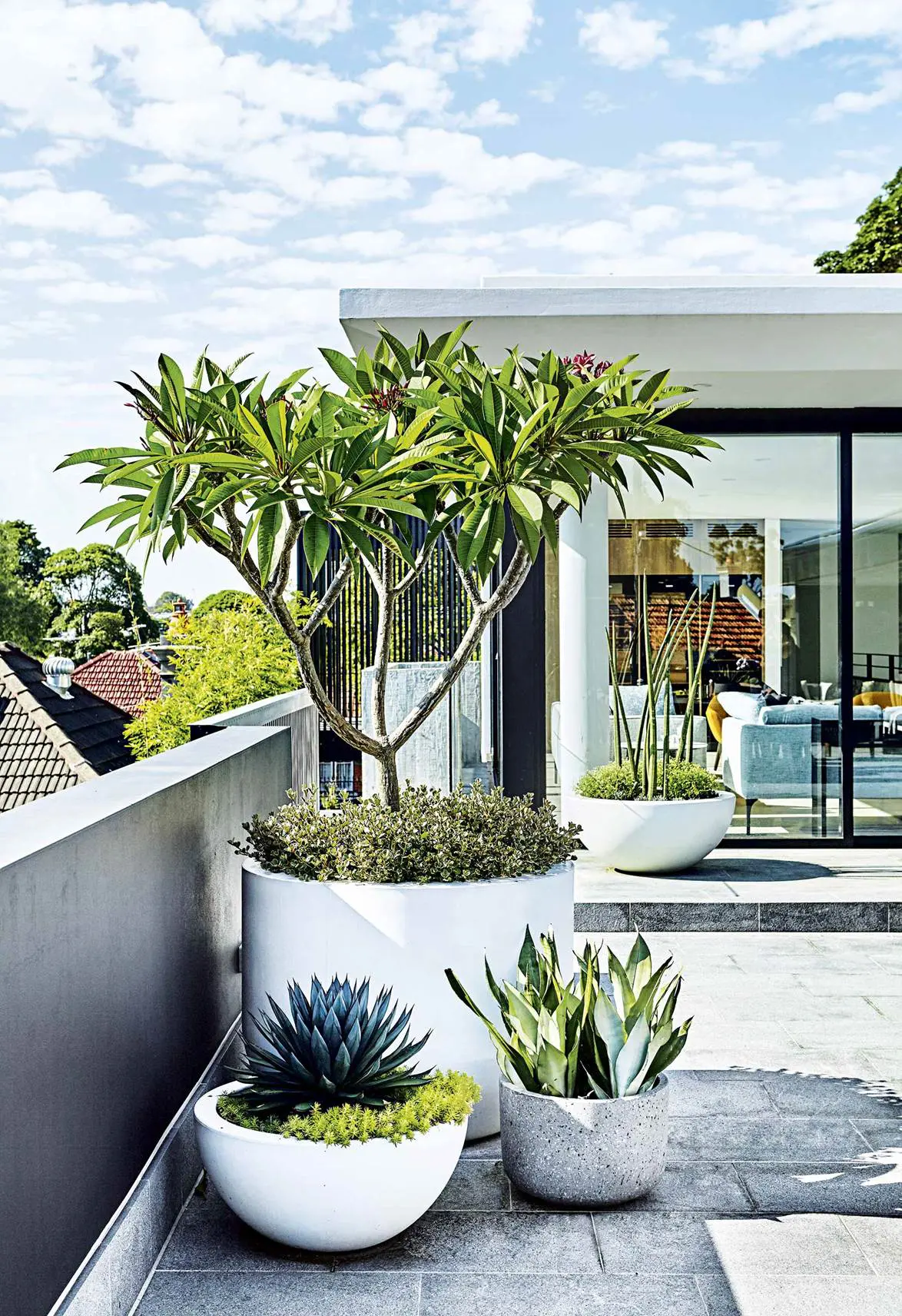 PHOTO: ADAM ROBINSON DESIGN
7. Place Dining Furniture
Dining furniture serves numerous purposes and not just dining alone. You can relax here with friends on family on nice sunny afternoons, host parties, work, or just relax and enjoy the scenery. Plus, this furniture can serve an as eye-catching centerpiece to your modern terrace garden.
PHOTO: FUTURE
8. Set up Comfortable Seating
It is common knowledge and also backed by scientific research that being outdoors improves your physical and mental well-being. A garden sofa or daybed is a common comfortable seating that most people incorporate in their modern roof garden design.
It enables you to unwind and entertain guests whilst elevating the aesthetics of the space. Although it can be difficult to choose the right one for you. Fortunately, there is a wide array of garden sofas materials, styles, shapes, and colors available today to complement any space.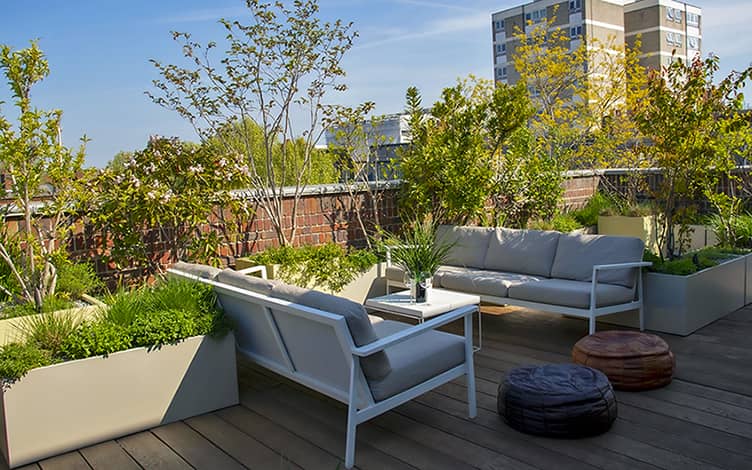 PHOTO: DESIGN CAFE
9. Add a Pop of Color with Cushions and Throws
Color-wise, when designing a modern roof garden, it is often best to lean into a minimalist. A pop of color can lend character and a strong sense of style to your garden.
There are many subtle ways to introduce an eye-catchy color without overwhelming the space. You can inject accent colors through cushions, throws, rugs, and even plant boxes.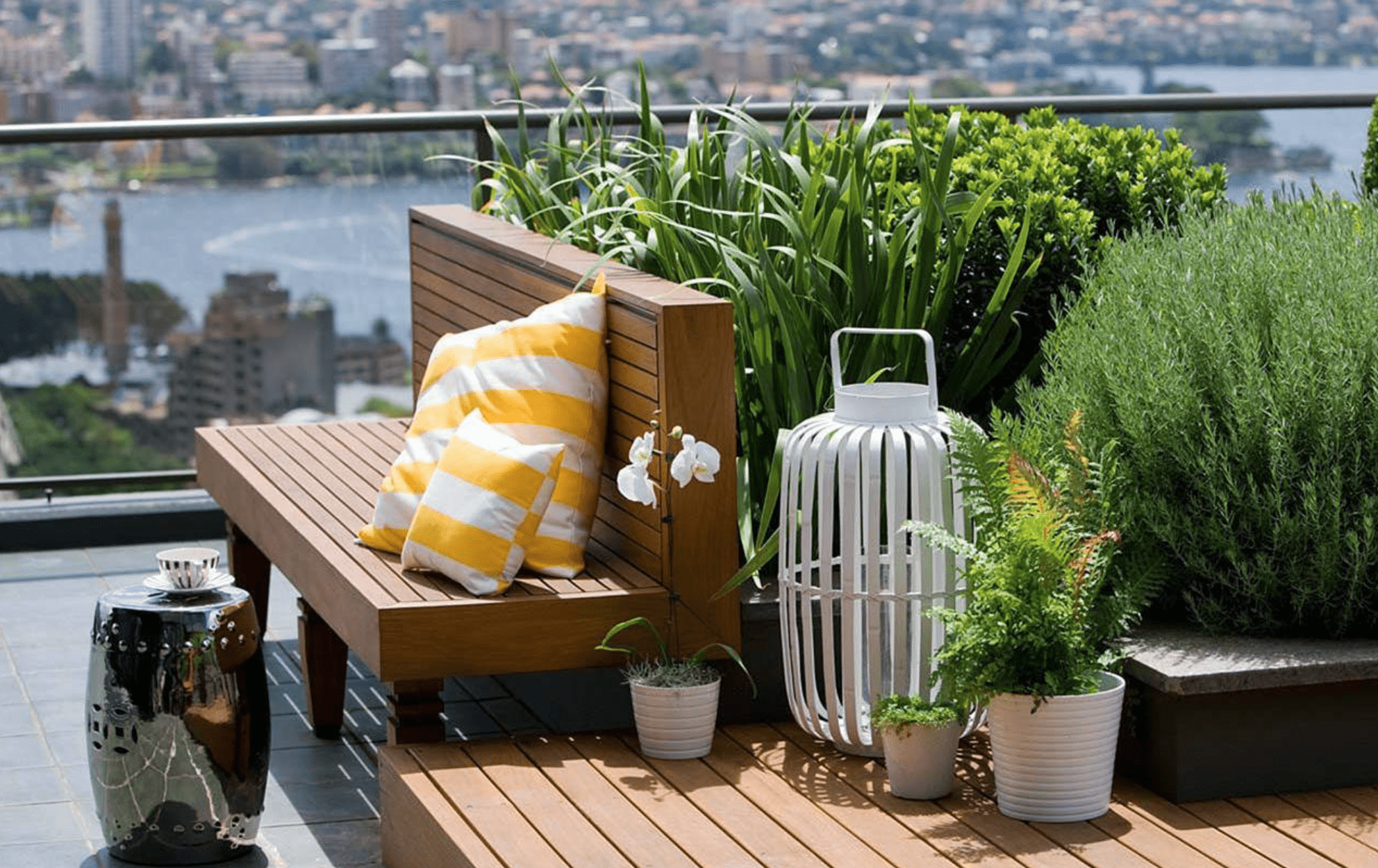 PHOTO: BAKKER
10. Install Outdoor Lighting
A roof garden design is incomplete without lighting. Not only do they help to illuminate the garden in the evening but they can also add a refined sense of style to the space. There are several types of outdoor lighting to consider; flood lights, string lights, bollard lights, wall lights, spot lights, and in-ground lights.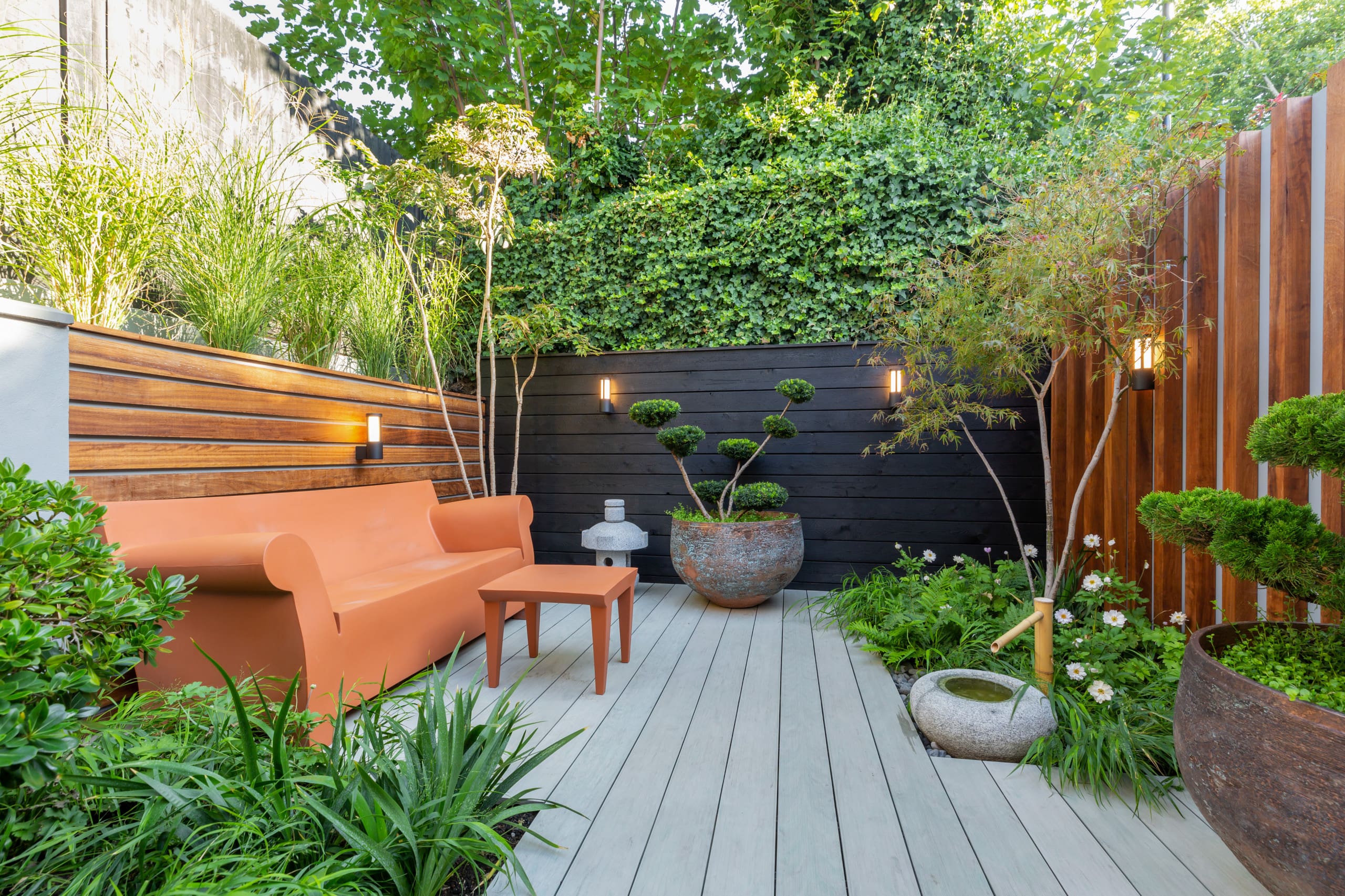 PHOTO: EPOCH LANDSCAPES
11. Enhance Privacy with Climbing Plants
If your property is surrounded by other buildings, keeping your terrace garden private can be a hassle. Climbers and wall shrubs are a great way to clothe the fences whilst adding greenery to your roof garden. Not only do they beautify the fence but they also save floor space and help to keep the space shaded.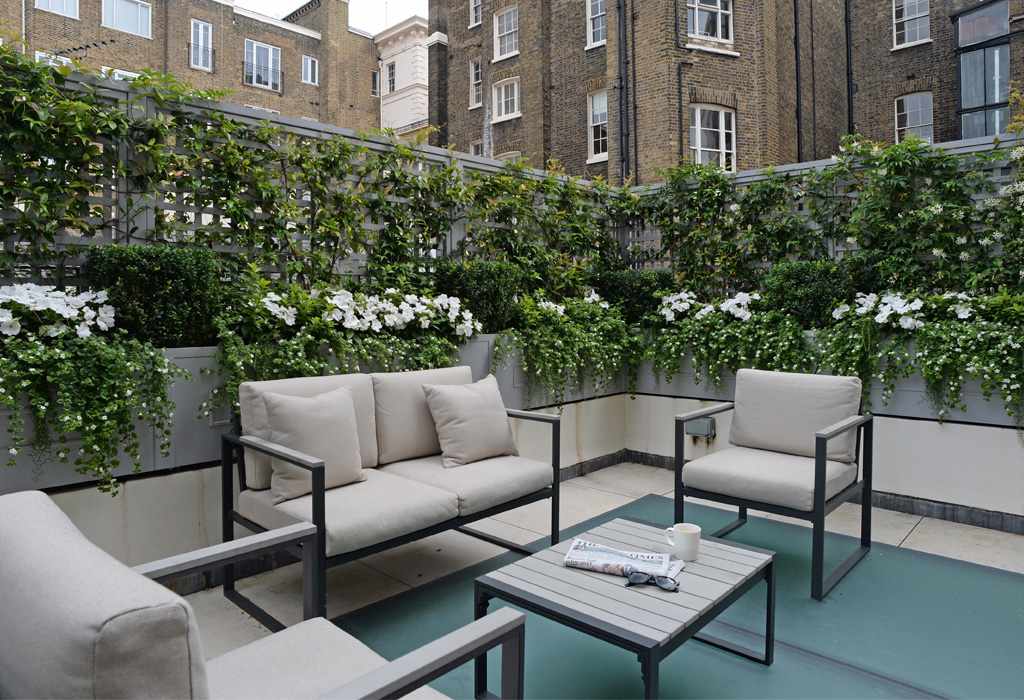 PHOTO: THE GARDEN TRELLIS
12. Create an Outdoor Kitchen
An outdoor kitchen is a practical and aesthetically pleasing addition to any rooftop garden space. It is perfect for entertaining as it allows you to show off your culinary skills to your guests.
Cooking outdoors is much more exciting, especially when you start cooking those finger-licking good grilled barbeques and the aroma floods the entire space. This feature will also instantly bump up your home's value.
PHOTO: FUTURE PLC/ JEMMA WATTS
13. Install a Kitchen Island
Kitchen islands have become a de rigueur for contemporary homes today. They make food prep easier and provide more storage space for the kitchen. It provides a space for a sink to be added as well. Practicalities asides, incorporating a kitchen island in your modern rooftop design will add a sophisticated and luxurious feel to the space.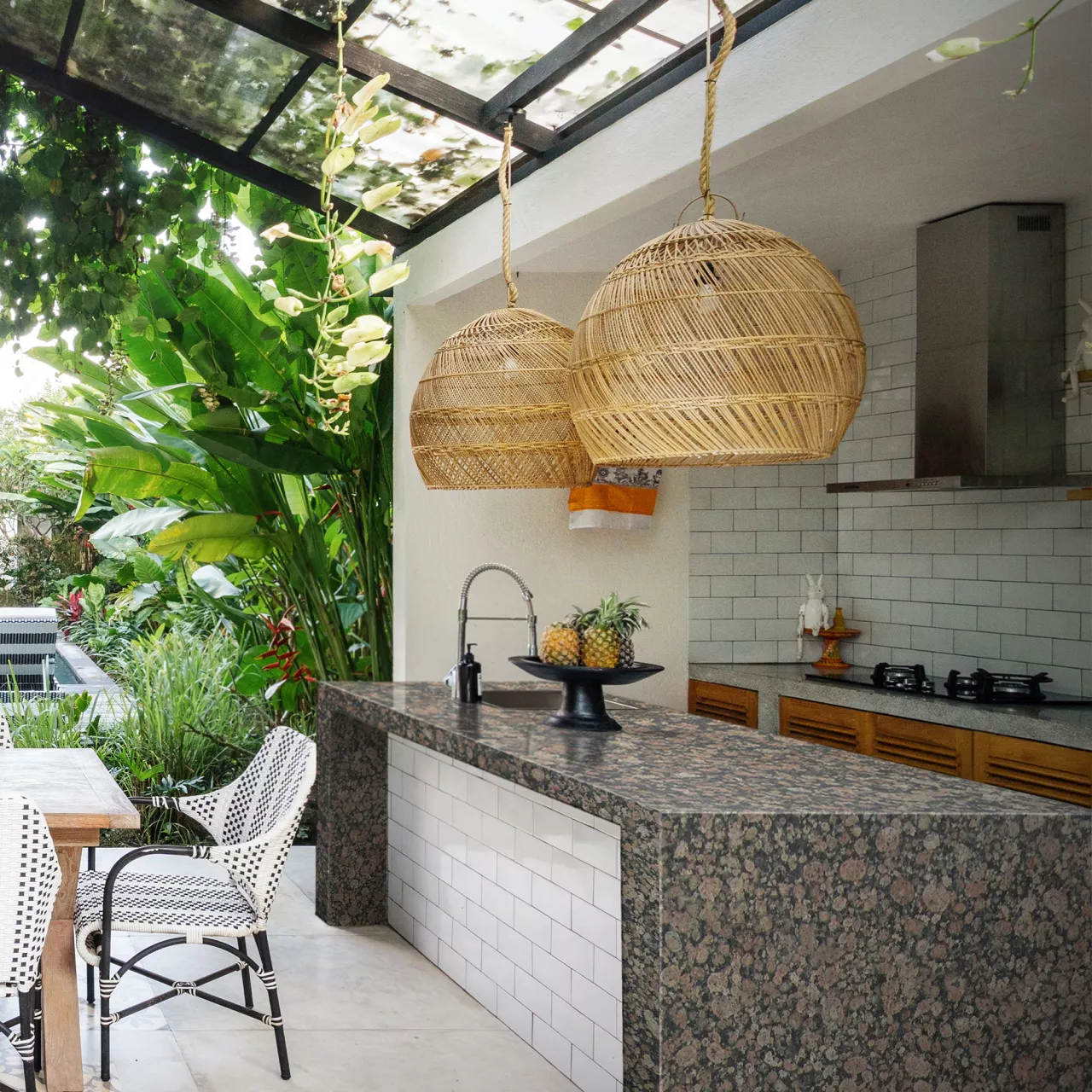 PHOTO: CULLIFORDS
14. Place Sun Loungers
Soak up the sun in the comfort of your space with a sun lounger. This is a common piece of furniture used in modern roof garden design. A sun lounger is not only ideal for getting tanned but it can also be used on the backrest to read a book or catch a nap. They create an overall aesthetically pleasing and calmer feel in the garden.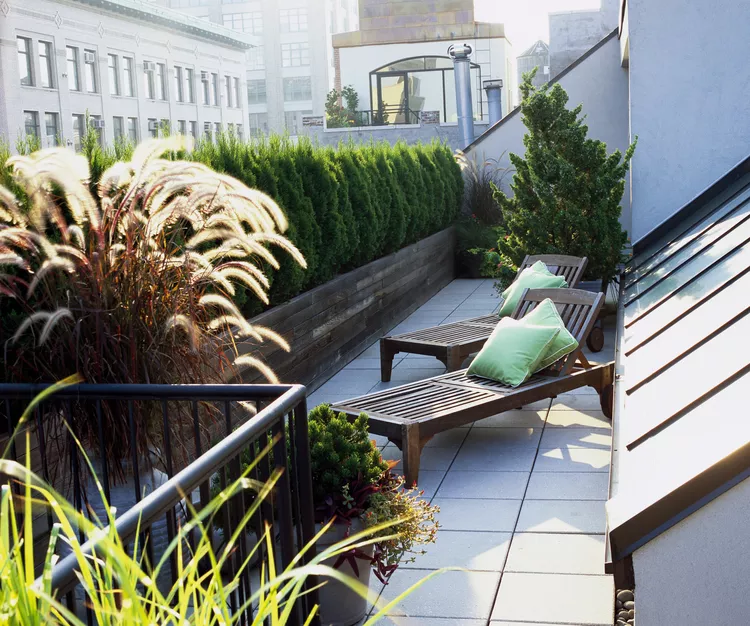 PHOTO: MATTHEW BENSON
15. Install a Glass Flooring
Glass flooring makes modern spaces very appealing. They are great for making a space appear more open and bigger. This structural element can instantly lend elegance and a luxurious feel to your space. You can opt for either transparent glass or frosted glass, depending on if the room underneath requires privacy or not.
PHOTO: GEORGIA LINDSAY LANDSCAPE DESIGN
16. Shade Up with a Parasol
Parasols are designed to block UV rays from the sun. Placing a parasol in your garden means you can enjoy your enjoy space when it's sunny and even rainy. We suggest you choose a quality but also visually appealing parasol umbrella for your terrace garden. They also help to add an extra layer of privacy to the space.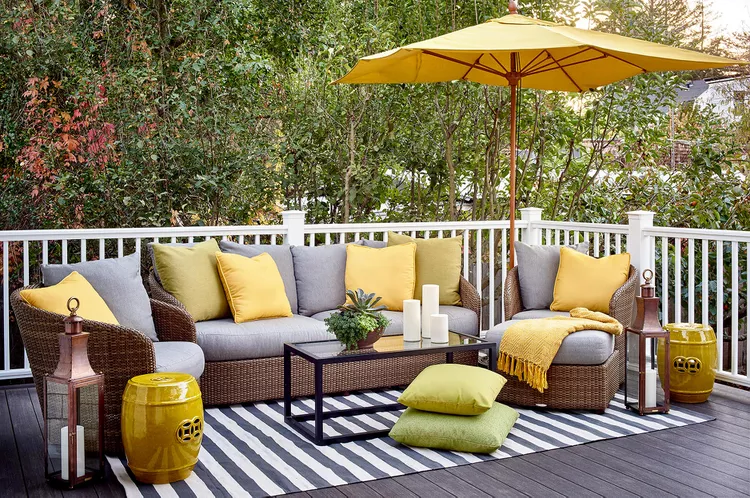 PHOTO: DUSTIN DECK
17. Bring the Indoor Out
If you plan to spend a good amount of time on your terrace then you should consider bringing the elements found in the home out. This includes but is not limited to a comfortable and cozy sofa, television, coffee table, and rugs. This modern roof garden design style infuses a sense of visual calm and a comfortably modern feel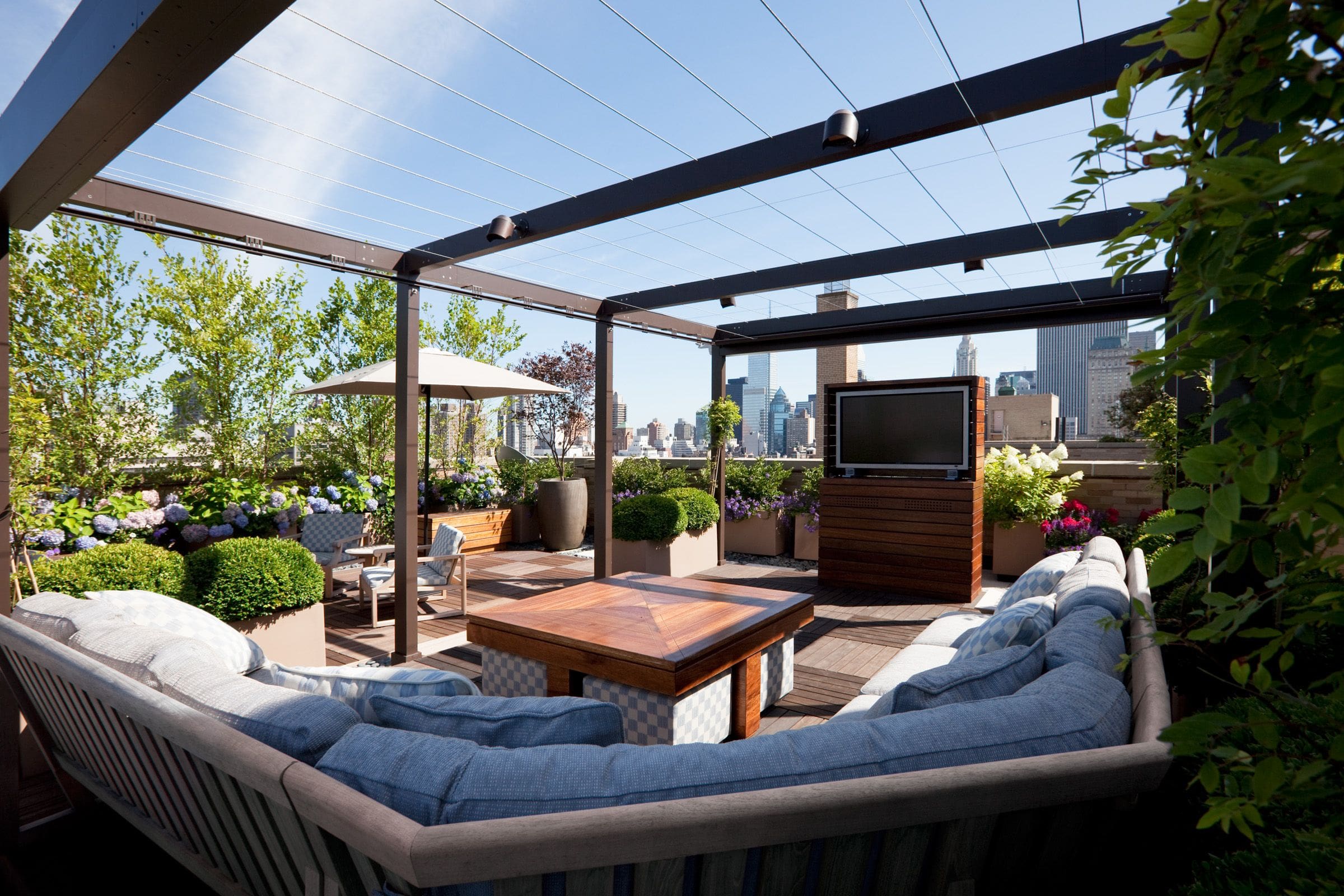 PHOTO: HOLLANDER DESIGN
18. Install a Pergola
Pergolas are overwhelmingly popular in modern roof garden design. They are a building structure constructed from posts and beams with the aim to provide shade but not completely block the sun in the garden. A pergola can be free-standing or attached to the wall of a building. This incredibly useful shade comes in a wide variety of styles to suit any outdoor space.
PHOTO: NEWECO LANDSCAPE DESIGN & BUILD
19. Embrace Minimalism
You cannot go wrong with a minimalist design approach. The concept of minimalism is keeping things simple, clean, and uncluttered.  It is a modern form of elegance and style. Neutral and calm colors are commonly used in this interior design style. Simple and refined is what most modern roof garden designs look like.
PHOTO: CLAYTON ORRIGO
20. Add Coziness with a Tabletop Fireplace
The glass tabletop fireplace has seen a huge spike in popularity over the past couple of years. This portable space-saving fireplace uses bio-ethanol as its fuel source, hence, it burns clean and smoke-free. By incorporating this feature in your modern roof garden design, you will get to enjoy the warmth and beauty of real flames without dealing with bulky traditional fireplaces.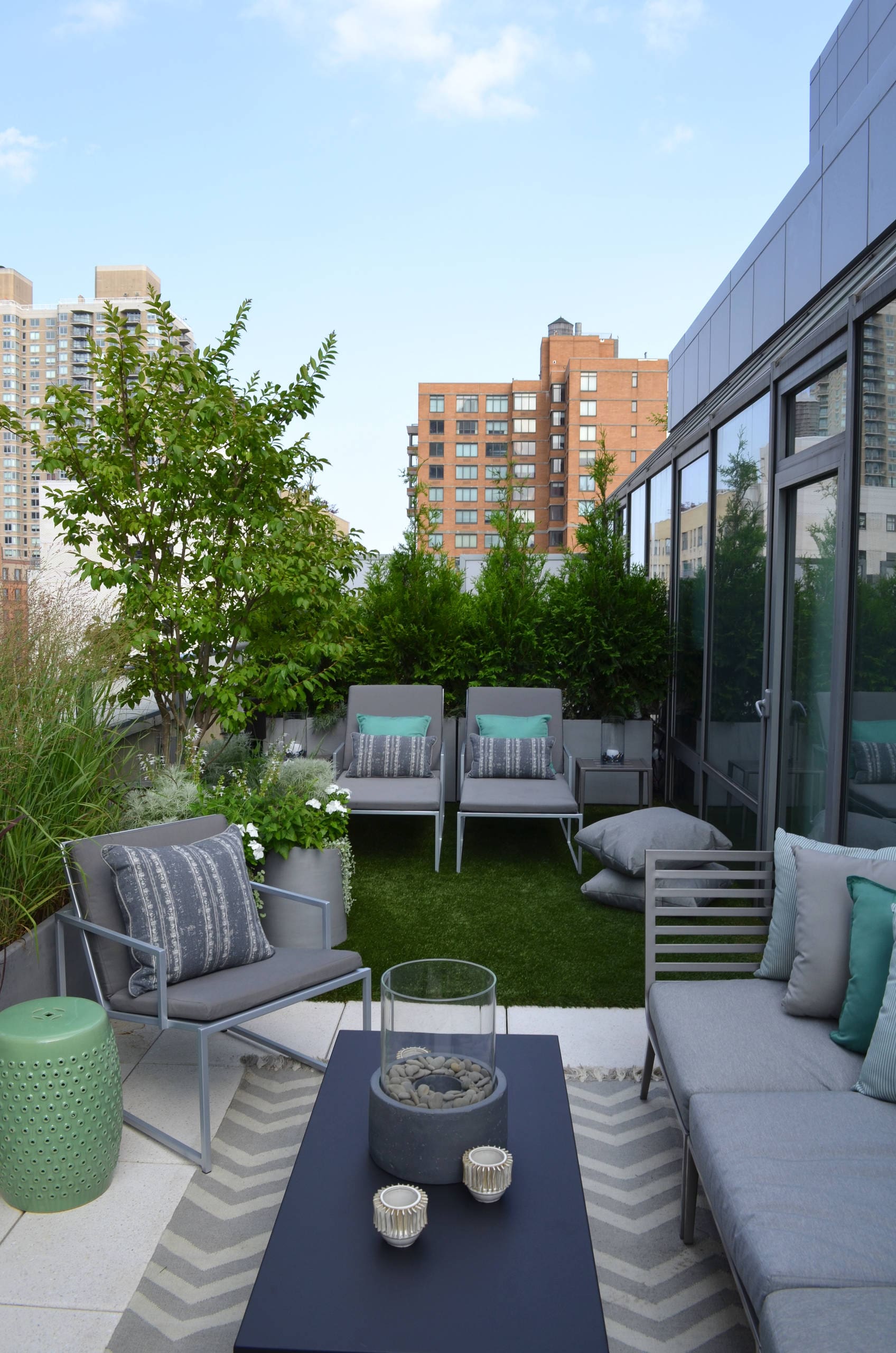 PHOTO: JEFFREY ERB LANDSCAPE DESIGN
21. Install Artificial Turf
Faux grass can give your rooftop greenery and understated beauty. Artificial turfs are highly durable and require minimal upkeep. They have an expected life space of 8-20 years and won't get damaged by severe weather conditions. Artificial grass has become so advanced today that some look almost like the real deal.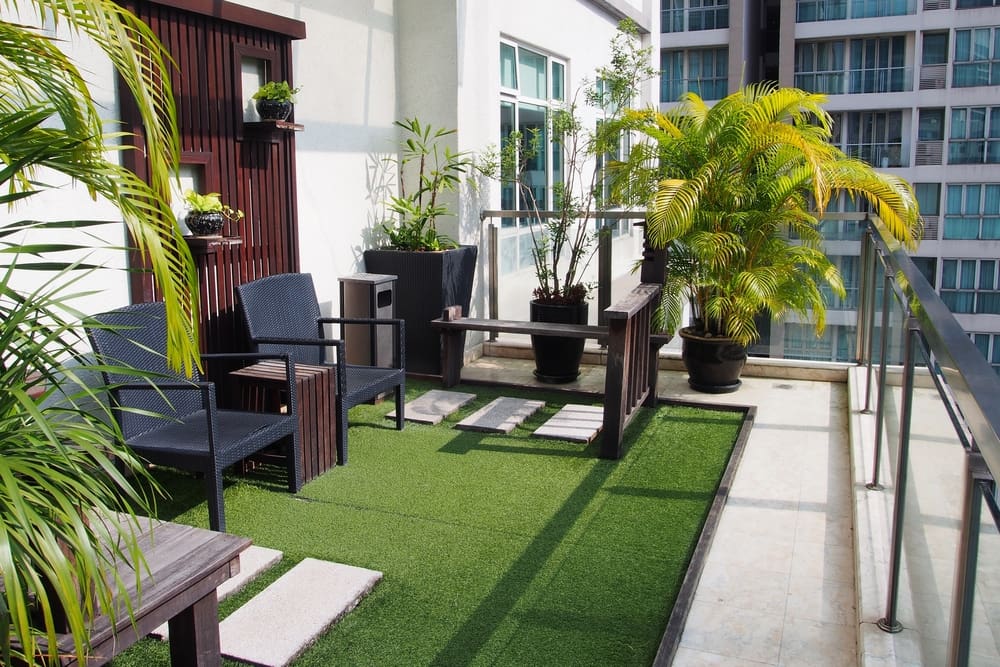 PHOTO: DESIGN CAFE
22. Add a Composite Bench
Composite is a material made up of real wood fibers combined with plastic components. The composite bench has a wealth of benefits. Unlike metal or wood benches, the composite bench is low maintenance and not susceptible to corrosion, rust, or stain. It will not require any paint job after years of usage, as opposed to its counterparts.
PHOTO: JEFFREY ERB LANDSCAPE DESIGN
23. Play with Colors
If maximalism is your thing, bring in some unexpected colors, textures, and patterns to create a space that is rich and dramatic. This is ideal if you want to create a modern roof garden design that is fun and full of character.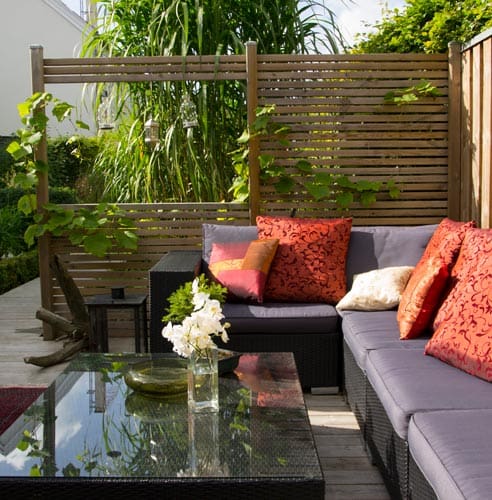 PHOTO: NOTCUTTS
24. Install Glass Railings
An element that is predominant in modern homes is glass. A glass railing, otherwise known as a glass balustrade is a lot more durable than it appears. It is resistant to wind, water, and extreme temperatures. If your roof garden has a great view that you don't want to miss out on, maximize visibility with a glass railing. This type of barrier adds modernity and a luxurious feel to a home.
PHOTO: FUTURE/DAVIDE LOVITI
Save Image to Pinterest