Transforming Your Basement Area into an Entertainment Zone- Steps to Follow!
Do you like to watch movies in the cinema halls munching on popcorn, enjoying every bit of it? Well, most people love that! But during these pandemic times when the world is at a halt, is it necessary to say goodbye to your entertainment needs? Obviously not! You can now create your fun zone at your home in Auckland as per your requirements by transforming your basement.
Confused, what are we talking about? Let us clear it for you. We are talking about the basement home theater experience for you. Why are we stressing you to build one in the basement? Because it is an ideal location to have fun with your family.
After setting it up, you will remember its thrilling experience throughout life. There are umpteen variables to consider in this aspect. The options are plenty. But you don't know where to begin from? You need not worry! We have got your back. Without much delay, let us start with what you need to know!
Pre-Remodeling Tips to Follow
Declutter your basement
The foremost step is to declutter the underground area. It takes time, but it is worth the efforts. Make a plan, pick up a bag, and try putting unnecessary things in it.
Cellars allow you to store piles of boxes and bags. But sometimes there are large items too like furniture or old appliances. Put extra effort into moving these items. If you don't want to keep them, then sell them or dispose of them. Getting rid of more oversized items will sooner free up space for you. Go through the entire area systematically, clear out unwanted items, and organize those you require.
Your entertainment zone needs to be enticing. If it is not cozy, then how would you enjoy the best moments when watching a movie? A projector or television in the dark cellar is not at all inviting. So, with the help of the tv mounting professionals, you can mount your TV properly and renovate the basement by installing a drop ceiling and proper lighting. They will look into the exposed pipes and vents for you. They will help you screen every minute detail to enhance the ultimate experience.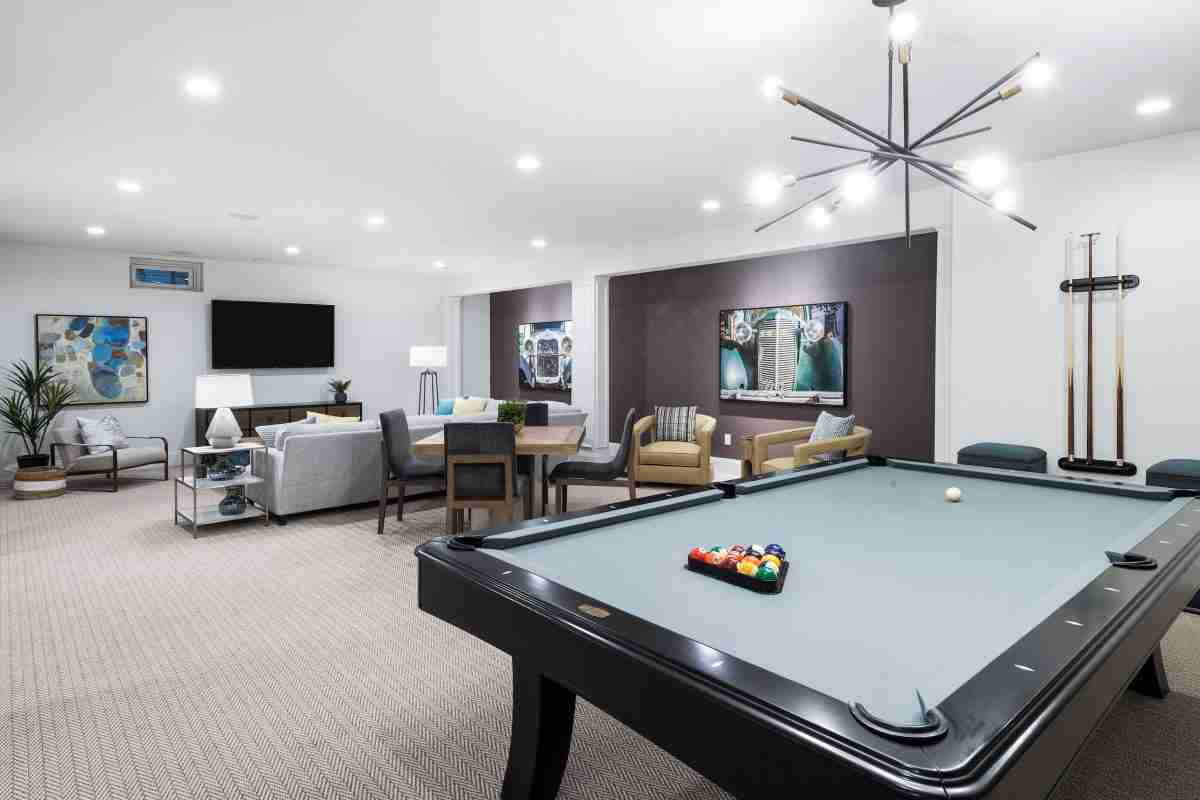 Remodeling Steps That You Must Consider
Vape Barriers to avoid moisture issues
It is a well-known fact that cellars are prone to moisture and mold. What to do in this case? Use vapor barriers in the walls. This will help in absorbing the water. Or you could also install insulation with vapor barriers. This will soundproof the whole underground area and will regulate the temperature.
Another option here is a high-capacity dehumidifier. It eliminates the odors from the air. In this way, unwelcoming fungus won't impact your entertainment time. You can enjoy munching on the snacks without getting the musty smells.
Lighting system 
What types of lights do you need in your entertainment zone? Proper lighting can make or break the experience for you. That is where the professionals come into the picture. They will install the lightings as per your needs. They will look into the pre-wiring and ventilation aspects. Not only that, if you want to revamp or rewire this area, they will look into that too.
But why should you approach professionals? Because according to experts, it ensures the health and safety of your family members. The existing electrical system in your house should be strong to support the wiring requirements of your renewed lighting system.
Also, suppose your equipment faces the problem of overheating. In that case, a ceiling-mounted ventilator is what you need to avoid any hassles. You may even need a protector or a protection box. If the cables are messy, then it can prove to be a hazard for the family members. Moreover, it ruins the aesthetics of your basement theater.
Arrange an adequate sound system
A good sound system only works well if you consider acoustics. You must consider all the hard and soft surfaces for your media room and how they will affect the sound quality. You can choose to have soft rugs and curtains to lessen the effect of echoes. Sound panels are yet another choice. These are best for the top-notch listening experience and decrease the disturbance caused by the noise coming from the home theater.
An HD sound system gives you an enthralling audio experience. Many people go with the in-wall speakers in the basement home theater. Why is that? Because acoustic wall panels work well with the in-wall speakers. Hence, create an impeccable sound system, and you are good to go!
Display screen
Do you know what the crown jewel of your home theater system is? It is the display screen. The size, as well as the efficiency of the projector, both are a must for a cinematic experience. If you want an intriguing experience, you must opt for one of the best home theater projectors or television. Make sure that it should not catch direct light.
Seating is essential
Seating is a crucial element that can make or break your pleasant time. How many people do you want to fit in? Keeping the audience in mind, decide the color, size, and shape of the seats. Do you know that you can also add custom seats? For instance – if you have children, then you can opt for small seats with colorful covers. Kids will surely love it. Ensure that everyone has an equal and good view of the display.
You can turn a portion into a drink bar
Imagine watching a movie with a delectable drink in your hand. Oh, what a delicious experience! Nothing is going to beat the arrangement of your basement turned into an entertainment zone. Keep a bunch of your favorite drinks here, and set the "bar" high. It will turn it into a more social area. Be ready to add glitz to your home entertainment time!
To sum it all up
A media room at your house is a perfect place to catch up with friends and family. Thanks to advanced technology nowadays, you can convert the basement into a fascinating fun zone without breaking the bank. With careful planning, you can complete your dream entertainment needs without a glitch. Hopefully, the tips mentioned above are enough to reach you to the desired outcomes.
Get ready, folks! It is time for some drama and music. Turn up the volume and dive into your dream world. Don't forget to keep popcorn ready with you to enjoy a lively time.