Compound Wall Design Ideas
The compound wall is the first line of defense against intruders, protecting the property and the house from animals, burglars, and other unwanted visitors. The wall that encircles your home serves a certain purpose. It could be a component of your property's attractiveness as well as safeguarding it.
The boundary wall, also known as a compound wall, must be able to achieve both of these objectives. Your house's compound wall design will also play a lot of purposes. That is why the design of a compounding wall should be given careful consideration. Compounds walls don't have to be simple walls that divide a residential area; after all, they're an extension of your home. The fundamental aim of the compound wall is security and safety, and you must not sacrifice either for the sake of aesthetics.
The art of compound wall design has been perfected since Shivaji's time, but the newest rage is the distinctive compound wall designs, which are glitzed up with the latest amenities and plans. However, keep in mind that house compounding wall design is constantly evolving into the next big thing! Here are some compound wall designs that are carefully selected to inspire you:
Compound Wall Design #1: Stone Cladded
The tall stone wall that creates the private swimming pool's barrier is framed in wood. The niche in the wall provides space for a private poolside seating area, and the timber frame that surrounds the stone extends above it to form a pergola roof.
Compound Wall Design #2: Masonry
A masonry compound wall is the most popular compound wall design, which is normally constructed with bricks and cement mortar. Masonry compound walls are erected atop a two-foot base and have a height of at least five feet and a thickness of six inches. Masonry compound walls are coated with cement when the basic structure is completed. Finally, paint is applied to get the desired appearance.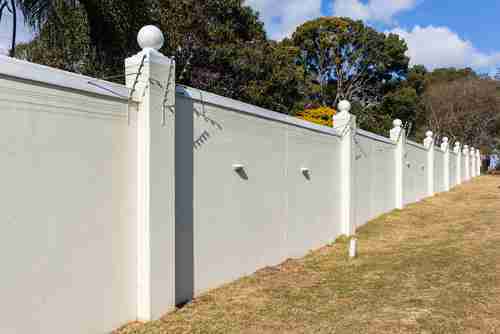 Compound Wall Design #3: Precast
Precast walls, which are typically made of steel and concrete, are widely regarded as the best residential compounding wall design. Every installation procedure is also accomplished in a timely manner. Furthermore, precast compound walls are manufactured in a factory and brought to the job site, resulting in a lower total cost than masonry compound walls. It does, however, retain the current compound wall design.
Compound Wall Design #4: Concrete with Slats
Concrete and slats have become a widely used infill option throughout the years, and they aren't going away anytime soon… Add a splash of texture and detail to your wall design with materials ranging from aluminum to wood.
Compound Wall Design #5: Timber infills
Timber infills are a modern, one-of-a-kind compound wall design. You can use a combination of modular panels and wood infills. This will result in a really appealing appearance. It will last a long time and give off a bright vibe. This compound wall design protects the majority of the most opulent homes.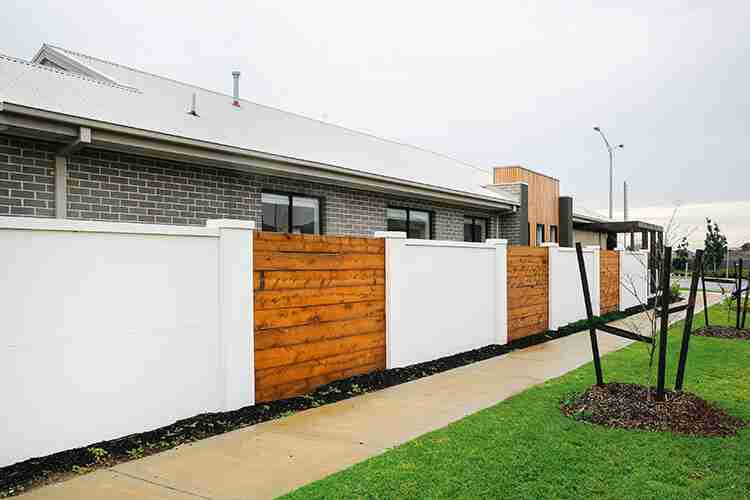 Compound Wall Design #6: Grill
Grill enclosed compound wall is also one-of-a-kind. A steel or iron grill is usually installed on the half wall in this configuration. It provides excellent protection for the home, and you can see outside from the grill. This compound wall design wall provides your home with a luxurious, royal appearance. You can utilize this design to elevate the atmosphere in your home.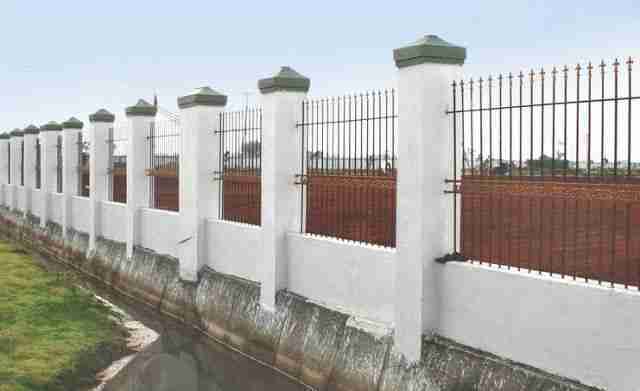 Compounding Wall Design #7: Wood planks
In today's India, wood is increasingly being employed on urban home facades. Seasoned wood can be used as a cladding on an existing composite wall or to replace the entire wall as a structural unit. Ready-to-use treated wood planks come in a variety of colors and textures and can be used outside right away. With proper cleaning and upkeep, high-quality wood products can last a long time.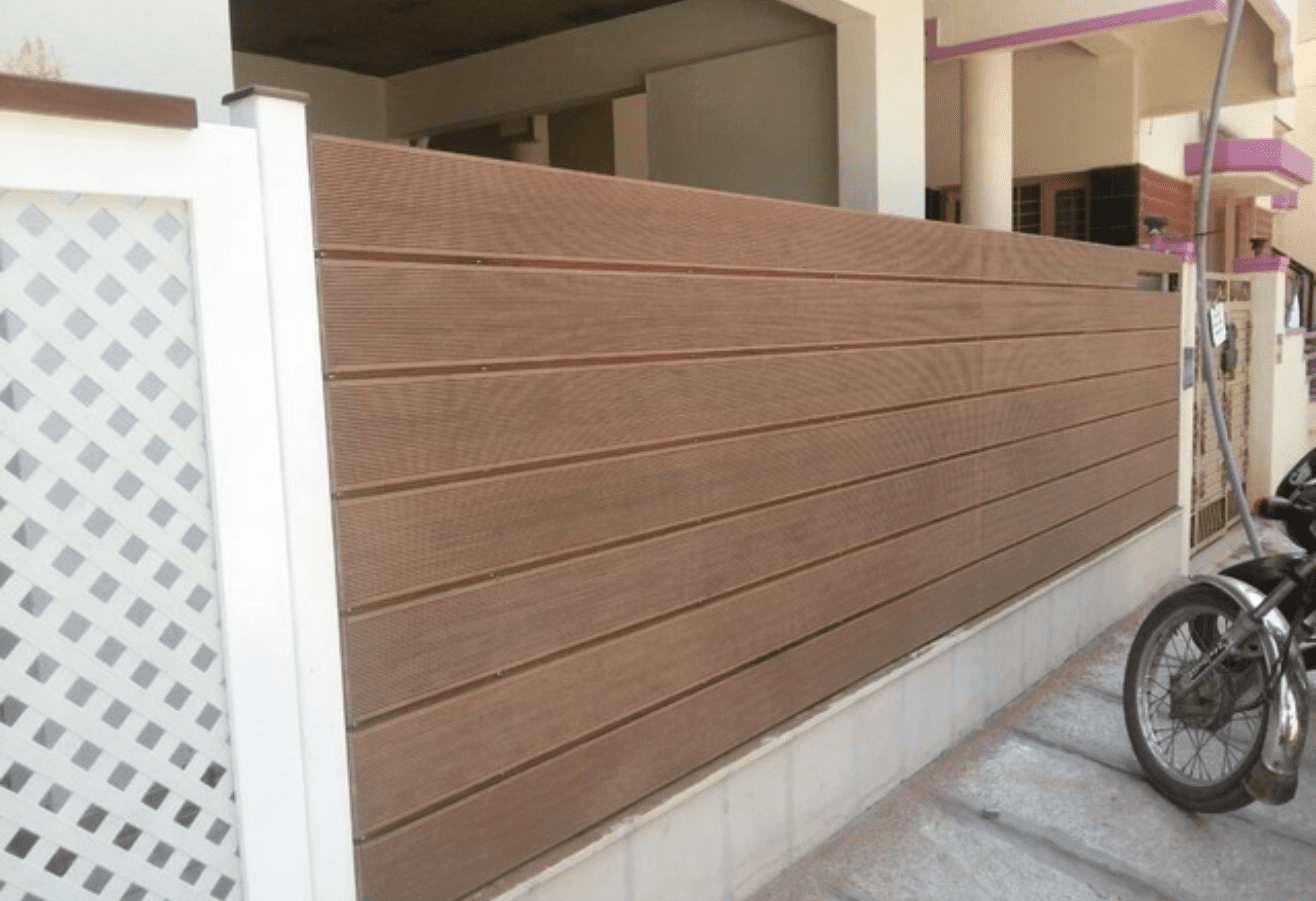 Compounding Wall Design #8: PVC boards
Do you know that machine-made fiber or PVC boards on the compound wall are a less time-consuming alternative to generating 3D patterns or weaves?   These sheets, which come in a variety of styles and colors, can be screwed to the wall base. You can either hang the sheets in a straight line for a seamless look or cut them into shapes and screw them to the wall in a random pattern.
PVC boards offer a smooth surface finish and are thus simple to keep clean. Chemically and physically stable, good-quality PVC boards are more resistant to wear and tear produced by external factors.