Expert Tips to Turn Your New House Into a New Chic Home
You've just purchased your new home, and you're excited to make it your own. To do that, you may be looking for ways to make it more stylish and elegant. Renovating your home can significantly enhance its curb appeal and overall value. Whether you're looking to create a look that's boho, shabby, or vintage chic, there are plenty of things you can do to update your new home's design. Here are tips to turn your new house into a new chic home.
Start With the Home's Structure
Siding can vastly determine the curb appeal of your new chic home. There are several options you can choose from when working with siding contractors to create the look you desire. Clapboard siding is ideal if you want a timeless traditional design. Choosing contrasting colors can make a dynamic statement. Coordinate your siding to add unique character with elements like a colorful front door or shutters.
If you're on a tight budget and want an easily maintainable exterior, look for vinyl siding contractors to update your home. To add texture to your home's exterior, you can choose cedar shake siding. Opt for vertical siding if you want to create a modern farmhouse appeal. When choosing siding for your home, take into consideration the region in which you live. Certain materials hold up better to harsh weather conditions and fluctuating temperature changes.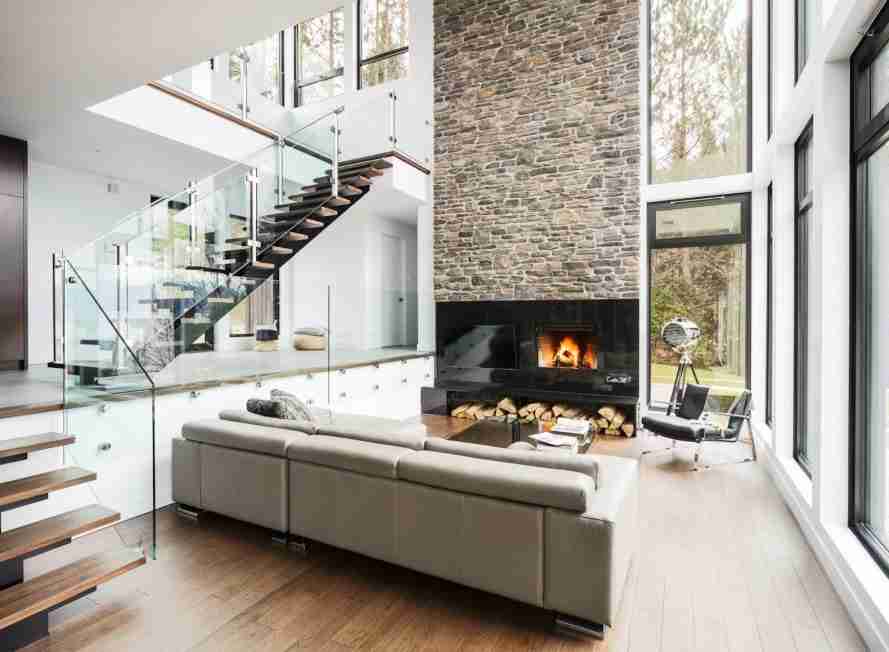 Source: Inhabitant
Your Roof, Your Rules
Your roof is integral in protecting you as well as enhancing the curb appeal of your home. Upgrading your roof can transform your new chic home and give it a distinct character. When upgrading your roof, there are a few things you should keep in mind. You'll want to choose a color that complements your entire home. If your home has multiple colors, install a roof that is toned down in color.
Consider the architectural style of your home and choose roofing that reflects it. For example, you may have a home that's built in a cottage, colonial, or Victorian style. Opt for a roofing material that is durable and low maintenance. You may need to check with your homeowner's association for any rules and regulations regarding roofing repair and remodeling. Make sure to choose a licensed and highly experienced roofing company to make the upgrades for your new home.
Source: Hussey Harris Architects
What Look Are You Going For?
If you want to make your new chic home stand out, one of the best ways to do so is by upgrading your windows. Consider what look you'd like to go for in your home's design. What size or shape would you like them to be? Make your windows stylish and functional at the time by ensuring they are energy efficient. This will help you save money on your monthly utility bills.
If you don't want to replace your existing windows, you can accent them to help them stand out. Shutters in bold colors can give your windows more personality. Window boxes filled with colorful flowers can add a touch of character to plain windows.
Stylish drapes, blinds, or curtains not only draw attention to your windows, but they can add a touch of elegance to the rest of your home as well. Retractable window awnings can keep your home cool and block out harmful UV rays that can damage your furniture over time.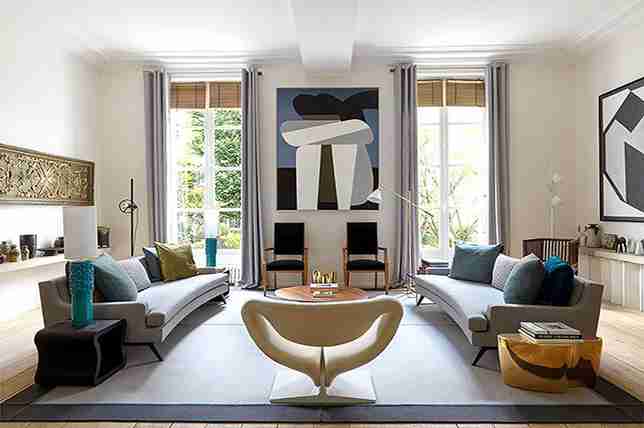 Source: Decor Aid
Choose Chic Flooring
One of the best ways to bring sophistication to your new chic home is to update the flooring. One of the most dynamic upgrades entails new wood flooring installation. Dark hardwood flooring is an incredibly popular choice for many homeowners. This wood can be styled in a number of ways to accentuate your home in the way you desire. Slate or granite flooring can be an excellent option for families with children or pets.
Vinyl flooring is perfect for high-traffic areas such as your kitchen or bathroom. If you want a more polished look, epoxy flooring can create a modern chic look for any room. Porcelain and ceramic flooring have the longest life spans and require little maintenance. Carpeting can create softness to a room and comes in a wide variety of textures and colors. No matter what flooring option you choose, you can spice it up even more with colorful rugs and mats.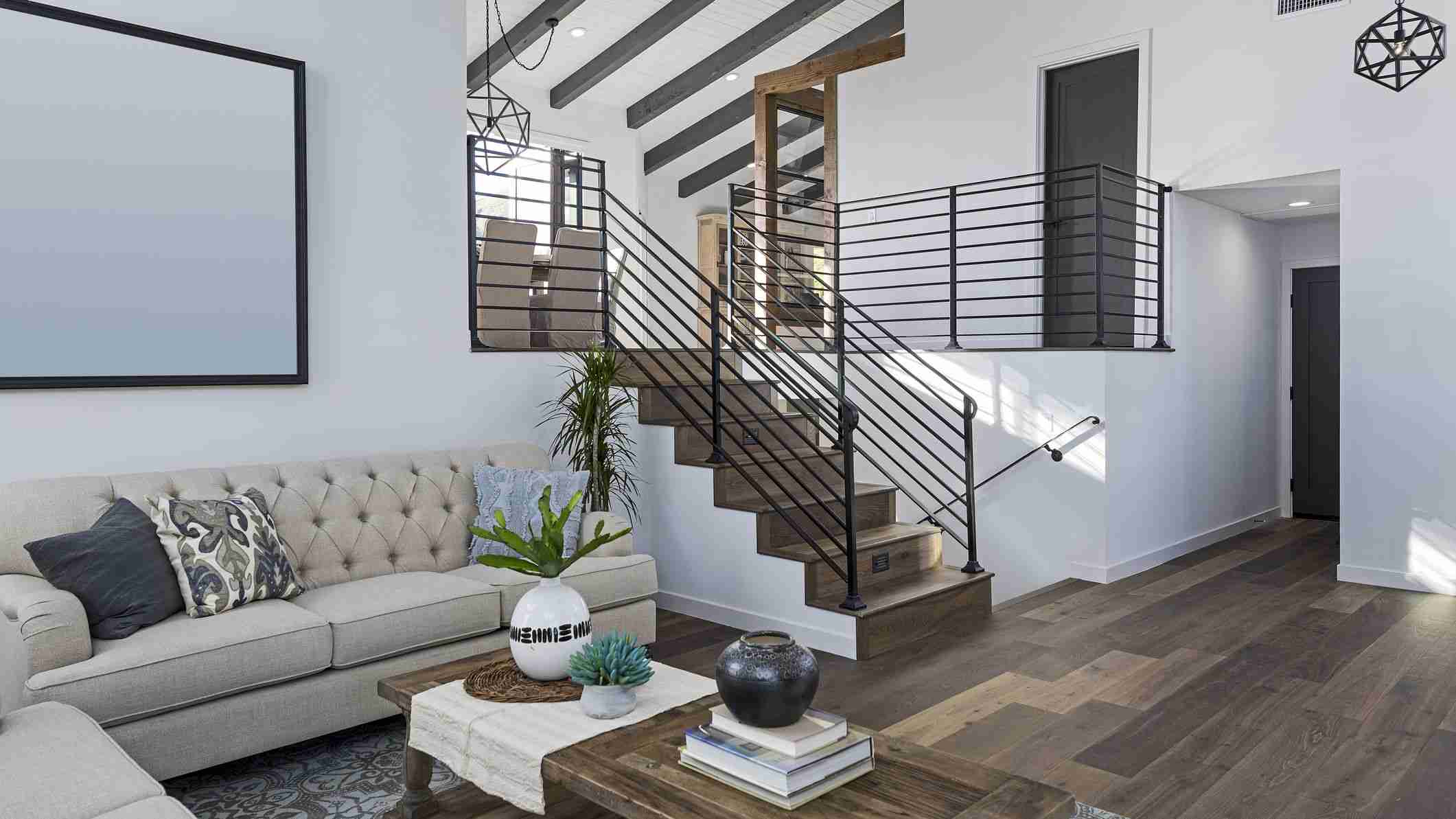 Source: The Spruce
New is Better
To create a new chic home design, you may want to remodel your kitchen. The majority of homeowners can spend anywhere from $13,000 to $38,000 on average for a kitchen remodel. How much you spend will depend on the quality of the materials, the size of your kitchen, and whether you alter the room's layout. To create a chic look, refresh your walls with a light lilac, gray, or pink paint instead of opting for a standard white. Add a vintage kitchen table and chairs bought from an antique shop.
Brass fixtures are making a comeback for making a kitchen look chic and sophisticated. Show off your collection of spices with an exposed pantry. Curved islands can make your kitchen appear larger while adding visual appeal. Use free-standing shelves to add charm and easier access to frequently used items like cookbooks, mugs, and bakeware. Bring an elegant touch to your kitchen with statement light fixtures that catch the eye as soon as you walk into the room.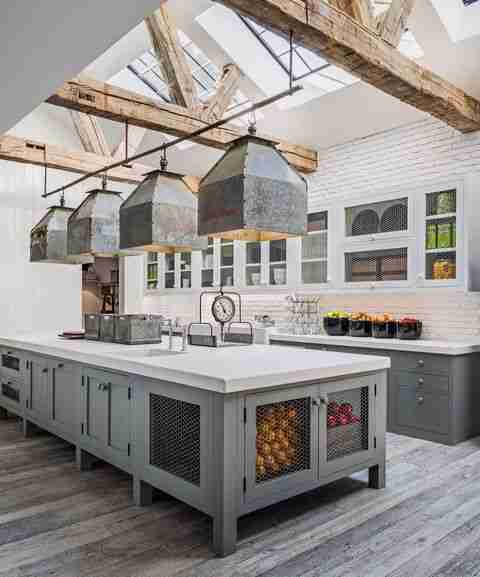 Source: Country Living Magazine
Transform Your Bathroom
The kitchen isn't the only room you should consider fully remodeling. The look of your bathroom is important in designing your new chic home. There are a few inexpensive things you can do to transform your bathroom into a more stylish and sophisticated space. Add an indoor palm leaf tree in the corner or fake plants to help bring it to life. Paint everything one color, including the faucets.
Add a colorful patterned rug to bring texture and warmth to your bathroom. If you want to add wallpaper, apply it to half of the walls to give them personality. Install shelving above toilets and sinks to give the room more storage space. Make your shower curtain a focal point in the room by choosing one with an interesting pattern or bold textured color. Add accessories such as a hanging bathrobe and fluffy towels set out on the counter to give it a cozy feel.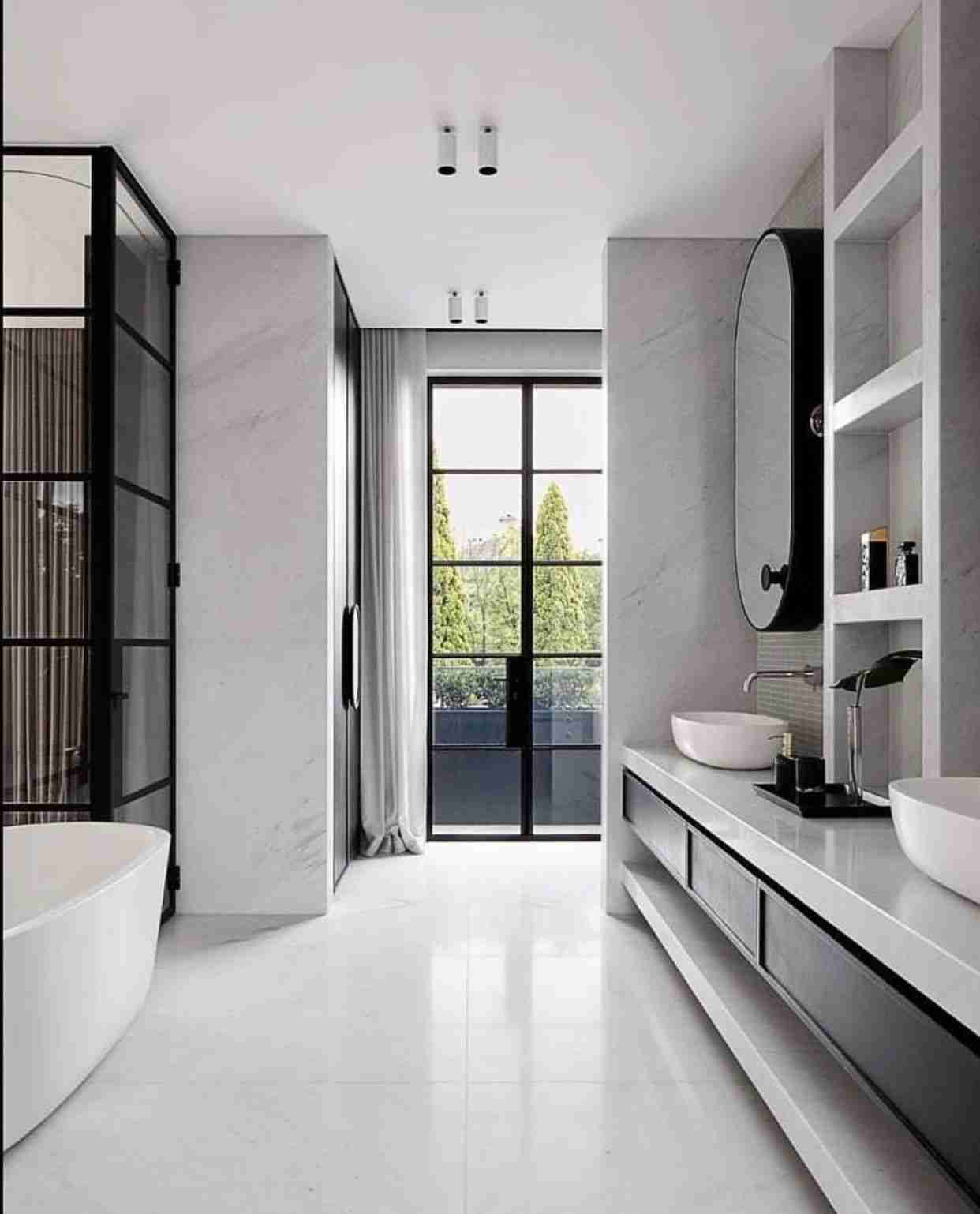 Source: Country Living Magazine
First Impressions
The landscaping of your new chic home gives visitors the first impression of your property. No matter what size yard you have, there are options you can pursue to make the most of the space. A flower wall or rose garden can give your exterior a romantic feel. Heated outdoor furniture and an elegant fire pit can keep you warm on chilly nights. Make a statement in your backyard with an enchanting water fountain, relaxing rock garden, or eye-catching sculpture.
Stone pavers can provide structure to your landscaping and prevent visitors from trampling over your well-manicured lawn. Add colorful plants and greenery to liven up a drab exterior.
A wood deck can look inviting for entertaining guests. You can also consider adding some rustic homesteading functionality with a greenhouse, a chicken coop, and a vegetable garden. Add lighting to make your landscaping easier to navigate after sunset.
Source:

Architectural Digest
Let's Keep Everyone Safe
The best way to bring privacy and keep everyone safe in your new chic home is with fencing. Wooden fences are the best option for privacy and can be used to accentuate outdoor plants and greenery.
Wrought iron and aluminum can provide an open and sophisticated look. If you have pets, you will need to consider fencing that can prevent them from jumping or digging to escape. Other fencing options you can consider include bamboo, vinyl, PVC, and chain link.
To determine what type of fence is best for your home, you may want to consult with a professional fence builder. Search for fence companies in your local area online and get multiple estimates before you hire.
Many offer free consultations that you can take advantage of to get more information on how to select the right material for your budget. Make sure to check with your homeowner's association before you install. You may also want to check with your local city government about any necessary permits.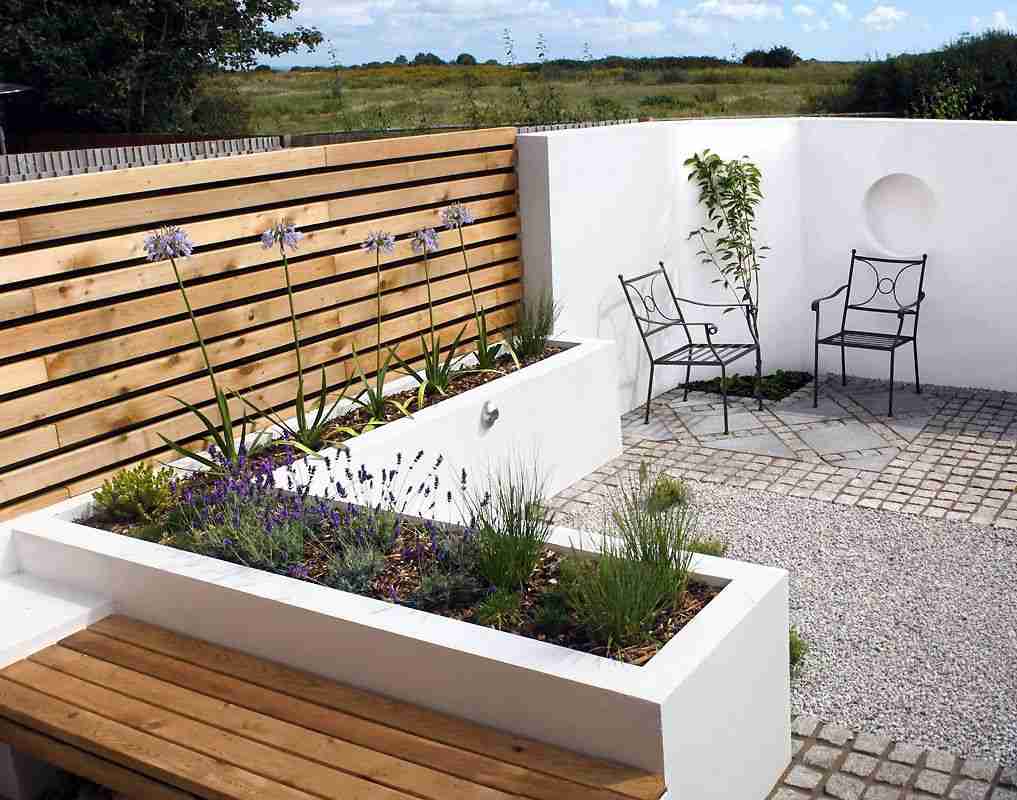 Source: The Hollands Home
Dress Up Your Numbers
There are a number of ways you can turn your address into a chic decorative display. Proudly display the address of your new chic home by adding some style to the numbers outside its exterior. Place your address numbers on a wall planter filled with succulents. Use nails on a wooden plaque to give your address some rustic charm. Make use of old dishware to create a mosaic display.
Put your address up in neon lights. Hang weatherproof numbers on the tree closest to your road. Create oversized numbers in shiny metal to attach to your home's exterior. Poise your numbers below a sleek black sconce for a visible display day or night. Brass house numbers are an ideal choice for colonial and contemporary homes.
Source: Customized Door Plates
Layer Lighting
Lighting is a critical factor when creating your new chic home. Make the most of natural lighting with large windows at strategic points in your home.
Instead of relying on overhead lighting, opt to layer lighting instead. Place lighting fixtures in different spots to add depth to any room of your house. Mix and match a chandelier with shaded lamps, wall sconces, and plenty of candles.
Use illuminated shelving to bring attention to your favorite objects. You may also want to consider smart lighting. With a smart LED lightbulb and an app installed on your phone, you can set up 10 different lights at various settings from dim to bright.
Use pendant lighting over workstations such as your kitchen island or bathroom sink. Low-level lighting can make well-trafficked pathways easier to see at night and are especially beneficial along staircases.
Source: Home Designing 
Display Conversational Pieces in Every Room
Choosing the right accessories for your new chic home is essential for making it unique. You can give your home a rustic feel by adding woven wall hangings, metal knick-knacks, and leather chairs or stools.
If you want to add global culture to your interior design, consider items like gas lanterns, Buddha statues, and Ming vases. You can find interesting conversational pieces at places such as antique stores and pawnshops. Wall maps and globes can add an educational flair to your home.
Personalize your home with vintage items that reflect your own heritage. Retro appliances in your kitchen can give it a distinct character of days gone by.
Brightly colored furniture, lava lamps, and wildly patterned rugs are interesting decor pieces you may also want to consider. You can use old magazine covers and record album covers to create attention-getting collages to hang in your home. Ask family members if they have anything in storage you can repurpose and use.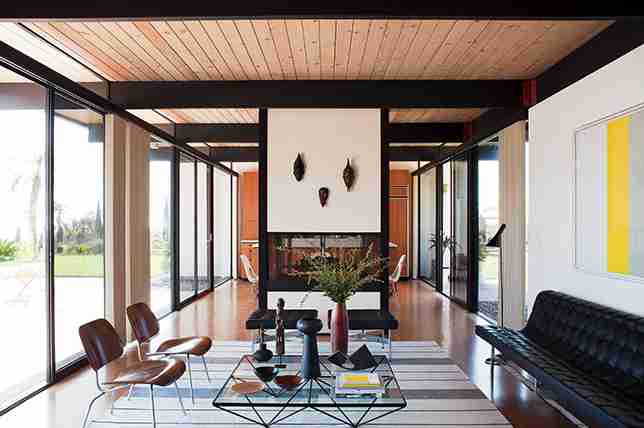 Source: Living Stingy
Convert Your Basement
The basement in your new chic home can function as more than just extra storage space. You can convert this space into so many unique possibilities to bring more style and elegance to your home. You can turn this room into an extra bedroom, home office, create a family movie theater, make it a man cave, or build a playroom to entertain the kids. Feature one wall using a wall covering or painted mural.
Make sure to choose the flooring that's resistant to water damage and consider whether you should install plumbing. Recessed lighting can give you the illumination you need without overtaking the space from lower ceilings. Add glass doors and windows to allow more natural light into the area.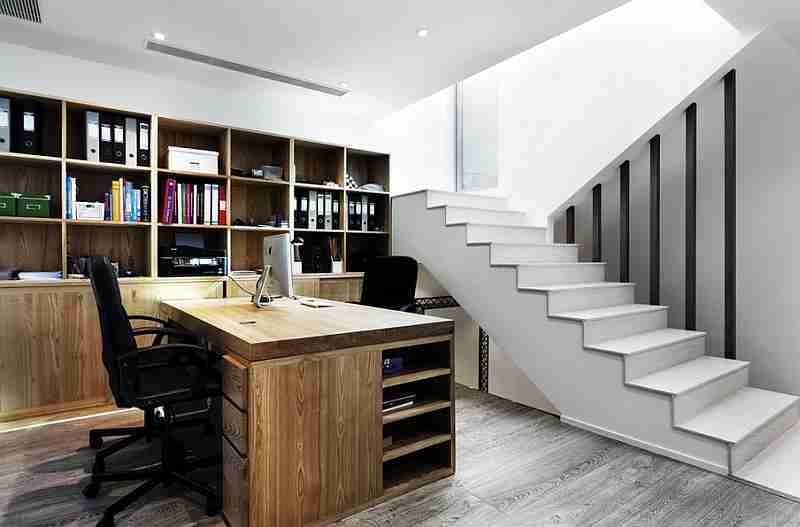 Source: Decoist
Designing your new chic home can be a challenge. The best way to give your new home a distinct character is to choose a style that best reflects who you are. You don't have to spend a lot to create a sophisticated design that you'll love spending your time in. Use these tips as a source of inspiration to create the home of your dreams. Choose renovations that bring you joy in order to make the most of your new home for years to come.