20 Low-Budget Wedding Stage Decoration Ideas
Are you looking for budget-savvy wedding decoration ideas that are also elegant and chic? Check out these exquisite low-budget wedding stage decoration ideas for the perfect wedding!
A wedding is one of the most important days in a person's life but they can be very expensive. According to a survey conducted by Hitched, the average cost of a wedding in the UK is £18,400. According to recent studies, two-thirds of couples take a loan in other to fund their dream wedding.
Weddings do not need to cost an arm and a leg. Even if you're financially buoyant, you may still need some budgeting. The venue and the decoration are often the most expensive parts of a wedding.
Some couples hire a wedding planner to bear some of the burden while others may seek help from family and friends to save some money. If you have a modest budget for your wedding, you can save a significant amount of money by going for a wedding stage decoration that is stunning but will not break the bank.
Need some inspiration? In this article, we've rounded up 20 elegant and low-budget wedding stage decoration ideas that will impress your guests. From contemporary chic to bohemian and traditional, these wedding stage ideas are guaranteed to save you money and make your special day unforgettable.
1. Draped Wedding Canopy
If you want your outdoor wedding to look like a place out of a storybook, then a draped wedding canopy should be on your radar.
A canopy is a simple and inexpensive way to add dimension, visual appeal, and a focal point to your wedding ceremony or reception area. This type of wedding stage can be rented and they do not necessarily need lots of decorating like a barewall, hence, saving you money.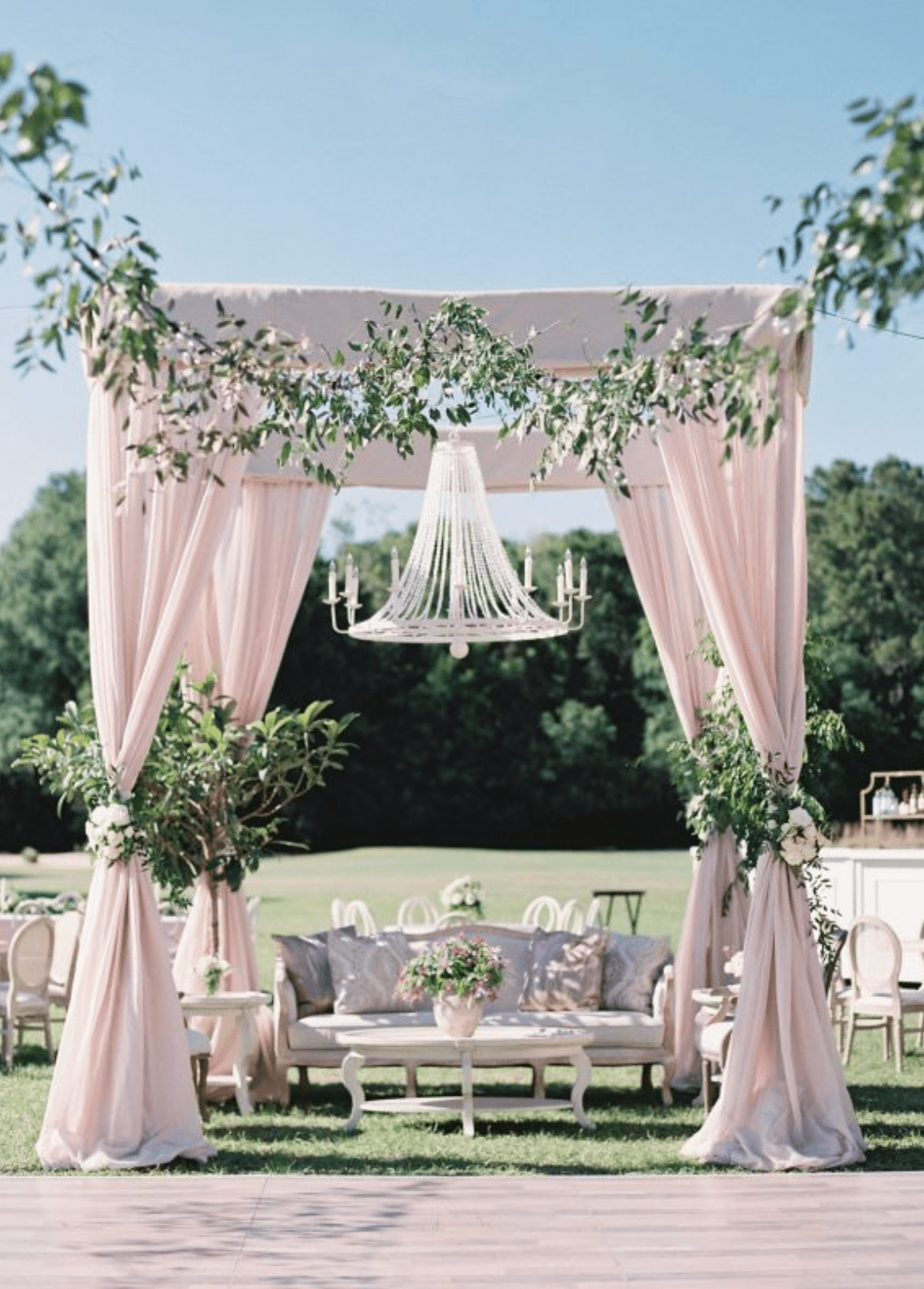 PHOTO: DESIGNED BY WED 
2. Wedding Stage with the Couples' Initials
A common low-cost wedding stage design displaying the bride and groom's initials or first names. This serves as a gentle reminder that the day is about the union of this duo. The font, color, and size of the letters can also be used to add visual appeal to the space.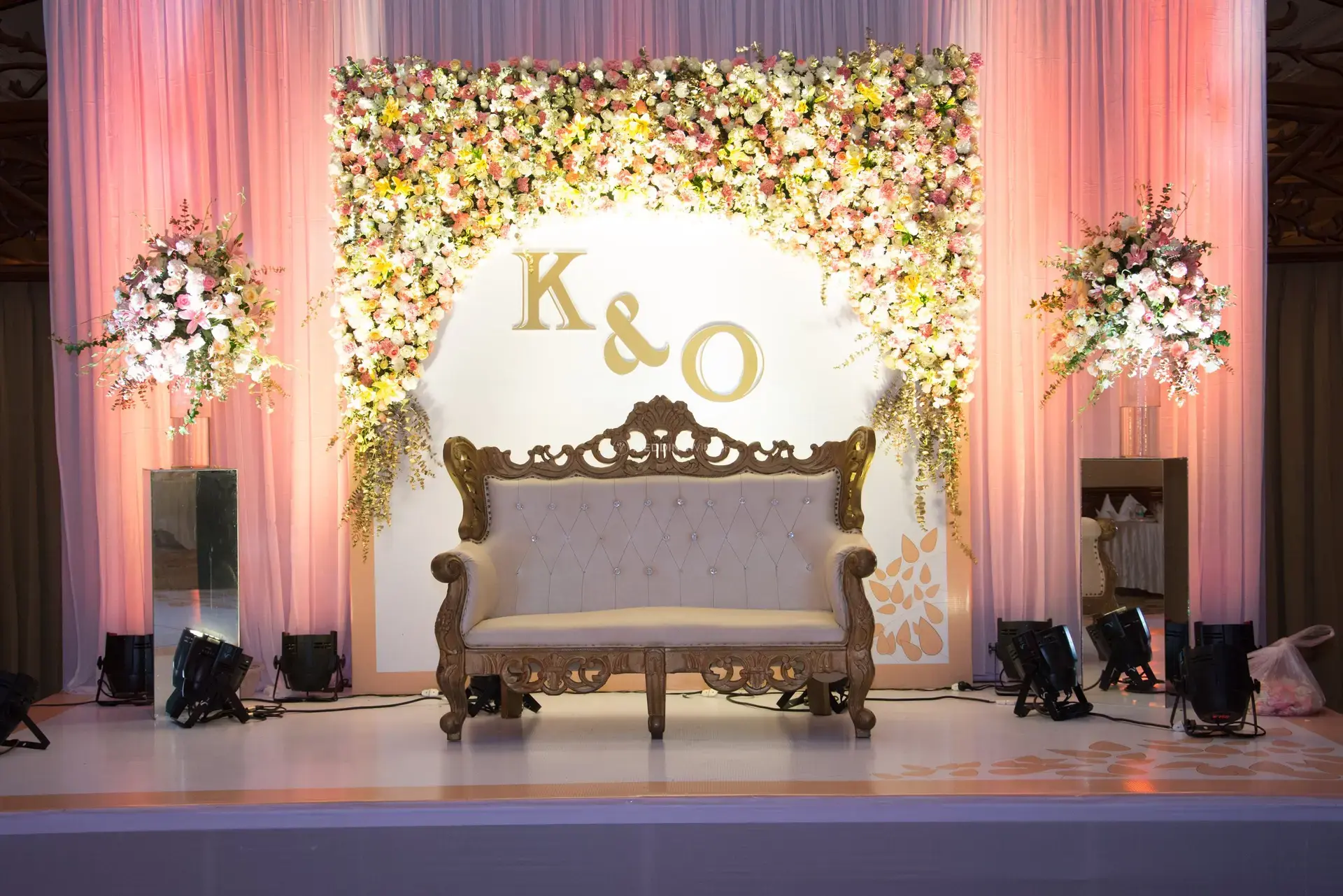 PHOTO: PURPLE TRUFFLE EVENT PLANNERS 
3. Modern Wedding Stage Decoration
Modern decor or design style refers to a sophisticated and uncluttered style that started in the 19th century. The ideal modern wedding stage decoration is simple a elegant. It doesn't need too many decorations and clashing colors.
The simplicity, use of clean lines, and natural materials in modern designs make it more affordable than the traditional style.
PHOTO: BLOOMS EVENTS
4. Floral Wedding Arch
One of the most common features you will find in weddings are floral wedding arch. Not are do they make a big statement and focal point in the venue but they also have great significance.
A curved arch acts as a symbol of life's transition, from the past to the future and it represents the couple's future home. Square arches are considered symbolic of stability. This structure also provides a base for floral arrangement which enriches the space.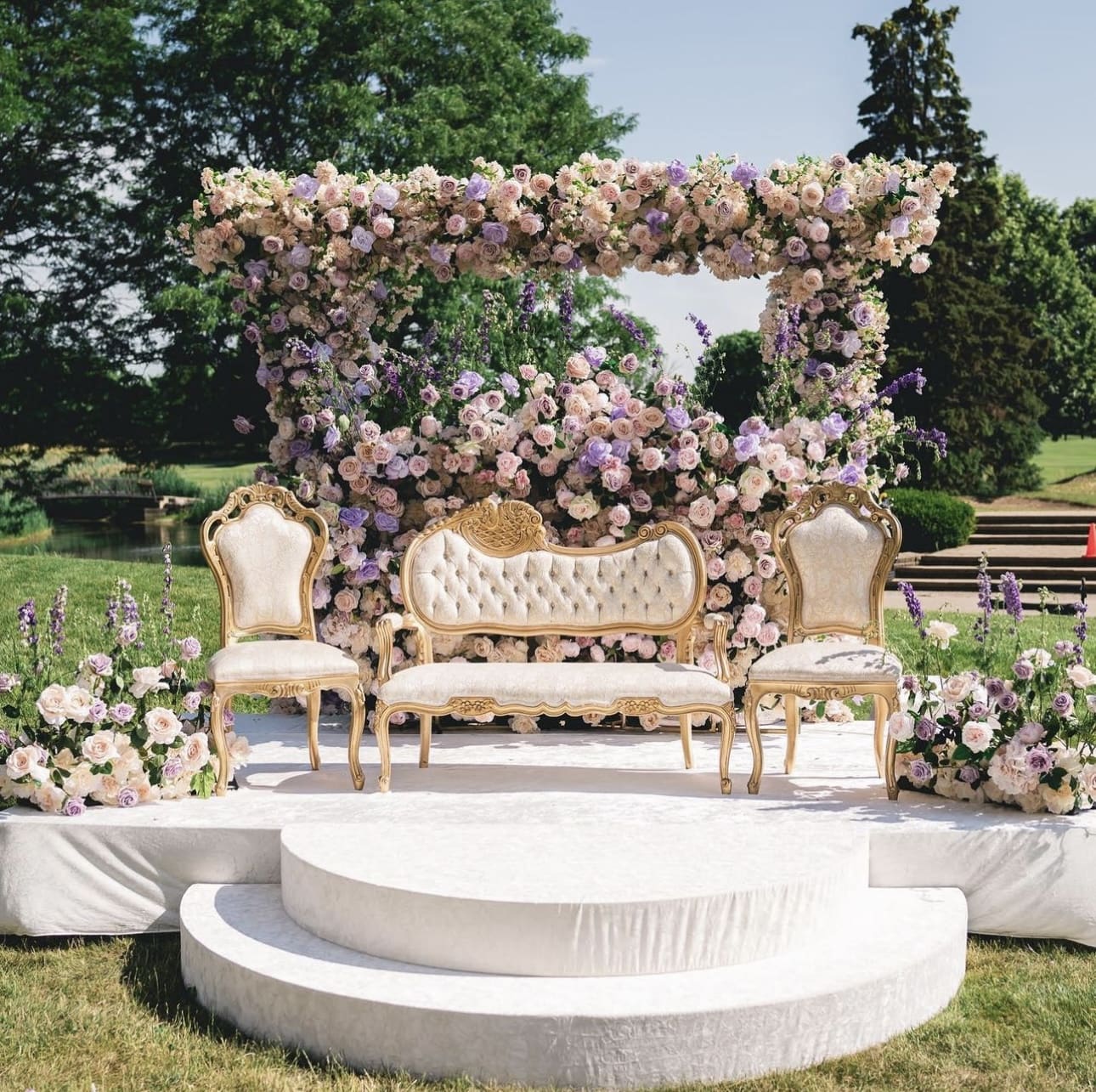 PHOTO: SIBLANA EVENTS
5. Round Wedding Arch Decor
Often seen in weddings, bridal showers, engagement parties, and birthdays, a round wedding arch is the perfect centerpiece. It draws the eyes in an instant. There are endless ways to refine and make it your own without spending a lot.
An arch can be customized to fit the theme of the ceremony. It can be decorated with a balloon garland, fresh flowers, dried flowers, drapery, and many more. This structure can take a venue from drab to fab.
PHOTO: DAZZLING DECOR
6. Cherry Blossom Tree on Wedding Stage
There is no springtime flower that draws attention quite like Cherry blossoms. What makes these trees one of the perfect low-budget wedding stage decoration ideas is that they are delicate, romantic, and astonishing.
With just a few of these faux cherry blossom trees, you will be able to keep the rest of the decor simple without looking boring.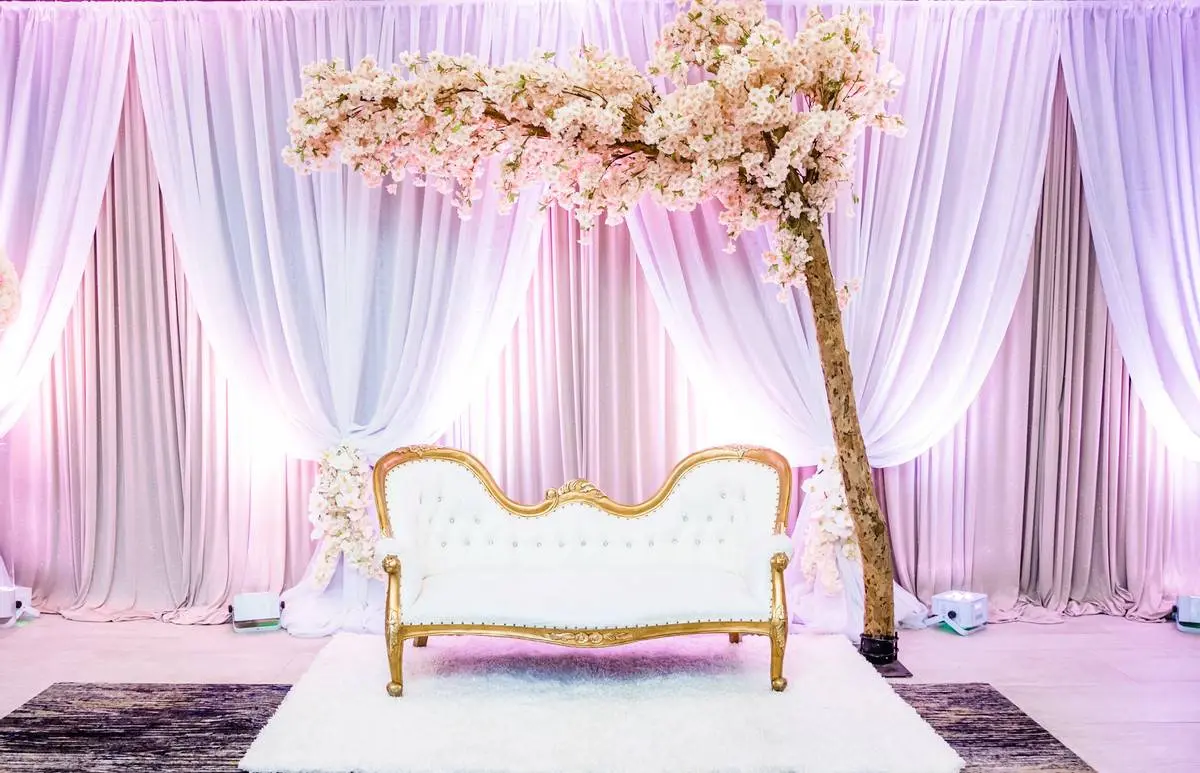 IMAGE CREDIT: SATIN CHAIR
7. Garden Wedding Stage Theme
The best thing about garden theme indoor weddings is that they do not have to appear too glamorous.
Neutral and earthy color schemes, wood, and rattan are common options when it comes to executing this low-budget wedding stage decoration You can also add some of your unique twists and creative flair to it.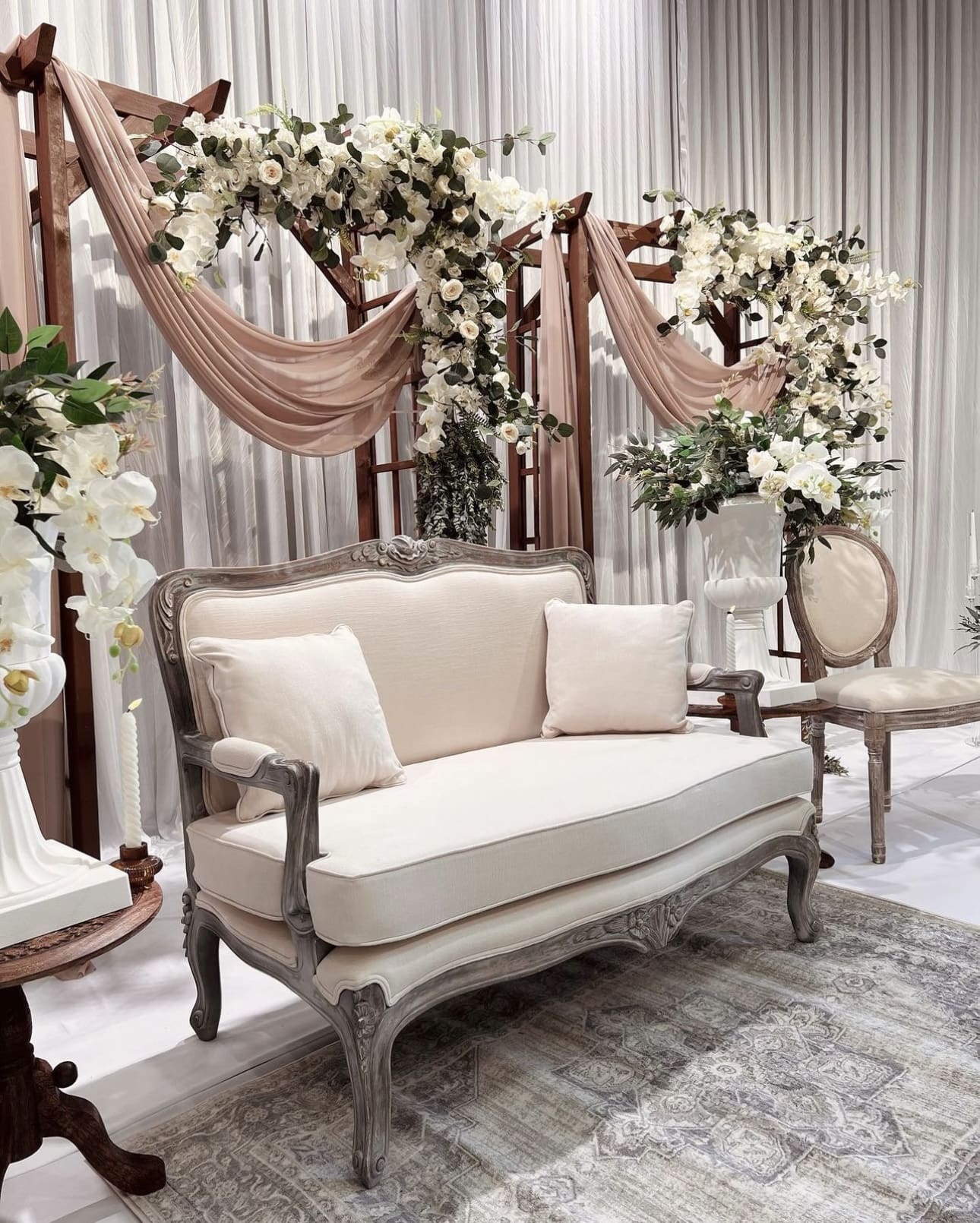 PHOTO: HABIBA RAJE
8. Fairy Light Wedding Stage Decor
Ump up the ambiance of your wedding with fairy light. Magical, romantic, and sophisticated are just a few words to describe these lights.
They are perfect if you want to create a cozy atmosphere. Plus, fairy lights make an outstanding backdrop for wedding photos and are ideal for wow factor illumination.
PHOTO: FLOWERS BY FARAH
9. Ivory Wisteria Flower Wedding Decor
The Wisteria flower in ivory can make for an elegant display for a wedding venue. Since it is light neutral, it will complement the bride's dress and not steal attention for it. It can also give the venue a modern, clean, and minimalist vibe.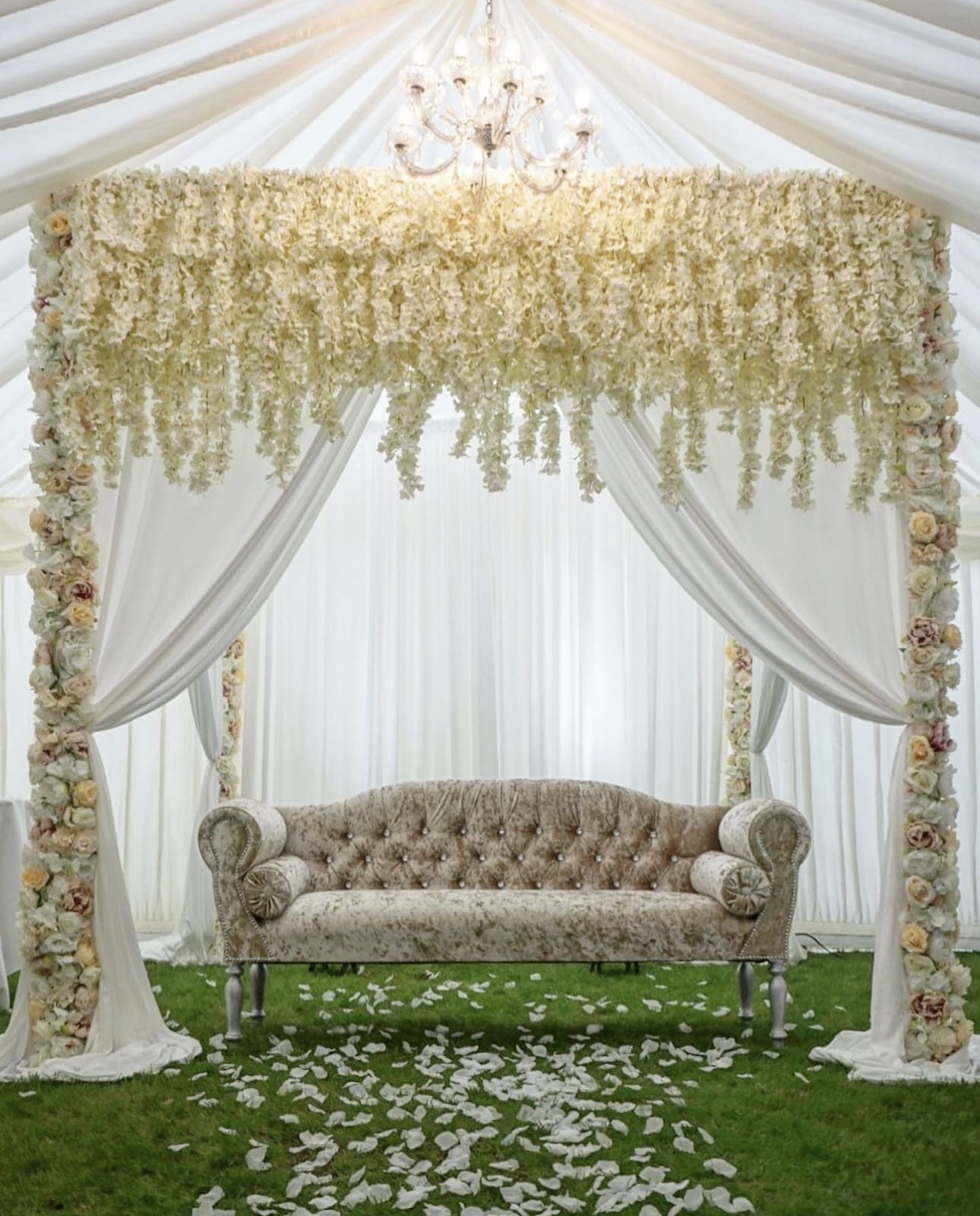 PHOTO: TEMPTING OCCASIONS
10. Beige and Gold Wedding Stage
You don't have to spend a lot of money to have a sophisticated and refined wedding venue decoration. Some color combination convey a sense of opulence and style. Beige are gold are a crowd-pleasing color combination that can add an air of elegance to your space.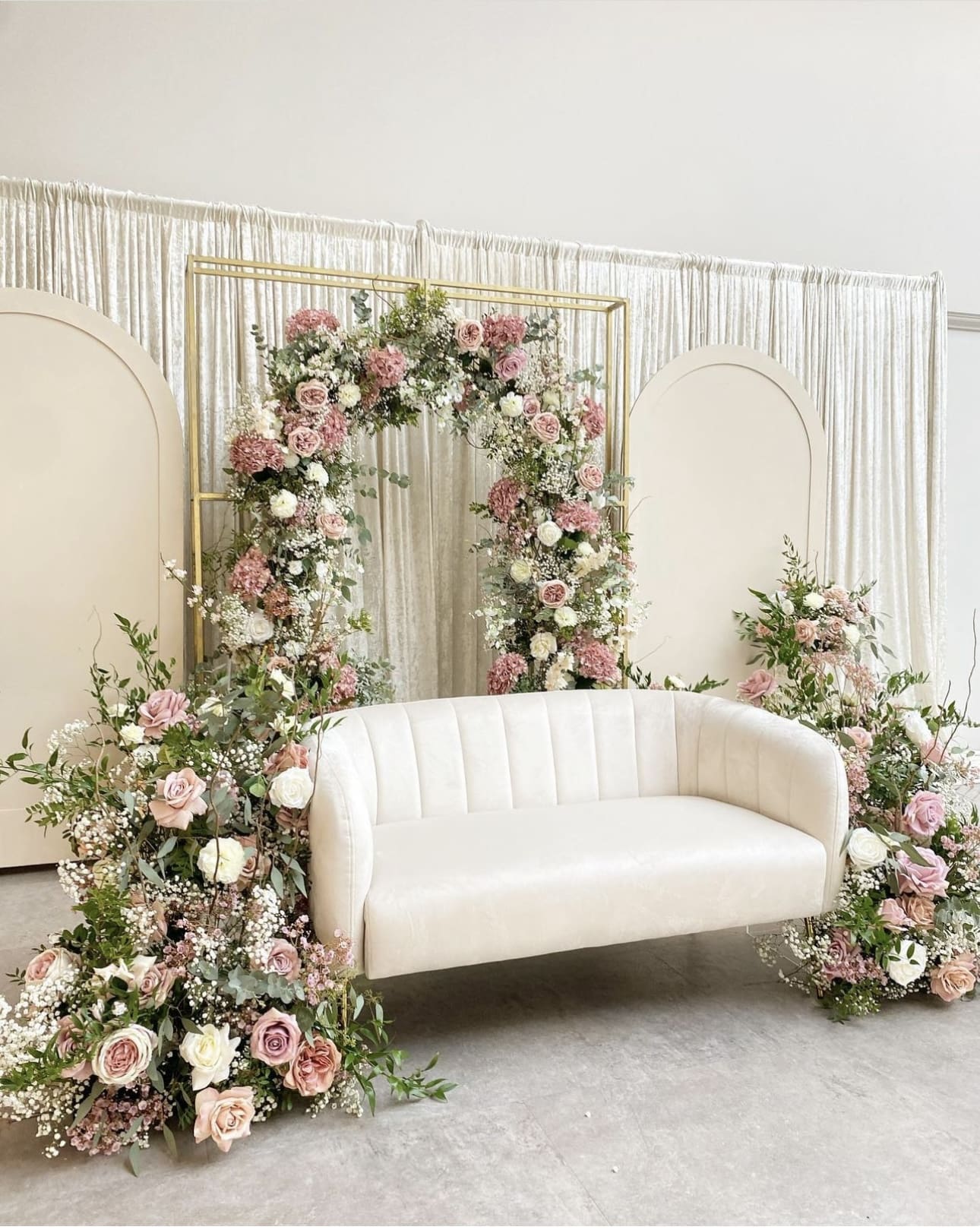 PHOTO: VELAROSA EVENTS
11. Hexagon Wedding Arch Decor
The hexagon arch can add visual interest to a boring wedding stage. This alluring arch is said to be a symbol of harmony & balance. Plus, the eye-catching hexagon arch tends to stand out a bit more compared to round or square arches.
PHOTO: DAZZLING DECOR
12. Glam Low-Budget Wedding Stage Decoration
If you want a glamorous wedding without going into debt, you may want to follow these tips. Choose a venue that has charm and character of its own, so you don't have to spend a huge sum on decorations trying to conceal every wall and floor. You can also save a lot of money by doing some of the planning by yourself.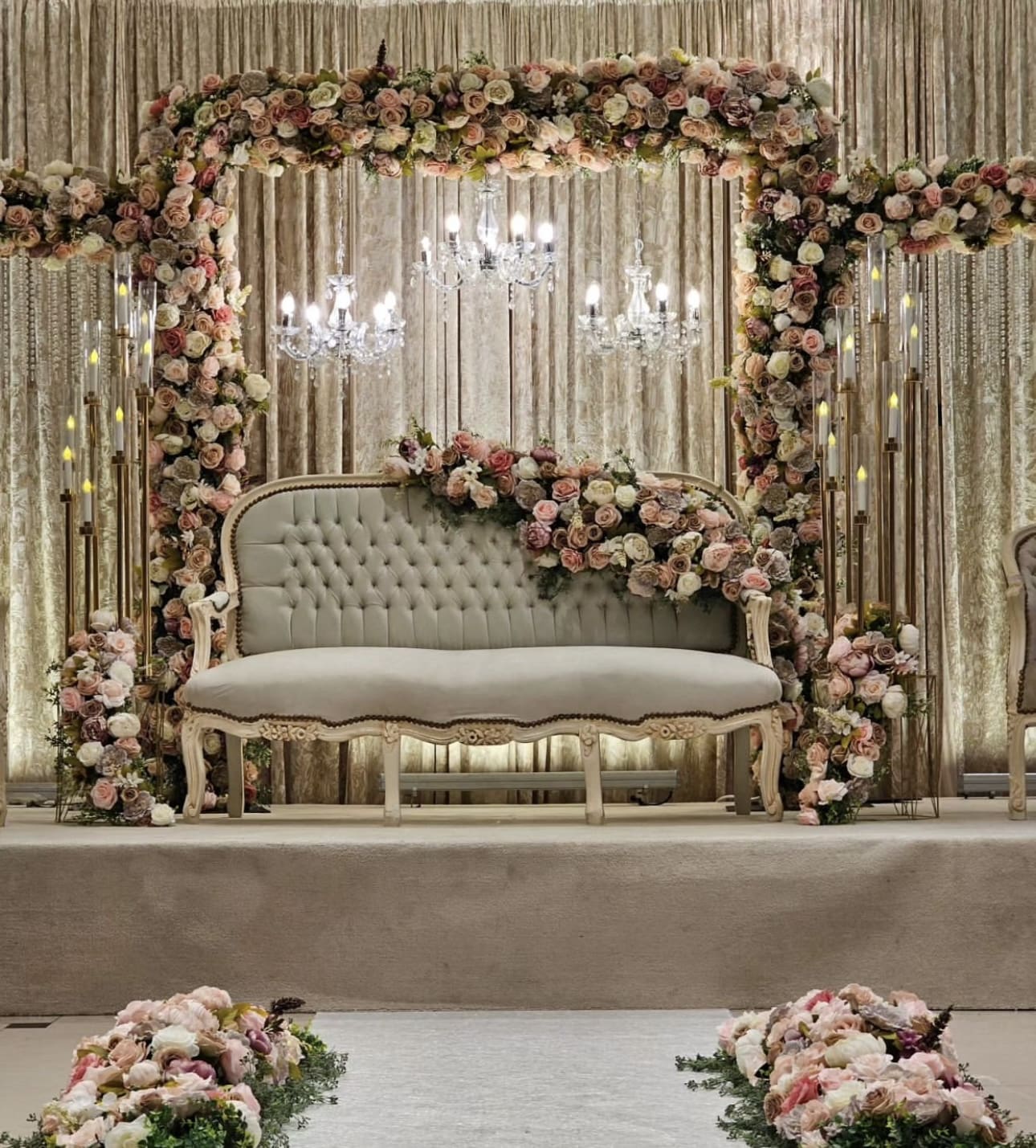 PHOTO: TEMPTING OCCASIONS
13. Boho Wedding Decor with Dried Grass/ Flower
Bohemian weddings can be a lot more inexpensive compared to other types of weddings. This decor style is characterized by its unconventional, eclectic, and free-spirited aesthetics- this also applies to a boho wedding.
It does not follow rules, instead, it allows individuals to express their creative style and frugality. So, if you're looking for a low-budget wedding stage decoration idea and like some freedom of expression, boho-chic may be perfect for you.
PHOTO: BLOOMS EVENTS
14. Contemporary Minimalist Wedding Decor
Minimalism encapsulates simplicity at its finest. Not to mention that it can also save you money. A simple wedding stage decoration can create unique and eye-catching dynamics.
You just need to create an attention-grabbing focal point, the rest of the design can be kept simple. Opt for a bright neutral color palette, bring in greenery and foliage, and use soft lighting.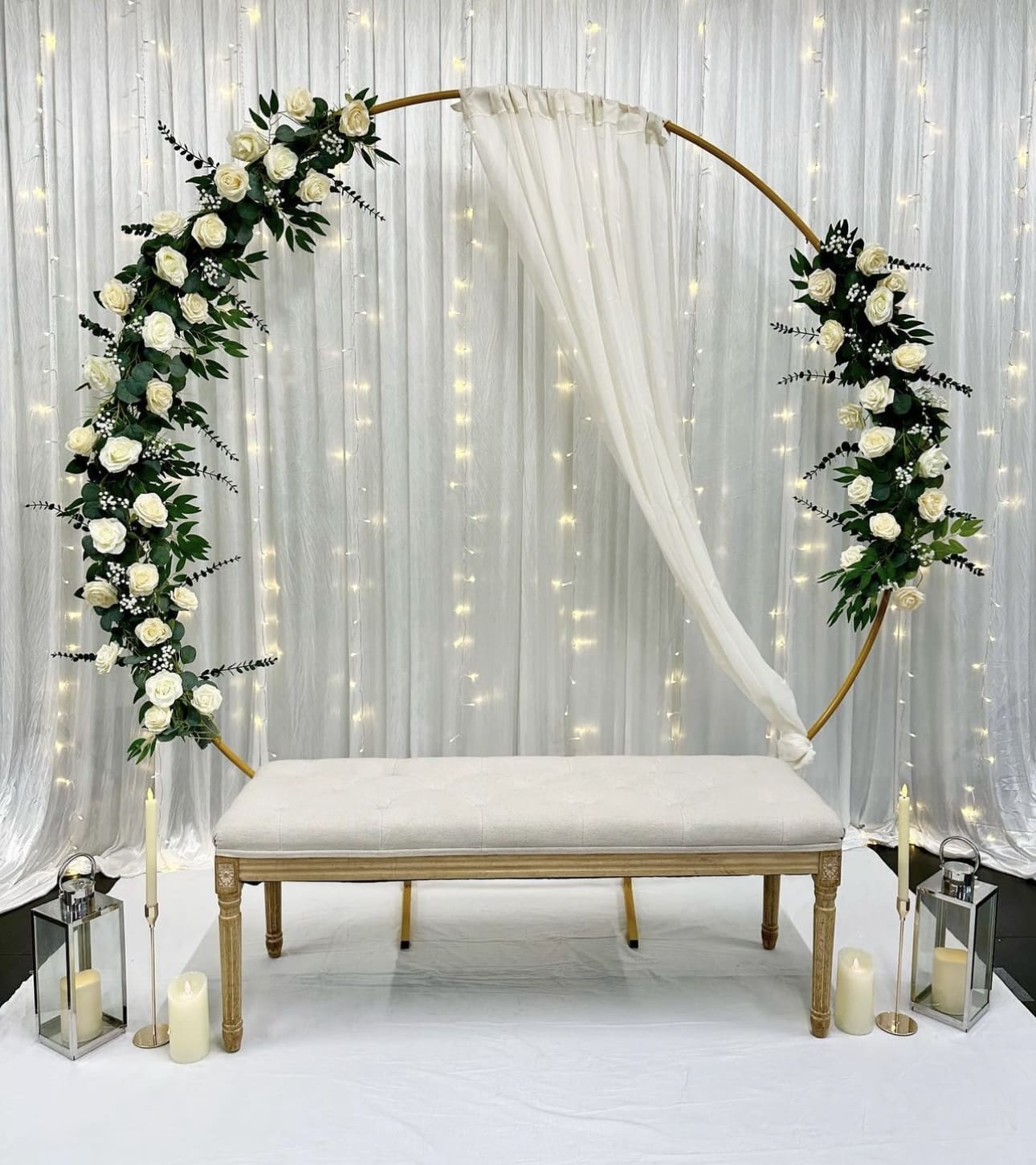 PHOTO: BLISS BACKDROPS
15. Flower Wall Wedding Stage
Elevate the aesthetics of your wedding stage with a flower wall. This design feature can make a big impact on the overall look of the space.
A clever way to approach this when you're on a budget is not to cover the entire wall. Instead, place a small flower wall just behind the couple's seat, and also the entrance to the venue, if the budget permits.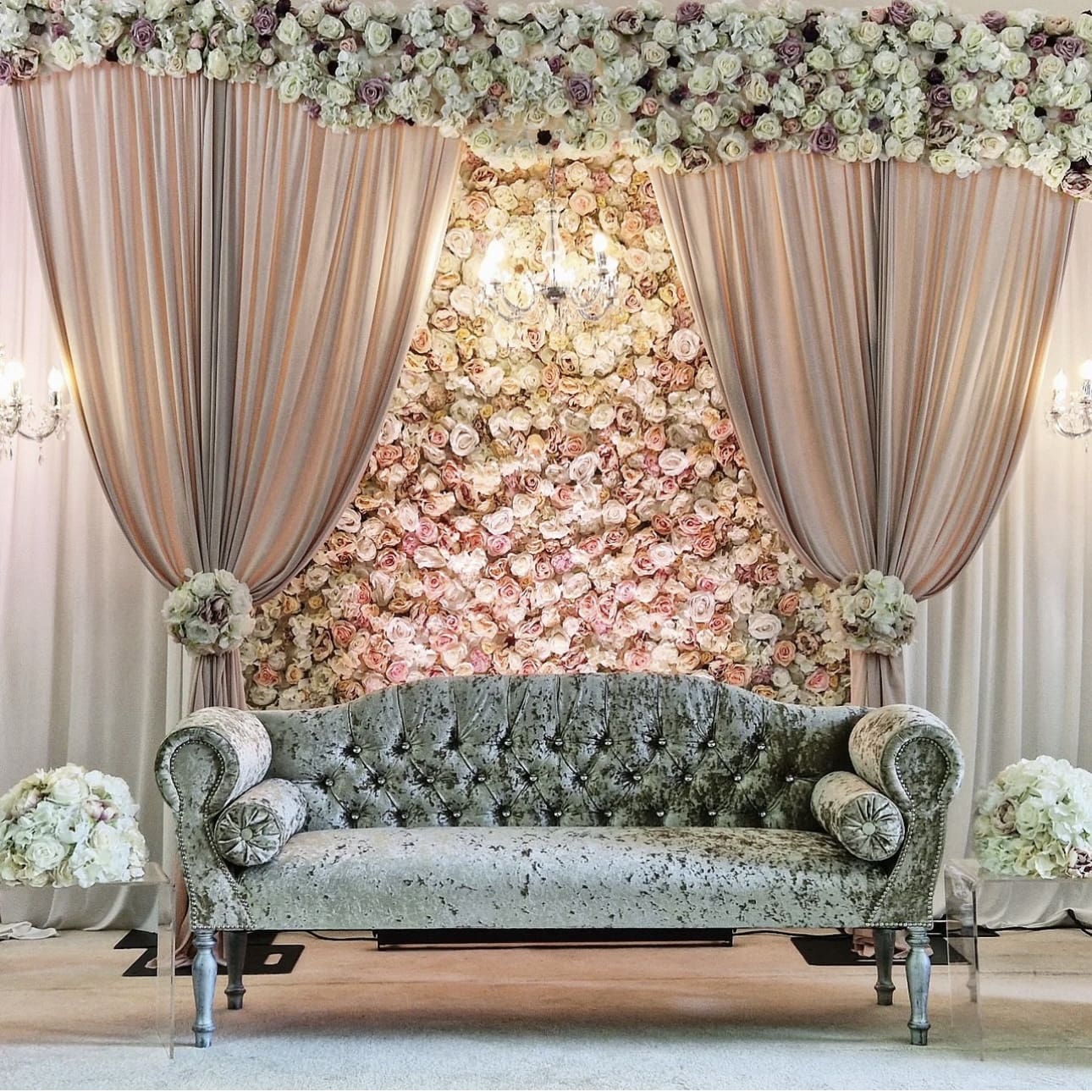 PHOTO: TEMPTING OCCASIONS
16. Romantic Wedding Stage Decor
A romantic wedding can have a wide variety of aesthetics, such as antique melancholy tones or the traditional pink and blush color scheme, but one thing they have in common is ethereal elements at their core.
Some elements that can make a wedding venue romantic are gauzy fabrics, candles, fairy lights, soft lighting, fresh flowers, and many more.
PHOTO: THE WEDDING FAIRY UK
17. Rustic Wedding Stage Decoration
The design aesthetic of rustic interiors is one that is organic, unpolished, weathered, and relaxed. Rustic style places emphasis on the use of natural materials such as wood, bamboo, rattan, and wicker. This wedding stage idea welcomes a refreshing feel and is inexpensive.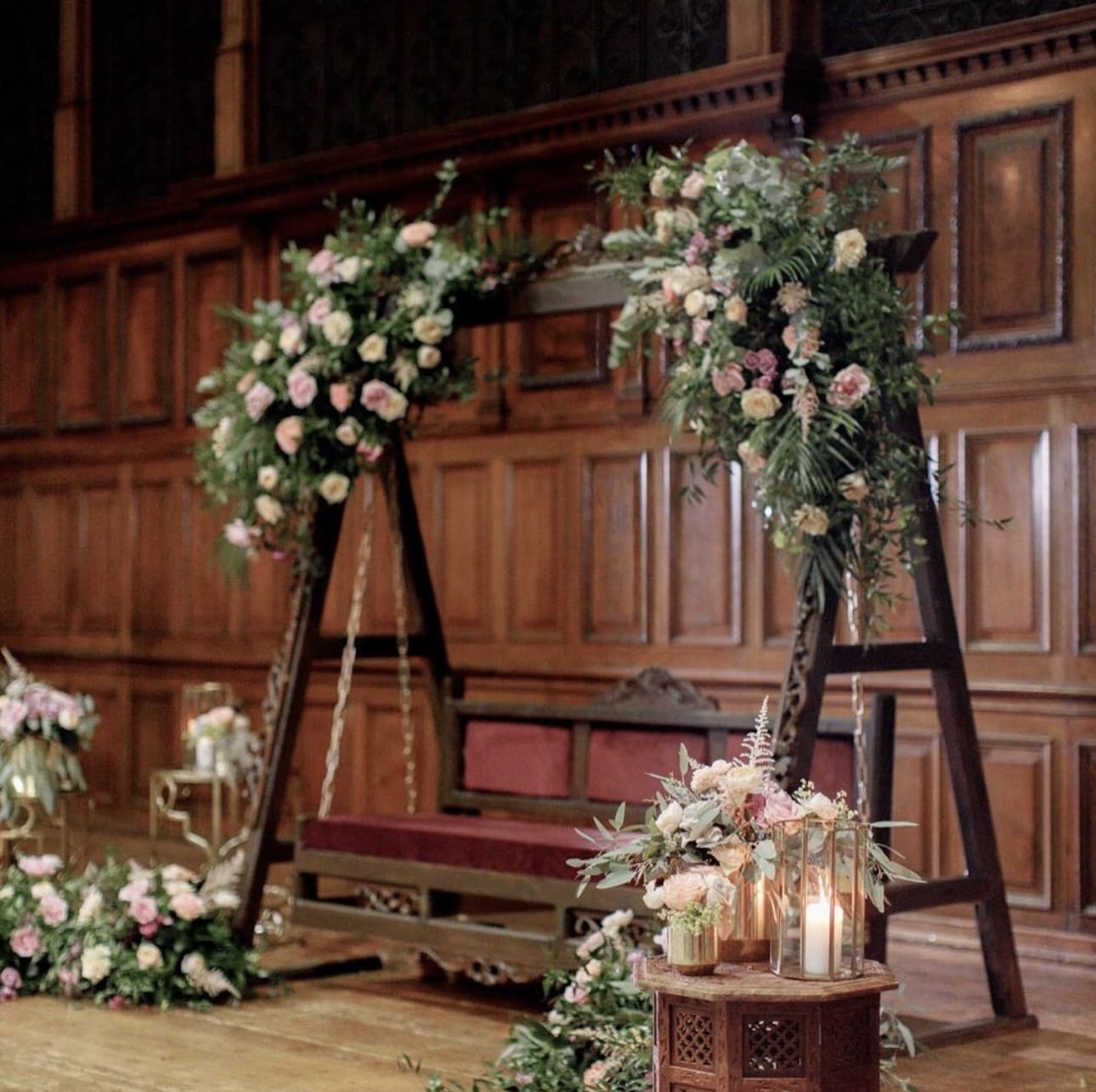 PHOTO: THE WEDDING FAIRY UK
18. Sparkling Silver
Wedding Aisle Runner
Add a touch of stylish glamour to your low-budget wedding stage decoration with a sparkling runaway rug. This runner can add a dramatic and glamorous feel to the space, making your wedding appear even more expensive than it is. Its reflective qualities also help light bounce around the room easily.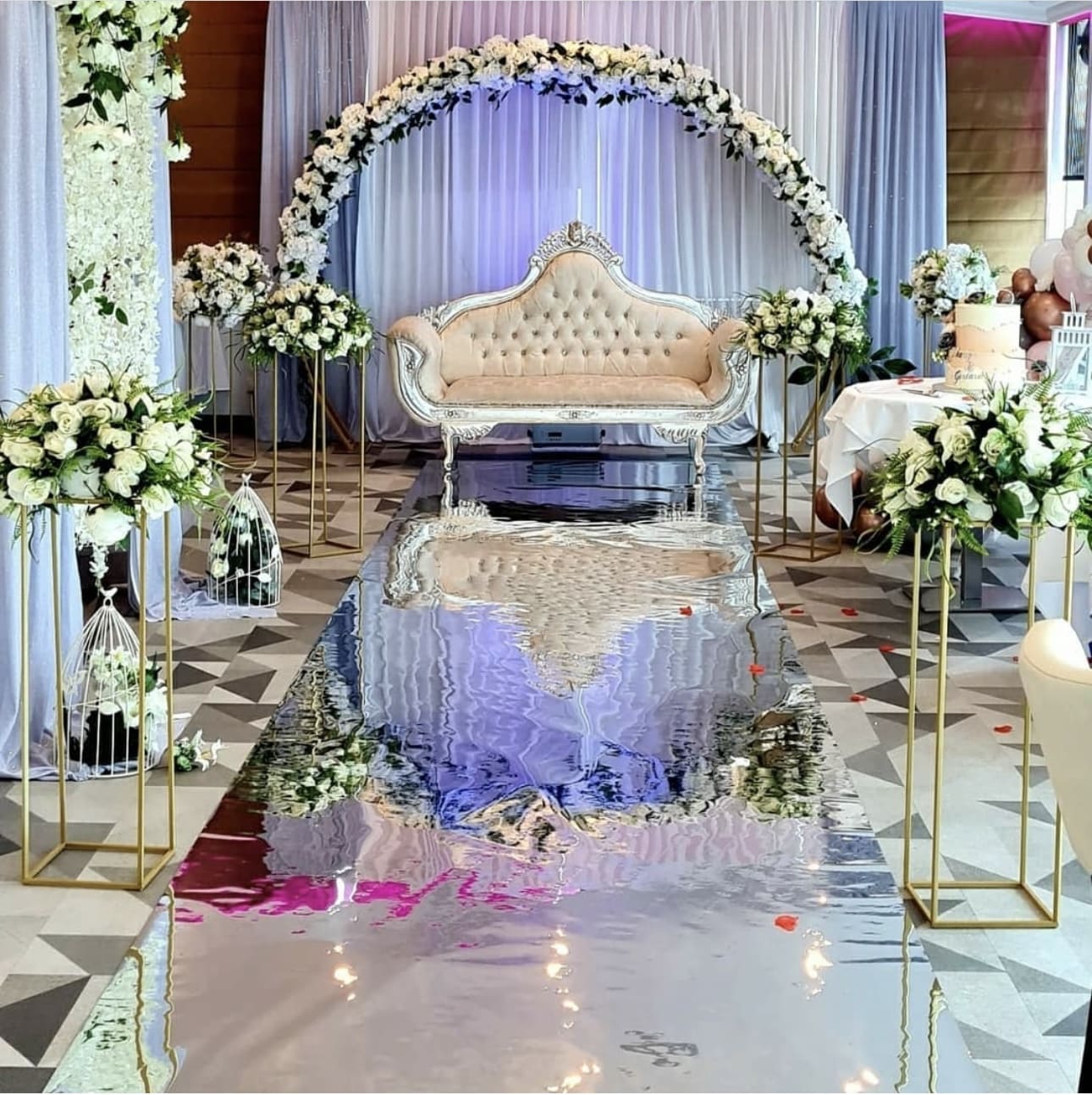 PHOTO: ASIAN STYLE WEDDINGS
 19. Spring Wedding Flowers
Flowers are typically more inexpensive during their season since there are more of them and they are of higher quality.
Fortunately, couples planning to get married in spring have an abundance of stunning in-season flowers to select from.
Some amazing spring flowers are roses,  hyacinths, tulips, sweet peas, calla lilies, hydrangeas, peonies, lily of the valley, and freesias.
PHOTO: THE WEDDING FAIRY UK
20. Dried Wedding Flowers
There is no better way to save money on wedding flowers than opting for dried flowers, as opposed to fresh flowers. Dried flowers are cheaper and last significantly longer than fresh flowers.
Plus, fresh flowers frequently lack the variety of texture that dried blossoms may add to bouquets. This is a no-brainer low-budget wedding stage decoration idea — but if you're like most people who prefer the texture, color, and smell of fresh flowers, then go for it!
PHOTO: HABIBA RAJE