35 Best Studio McGee Kids' Rooms (Plus Bonus Kids' Bathrooms)
Get inspired and learn to design and decorate like a professional with these chic and sophisticated Studio McGee Kids' Rooms.
Studio McGee is a full-service interior design studio and online store. Shea and Syd McGee are the married couple behind the Studio McGee. What makes them overwhelmingly popular is their ability to a mundane space into a home that exudes sophistication and style.
They started their business in 2014 after their Instagram blog documenting their home remodel started to gain traction. Today, the couple alongside their team designs multi-million dollar homes. In 2022, they were reported to bring in an annual income of $12.6 million.
The duo is also the host of the original Netflix series, Dream Home Makeover. So, if you're looking for the best interior show to binge-watch, Dream Home Makeover should be up your radar. The Utah-based designers are parents to daughters Wren, Ivy, and Margot.
Creating a compelling and harmonious bedroom for your kids is easier than you think it is. You know your kids more than anyone else and just because a bedroom design looks well-thought-out doesn't mean they will like it. Kids are drawn and stimulated by their unique predilections and interests.
With that being said, the design you choose for kids should reflect their unique style and personality. The key to approaching this is to take their age into consideration. Kids grow really fast and their interests may as well. So, avoid choosing a design that they may grow out of in a year or two. Get a wide array of design inspo and get your kids involved in the process.
To help you create the perfect room for your little ones, we have curated the 35 best Studio McGee kids' bedroom ideas to inspire you. These kids' room designs are clean, refined, and virtually striking.
1. Floral Wallpaper Twin Bedroom
If your kids are like most kids, they will love a pattern-heavy room like this one. The best thing about floral wallpaper is that they do not go out of style.
This fun and eye-catching wallpaper add a refreshing vibe and a sense of nature to a space. Nature-inspired spaces are calming to the mind and help to foster productivity.
IMAGE CREDIT: STUDIO MCGEE
2. Simple Kids' Bedroom Wall Art
Some patterned wallpaper, textiles, and color schemes can make a room appear busy. To keep the room grounded, opt for minimalist wall art. Keep in mind that kids' tastes change quite fast and they may get bored of having to look at the same image every day.
IMAGE CREDIT: STUDIO MCGEE
3. Studio McGee Rustic Storage Bed
Kids' toys and items of clothing tend to go everywhere and can make their rooms look cluttered very often. Invest in a storage bed like this space-saving Studio McGee bunk bed.
This cleverly designed bed serves as a stairway to the upper bunk bed as well as a storage. Here you can store toys and small articles of clothing. Plus, with this bed, you may have no need for a dresser.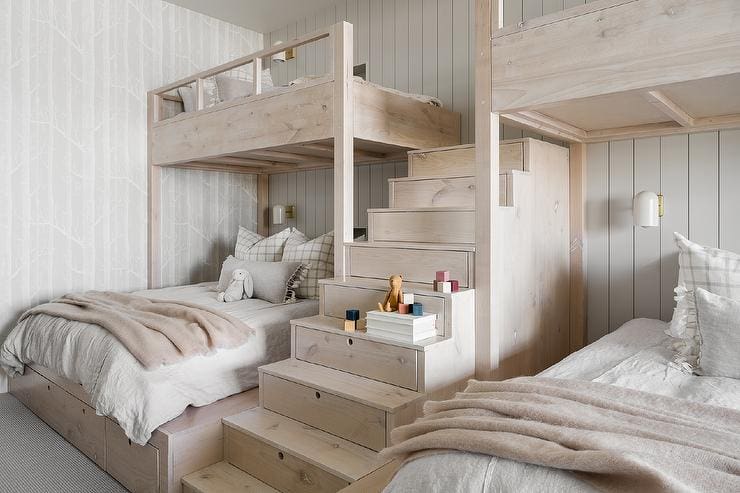 IMAGE CREDIT: STUDIO MCGEE
4. Chic Kids' Room Mirror
This elegant arched gold frame mirror can add a luxurious touch to your kid's bedroom. Mirrors are great for any interior space. Since they reflect light, they can brighten up the space and make it feel more spacious.
However, to avoid the risk of any incident, make sure that you firmly and securely attach to the wall.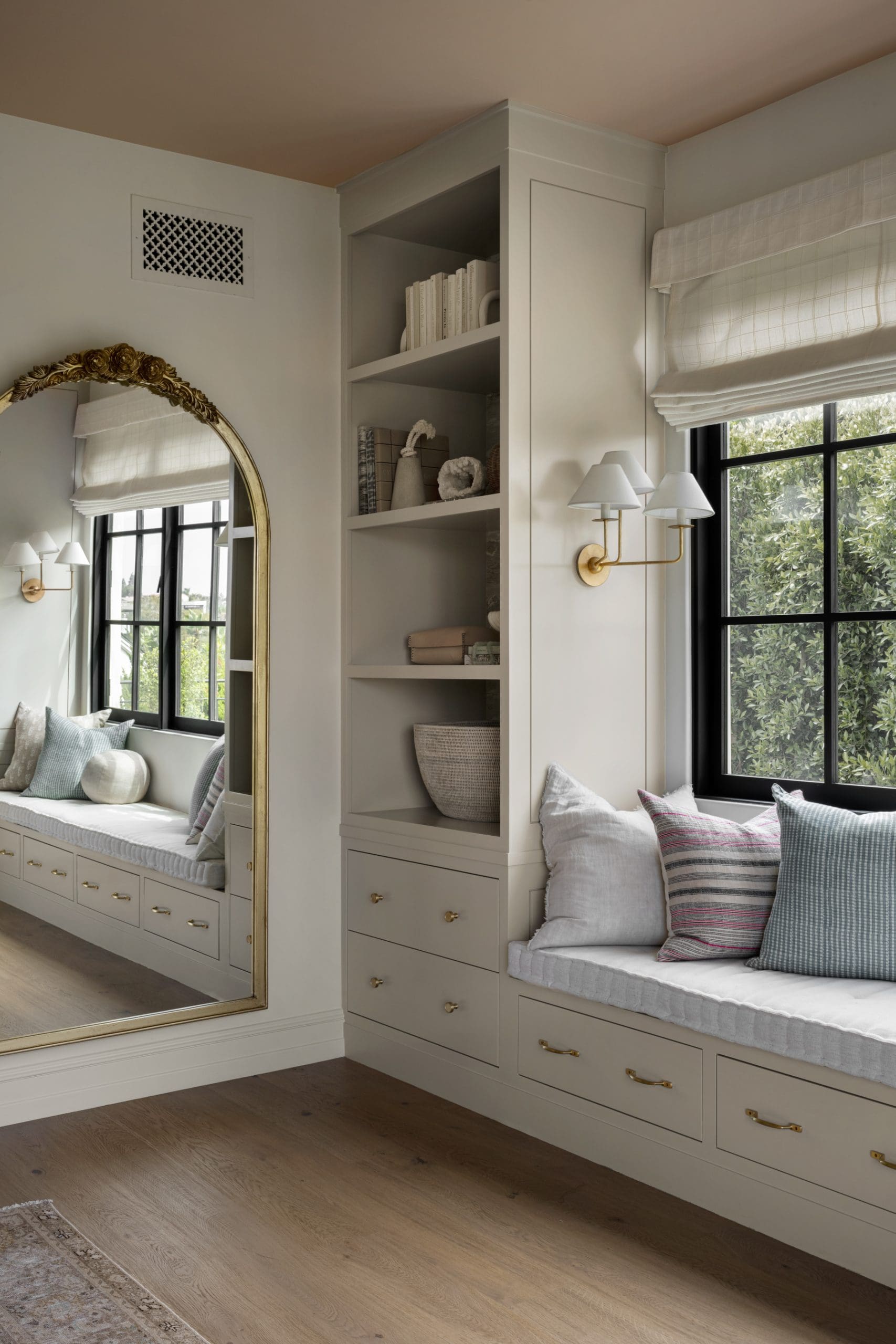 IMAGE CREDIT: STUDIO MCGEE
5. The McGee's Daughter's Room
This room was designed by the McGee couple for their young daughter, Wren. The gold patterned wallpaper is grounded by a white and powder blue color palette. The color combination and use of varying patterns help to bring a unique character into the room.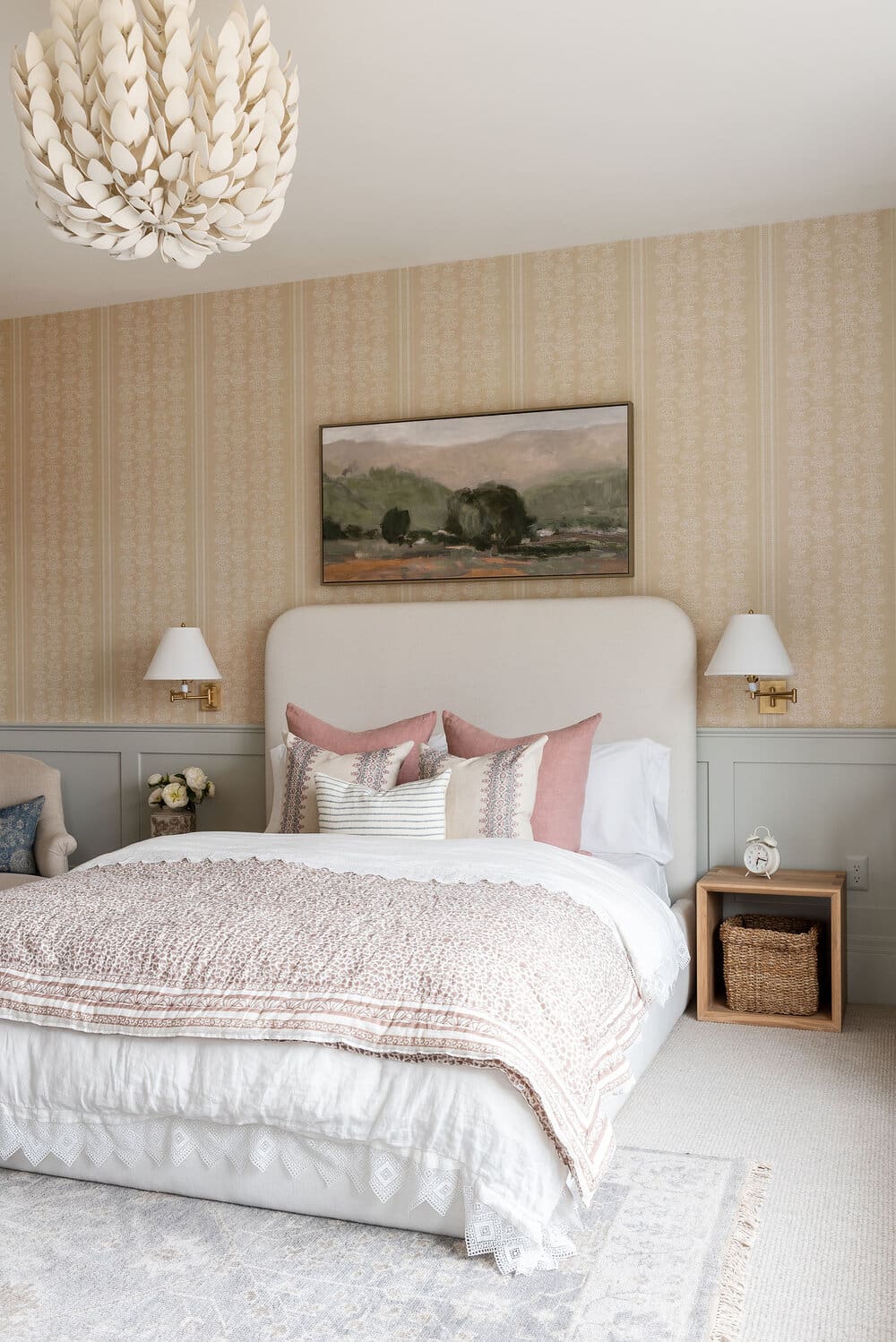 IMAGE CREDIT: STUDIO MCGEE
6. Elegant Kids' Room Finishing Touches
This is another angle of Wren's bedroom that shows the finishing touches that tie the look together. The specially built-in window seat is covered in a light pin-tucked fabric.
The chic white dresser with a gold handle, elegant wall scone, and oversized are other elements that make this room feel expertly tailored.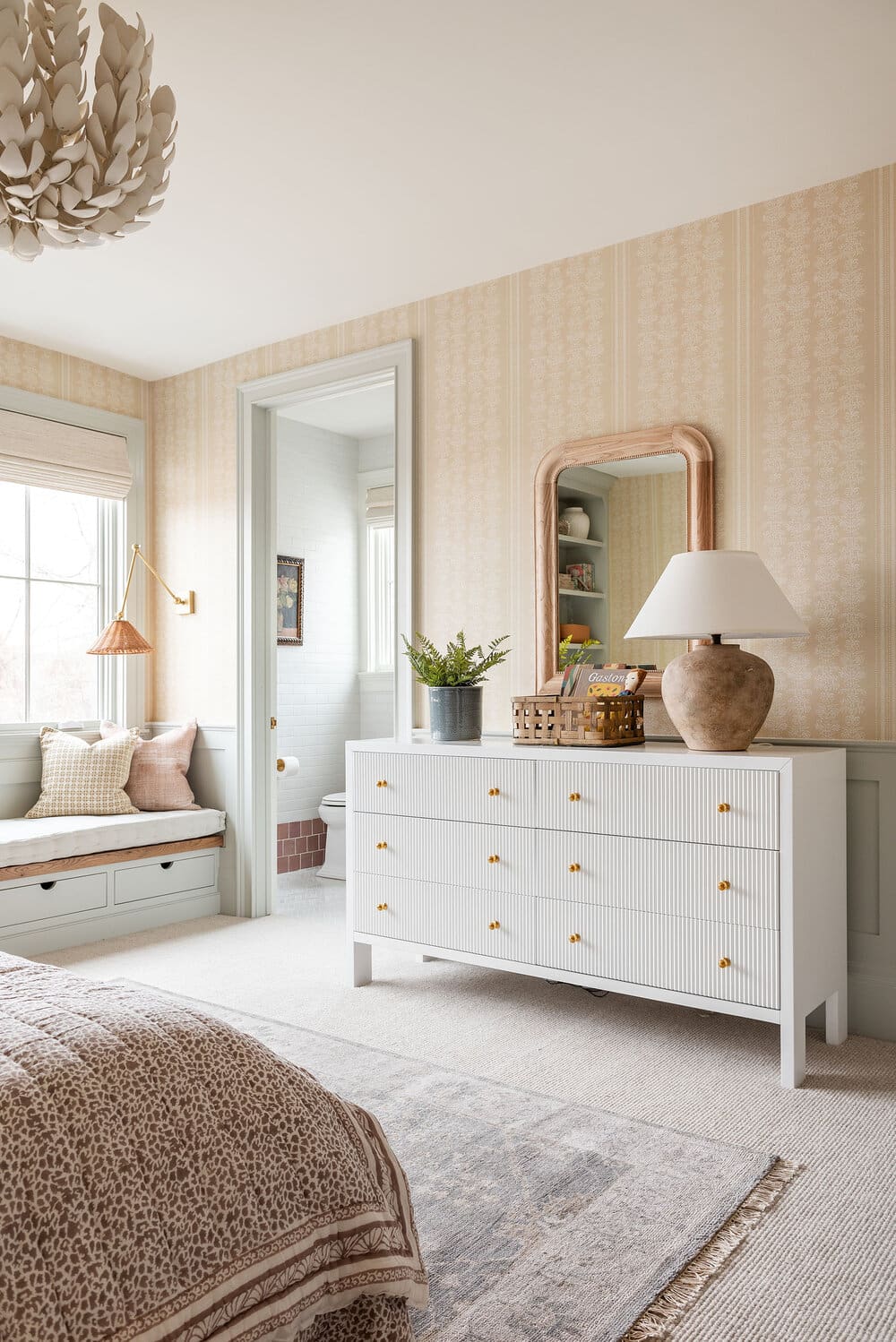 IMAGE CREDIT: STUDIO MCGEE
7. Minimalist Studio McGee Kids' Room
When it comes to a kids' bedroom, the best approach may be to keep it simple. This way you can easily alter the design to align with their new taste as they grow.
A little girl's room does not need to be covered in pink, as well as a boy's room. Instead, use muted and soothing neutral colors.  Incorporate a tinge of their favorite color in the bedding, artwork, or rug, which can be easily changed.
IMAGE CREDIT: STUDIO MCGEE
8. Statement Bed-Side Lamp
You don't have to flood a kid's room with bold colors to make a style statement. Bring in something groovy that catches the eye. For instance, this studio McGee kid's bedroom uses a glossy gold bedside lamp and a wall-mounted juju hat to elevate the aesthetics of the room.
IMAGE CREDIT: STUDIO MCGEE
9. Kids' Room Canopy Bed
Most kids find canopy beds exciting, especially with draperies. It conjures up the feeling of royalty. A canopy bed offers unending comfort and a sense of being hidden away because of its shape. This is the room of one of the McGee's daughters, Ivy.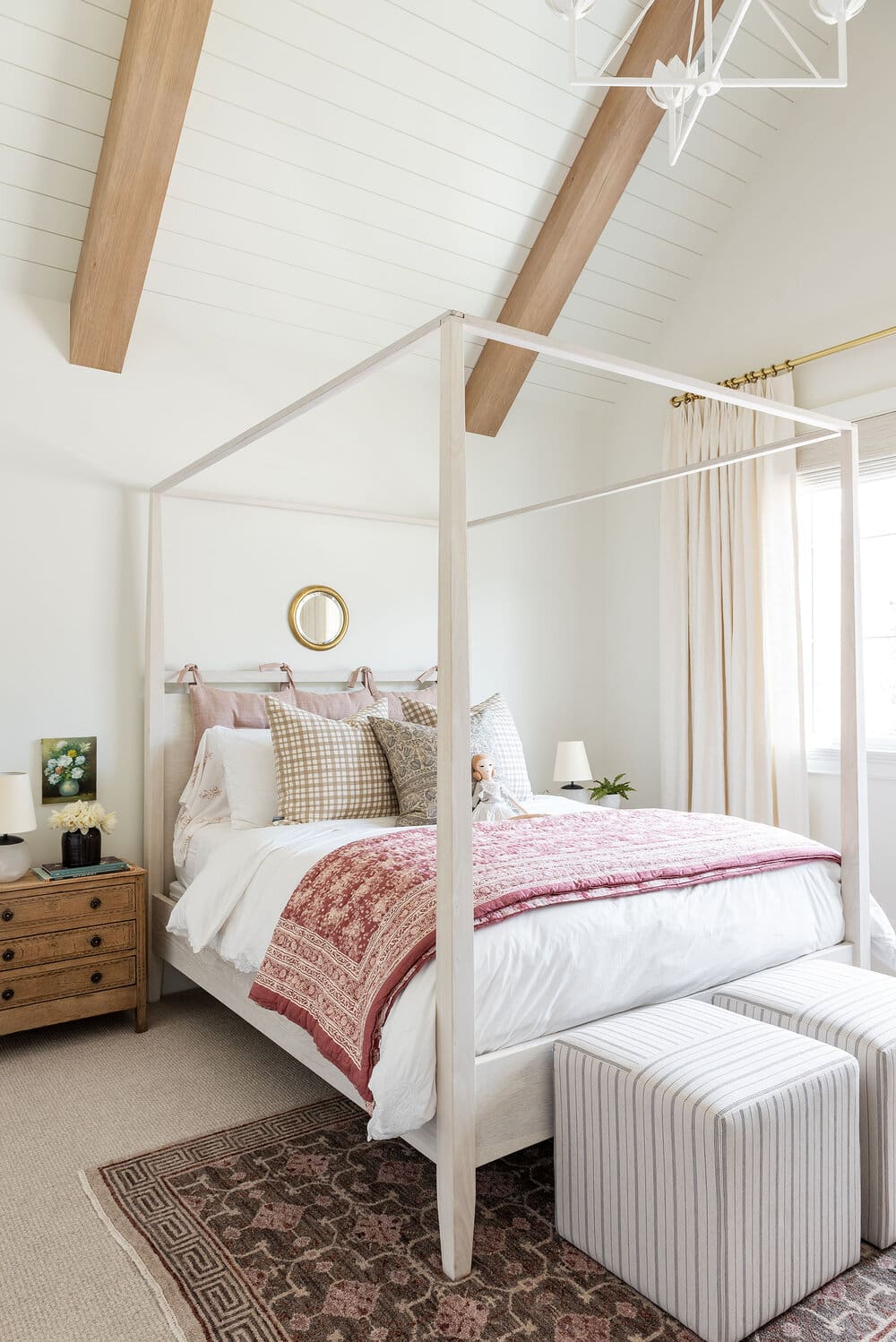 IMAGE CREDIT: STUDIO MCGEE
10. Cozy Kids' Room Bedding Arrangement
Decorating your kids' bed with comfortable and beautifully patterned beddings is a simple way to effortlessly cheer up the room.
Invest in high-quality and cozy beddings as the wonderful feel of soft, high-thread-count textiles next to their skin will help them feel rejuvenated and relaxed.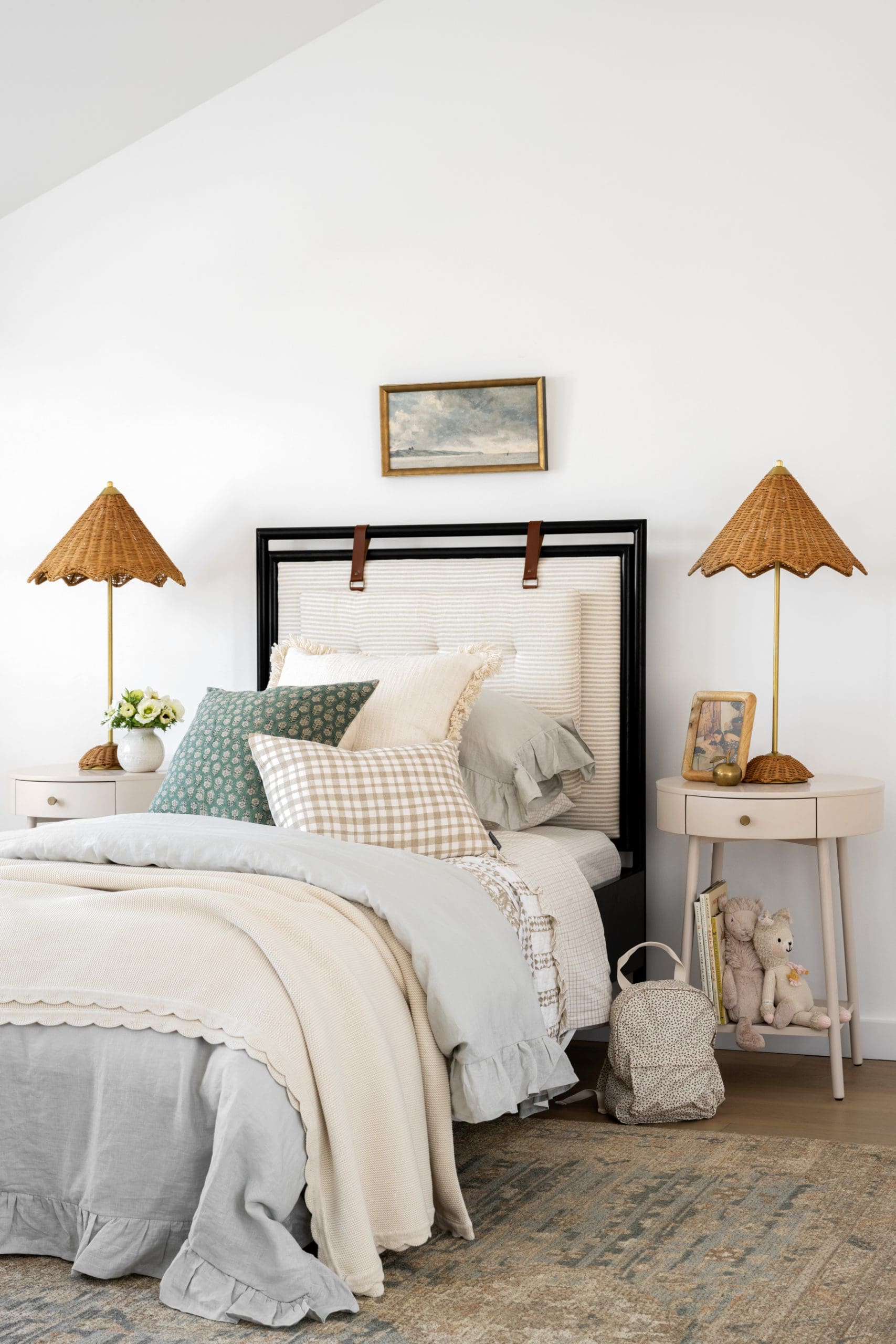 IMAGE CREDIT: STUDIO MCGEE
You may also enjoy our article on: 25 Chic Studio McGee Entryway Ideas
11. Dark Blue and Beige Studio McGee Kids' Room
The color palette is the most important factor to consider when decorating a kids' bedroom. As seen in this Studio McGee kids' room design, dark blue and beige are a sophisticated choice. This is a muted and timeless two color combination for bedroom walls.
IMAGE CREDIT: STUDIO MCGEE
12. Studio McGee Stylish Room
According to Studio McGee, this basement bunk room was designed for entertaining. The goal of this project was to create the perfect place for the client's big family to get together and make memories. This well-thought-out bunk room is the perfect at-home hideaway.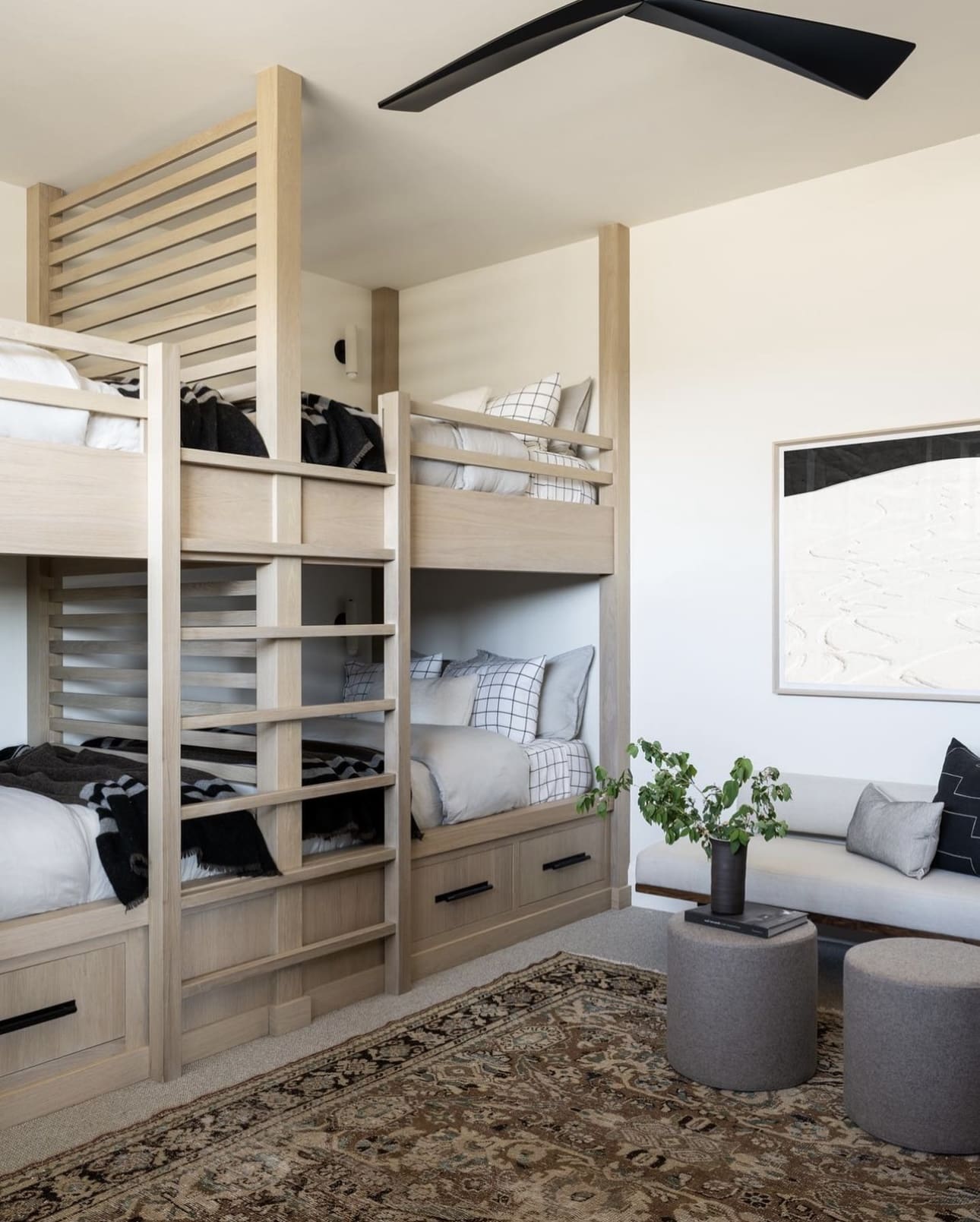 IMAGE CREDIT: STUDIO MCGEE
13. Kid's Room Ottoman
Bedroom ottomans are very useful furniture. They can be used as a seat or footrest, and to store bed linen, kids' toys, blankets, and more. But, not only are they highly practical, but they can also be used to inject color, pattern, and style into the room.
IMAGE CREDIT: STUDIO MCGEE
14. Moody Blue Kids' Room
This moody and muted Studio McGee kids' room has an elegant feel about it. Dark, moody, and rich hues create a bold statement and can make a room feel elegant and refined.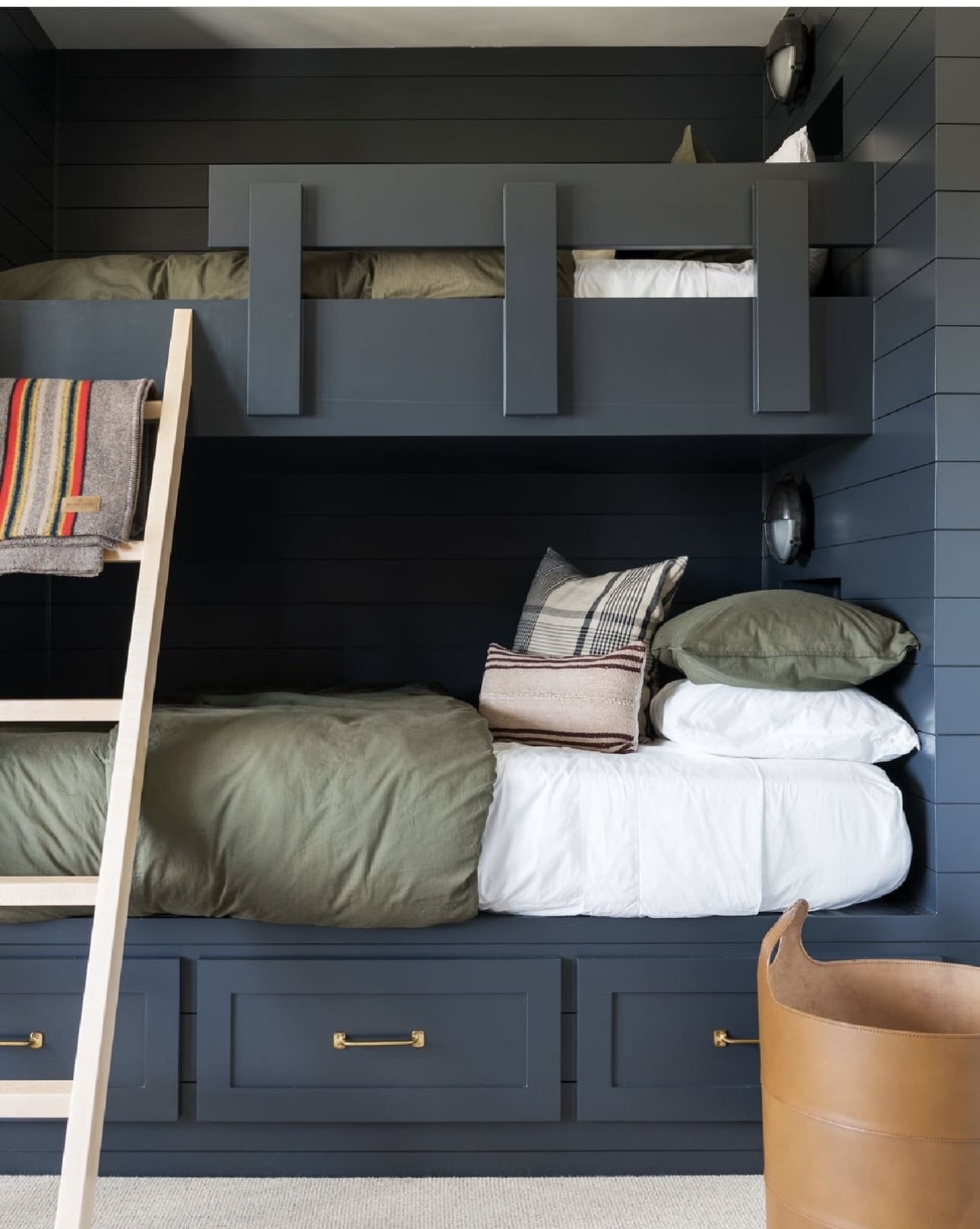 IMAGE CREDIT: STUDIO MCGEE
15. Elevated Boy's Room
This boy's room is clean, elegant, and has a rustic charm to it. It also has a timeless appeal. The beautifully stained ceiling and beams add a dramatic sense of heft and strength to the room.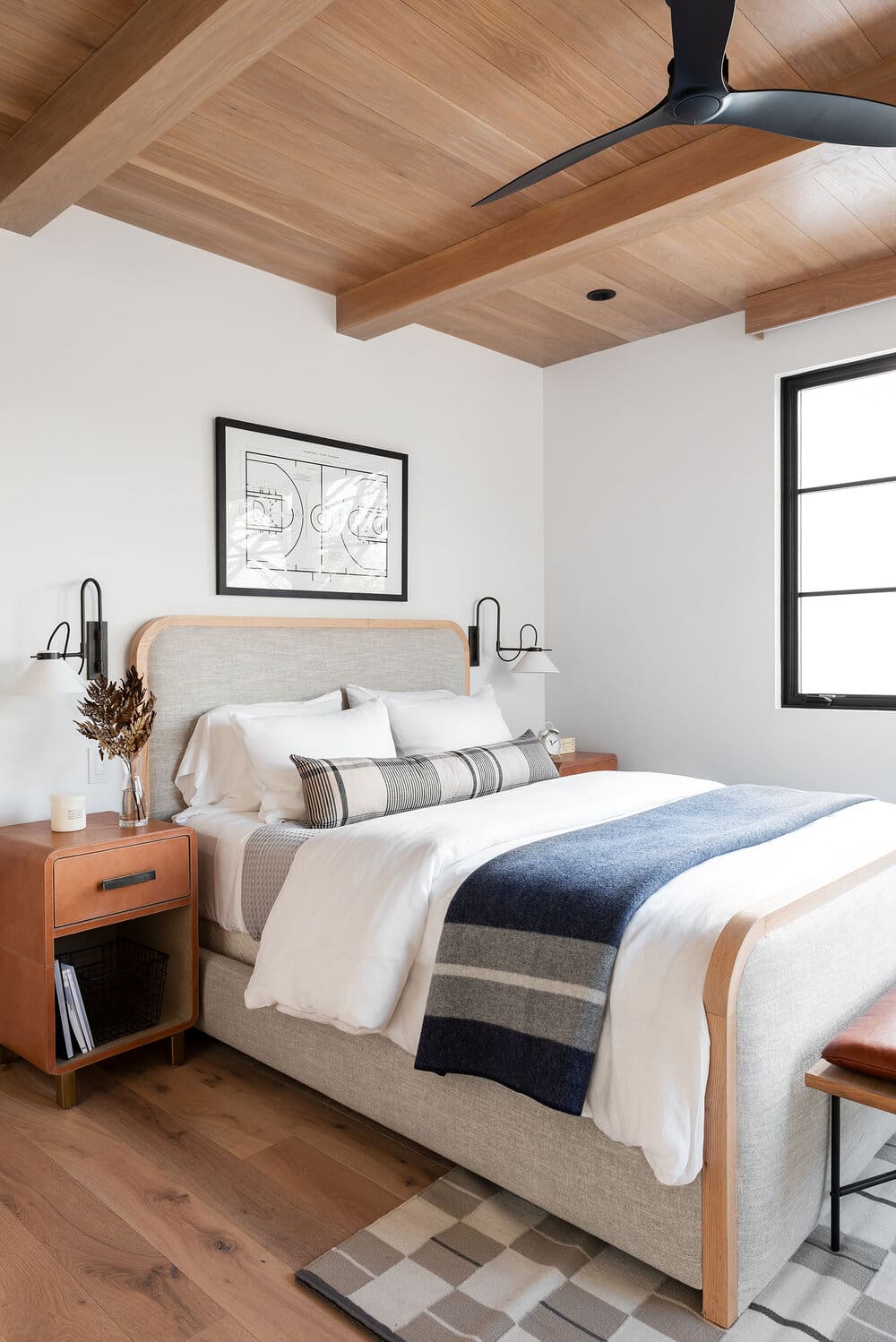 IMAGE CREDIT: STUDIO MCGEE
You may also enjoy our article on: 25 Best Studio McGee Kitchens
16. Built-In Shelving
The conspicuous benefit of built-in shelving is that it helps to save valuable floor space. It also serves as a blank canvas for you to create a striking focal point in the room. This is especially great for kids' bedrooms as you can beautifully display photographs, books, and other decorative ornaments on it.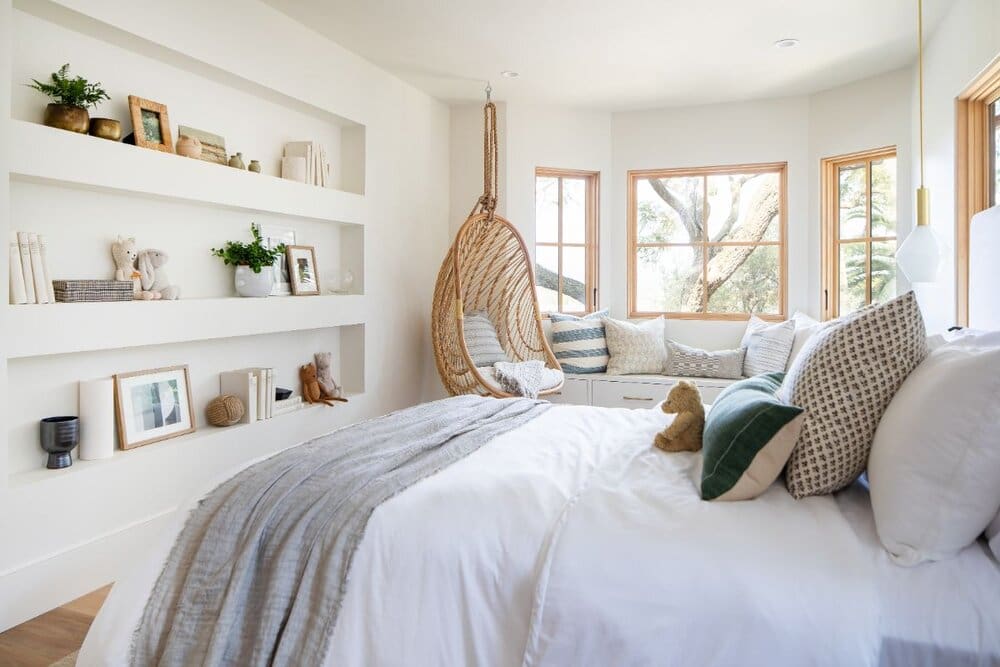 IMAGE CREDIT: STUDIO MCGEE
17. Kid's Room Rattan Swing Chair
If the room has extra space, a swing chair can be a valuable addition to the room. Kids enjoy swinging and having one in their own room can add a convivial touch to it. Plus, swinging aids in the development of cognitive abilities like balance, rhythm, and muscle control.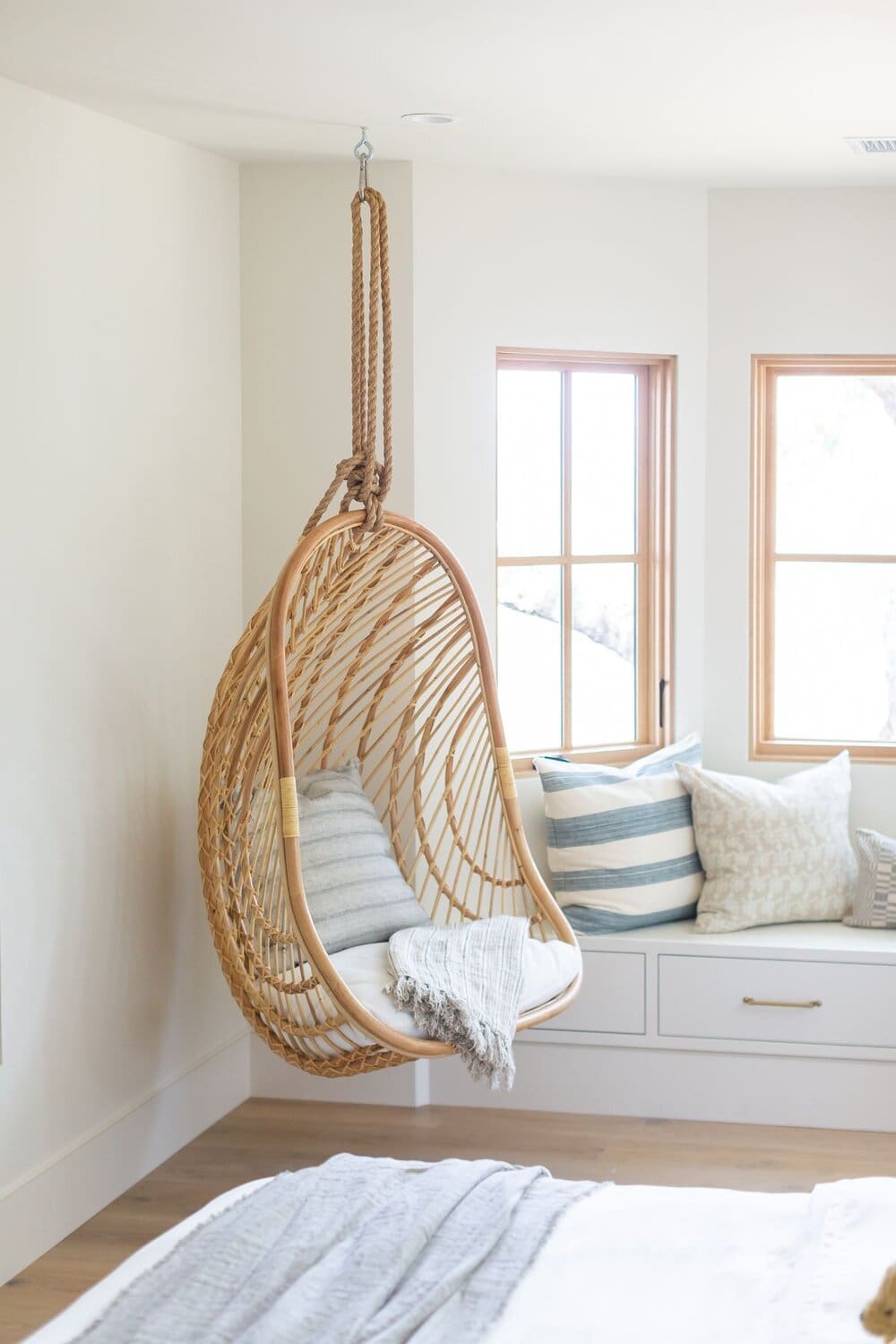 IMAGE CREDIT: STUDIO MCGEE
18. Studio McGee Kids' Room Window Seat
A window seat with cushions is another feature in a room design that kids love. This can serve as a comfortable reading corner or their own territory to stare wistfully out the window.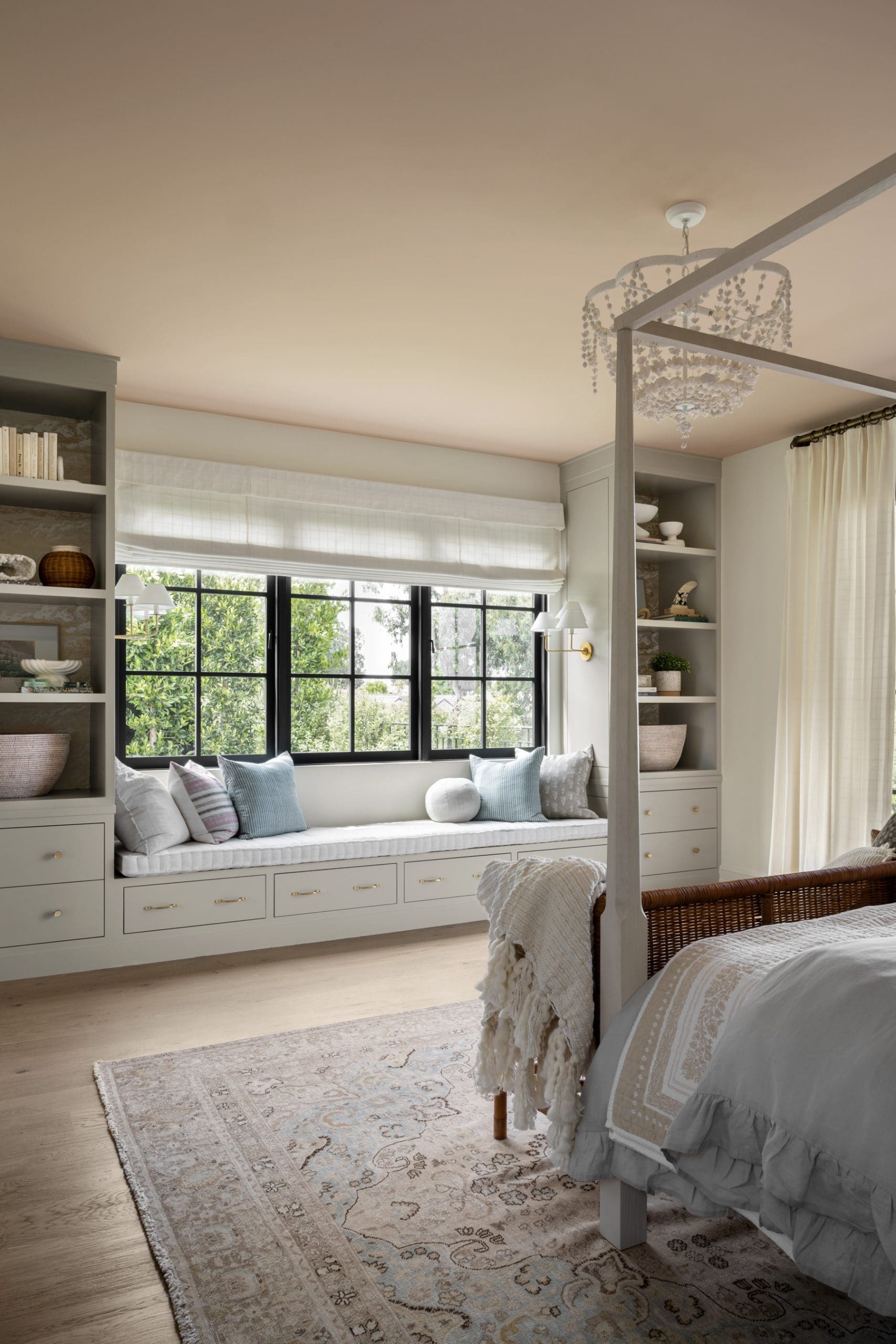 IMAGE CREDIT: STUDIO MCGEE
19. Modern Twin Bedroom
The client for this Studio McGee project wanted her twin's room to be fun, but transitional. Shea and her design team choose furniture that the kids will not easily outgrow. The color scheme is muted and neutral and the nature wall art makes the room feel relaxing.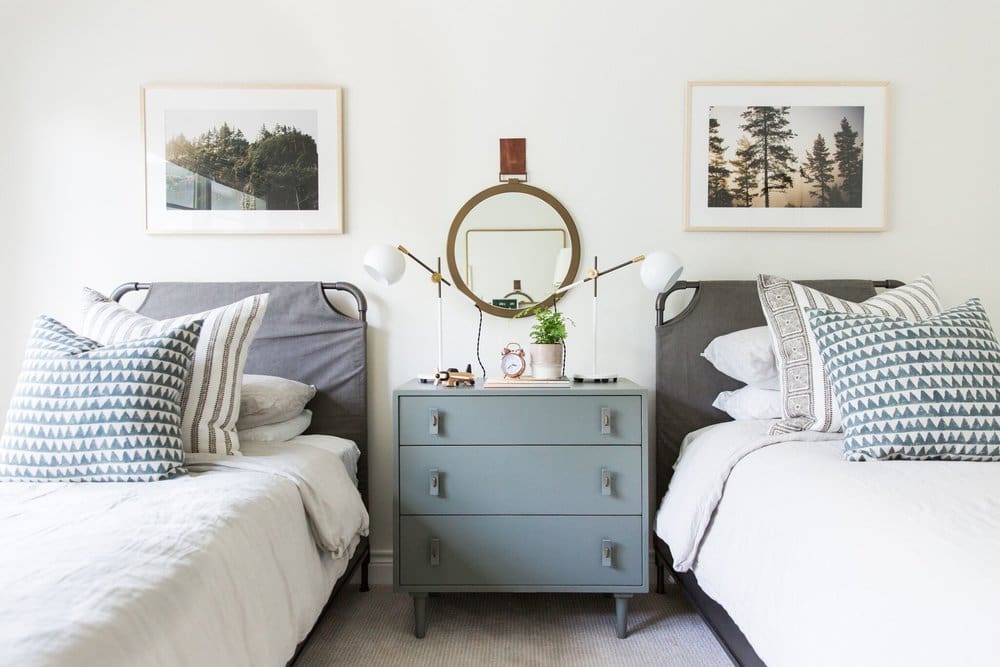 IMAGE CREDIT: STUDIO MCGEE
20. Studio McGee Kids' Room Dresser
How beautiful and earthy is the dresser in this Studio McGee nursery? Airy color schemes and whimsical furnishings were used to create a neutral space that feels peaceful and comforting.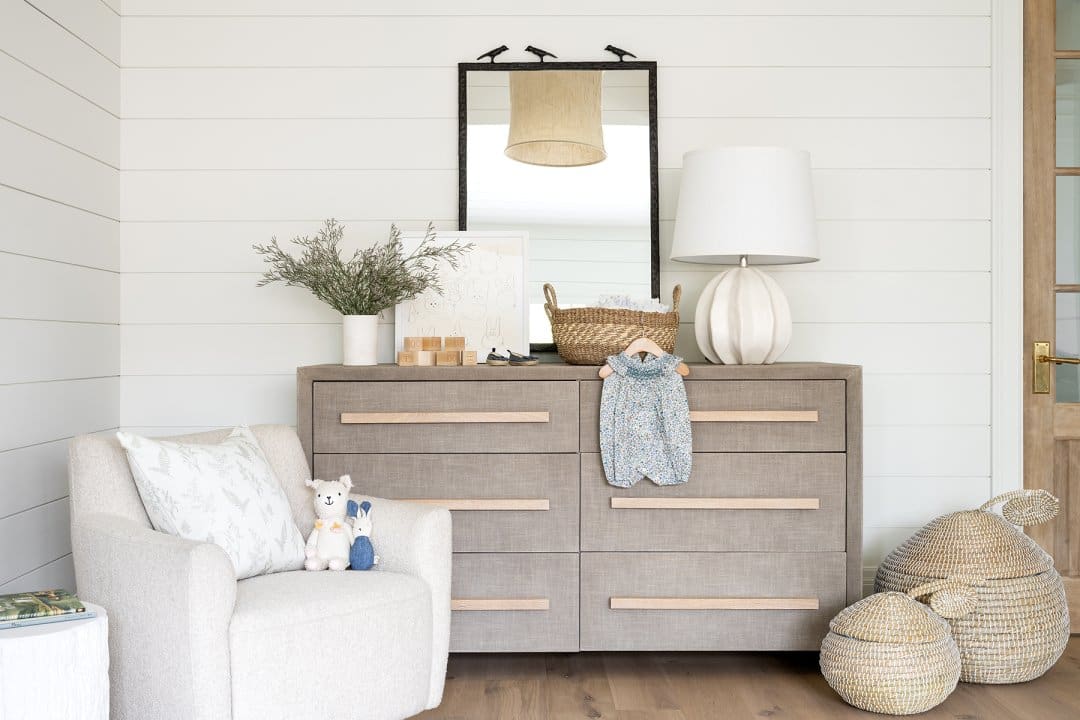 IMAGE CREDIT: STUDIO MCGEE
21. Neutral Scheme Kids' Room
A neutral scheme is the way to go if you want a kids' room that they won't get bored of quickly. Colors like white, beige, ivory, gray, cream, and brown are ideal choices.
If you want to go for the conventional pink or blue, then look for a pale shade that is very subtle. Alternatively, you can keep the wall and furniture neutral and inject color through the decor.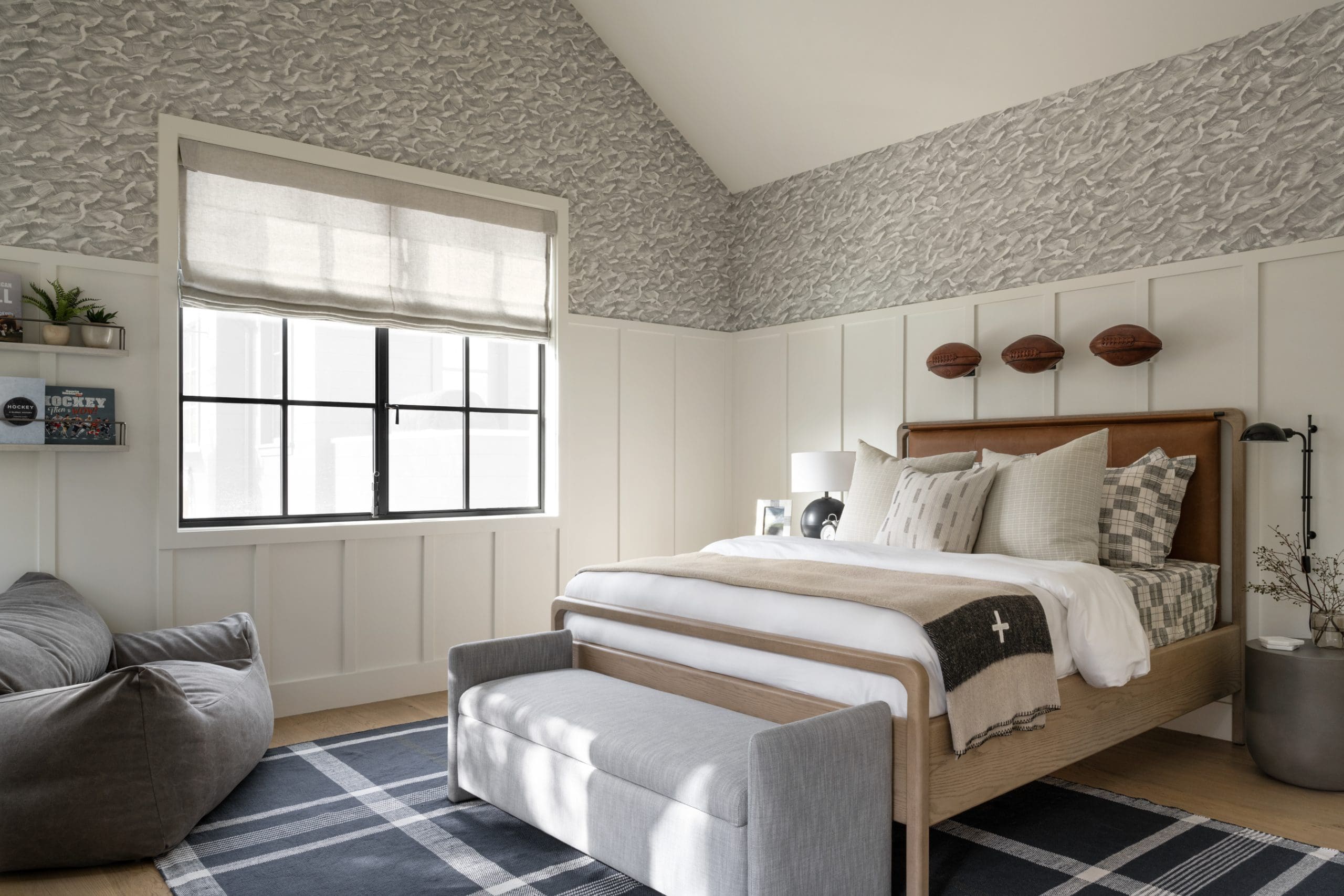 IMAGE CREDIT: STUDIO MCGEE
22. Blue and Orange Kids' Room Color Scheme
Dark blue is a very versatile shade and will go well but a wide range of colors. Orange is one of the best colors that goes with blue because they sit opposite to each other on the color wheel. When paired together, they create a visually striking appeal.
IMAGE CREDIT: STUDIO MCGEE
23. Kids' Room Wainscotting
Wainscot paneling protects the wall and helps to elevate bare walls in a room. This decorative wood paneling has been used for centuries and is still commonly used today. If you want a visually appealing kids' room, then wainscotting should be up your radar.
IMAGE CREDIT: STUDIO MCGEE
24. Kids' Toy Storage System
Toys do not necessarily have to be kept hidden. Just like this Studio McGee kids' room, a toy cabinet display can also serve as a focal point for the room.
The key to keeping it organized and uncluttered at all times is to avoid overcrowding it. For cohesiveness, consider maintaining a color scheme with the toy display.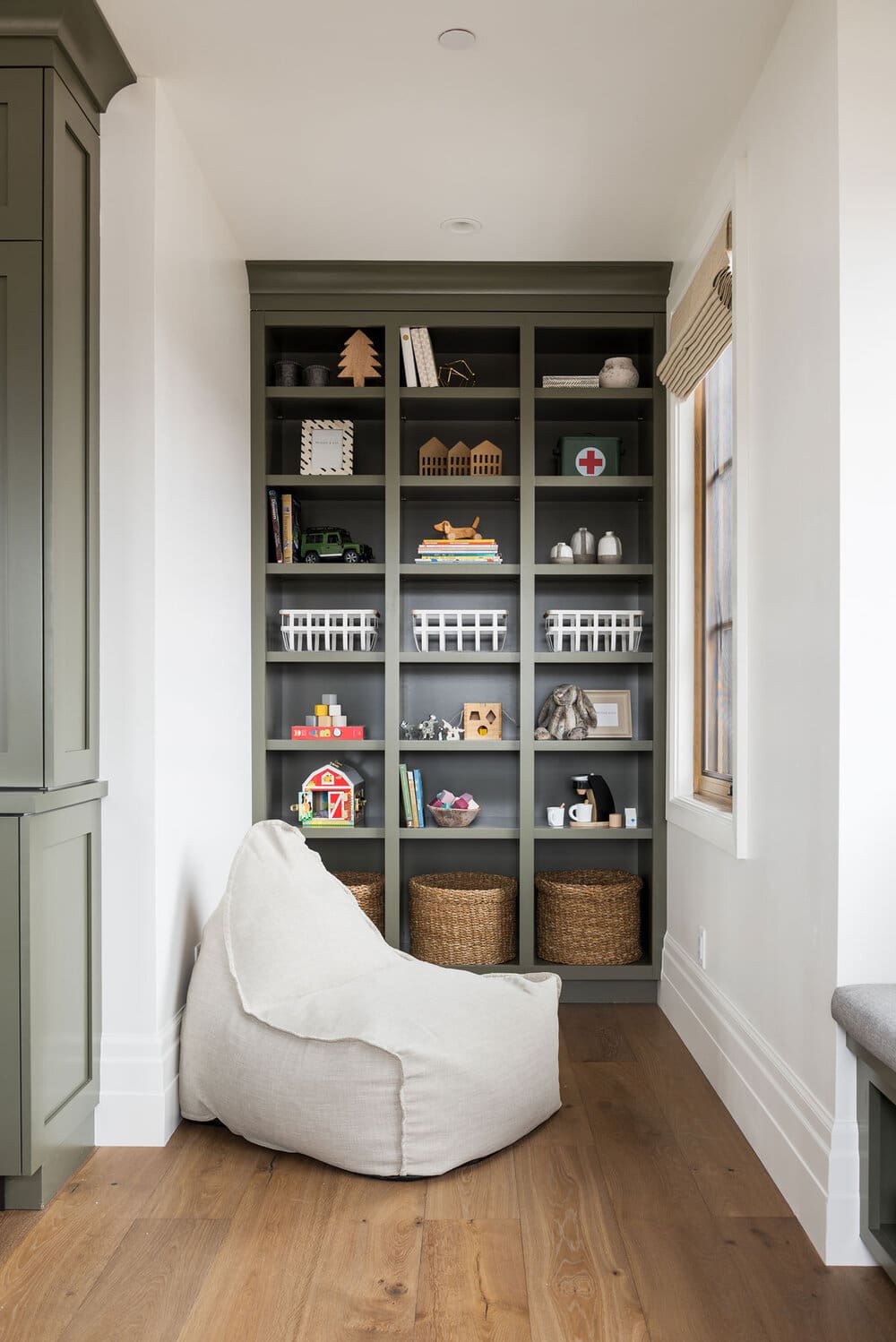 IMAGE CREDIT: STUDIO MCGEE
25. Rattan Arch Bed Frame
There are many reasons why a rattan bed frame is ideal for kids's bedrooms. Derived from a plant that grows year-round, rattan offers a renewable source of raw material. In addition to this, it is lightweight, resilient, low-maintenance, and can add rustic beauty to a space.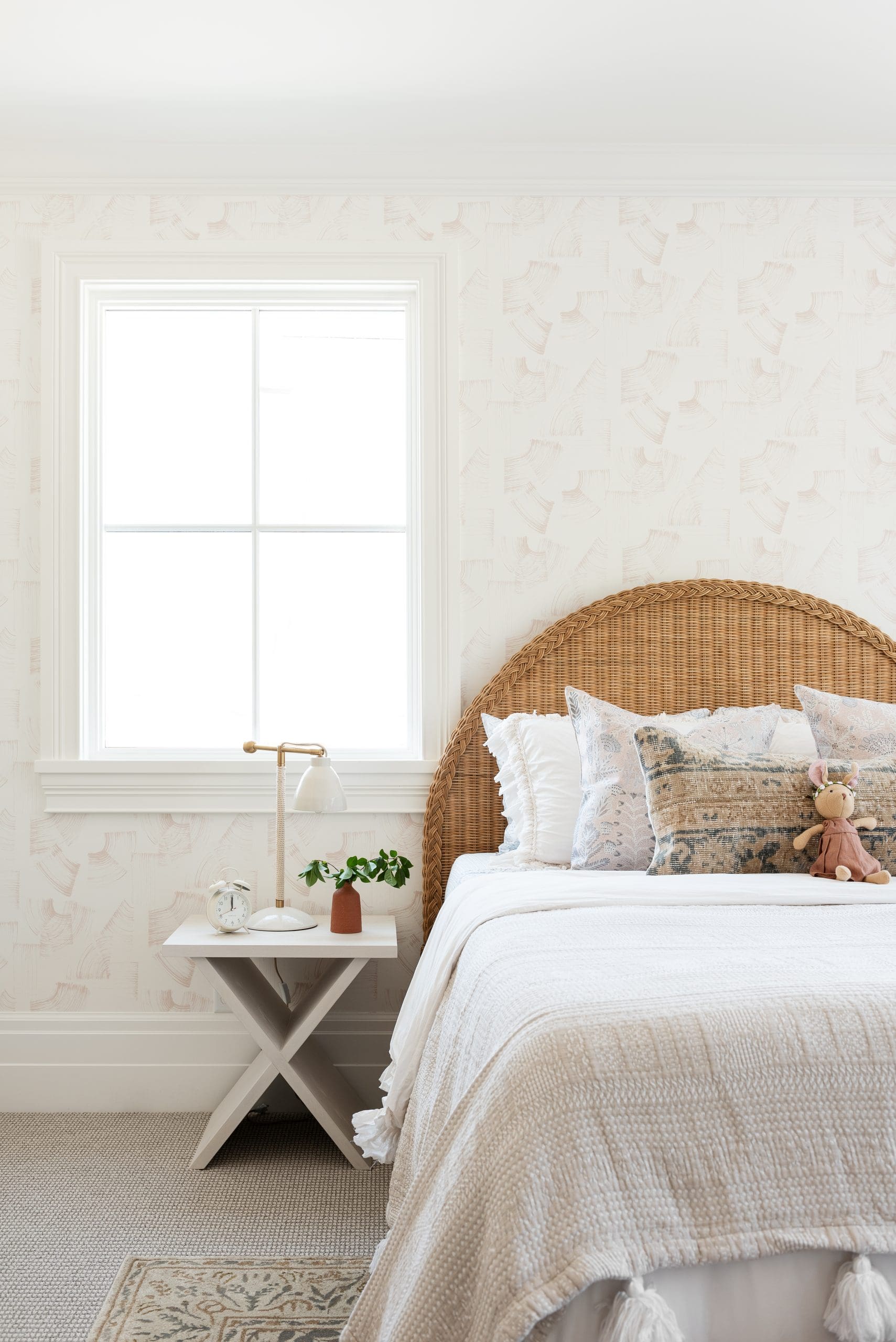 IMAGE CREDIT: STUDIO MCGEE
26. Painted Wood Ceiling
This nursery was designed for Margot's, Shea and Syd's youngest daughter. The beautiful and subtle pink paint on the ceiling is Just Beige by Benjamin Moore. Shea and her design team mixed several patterns and textures to create a classic-meets-cozy look.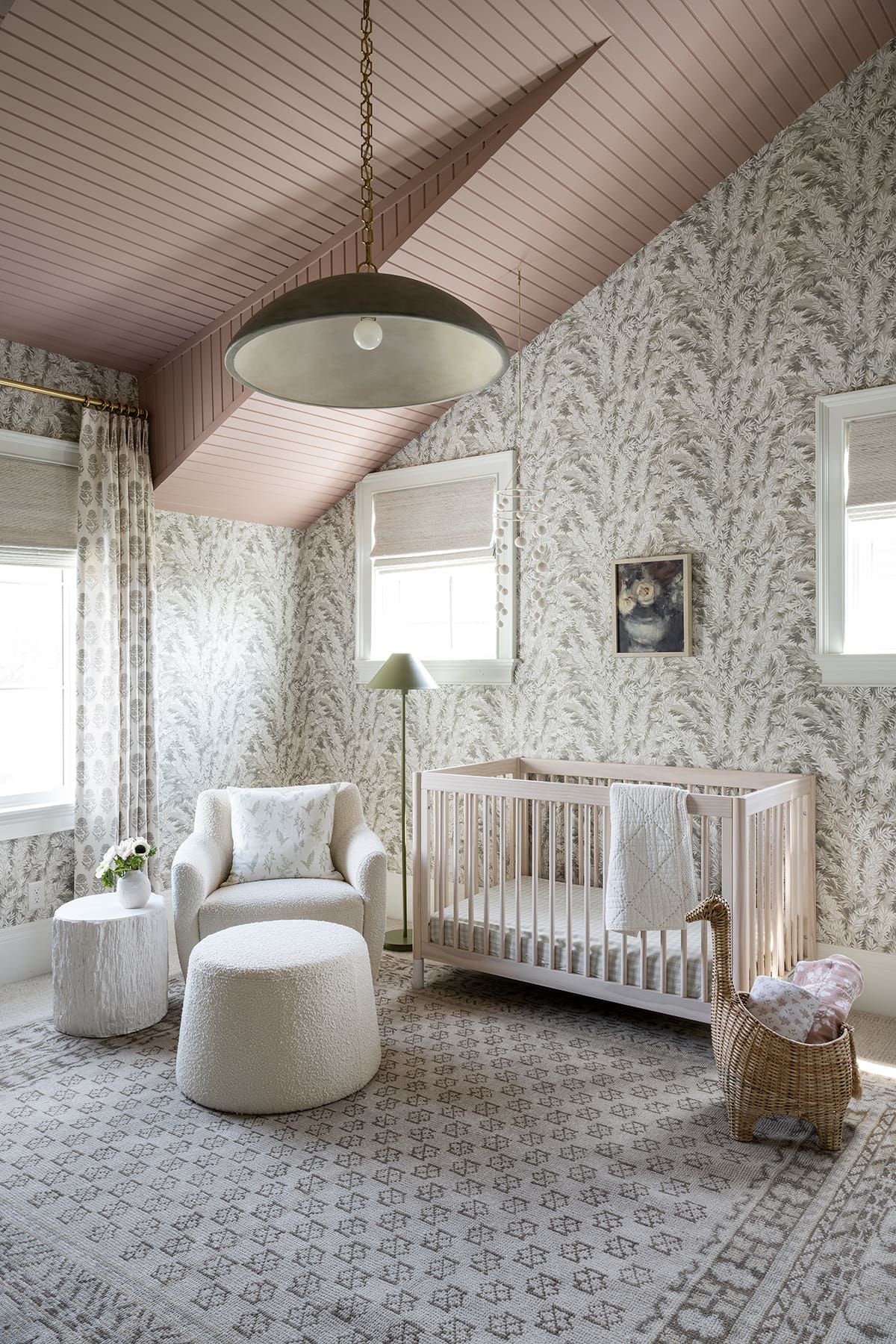 IMAGE CREDIT: STUDIO MCGEE
27. Enchanting Chandelier
If you want to design a kids' room like Studio McGee, you'll need to invest in lighting that matches the room's character. Lighting can serve both practical and decorative purposes.
IMAGE CREDIT: STUDIO MCGEE
28. Bohemian Kids' Bedroom
There is more freedom to express one's self in the boho style than any other interior design style. Boho incorporates an eclectic mix of colors, patterns, and textures and these are the things that appeal to kids the most.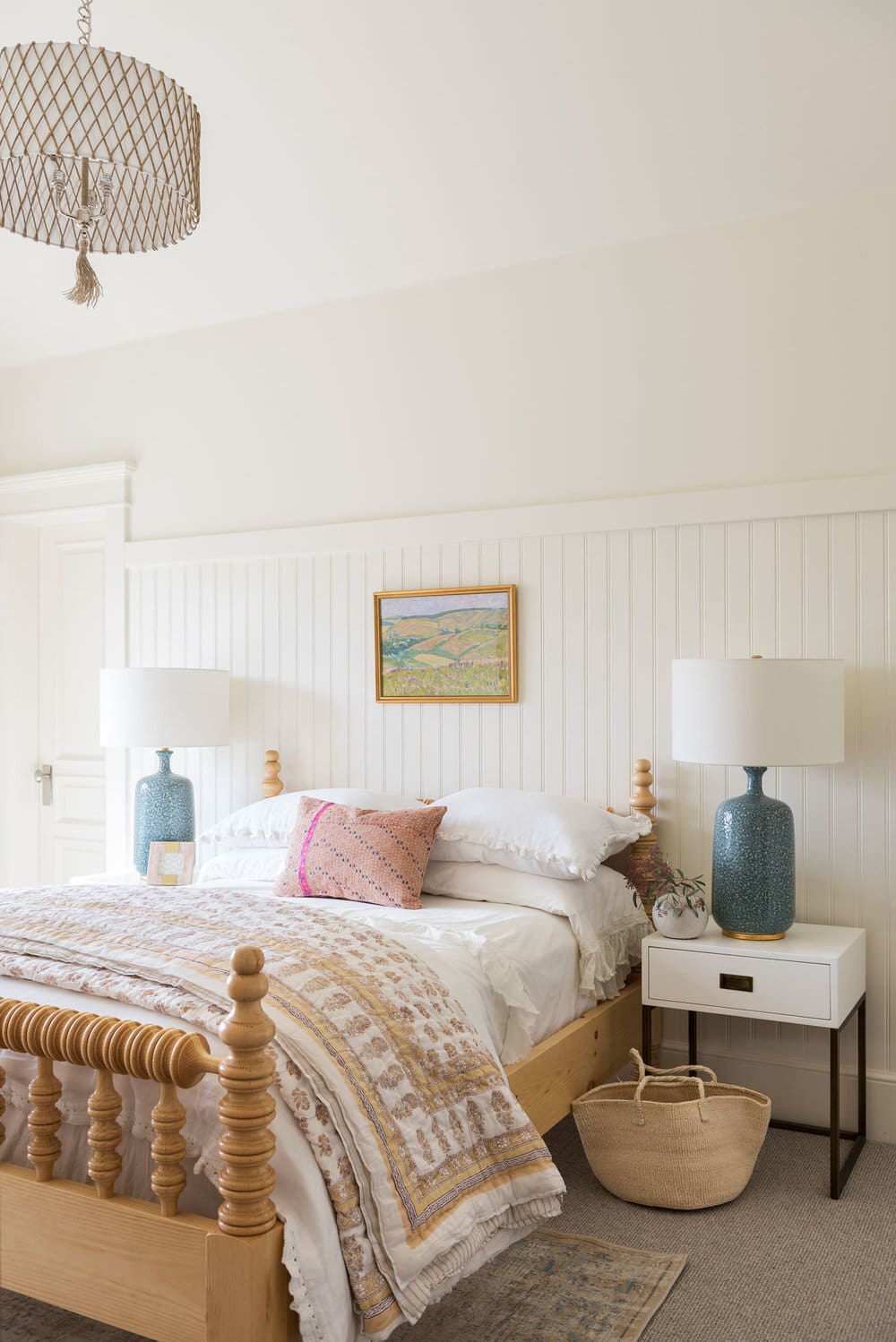 IMAGE CREDIT: STUDIO MCGEE
29. Cozy Studio McGee Kids' Bedroom
Creating a cozy kid's bedroom is relatively easy. Use a soothing color that promotes relaxation. Bring in warm, comfortable, and natural materials like wood, wicker, linen, flannel, and rattan —  these materials exude warmth.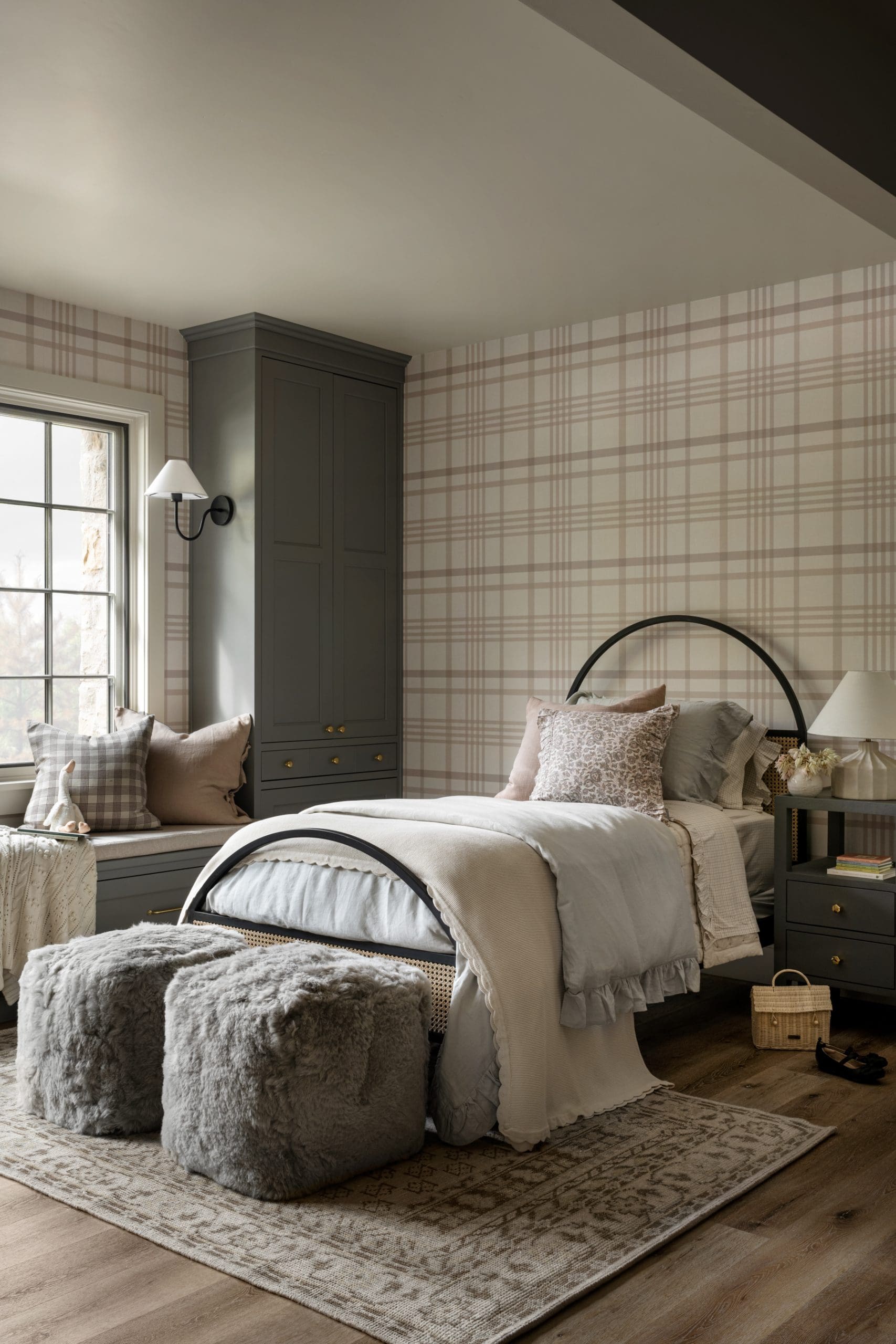 IMAGE CREDIT: STUDIO MCGEE
30. Studio McGee Blue-Sage Room
A room full of earthly colors and personality, there is an attractive organic feel about this kids's bedroom. "One of the coolest details is the railing," Says Shea in reference to custom ladders and metal rails around the beds.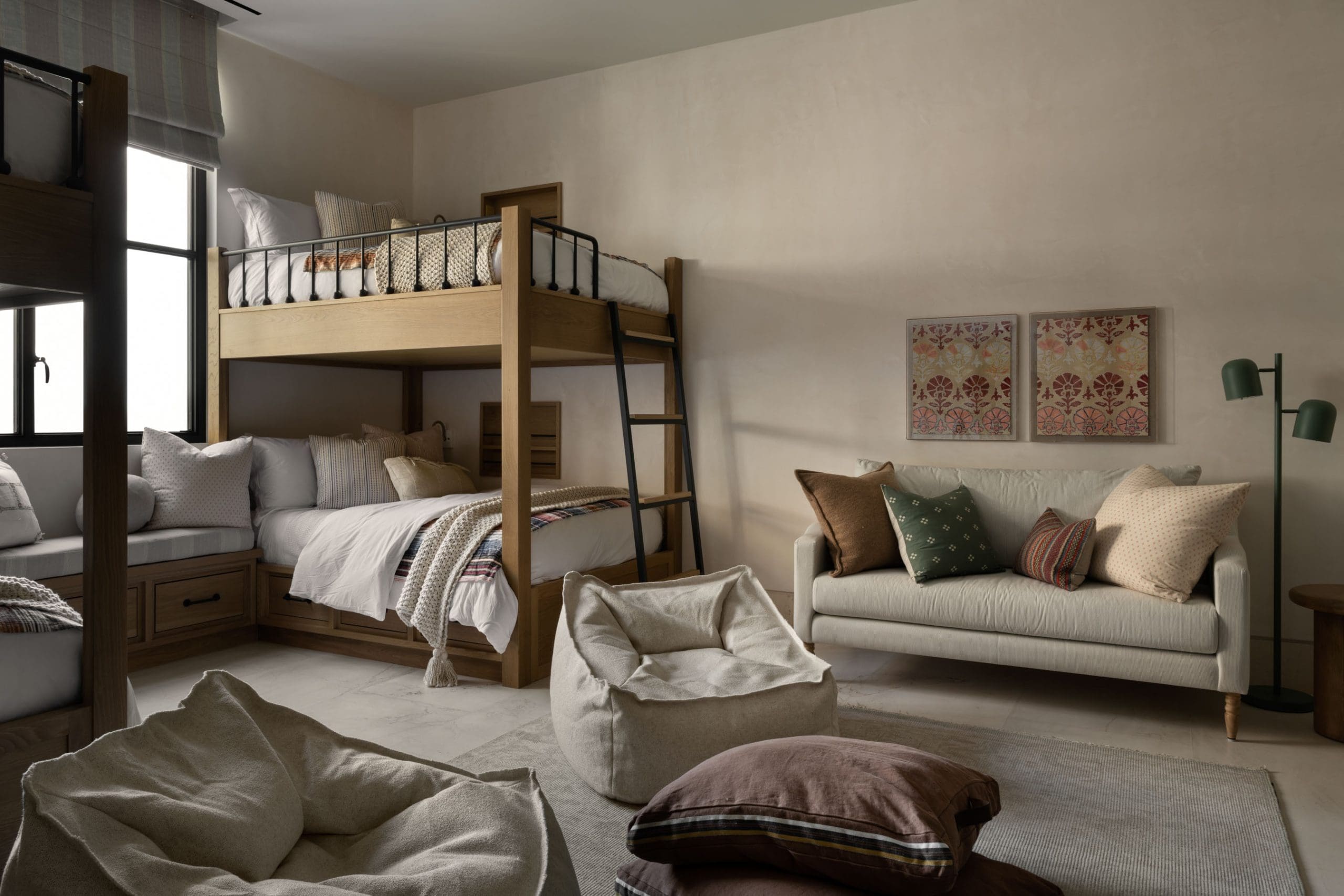 IMAGE CREDIT: STUDIO MCGEE
31. Fresh and Bright Kids' Room
To make a kids' room fresh and bright, use bright and muted neutral. Commit to light furniture (a hint of color is okay as well), layer the lighting, keep clutters at bay, bring in fresh plants, and use a mirror to maximize light.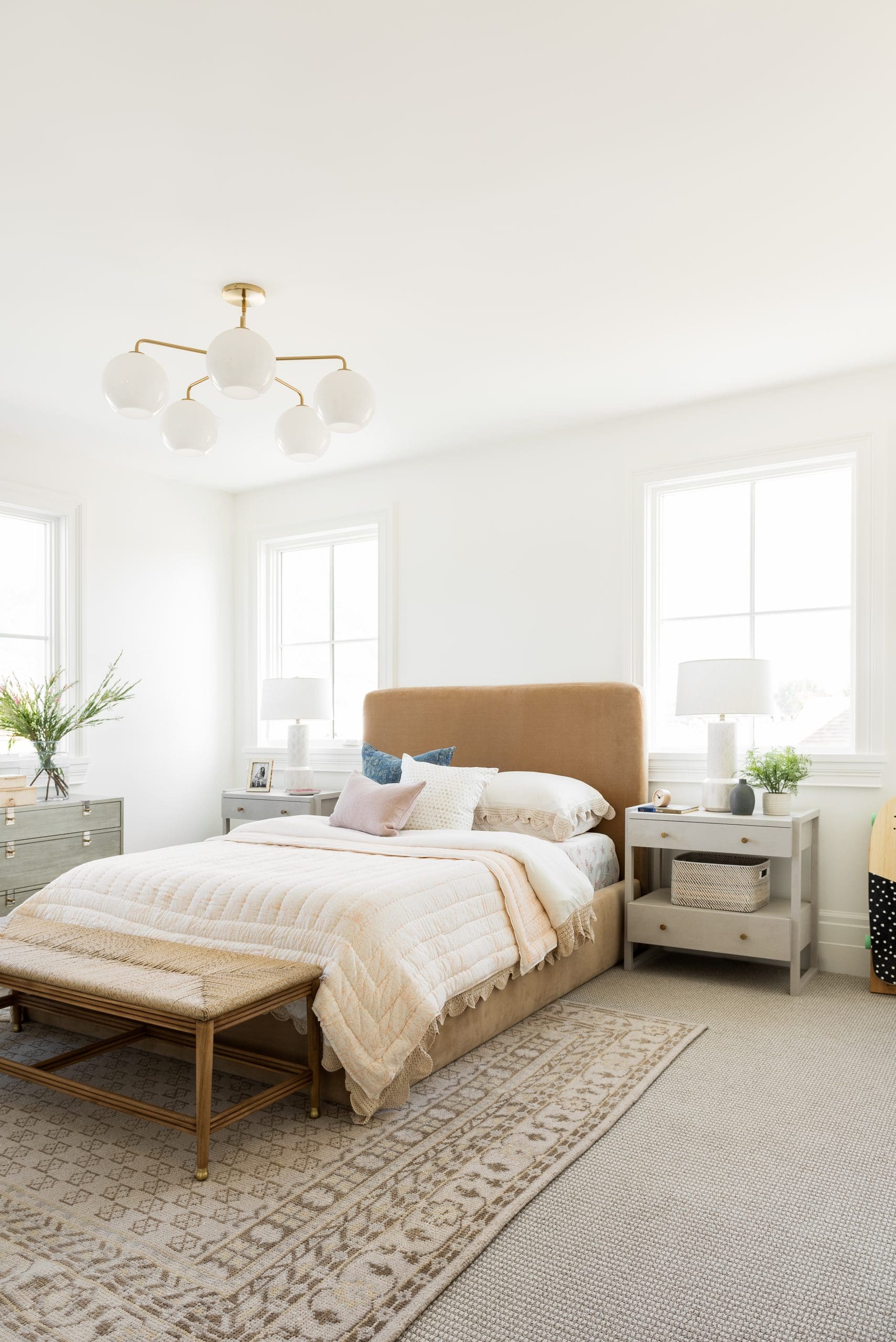 IMAGE CREDIT: STUDIO MCGEE
32. Ladder Bookshelf  Decor
A ladder bookcase has several benefits, including portability, minimal weight, appealing designs, and versatility. For kids' rooms, consider using to design that can be wall-mounting to avoid the risk of it falling over.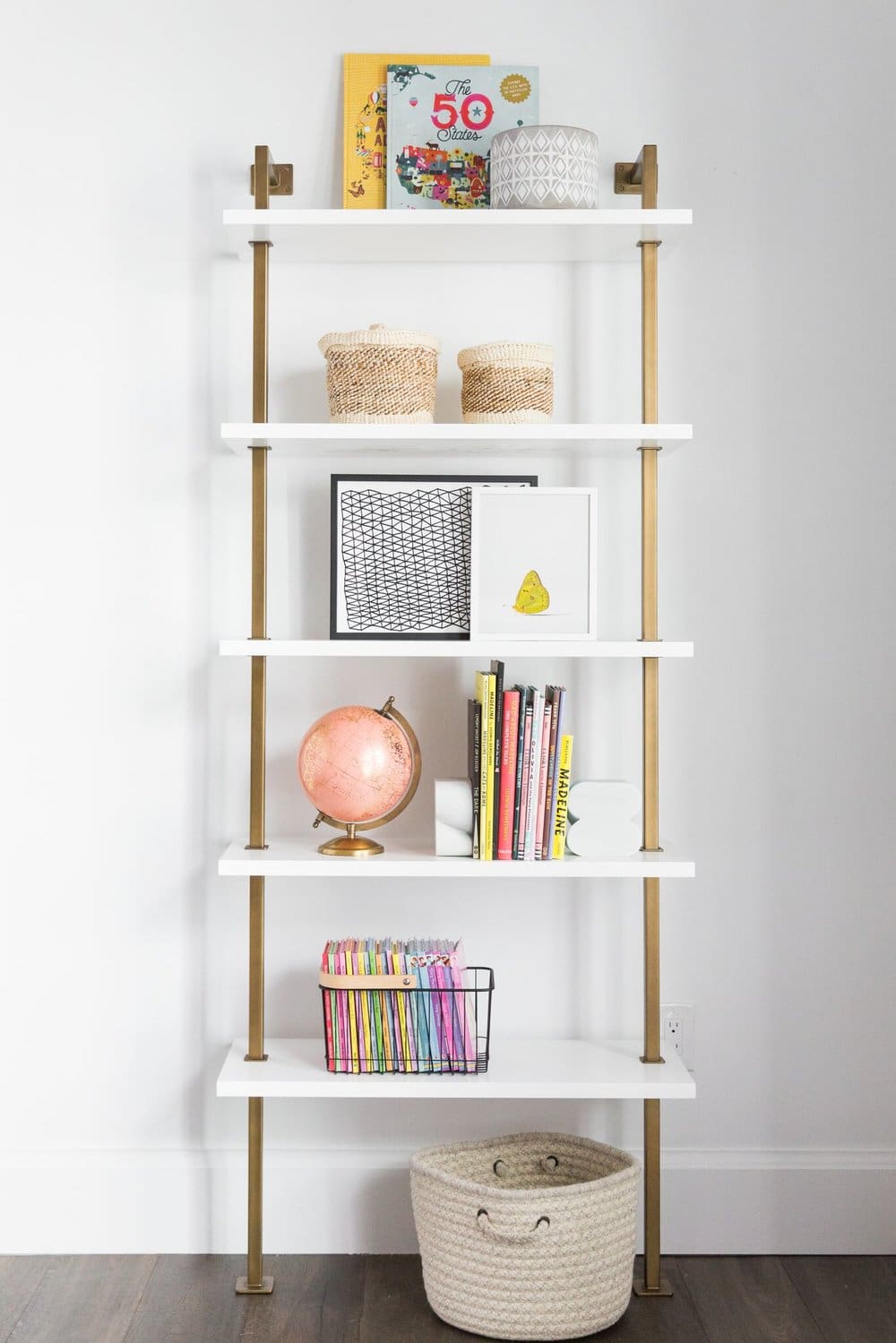 IMAGE CREDIT: STUDIO MCGEE
33. Mountain House Inspired
Take clues from your environment when designing a room so the home doesn't lose its original charm. This Studio McGee kid's bedroom was created in a mountain house retreat. From the heavy wood bed frame to the mountain mural, it is clear that Shea and her design team's goal was to bring the outdoors in.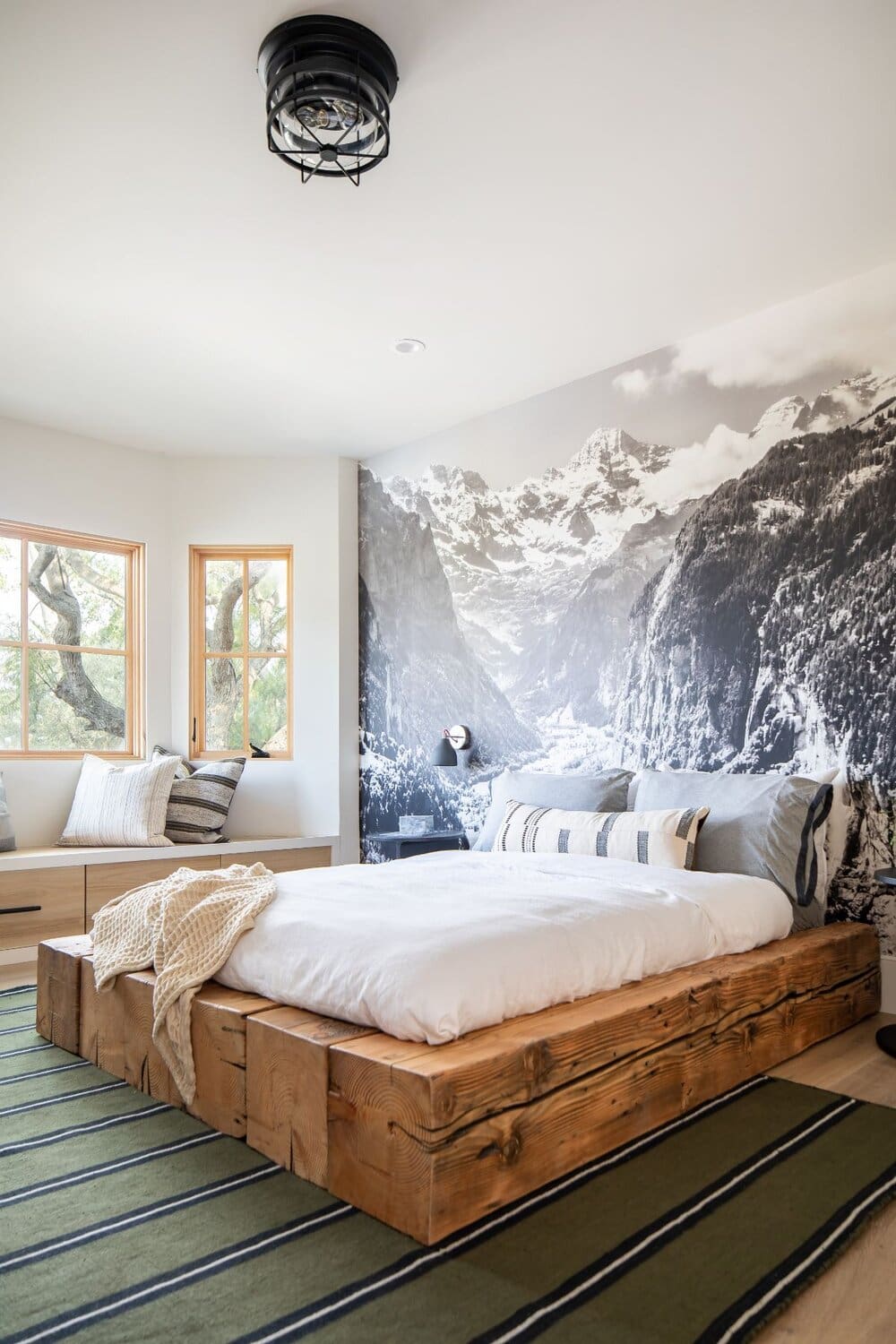 IMAGE CREDIT: STUDIO MCGEE
34. Minimalist Studio McGee Nursery
When it comes to decorating a nursery, it makes sense to keep things simple. Babies grow so fast that you will want to create an age-appropriate room in two years' time. Besides, a minimalist approach is clean, elegant, and more affordable.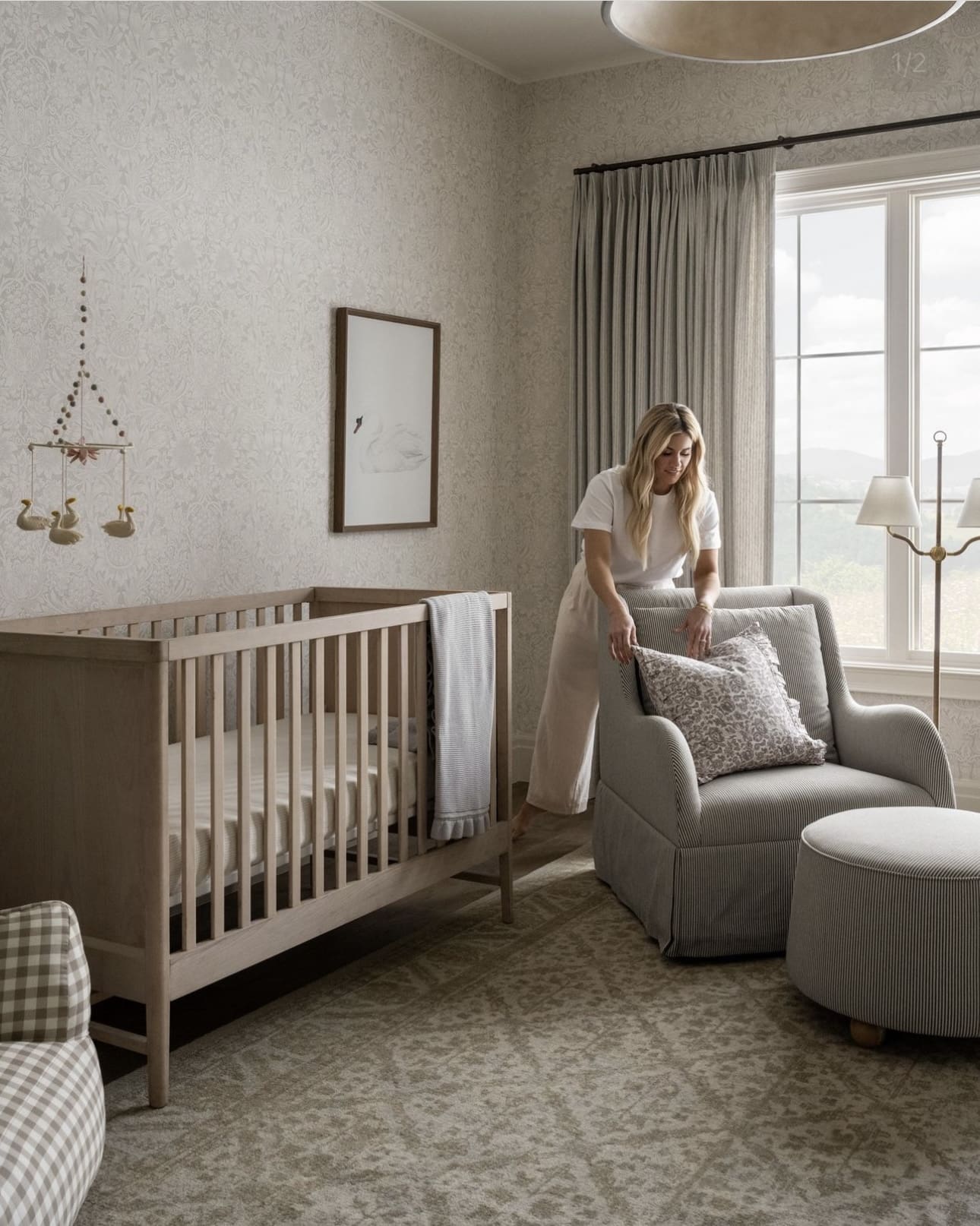 IMAGE CREDIT: STUDIO MCGEE
35. Kids' Room Study Desk
Remember to create a study desk to encourage reading. Your child's focus and concentration will be improved if they have a designated study area.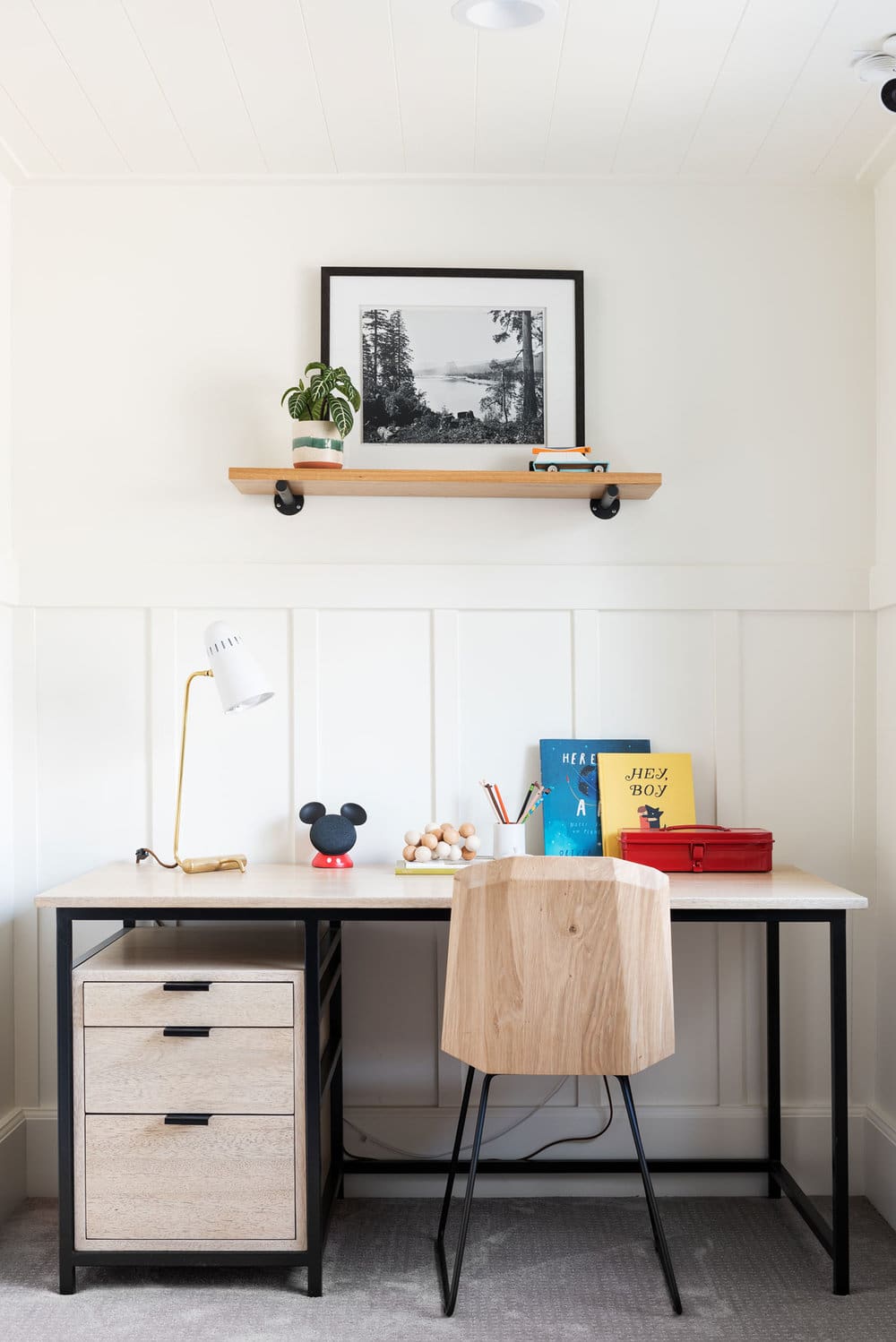 IMAGE CREDIT: STUDIO MCGEE
Bonus: Studio McGee Kids' Bathroom Photos
Here are some incredible kids' bathrooms designed by Studio McGee.
IMAGE CREDIT: STUDIO MCGEE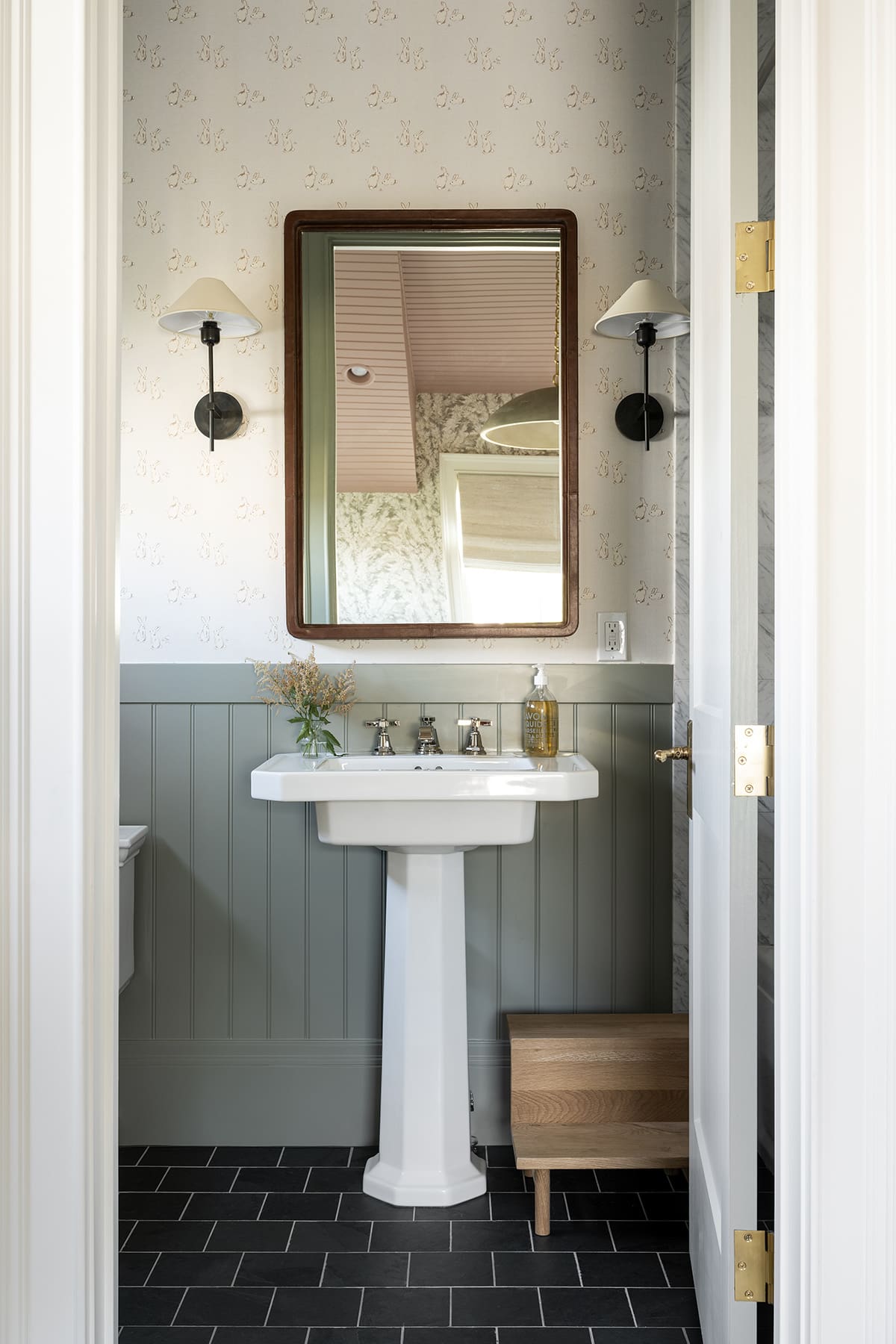 IMAGE CREDIT: STUDIO MCGEE
IMAGE CREDIT: STUDIO MCGEE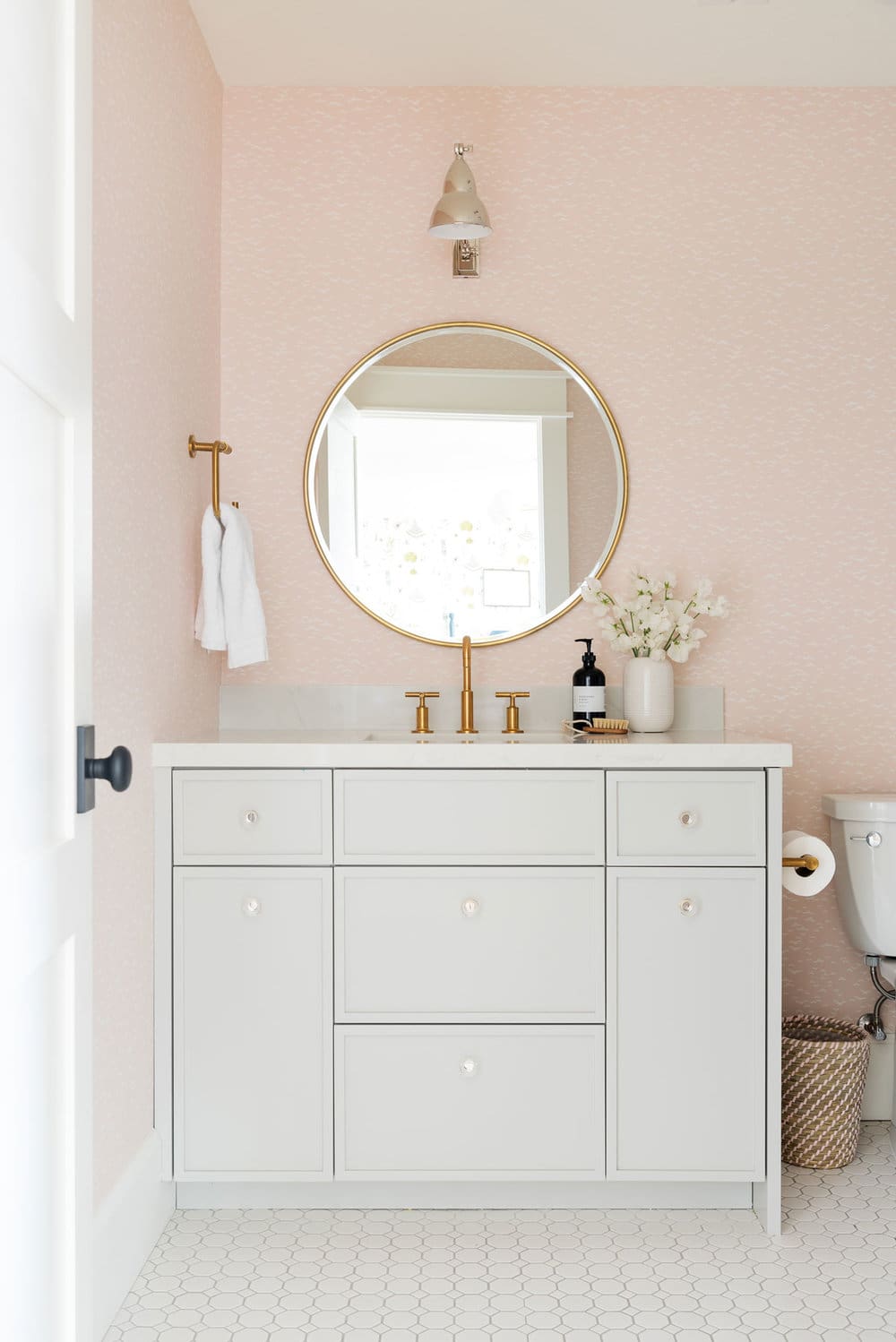 IMAGE CREDIT: STUDIO MCGEE
You may also enjoy our article on: 30 Best Studio Mcgee Bedrooms