Pampas or Pampa Grass can help those who are thinking about shifting from a summer decoration to an autumn one without spending too much. This style is a natural, economic, and very attractive complement. The pampas grass decor is gaining ground quickly and it is ideal for fall.
Also known as Duster (Cortaderia Selloana), this shrub is native to South America and arrived in Spain in the middle of the last century and immediately became famous for the beauty of its plumes. It was used for decorating gardens of private houses, flooding parks, roundabouts, and public roads.
Curiously, since it grows anywhere, it seems to grow its grow invasively species and cause respiratory issues. Consequently, the pampas grass trade is prohibited in some countries.
However, they are so beautiful for decorative purposes. They are so varied in color and size (many can reach 1.5 meters tall and some grow up to 3 meters). Additionally, they are found in so many places growing wildly and have definitely become decorative houseplants.
So here we are going to give some ideas for those who want to incorporate the pampas grass décor into their homes.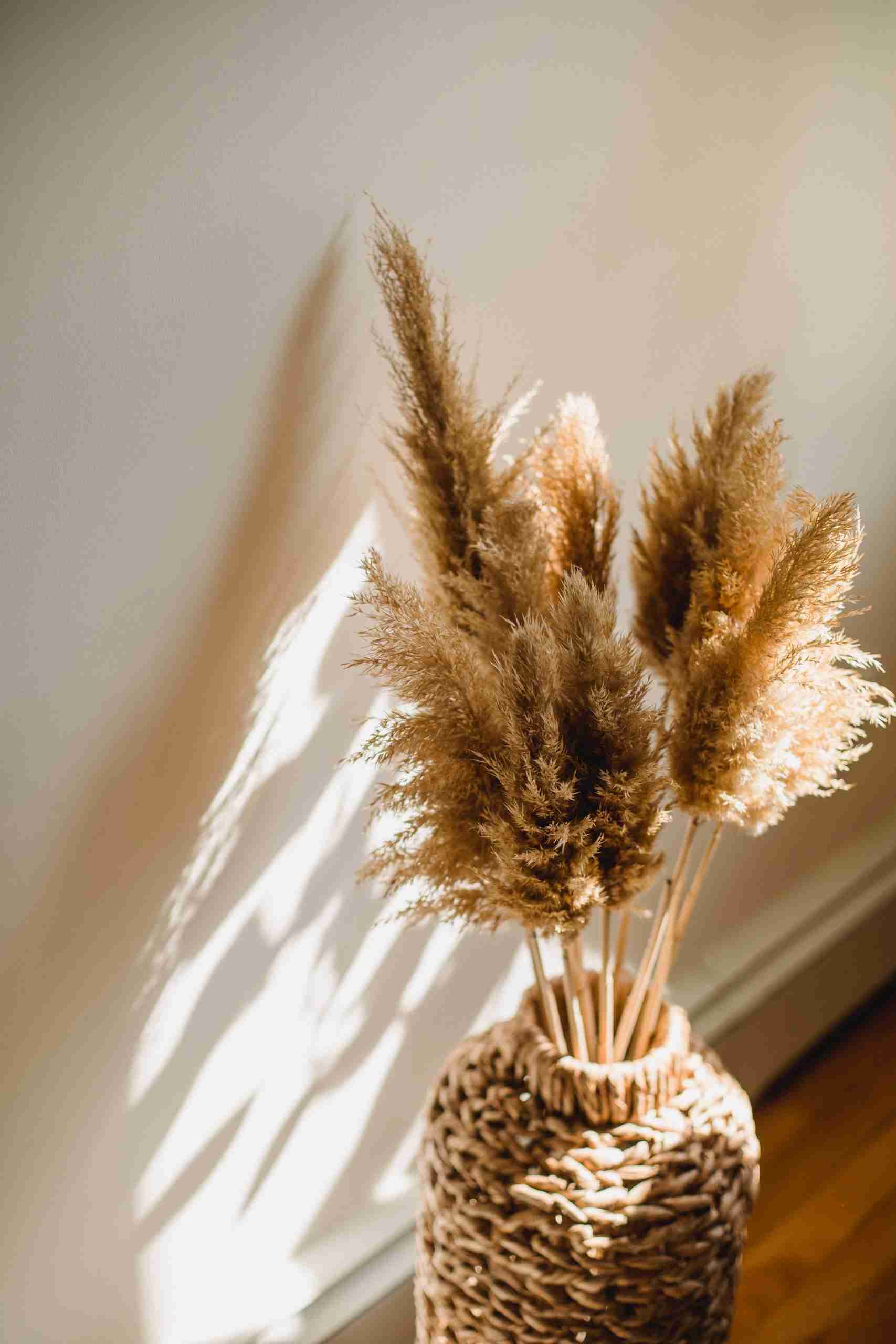 Pampas grass decor for the floor
The tallest and largest grass is usually placed on contemporary accent cabinets, flowerpots or baskets on the floor, but never on tables or sideboards because of its size. Tall dried pampas grass looks better in large settings.
You can place several branches in a short, small-mouthed vase to bring the stems together and make them more noticeable, or use a slightly wider-mouthed vase if you want them to expand.
On the other hand, you can use some less stylized dry leaf branches or hide the stems to give a more rustic touch.
And if you just want a little touch, you can add a small pampas grass wreath to other elements like shelves, mirrors, and other varieties of plants.
Completing the sideboard
The pampas grass can be put in the sideboards, near the doorstep, in a living room, or in a bedroom. These are perfect habitats for Pampas grass.
Put a pampas grass vase the same color as the mirror (if you have one) for a great contrast.
If you prefer, you can mix them with leaves of other tones or some type of flower to give the pampas grass decor a more country flair.
As a centerpiece
If you want to get away from the classic decorative tray that is usually placed on the tables that accompany the sofa, use a small pampas grass vase instead.
In this case, ideally, combine 4 or 5 crossed branches in a glass vase. If you put it on a coffee table, be careful when watching TV, because if they are too tall they can get in the way easily.
In those cases, you can use small twigs and a pampas vase combined with other plants or dry branches to create a nice centerpiece.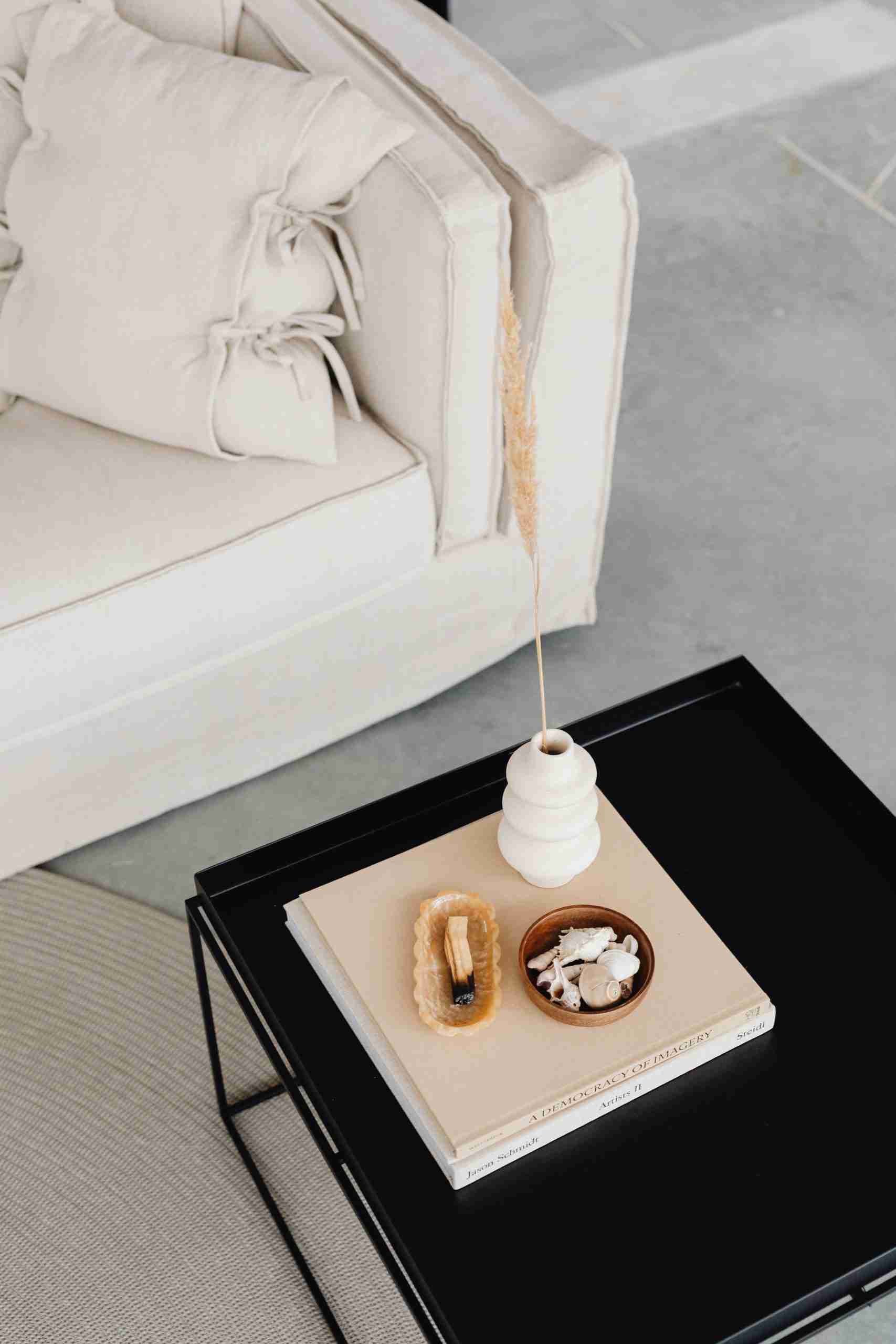 Decorating the ceiling
If you put a leafy set of multiple feather dusters together, arrange a large bouquet and hang it from the ceiling like a lamp without light.
You will achieve an eye-catching effect.
Outdoors
Due to its natural elegance, this type of grass is suited to make outdoor spaces more natural and eco-friendly. The Pampas grass decor can also be used in the form of outdoor bouquets.
A rustic touch…
We are so used to seeing them in the countryside that in any rustic or Mediterranean-style setting they fit perfectly. If you also use a clay vase for pampas grass, you will get natural imperfection and great results.
… And another chic
Despite its country vibe, the Pampas grass décor can give a tremendously sophisticated touch to the home design, especially if you use pampas grass in vase with a gold metal touch.
Pink color
The Pampas grass has different varieties that range from white to dark pink. When we find it in this color, it gives a spectacular effect.
In ceramic vases
Ceramic, especially in a matte color, is ideal for this type of grass. Its delicacy makes it ideal for decorating relaxation areas, such as bathrooms or reading corners.
Wrap-up
If you want to renew your house with some new chic decor, try planting this plant. Go to the closest flower shop and get it. You will get a much more attractive and original home look. Also, if you have a balcony, use pampa grass since it can reach a height of 250 cm, perfect to achieve greater privacy in your home.