Top 10 Benefits of Wood Kitchen Cabinets To Consider
Wood kitchen cabinets have many decorative advantages in terms of logistics and the use of space. Wood kitchen cabinets are a perfect solution for small kitchens since they lighten the environment and give a more uncluttered feeling. Besides, wood kitchen cabinets with open doors make better use of the space, especially in corners.
Wood allows for achieving different styles with a rustic and modern touch. If you still have doubts, check out the 10 advantages of incorporating solid wood kitchen cabinets in this important room. We are sure this information will be useful to you.
Keep reading to go through the pros and cons of wood kitchen cabinets and some types of solid wood cabinets you can add to your household.
Advantages of wood kitchen cabinets
Apart from the benefits mentioned above, wood kitchen cabinets have other advantages.
1-Take advantage of the space
While this is the most significant advantage of wood kitchen cabinets, they will also help save time when you are working in your kitchen, since you will have the cookware at hand. With wood kitchen cabinets, you will have everything in sight and you won't need to search through the drawers to find a single bowl or cup.
2-Improve the design of your kitchen
Wood kitchen cabinets, especially those with open shelves, are very decorative. You can fill them with beautiful crockery, a modern battery, or kitchen utensils from other times.
In any case, they are very attractive and will give your kitchen a personal touch. If the kitchen cabinets are white, use ceramic tableware in attractive colors to create contrast. Wood kitchens look great in combination with stainless steel kitchenware.
3-Adaptable to any style or interior design
Because of their versatility, wood kitchen cabinets can adapt perfectly to any style or interior design. This material is used in many kitchen trends, but mostly in rustic, Nordic, black, and white kitchen styles. There are endless possibilities.
Another important factor is that wood is a timeless material, so no matter the time that has gone by, it will never go out of fashion. To tap it off, you can make small changes when you consider it without renovating the entire room.
4-Aesthetics
One of the great advantages of wood kitchen cabinets is their aesthetics. Their color is very pretty, their texture is soft and pleasant to the touch. It is a bet that, in short, never goes out of style.
5-They do not require high maintenance
The maintenance required by wood kitchen cabinets is low and cheap. Today, you can find specific cleaning products for wood anywhere to give surfaces an excellent appearance and remove stains.
In terms of damage, replacing a damaged piece, solving a chip, or a scratch is often very simple. Just use varnishes or make a small custom piece of the same wood to repair the damaged pieces.
6-Cleaning a wood kitchen cabinet is very simple
Cleaning wood kitchen cabinets is very easy. There is a wide variety of wood cleaning and protection products (oils, varnishes, resins…) that will make your wood kitchen cabinets impeccable.
7-They bring warmth to the kitchen
The kitchen has become the room where we spend much time with family or friends, eating or simply having a good time with the people we love. Wood cabinets make any kitchen warm and comfortable.
8-Variety of types and styles of wood
There are tons of ways to work with wood. Shapes, finishes, colors, styles, everything is possible! You can build a DIY wood kitchen that fits your tastes.
No matter what style you are looking for, wood supports a very high level of customization and allows the creation of pieces of furniture from scratch.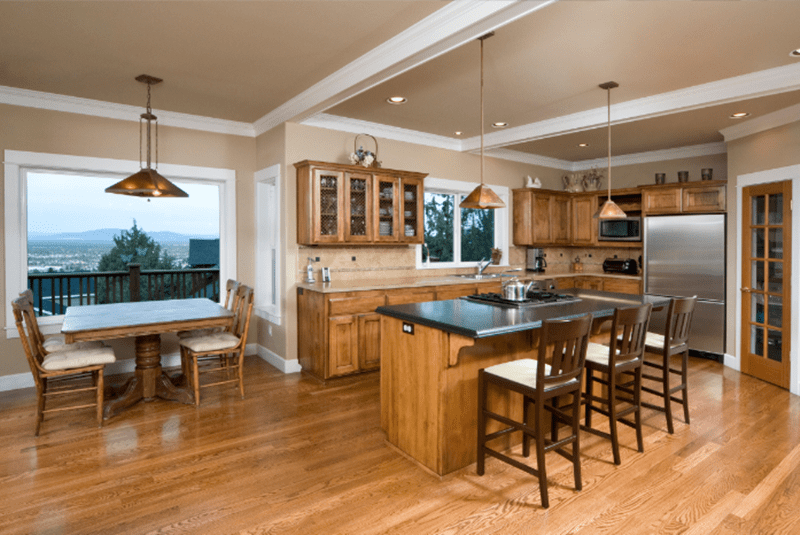 9-Dimensions do not matter
Wood kitchen cabinets will look good regardless of the dimensions of the kitchen. It is just a matter of combining this style with the right accessories and wall paint color to get amazing results.
10-Perfect to combine with other materials
Wood kitchen cabinets can be perfectly combined with other materials, such as steel or glass. You can find ideas on Instagram, Pinterest, and YouTube that show you how to do it.
Types of cabinets for a wood kitchen
Today, the kitchen is no longer a secondary place. Food is not only prepared in the kitchen, but it is also one of the favorite rooms for the most relaxed family conversations or gatherings with friends. Therefore, the design of the kitchen of your house must meet the needs of the people who live in the house.
The following are three wood kitchen designs you can incorporate into your home.
Kitchen with open tall cabinets
Opt for a kitchen design with shelves at the top. Furnish the part under the countertop with furniture and closed drawers of different sizes to store everything you need for work.
Leave the most decorative crockery, vegetable, and pasta jars, spice jars, or breakfast cups on the upper shelves.
Kitchen with closed cabinets
In this case, all the furniture in your kitchen will have doors or fronts so that the interior is completely hidden.
Wood Kitchen with tall cabinets and glass doors
It is the intermediate solution between the two previous styles. The lightness of the glass declutters the space while the interior is protected from dust.
The visible objects in the open kitchen furniture enrich the decoration and lighten the space. Decide between modernism and traditionalism, otherwise, have everything well kept.
Summary
Wood quality influences the final cost. Open solid wood kitchen cabinets can be more expensive than modular ones. Once you make the investment, make sure it will last for years.
If you want a modern kitchen, use wood to give the kitchen a rustic touch and add functionality and elegance to the entire design.
If you are seeking a balance, use wood for all the furniture, and marble, quartz, and granite for the countertop. You can also play with colors to give the kitchen an appearance of warmth and mix light tones on the walls and darker tones in the rest of the furniture. Likewise, combine the color of your wood kitchen with the cold greyish steel of your appliances.