50 Wooden Main Door Design Ideas
A wooden front door can add character and rustic charm to your property like nothing else. These wooden main door design ideas are sure to amp up your home's curb appeal. 
Wood is an enduring and classic material that has been used for doors, furniture, roofing, and other design projects since the start of civilization. Wood doors are often made from high-quality wood, but not are wooden doors are made the same. There are numerous species of wood and some are more durable than others.
Front doors are a major investment for any home as they are pricey. Although, they are designed to last for a long time. The lifespan of a wooden front door depends on the type of wood used, but in general, well-maintained doors can be expected to last for 20 to 50 years or even longer.
There are several factors to consider when choosing a front door for your home. The most crucial factors are the style of your home, security, budget, color, material, design, and privacy.
Unlike some of its counterparts, a wooden front can be utilized in any type of home style. So, whether you have a traditional, modern, farmhouse, or townhome, a wooden door can give it an attractive organic look. Wood is also easy to customize and can be combined with other materials like glass, metal, and wrought iron to create a dynamic look.
In this article, we will explore the pros and cons of wooden main doors, the best types of wood for main doors, and 40 wooden main door design ideas that are sure to elevate the aesthetics of your property.
Pros of Wooden Main Door
●  Durable
Ever wondered why wooden interior and exterior doors can be seen in most homes today? For centuries, wood has proved itself to be an enduring material. Wood doors are very strong and can withstand years of heavy use, hence, they retain their beauty over time.
●  Aesthetically Versatile
The beauty of natural wood cannot be over-emphasized. Favored for its old-world and country-chic appeal, a wooden door can introduce a strong sense of style to your property.
In addition to this, wooden doors come in a wide array of colors and finishes. Wood is also easier to paint and refinish than other door materials, which means after long usage, you can simply repaint it to make it look as good as new.
●  Serves as an Insulator
Wood is naturally an insulator, which means that a wooden front door can reduce your energy costs. Wooden doors provide effective thermal insulation, especially when properly constructed with edge sealants and draught excluders.
 Cons of Wooden Main Door
●  Price 
The main drawback of wooden front doors is the cost. Wood front doors are pricier than other counterparts because it is often the highest quality and made from premium materials such as engineered hardwood and solid hardwood.
You may also enjoy our article on: Pros and Cons of Composite Doors
Best Types of Wood for Main Doors
●  Oak: This is one of the strongest hardwoods available, making it a fantastic option for both solid-core and wooden doors.
●  Accoya: No other wood performs quite Accoya. It has the greatest durability rating available, performs better, and lasts longer.
●  Mahogany: Mahogany is a tough wood that comes in a variety of tones, from pale pink to reddish-brown. Because it is resistant to insects and wood rot, it is significantly more durable than oak and several other wood species.
●  Walnut: This wood is visually appealing and durable. As opposed to other types of wood, walnut is not prone to warping or breaking, making it a great material for exterior doors.
●  Knotty Alder: Because it can be worked more easily than some other hardwoods, Knotty Alder is ideal for carved and curved door patterns.
Here are 40 wooden main door design ideas that can instantly transform your property.  
1. Modern Wood and Steel Front Door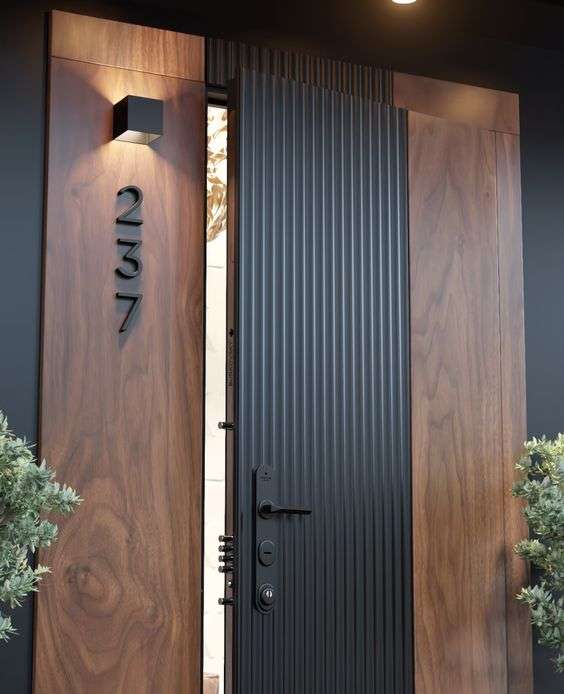 IMAGE SOURCE: PINTEREST
2. Wooden Entrance Door Design
IMAGE SOURCE: PANDA
You may also enjoy our article on: 45 Modern Black Front Door Ideas (With Photos)
3. Farmhouse Wooden Main Door Design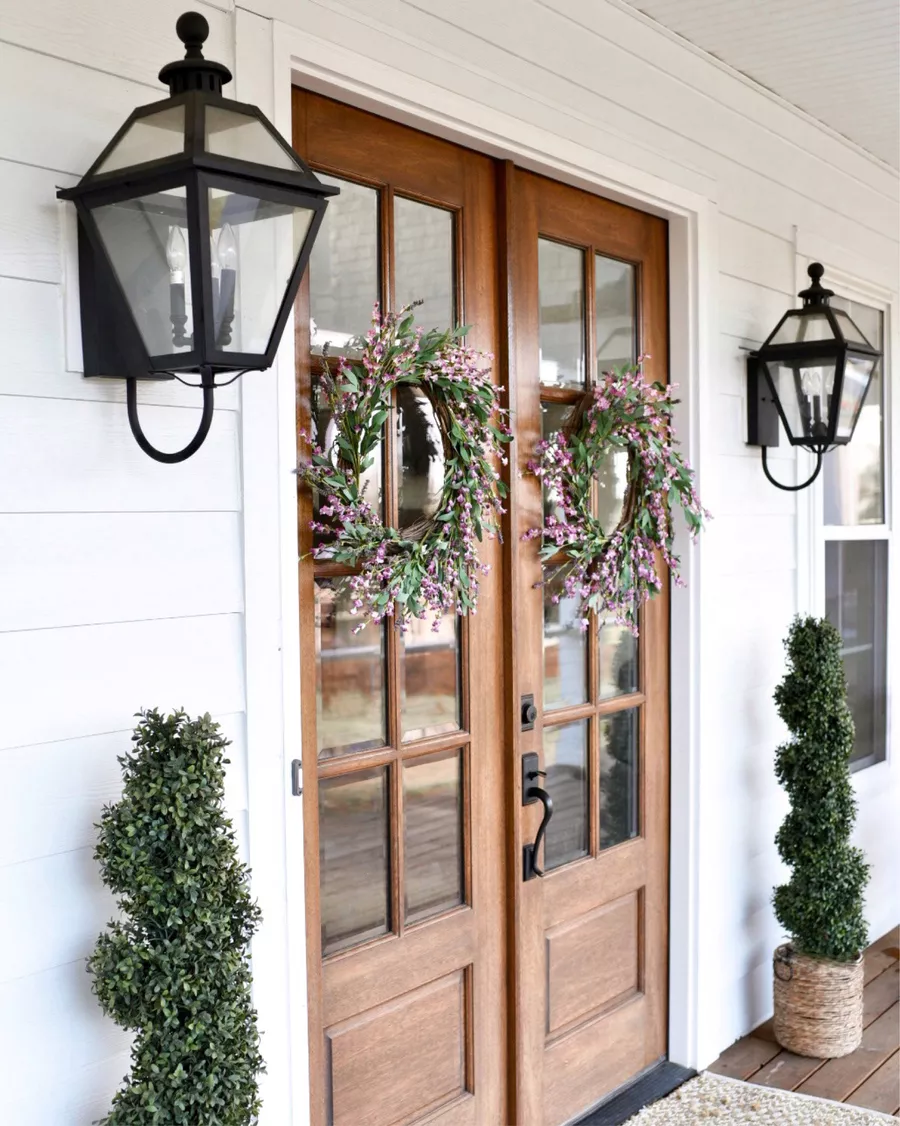 IMAGE SOURCE: BRUNO + LIBBY
4. Elegant Wooden Main Door Design
IMAGE SOURCE: STUDIO MCGEE
5. Wooden Main Door Design with Stained Glass
IMAGE SOURCE: HOUZZ
6. Simple Modern Front Door Design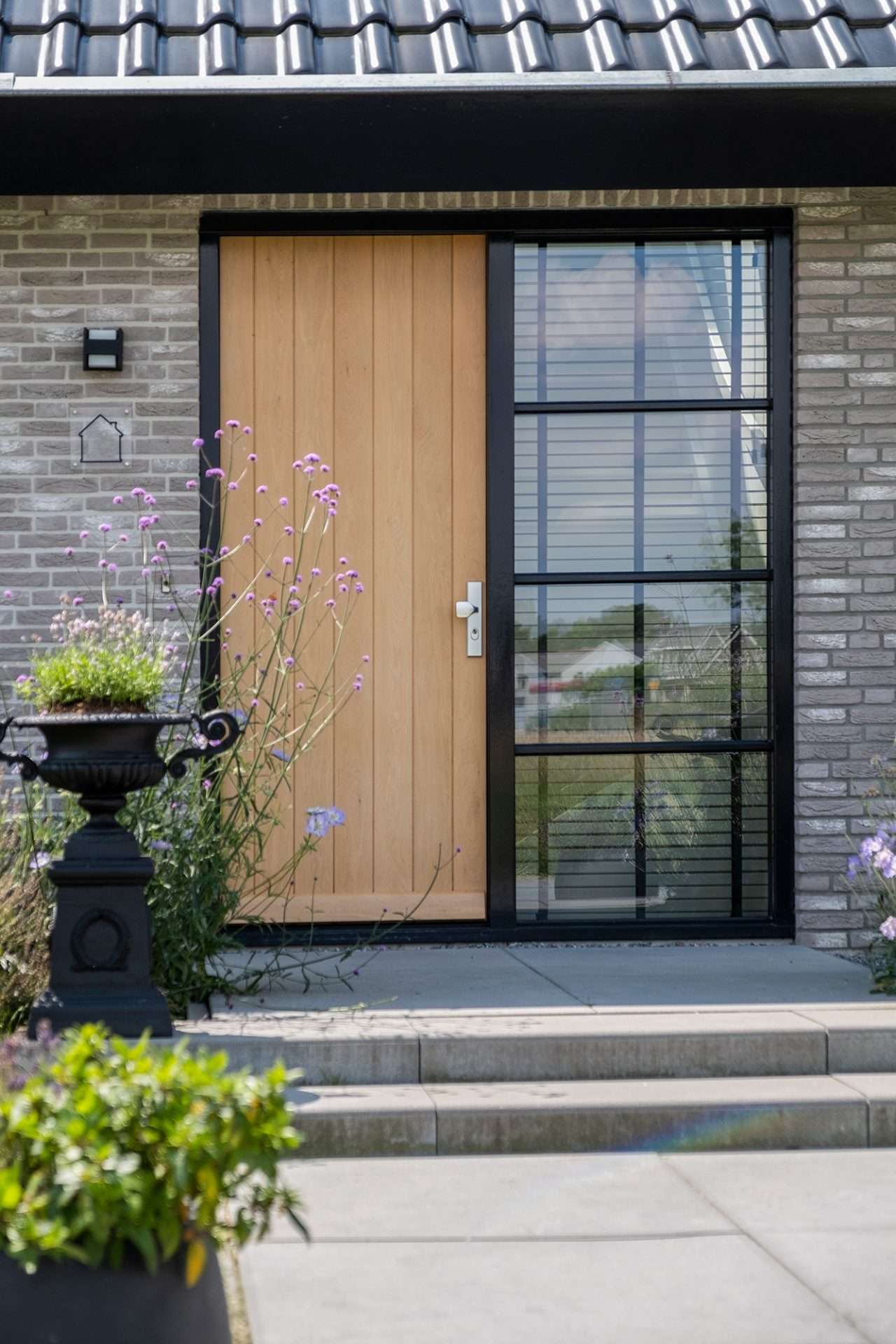 IMAGE SOURCE: ALLURE CONSTRUCTION
7. Brown Mahogany Wooden Main Door Design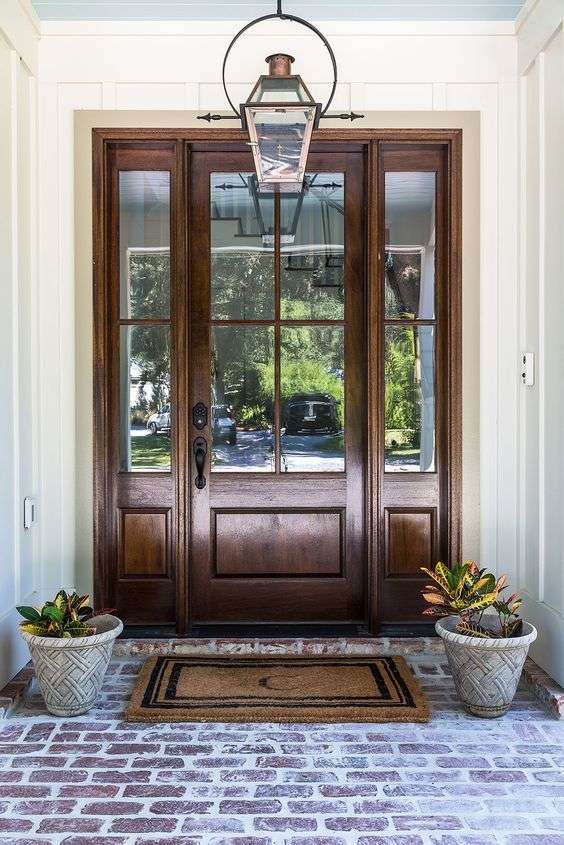 IMAGE SOURCE: WATTERS ARCHITECTURE 
You may also enjoy our article on: 12 Best Garage Door Paint Color Ideas
8. Custom Wooden Double Door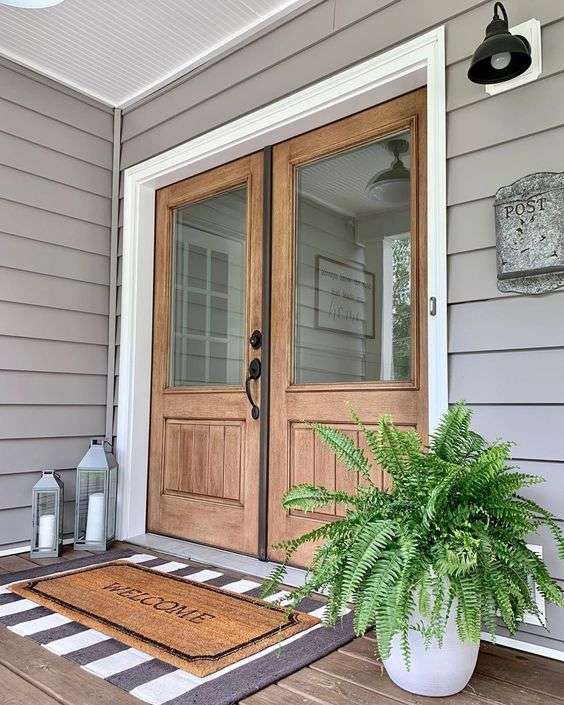 IMAGE SOURCE: INSTAGRAM
9. Wooden Main Door Design with Side Lites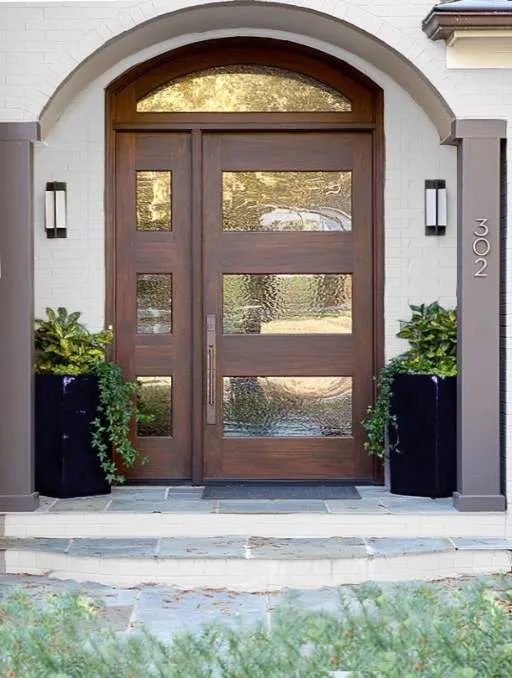 IMAGE SOURCE: MASTERPIECE DOORS
10. Modern French Arched Double Door
IMAGE SOURCE: MASTERPIECE DOORS
11. Arch Wooden Main Door Design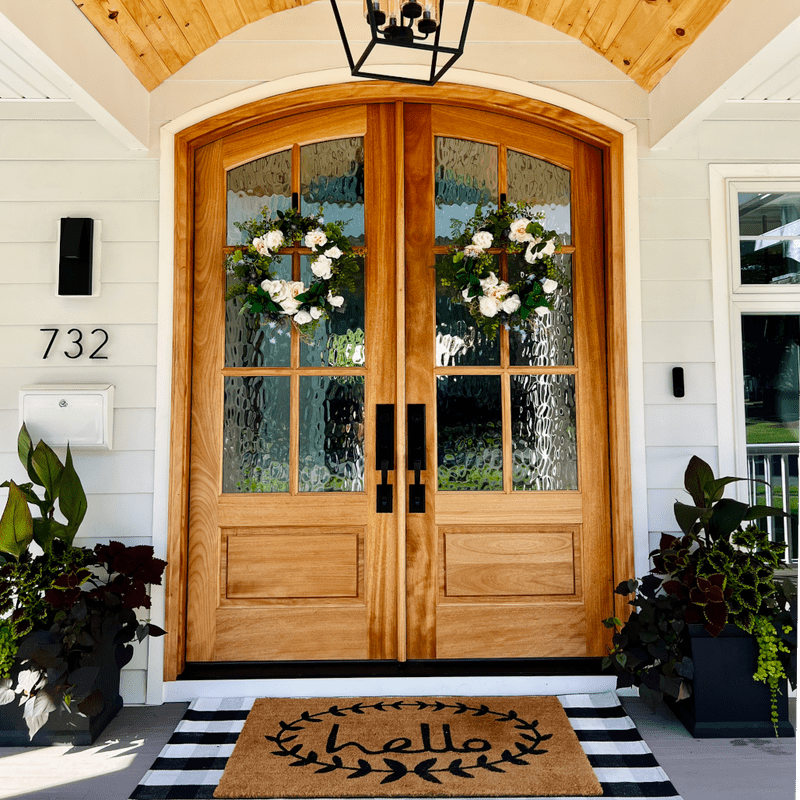 IMAGE SOURCE: GRAND ENTRY DOORS
12. Slated Wooden Main Door Design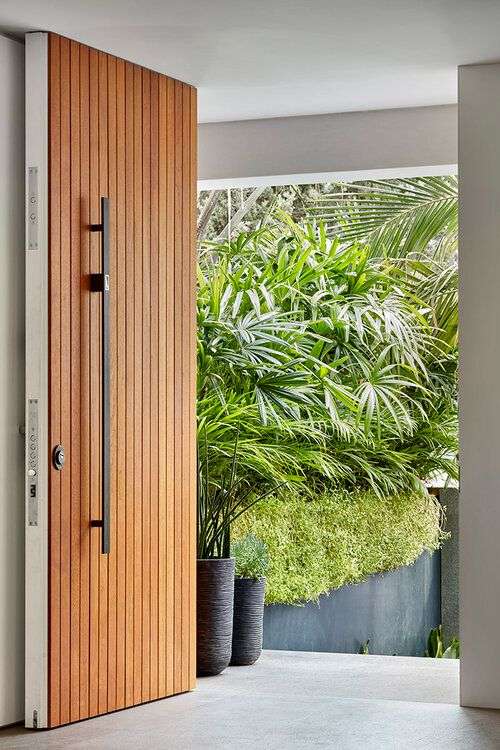 IMAGE SOURCE: MOHR AVIDAN
13. Modern Wood and Reflective Glass Main Door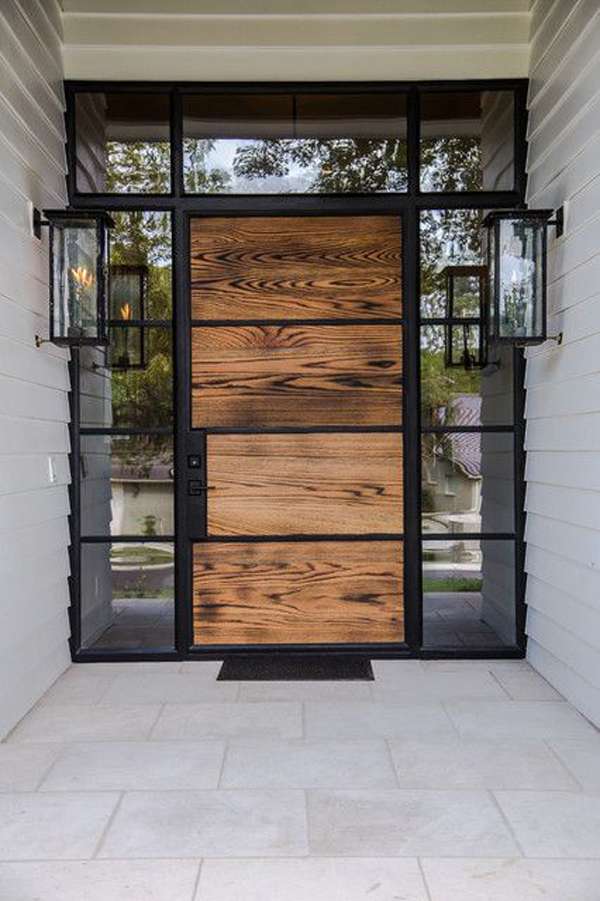 IMAGE SOURCE: ROOST CUSTOM HOMES
14. Modern French Diamond Double Door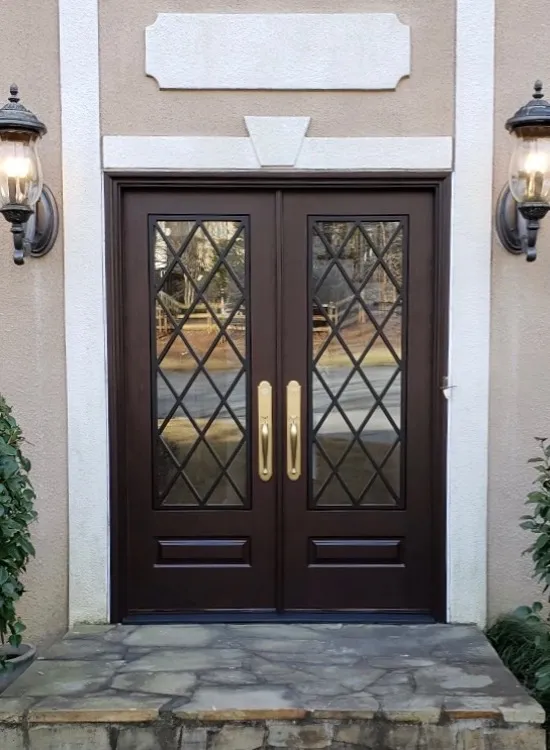 IMAGE SOURCE: MASTERPIECE DOORS
 15. Luxury Modern Wooden Door Design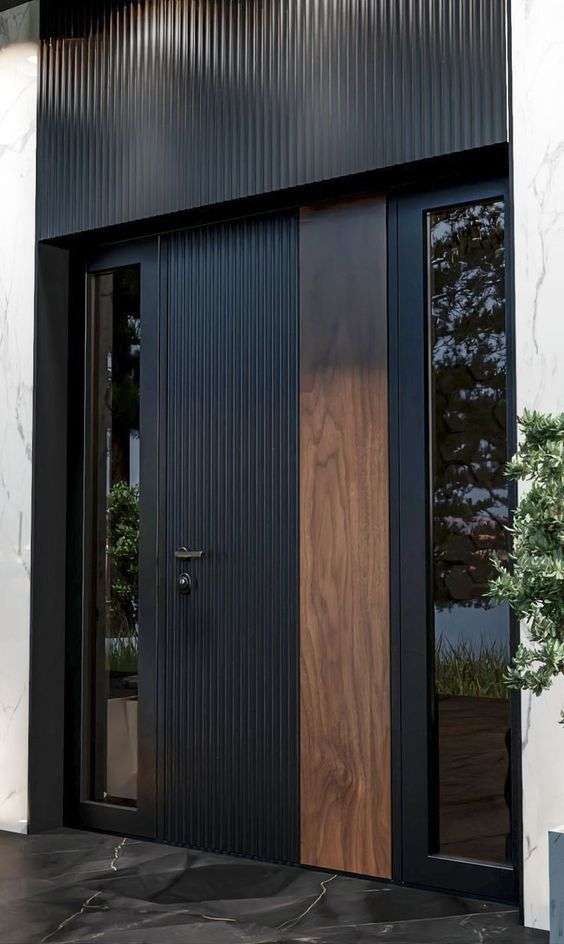 IMAGE SOURCE: PINTEREST
16. Arched Double Door with Smooth Brazillian Cherry Finish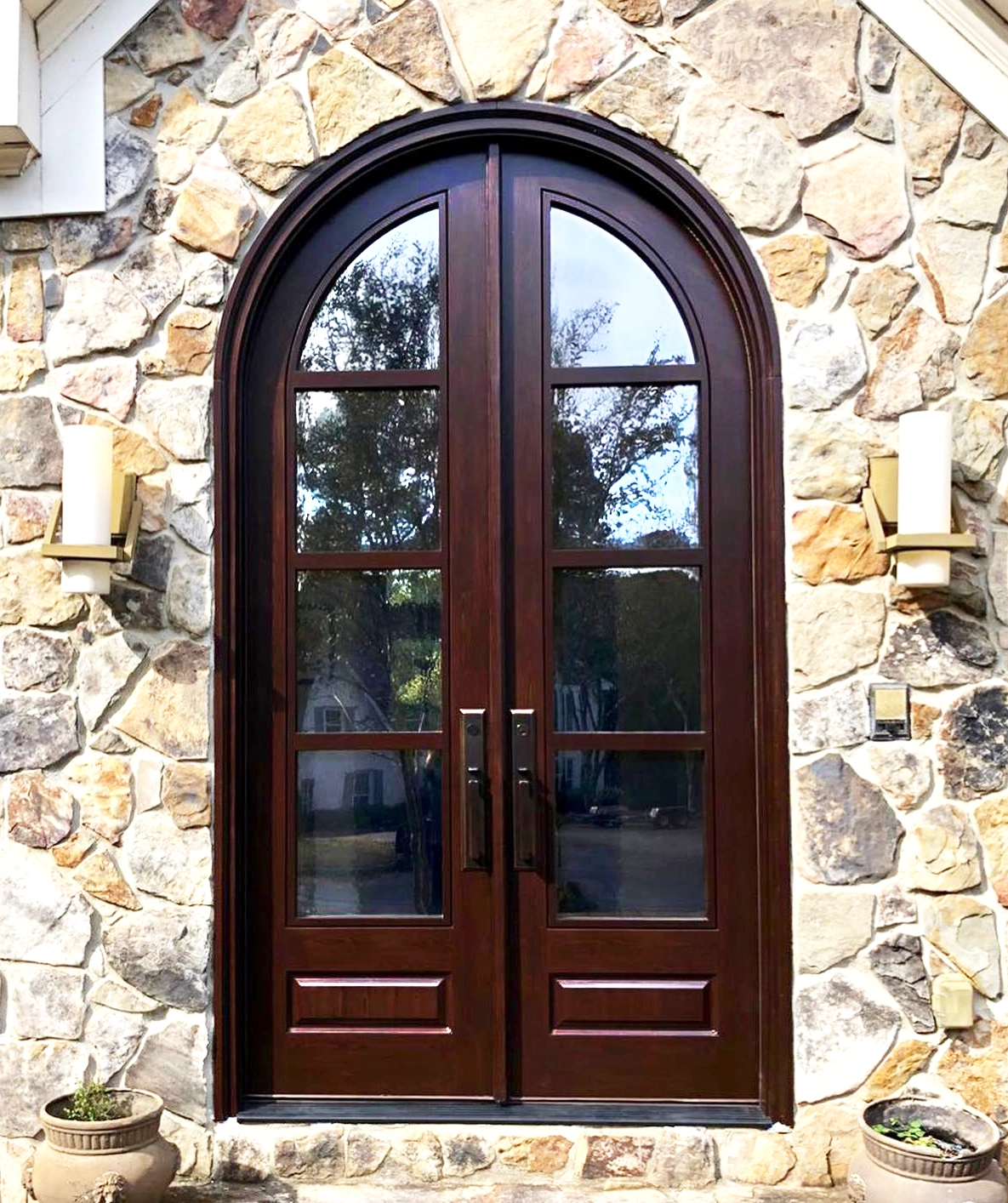 IMAGE SOURCE: MASTERPIECE DOORS
17. Craftsman Double Door Design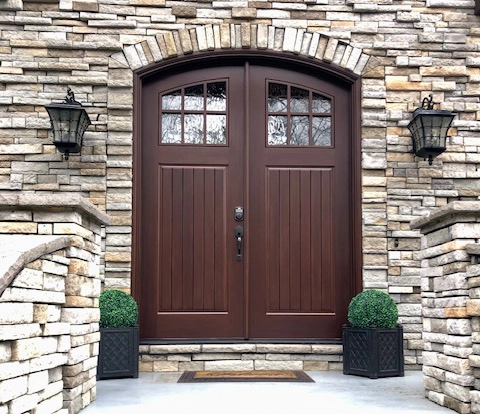 IMAGE SOURCE: MASTERPIECE DOORS
18. Modern 7 Lite Glass and Wooden Door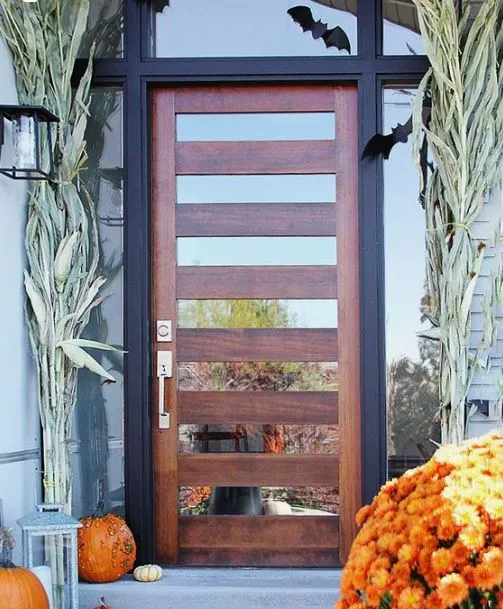 IMAGE SOURCE: MASTERPIECE DOORS
19. Painted Stable Door Design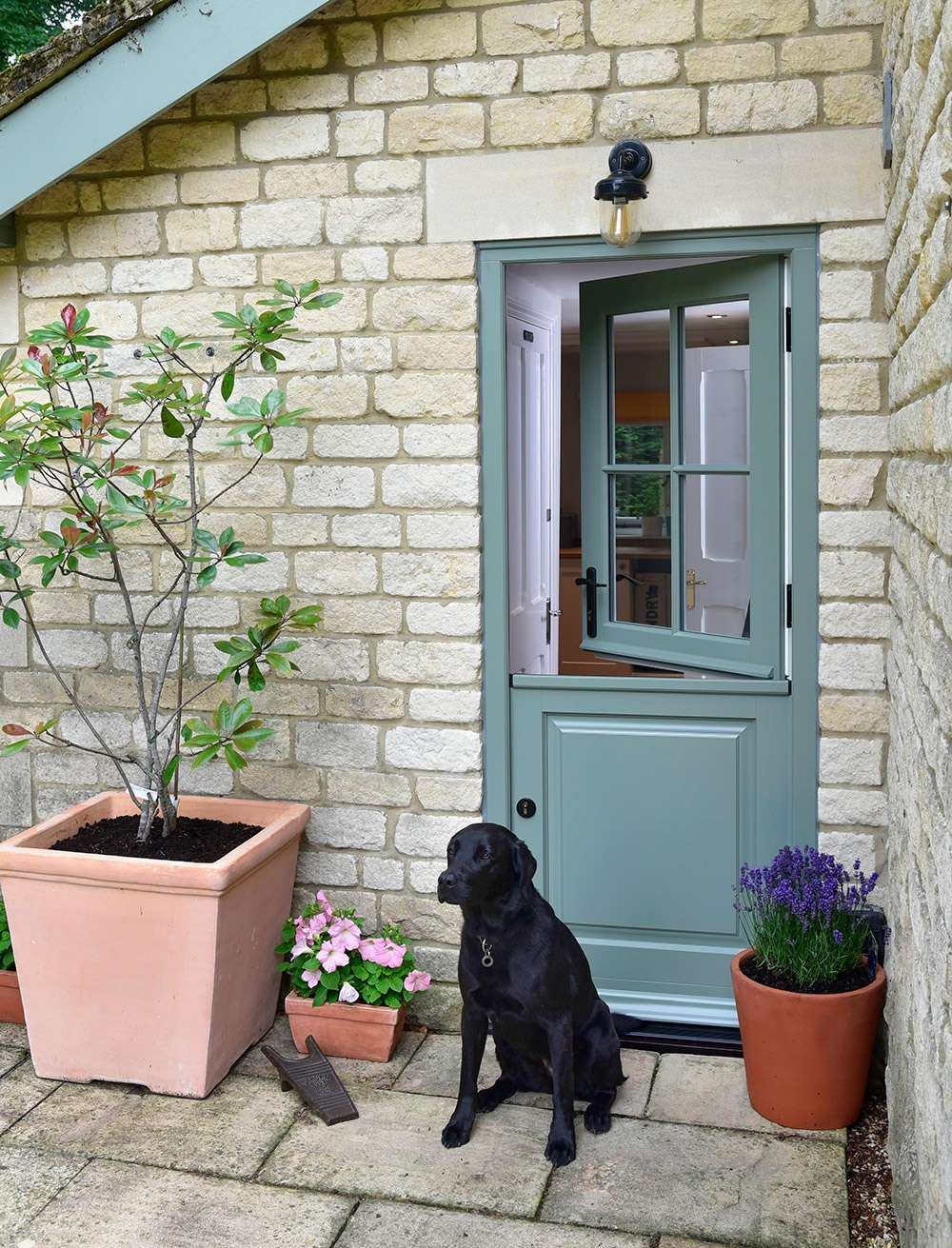 IMAGE SOURCE: TIMBER WINDOWS
20. Dark Brown Wooden Main Door Design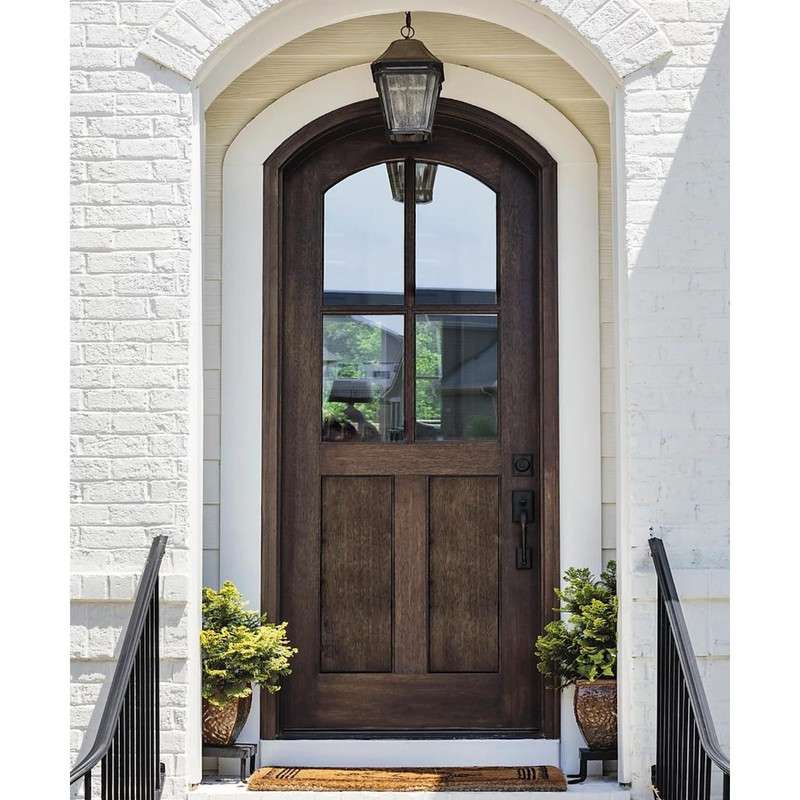 IMAGE SOURCE: GRAND ENTRY DOORS
21. Wooden Main Door Design with Double Rings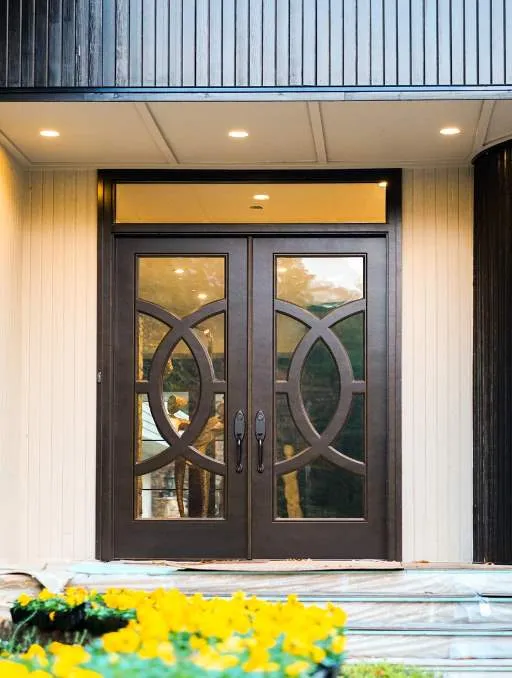 IMAGE SOURCE: MASTERPIECE DOORS
22. Wooden Door Design with Glass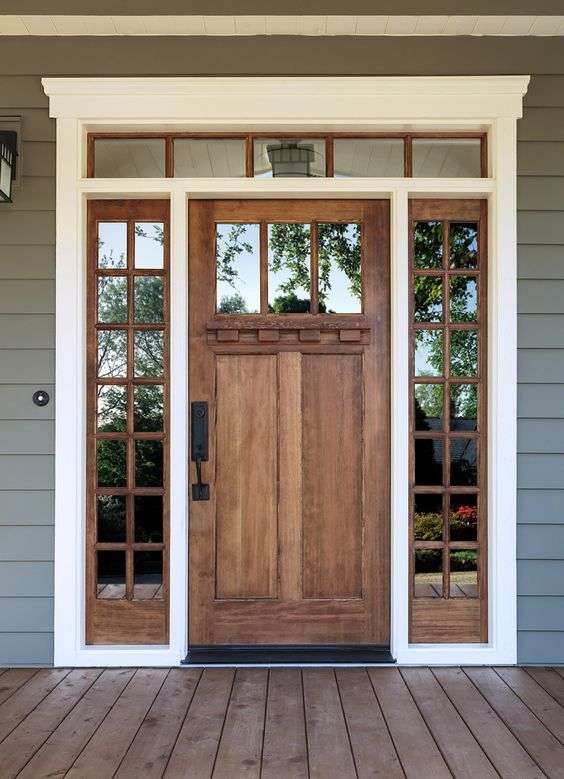 IMAGE SOURCE: WAYFAIR
23. Sage Green Painted Wooden Door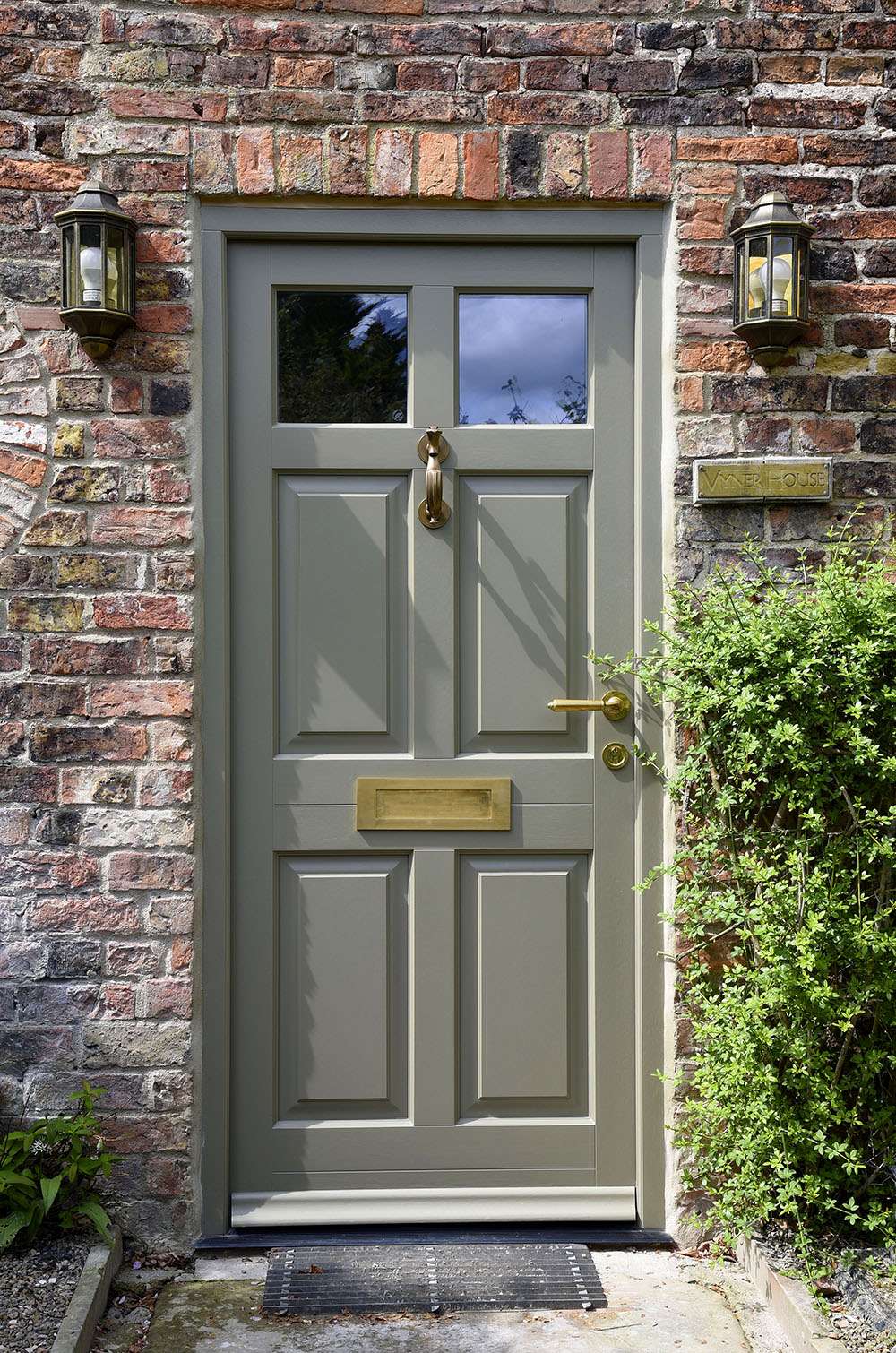 IMAGE SOURCE: TIMBER WINDOWS
You may also enjoy our article on: 24 Green Front Door Paint Color Ideas
24. Modern Wooden Door with Copper Handle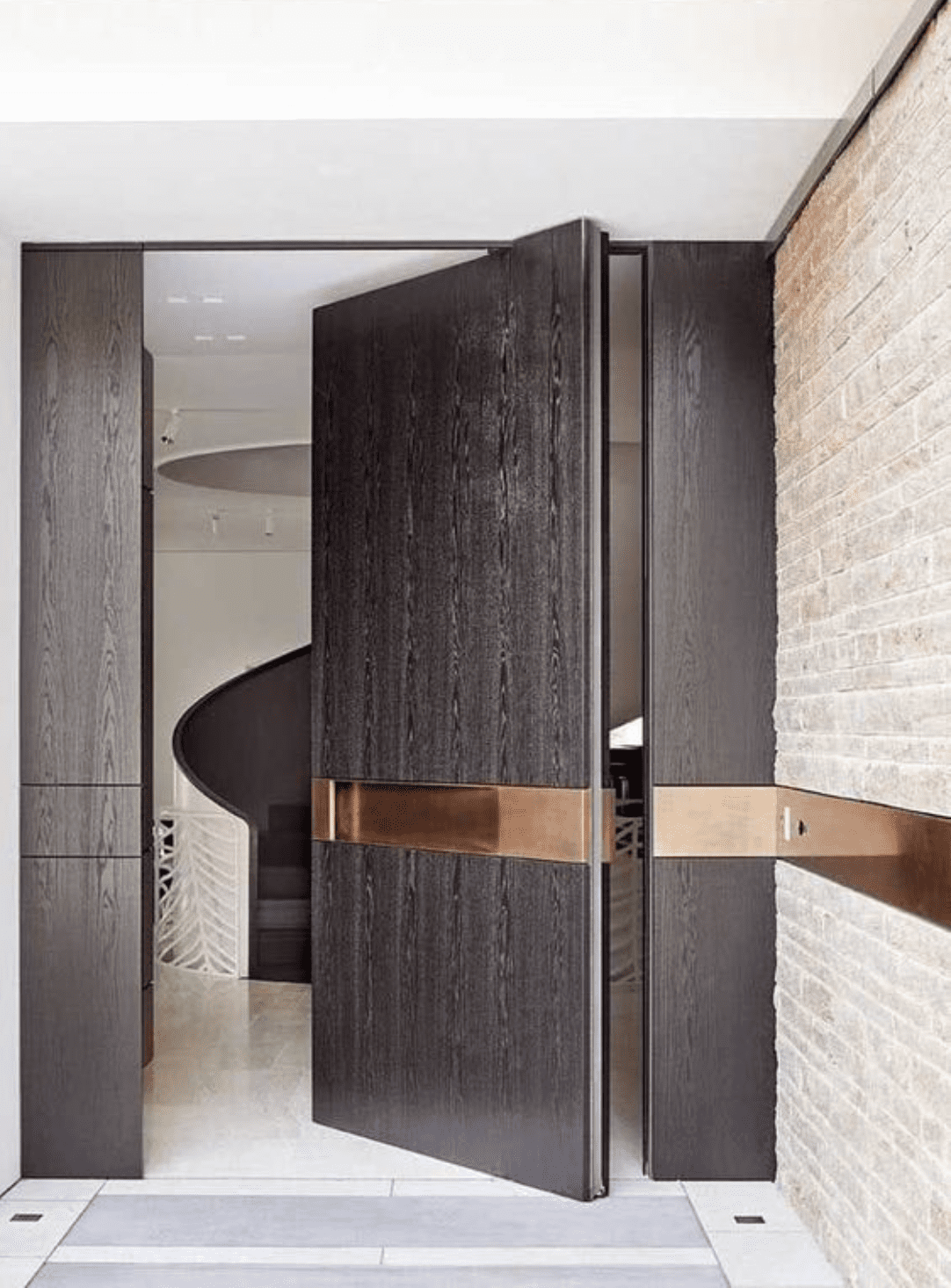 IMAGE SOURCE: PINTEREST
25. Wooden Door Design with Glass
IMAGE SOURCE: COMPLETE HOME
26. Mahogany Front Door with Privacy Glass
IMAGE SOURCE: PINTEREST
27. Modern Wooden Door Designs for Main Door
IMAGE SOURCE: SAOTA
28. Modern Black Wooden Door With Glass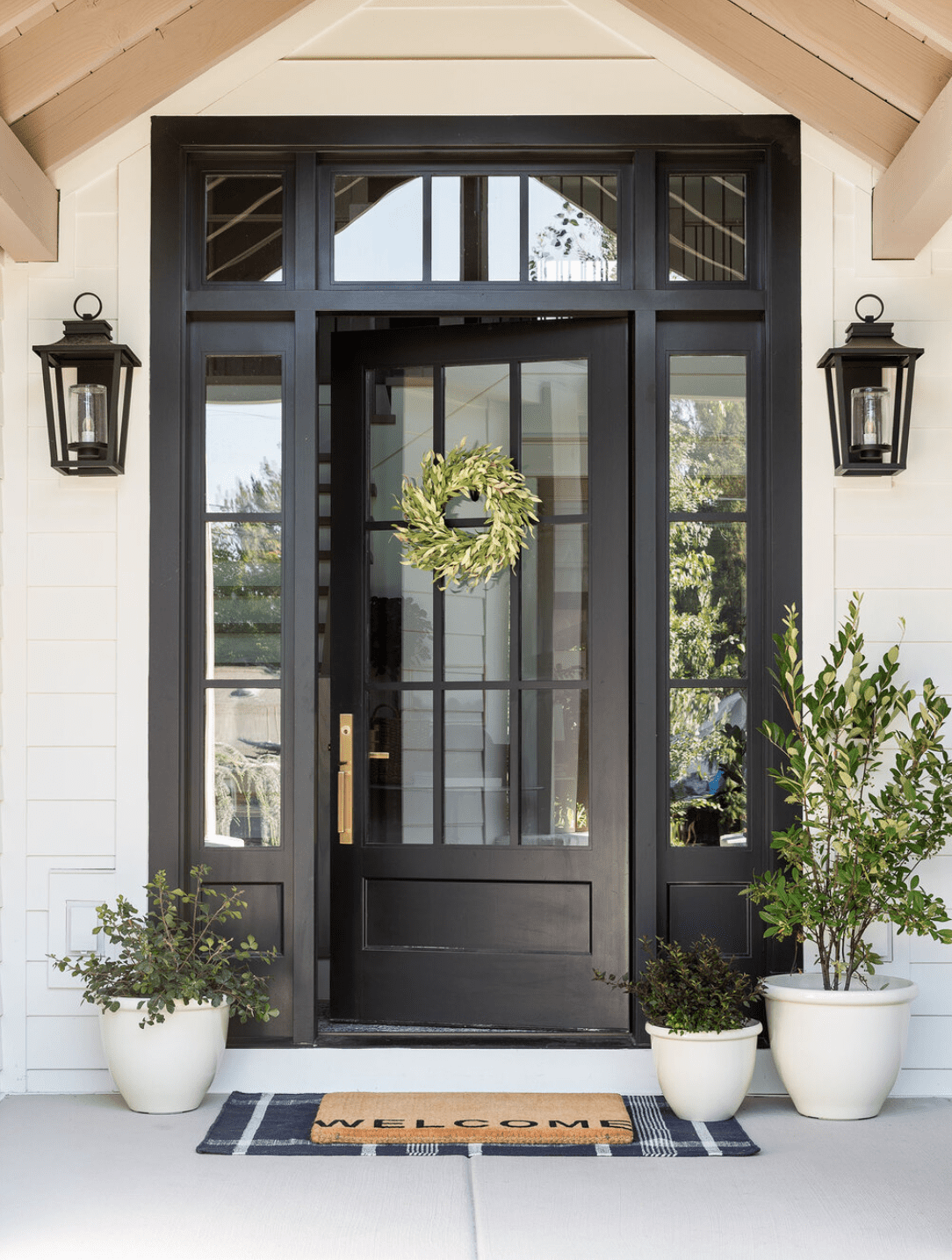 IMAGE SOURCE: STUDIO MCGEE
29. Modern French 4 Lite Double Door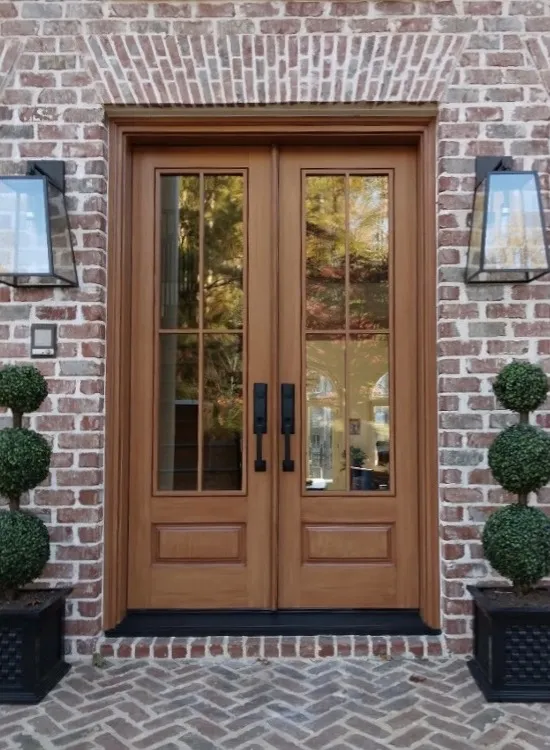 IMAGE SOURCE: MASTERPIECE DOORS
30. Cottage Timber Door Design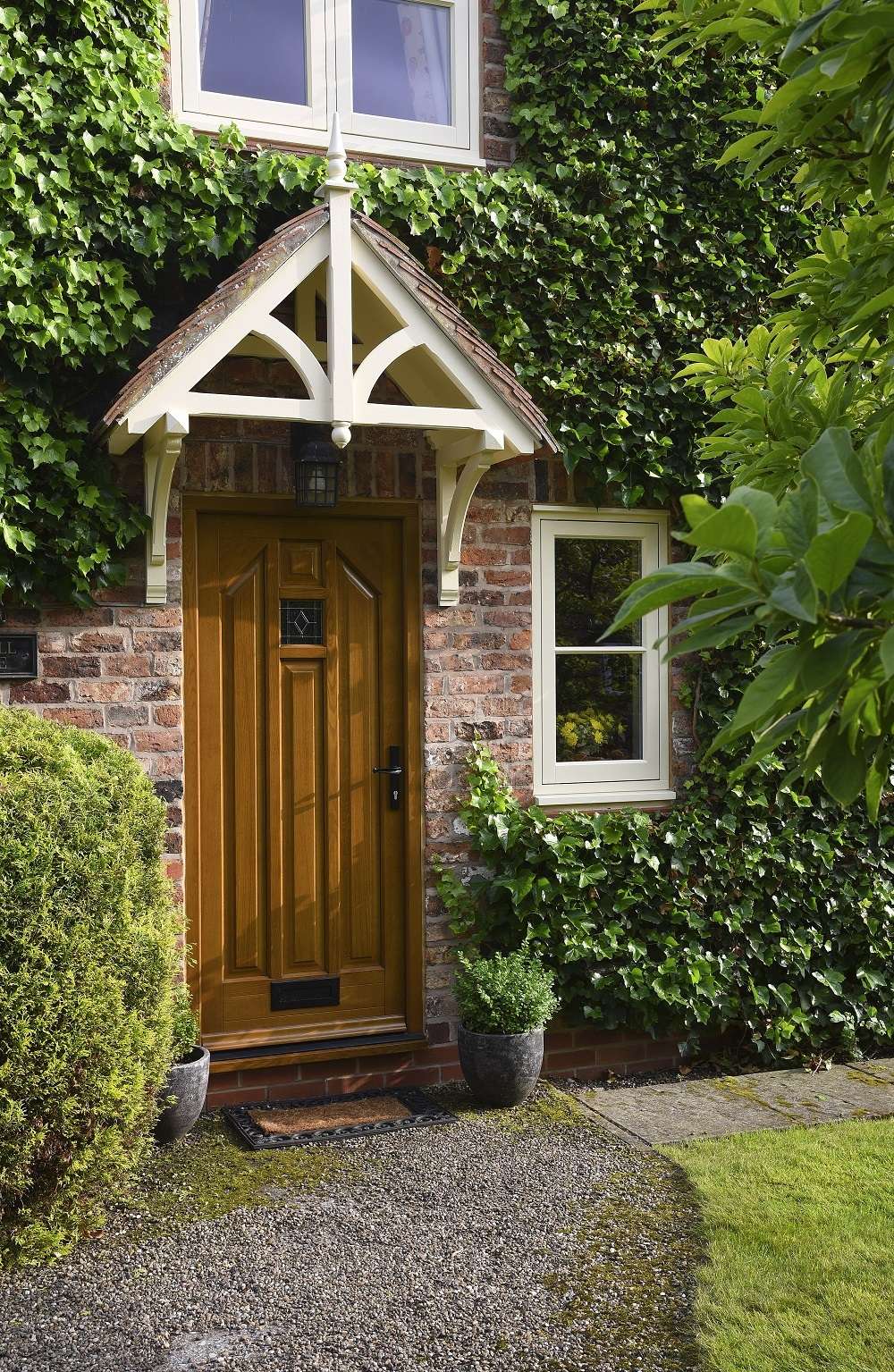 IMAGE SOURCE: TIMBER WINDOWS
31. Chic Modern Wooden Front Door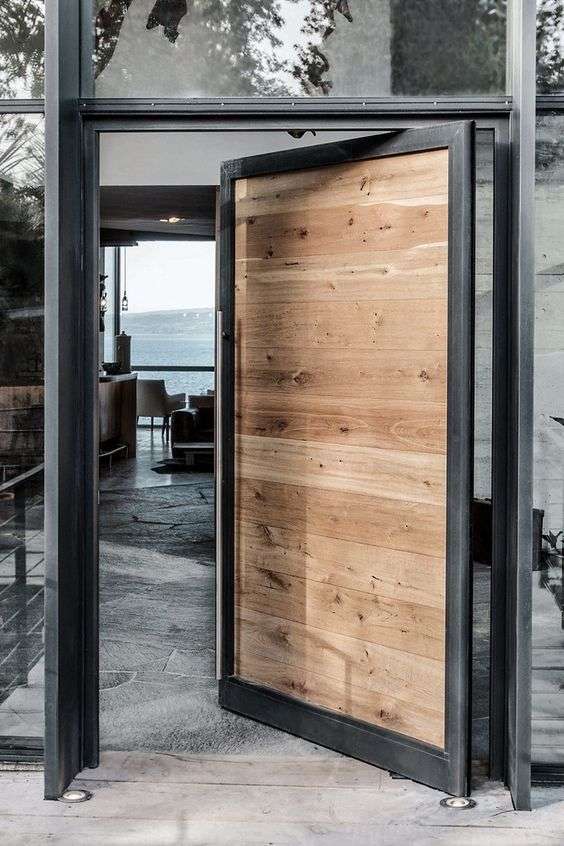 IMAGE SOURCE: DEAVITA
32. Traditional Wooden Front Door
IMAGE SOURCE: HEART & VINE
33. Lavender Painted Wooden Door
IMAGE SOURCE: TIMBER WINDOWS
34. Solid Walnut Front Door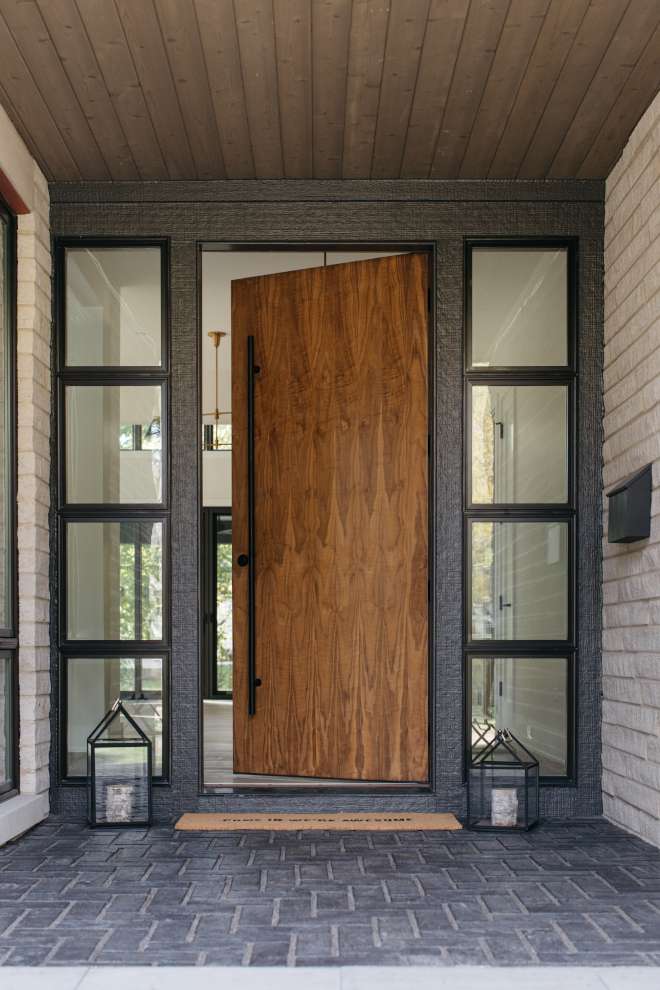 IMAGE SOURCE: HOME BUNCH
35. Wooden Main Door Design with Glass & Wrought Iron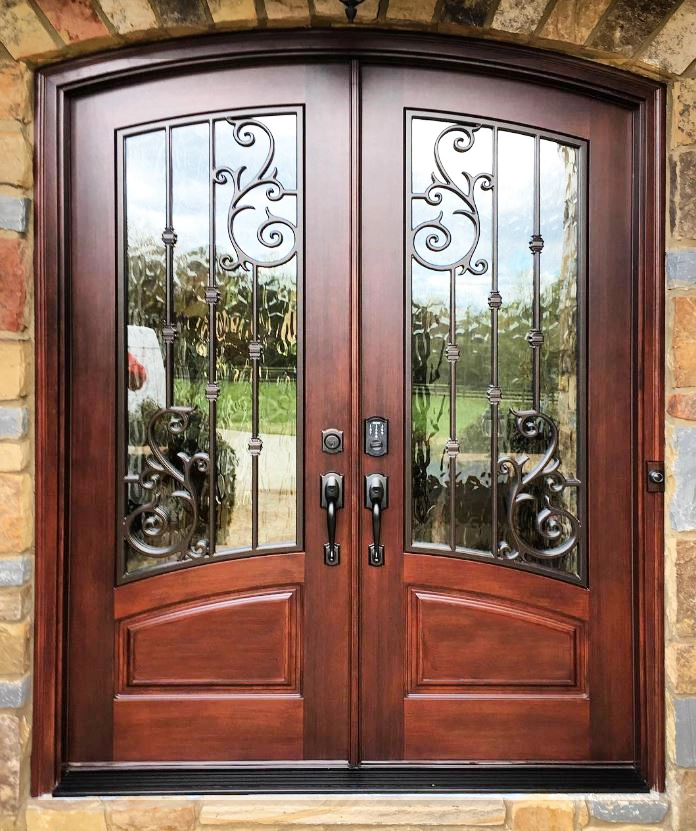 IMAGE SOURCE: MASTERPIECE DOORS
36. Deep Blue Painted Wooden Door
IMAGE SOURCE: TIMBER WINDOWS
37. Herringbone Wood Front Door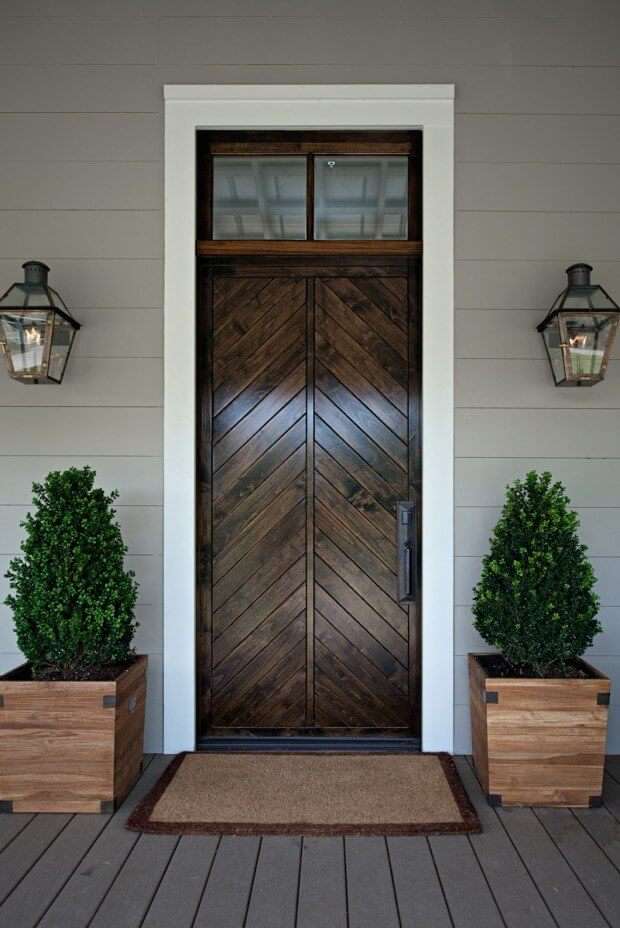 IMAGE SOURCE: STYLE BLUE PRINT
38. Wooden Main Entrance Modern Door Design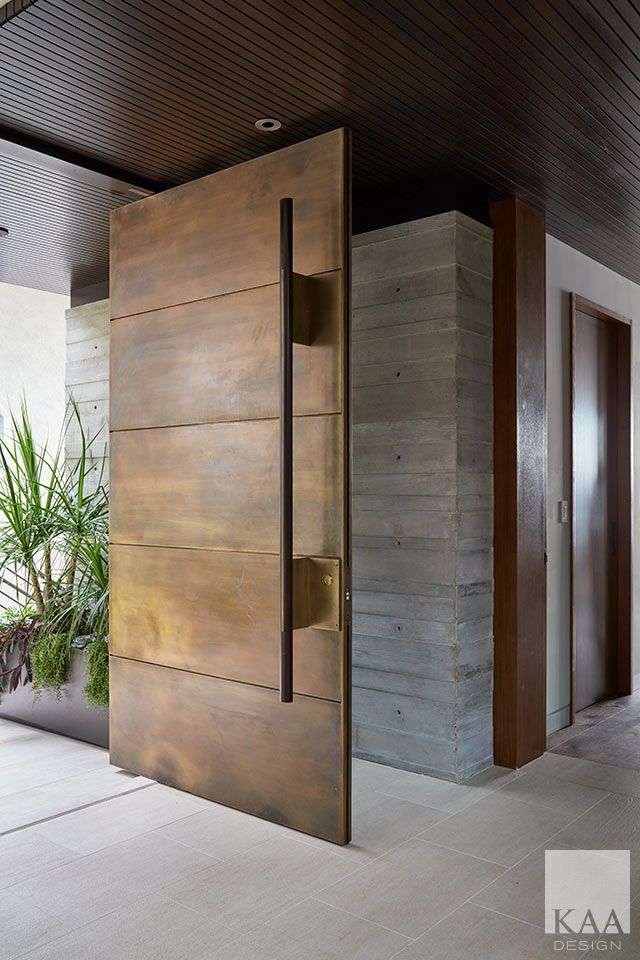 IMAGE SOURCE: KAA DESIGN
39. Dark Green Painted Front Door
IMAGE SOURCE: TIMBER WINDOWS
40. Oak Flush Front Door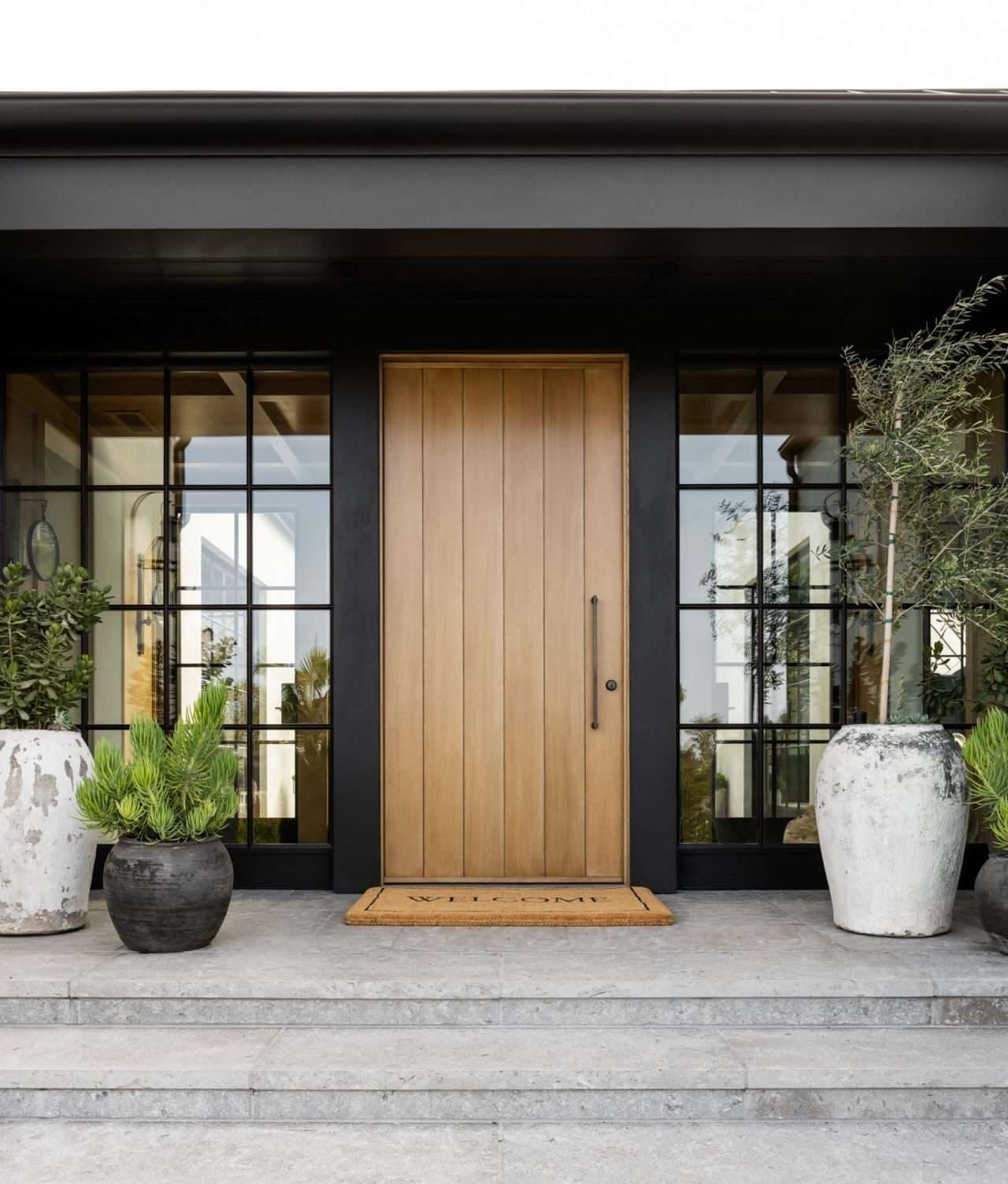 IMAGE SOURCE: STUDIO MCGEE
41. Modern-Style Timber Door
IMAGE SOURCE: CEDAR WEST
42. Wooden Door Design with Glass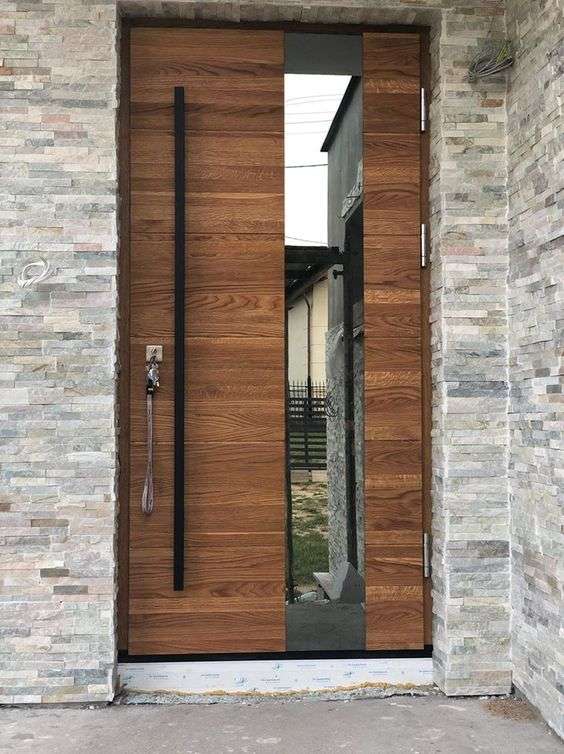 IMAGE SOURCE: PINTEREST
43. Modern Wood and Glass Front Door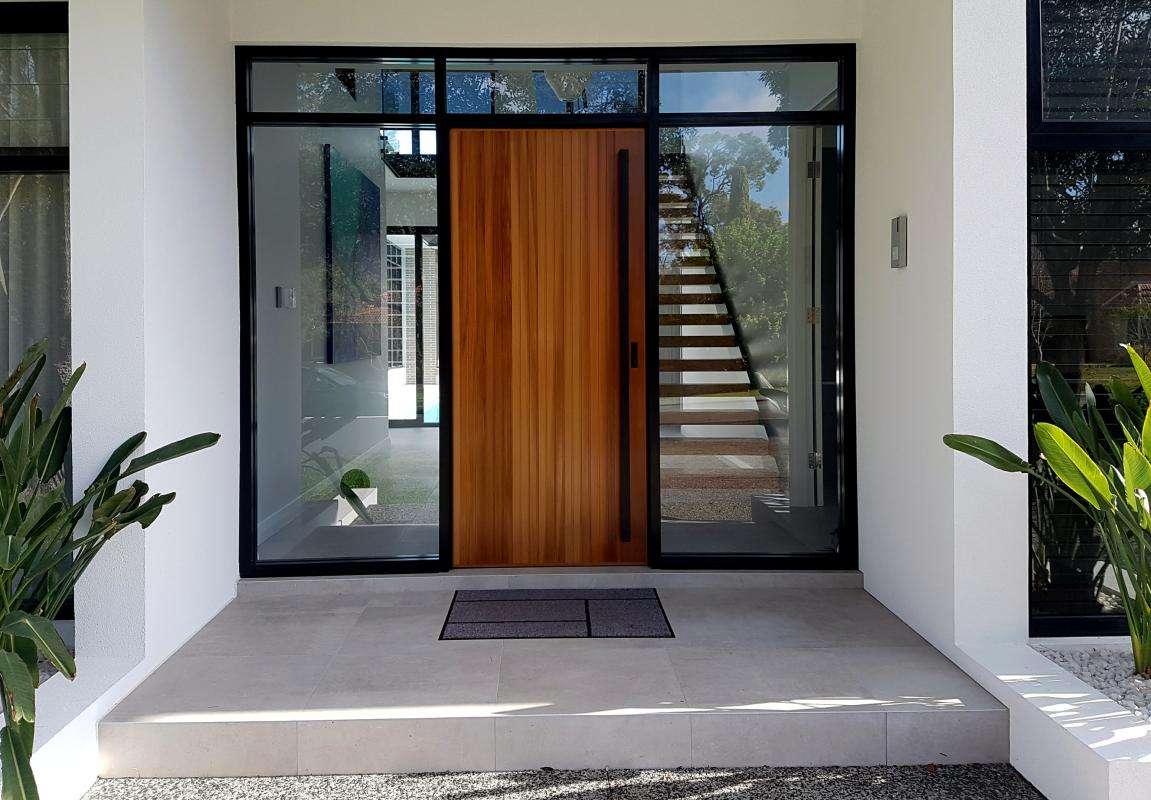 IMAGE SOURCE: CEDAR WEST
44. Wooden Door Design with Glass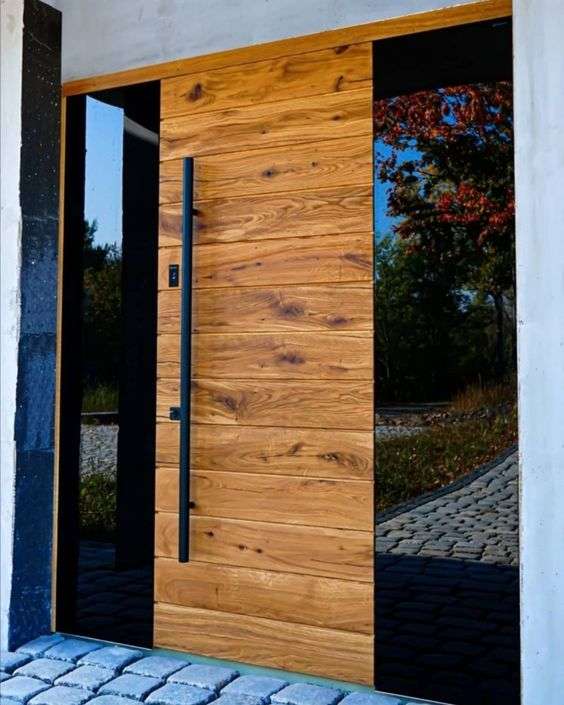 IMAGE SOURCE: PINTEREST
45. Reclaimed Wooden Main Door Design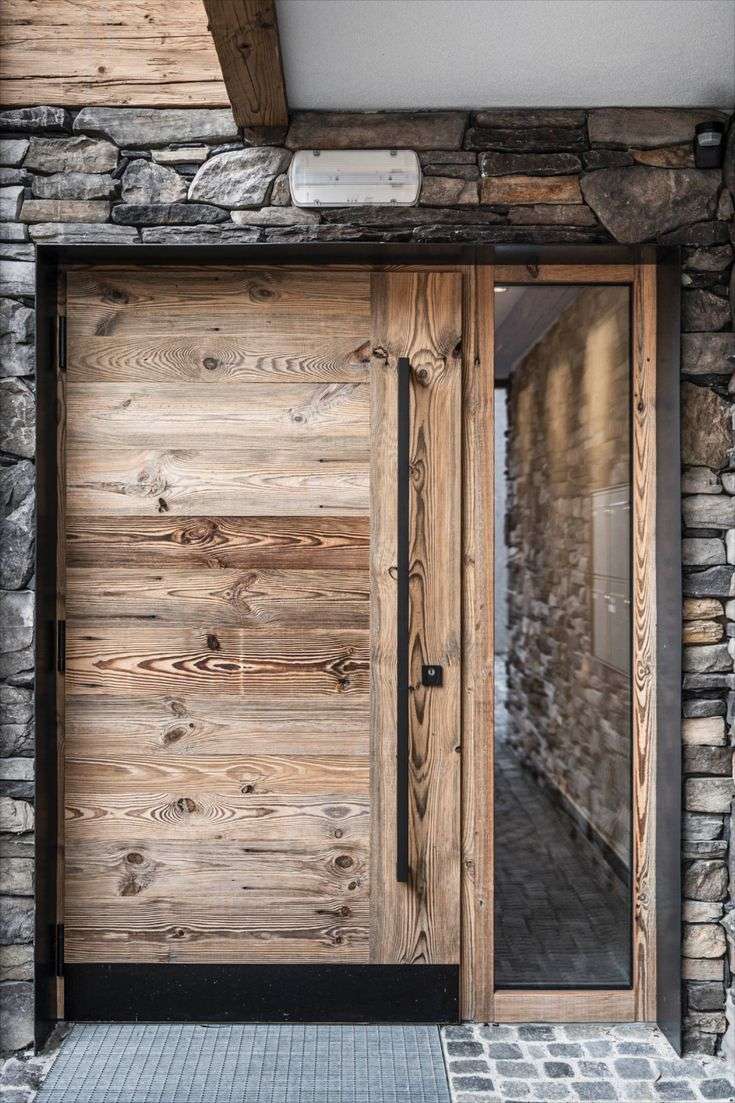 IMAGE SOURCE: PINTEREST
46. Modern Wooden Black Front Door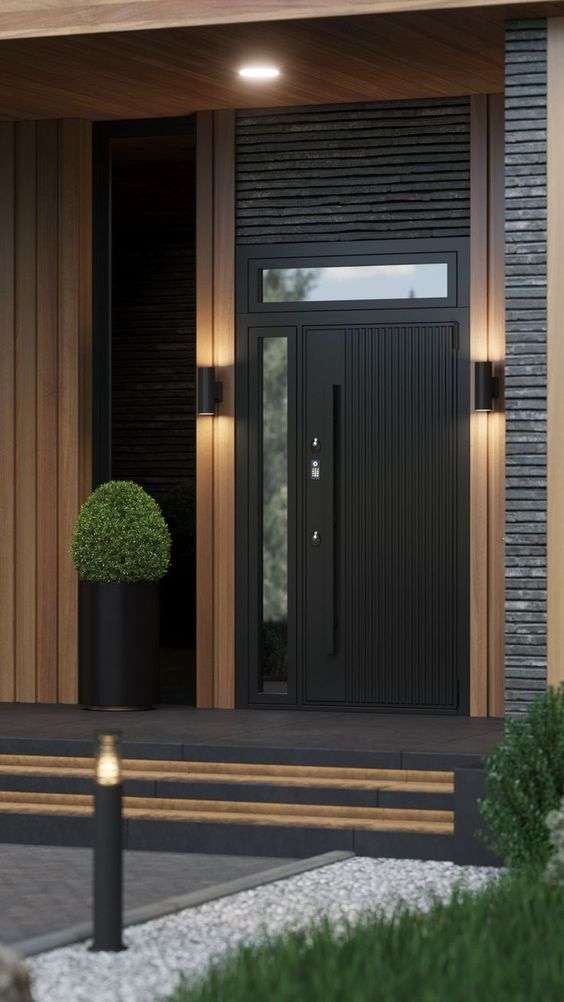 IMAGE SOURCE: PINTEREST
 47. Wooden Main Door Design with Side Lite
IMAGE SOURCE: PINTEREST
48. Teak Wood Main Door Design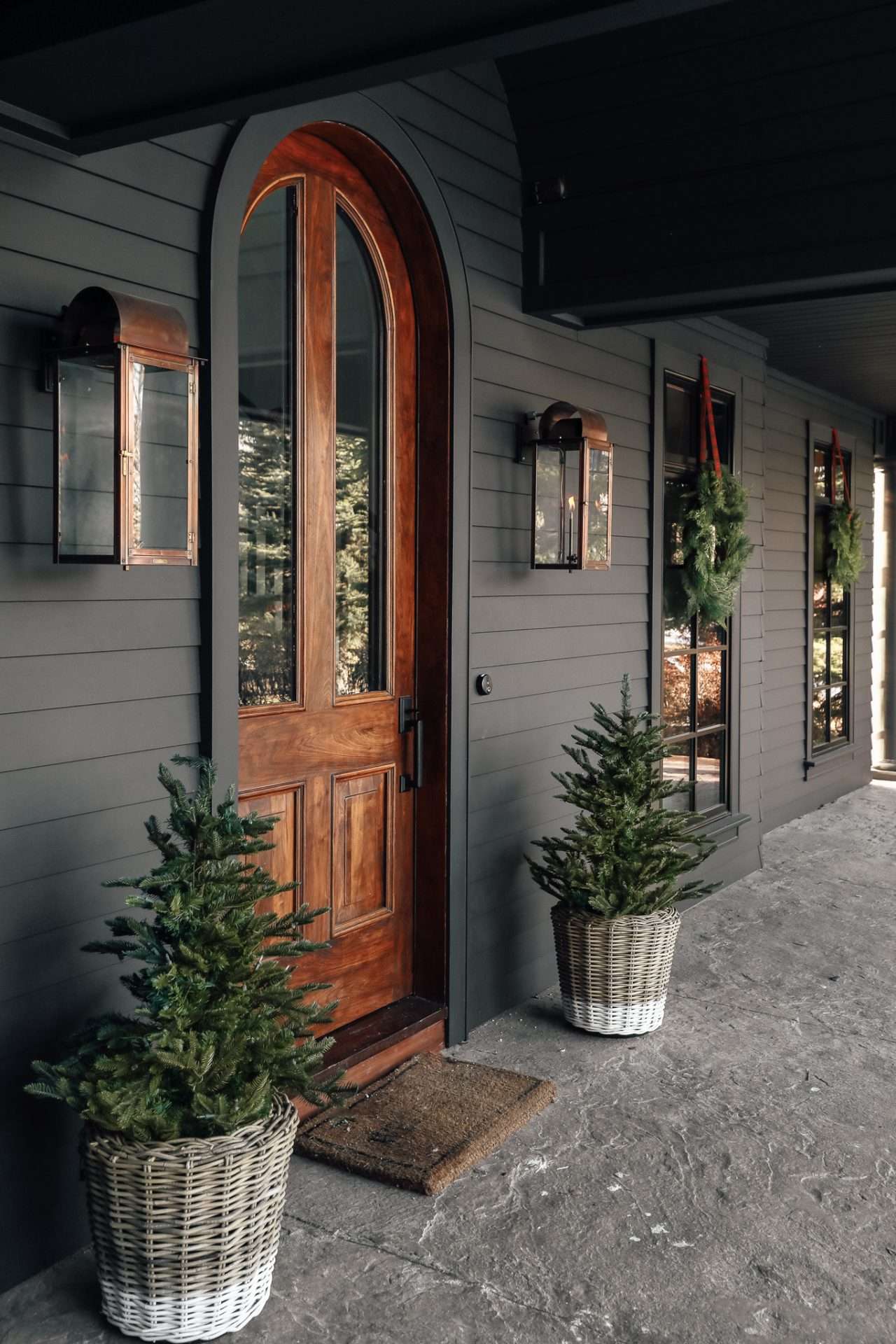 IMAGE SOURCE: CHRIS LOVES JULIA
49. Neo Classic Customized Entrance Door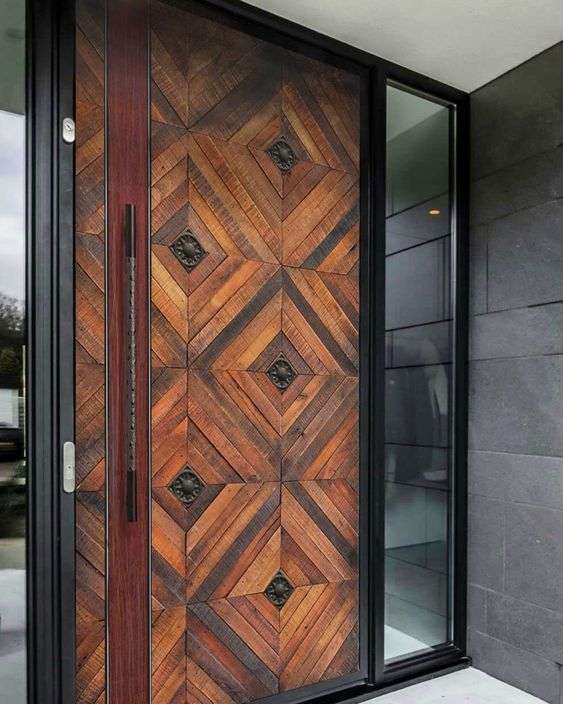 IMAGE SOURCE: LEGNO HOMES
50. Dark Walnut Stained Front Door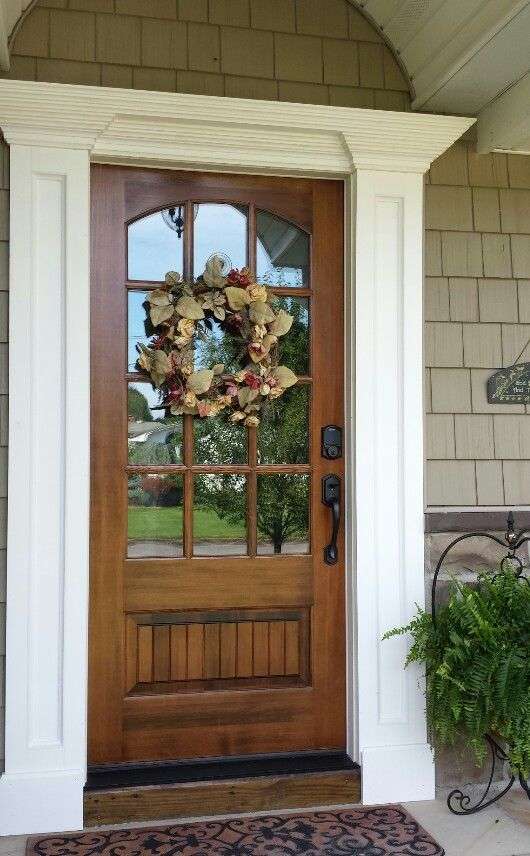 IMAGE SOURCE: PINTEREST