Zellige Tiles: How to Incorporate it in Any Home Design
Zellige tiles have become protagonists of wall kitchen and bathroom decorations. Zellige tiles showcase character and personality that is seen in their shapes, patterns, and textures.
Not many people know zellige tiles so much. The color schemes and nuances make them ideal for many designs today. If you like Oriental home décor styles, these Moroccan tiles can be your choice.
The use of Zellige tiles has extended to other societies. In the past, they were only seen in fountains, pools, and walls in the streets of Morocco, but today, they can be seen everywhere. These mosaic tiles have survived over time.
Zellige tiles, however, are veering away from traditional mosaics and becoming more monochromatic. Designers are applying glossy, single-tone glazes to surfaces in kitchens, bathrooms, and other rooms in the home.
With the trend of ethnic artisan products from Morocco, such as Beni Ourain rugs, metal works, basketry, etc. To no surprise, zellige tiles have become a trend in the home décor world.
What are zellige tiles?
Zellige in Arabic means "small polished stone" and refers to the mosaic made from small fragments of colored tiles. They are traditional clay tiles that are typical of North Africa. The North African ornamental technique consists of assembling terracotta tiles (made of gray clay from Fez) and glazing in different colors to create mosaics with mathematical patterns.
Today in the world of decoration, people bet on monochromatic surfaces that do not distract the mind from the subtle game of color variations.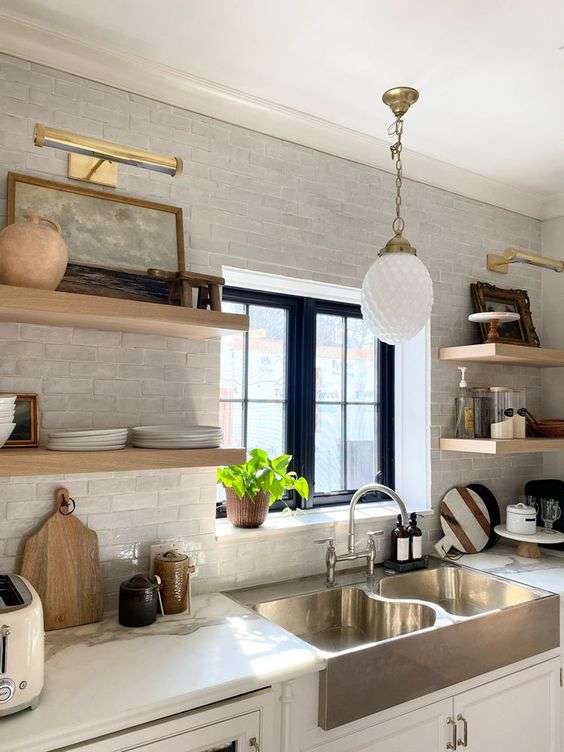 Image source: Reems Designs On Oak
Why are zellige tiles so Irresistible?
Zellige tiles catch the attention because of their nuances and their way to reflect light. These glazed tiles are flat and cut with beveled edges; so there are no marked joints. This makes it possible to cover a wall evenly.
On the other hand, zellige is a handmade product, which means that each piece is full of nuances and roughness. This means that there can be significant color variations between tiles or even within the same tile. But here lies part of its charm.
How to integrate cle tile zellige into a room?
Cle tile zellige is mainly used for kitchens and bathrooms; although you can also use it to cover other walls in your home. Although it is generally used for walls, there are also zellige tiles for floors. They should be only installed in low-traffic places, as they have fragile enamel. Zellige tiles allow you to add character and personality to decorations with their magical roughness and nuances.
It is a material and finish that combines with any decorative style. For example, if your bathroom or kitchen is minimalist or contemporary, by covering one of the walls with this material, you add warmth to the room.
If you dare to use zellige in your home, play with contrasts. Combine glossy tiles with a matt surface or with the color nuances of the tiles themselves.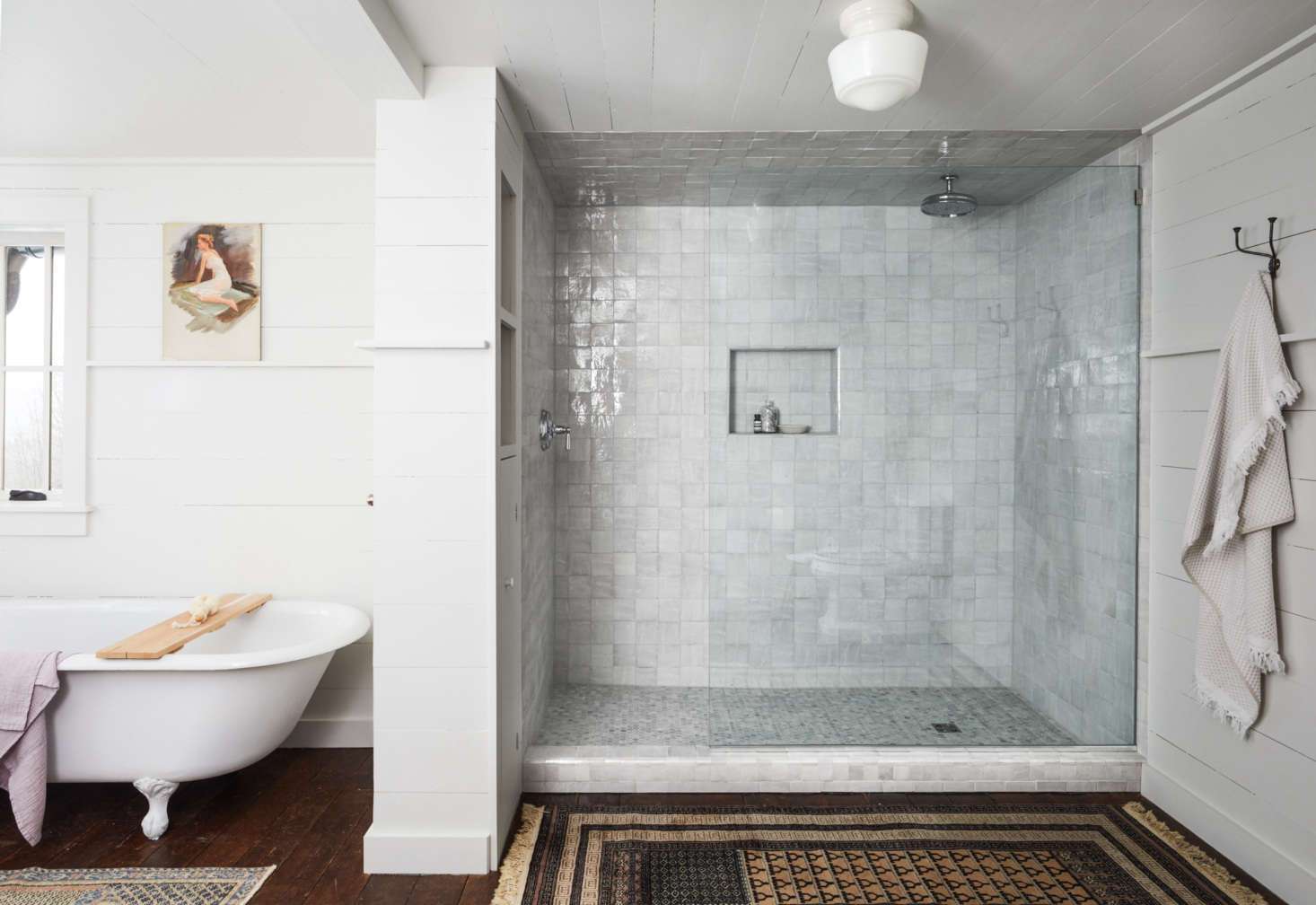 Image source: Nicole Franzen
Imperfection
The glaze, color, and imperfection of Zellige tiles evoke their craftsmanship. Whenever you clad the walls of your showers with this tool, utilize a single color or a turquoise blue version of Clé zellige tiles. Because the glaze is applied by hand, no two tiles are exactly alike. The varying thickness of the tiles only adds drama.
Precisely, this jagged look, present in a rainbow of different hues, has infiltrated a number of homes. Zellige looks great in powder rooms. Install cream or white zellige tile near fireplaces and bathroom walls, even if the rest of the walls of the house are colorful. Zellige tiles decorative assets for pool bathroom decoration, as well. Use plenty of mosaic Zellige tiles for this.
Zellige tiles create a mood on their own. In the main bathroom, you can opt for an enveloping and monochromatic environment, using an ivory tone. In guest bathrooms, use traditional Zellige tiles to create a red and black pattern reminiscent of a Navajo-style blanket.
And while the preference for a single tone certainly reigns at the present time, some designers use Zellige in other graphic formats, such as toffee-colored clay checkerboard cladding (Clé again) on a pool house.
Another interesting decorative solution to introduce zellige into your home is customizing a piece of furniture.
Care and maintenance of zellige tile backsplash
Even if you take care of your zellige tiles, properly, there are still some tips to take into consideration.
These tiles are difficult to install and require the traditional training of craftsmen who use tools to break the tiles rather than cut them. In the end, there should be no grout between each tile.
For maintenance, clean from time to time. While Zellige tiles (especially those with glittery glazes) add a touch of glamour, they can stand the test of time with little maintenance. Remember: they have been around for centuries.