Daisy London Jewellery Review
Earrings are small pieces of jewelry that can make a big statement. Unsurprisingly, many people cannot do without this fashion accessory. The concept of earrings has been around for centuries. People across the world wear earrings for many reasons.
In ancient times, earrings were worn by Egyptians as a symbol of class and wealth while in Rome, they were worn by slaves, Interesting huh? In today's fashion world, they are a go-to accessory for any occasion. They can add a touch of elegance and style to your outfit.
Earlier this week, I wore the stunning 18ct gold plated Treasures Double Rope Pearl Drop Earrings from Daisy Jewelry for my birthday dinner and I also added the Estée Lalonde Sunburst Midi Hoop Earrings to my jewellery collection. Daisy Jewelry is a London-based jewellery company that focuses on unique, sustainably crafted, and elegant jewellery pieces.
In today's article, I will be reviewing the Treasure Double Rope Pearl Drop Earrings and Estée Lalonde Sunburst Midi Hoop Earrings. So, whether you're looking for new earrings for a special occasion or searching for a gift idea for someone special, you will find some ideas in this article. Enjoy the read!
Treasures Double Rope Pearl Drop Earrings Review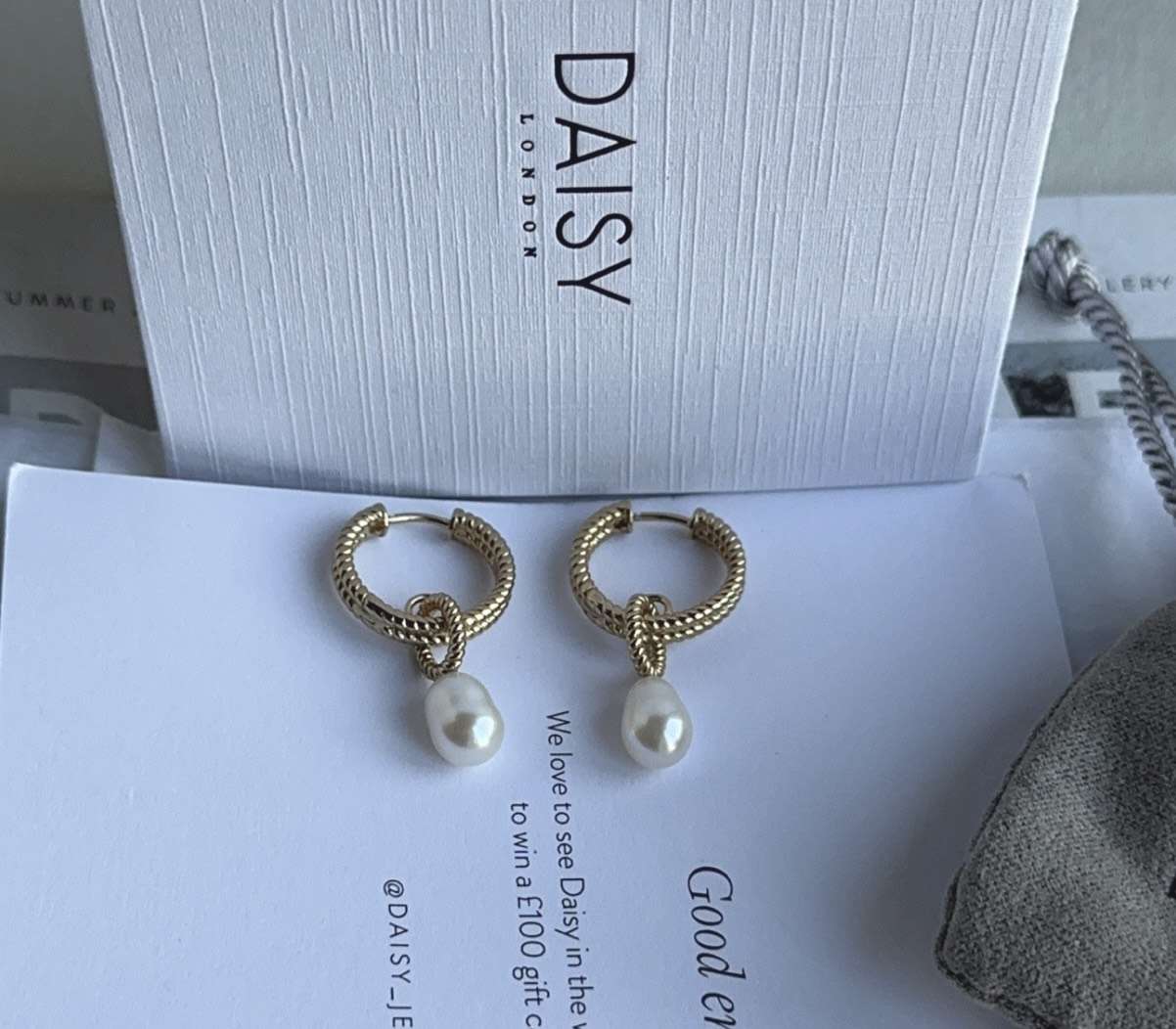 The Treasures Double Rope Pearl Drop Earring is a stunning hand-sculpted earring made from an 18ct gold plate. At first sight, the treasure double rope pearl drop earrings got me really excited. Coincidently, this arrives on the morning of my 27th birthday. It was oozing excitement when I saw the pieces.
I had not planned to wear these earrings for my birthday dinner but since they arrived the morning of I thought- oh Perfect! It excludes class and sophistication. It is also lightweight and comfortable to wear throughout the day. The Treasure Double Rope Pearl Drop earring also comes in silver made from 100% recycled sterling silver. You can also double up this earring with a stunning pearl piece to match.
Estée Lalonde Sunburst Midi Hoop Earrings Review
The Estee Lalonde Sunburst Midi Hoop Earring is a simple yet glamorous piece of jewellery. What is like most about these earrings is that they can complement also any outfit. They are ideal for everyday wear and can also be worn in any season.
The Estée Lalonde Sunburst Midi Hoop Earrings are made from 18ct gold-plated sterling silver making them chic and comfortable. In addition, it is a low-maintenance piece of jewellery. It only requires a gentle wipe with a damp microfiber cloth after each wear to get rid of any surface oil or smudges.
Final Words
There you have it! These are my favourite new additions to my jewellery collection. Another great thing about these pieces of jewellery is that they are reasonably priced for the quality you get. You don't have to break the bank to look elegant! In addition, this will make a great gift because it comes beautifully packaged in a white jewellery box. There are lots of design options to explore on the Daisy Jewellery website. From layering necklaces to gemstone rings, there is something for everyone.
Ready for a fashion-savvy winter? Let us know what your thoughts are in the comment section below.