Tiled skirting is gaining popularity in the world of interior design at a very high rate. Tiled skirting is the art of laying tiles or boards in the corner or junction of the floor and wall. Tiled skirting allows your room to look bigger than its size. This is because wall skirting creates a seamless effect thus making the eye move from the floor all the way up to the wall. 
Tiled skirting allows you to clean your house easily. This is because you can steam clean up to the corners of the room without fear of damaging your walls. Tiled skirting also ensures that dirty water does not splash on the wall.
What Is Skirting Board?
The skirting board is also called the baseboard. It is a border running between the floors and the wall. skirting board is majorly used to cover the uneven edges and protect the interior wall from destruction and abrasion.
The skirting board's ideal size is about 145mm or 6 inches long and 12mm thick. A skirting board this size is used on pencil edges, square edges, and curved edges.
Purpose of Skirting Tiles
In cases where there are exposed electrical cables and connections, skirting can be used to conceal instead of removing them.
Using skirting boards to hide wires is easier and cheaper as compared to bring them under the ceiling.
Where unwanted gaps occur between the wall and the floor, it is more practical and cheaper to use skirting boards rather than redoing the work.
Skirting can be used to cover up for shoddy work done instead of redoing it.
Skirting boards allow a substantial space between the furniture in a room and the internal wall. This will protect the wall from scratches that would be caused by the furniture.
Skirting gives a room a great and elegant appearance especially if the color and size are picked properly.
Skirting boards protect the wall from attracting dirt while you are washing the floor.
Where Can Tiled Skirting Be Used?
Tiled Skirting For DIY Option
Tiled skirting gives a room a perf
ect contemporary finish. You can achieve unique home designs by laying planks of the same length as timber and individual tiles. Using trim and grout with tiles is however a faster and less tedious job as compared to cutting skirting boards at angles that would fit in corners.
Using tiled skirting to create DIY is very simple. You can begin by cutting any floor tile for skirting while making sure it matches your floor. There are also customized skirting tiles that are sold in a range of different colors, materials, and shapes to compliment your floor.  You can finally trim the tile or use a different tile on the wall to give it a stylish and contrasting effect.
Half Tiling On a HallWay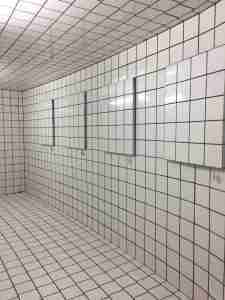 Another great effect to make your room appear bigger is by carrying the tiling up on the wall. The seamless flow from the floor up the wall gives a room or your hallway a  stylish effect. This genius wall finish could be perfect for narrow hallways and staircases. The half tiling would ensure the plaster does not get damaged due to the heavy use of these areas.
When you use the same patterned tiles for the floor and wall, they create a great and beautiful feature of the room. However, using metro tiles create a distinctive appearance due to their different colors, layouts, and formats.
Using Tiled Skirting For Places With Irregular Walls
To achieve a neater finish, you will need to use scribing or caulking skirting boards on bowed and older walls. In the same sense, tiling a wall with tiled skirting is better since the tile adhesive can be used to cover up the irregular walls and bring out a neat and smooth finish.
Using Porcelain Skirting Tiles For Wet Areas
When choosing tiled skirting, consider using porcelain tiles as they are a perfect option. They are not only made of high-quality material, but they also have a high-quality finish that warms up your room giving it a chique general appearance. Porcelain is durable and easy to maintain and clean.
Porcelain is therefore ideal for high footfall areas of your house. Using Porcelain tiles on wet areas such as the bathroom is a genius idea. The bathroom needs cleaning from time to time and it is also an area that's bound to remain wet almost all the time. While using porcelain for skirting make sure to use a thinner profile due to the weight and stubbornness to lay it.