20 Modern Grey Front Door Ideas
Are you looking for modern front door color ideas? Grey adds an effortless elegance to exterior surfaces. Get inspired by these 30 modern grey front door ideas. 
The front door color and design set the tone for the rest of the home. Did you know that grey is one of the most popular door colors for modern homes?
Well, this doesn't come as a surprise as grey tones create a muted, elegant, and visually appealing space. Some believe grey was the defining shade of the 2010s, but grey is as timeless as they come.
Grey is the intermediate color between white and black but there are so many shades of grey. Some greys have an undertone of a specific color, like blue-grey, greige, grey purple, and many more.
This front door color is not only favored by homeowners for its aesthetic appeal but also for its versatility, timelessness, and ability to conceal stains and specks of dust better than white and black doors.
Since grey is a soft and mild shade, it will work great as a front door color for any home's exterior home. So, whether you have a crisp white exterior wall or a red brick one, you can give it a modern and muted appeal with a grey front door.
To help narrow down your options to only the best, we've curated our favorite 20 modern grey front door ideas that are sure to inspire you. 
Let's get into it!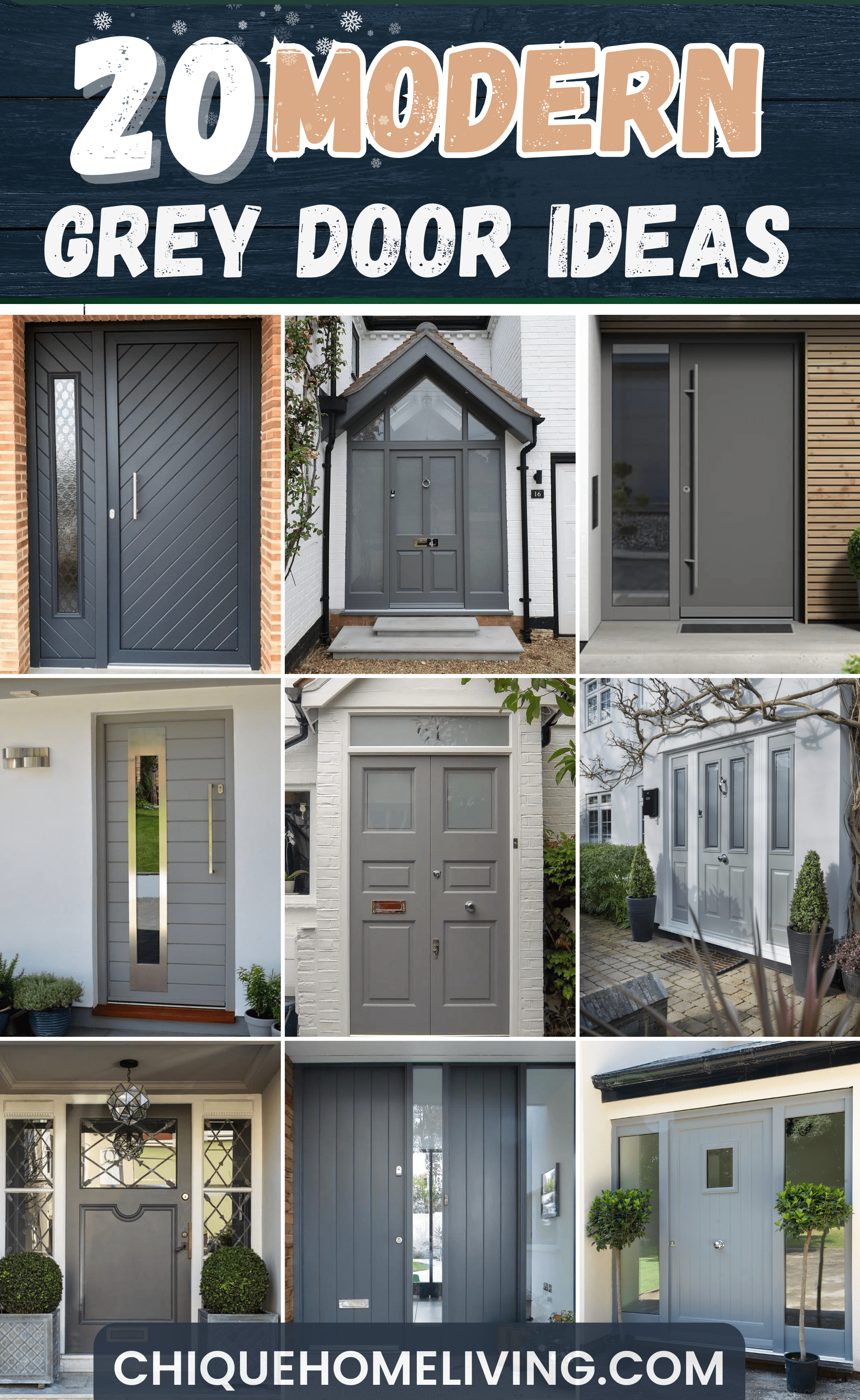 1. Extra Wide Timber Door
The material of a door is considerably more important than the color and design. When on the hunt for the best material for your door, you will come across timber.  Timber is a natural material which means that it is sustainable and great for the environment.
It is also highly durable and easier to paint compared to other door materials. So, if you have an existing timber door, you can simply give it a new look with a coat of paint.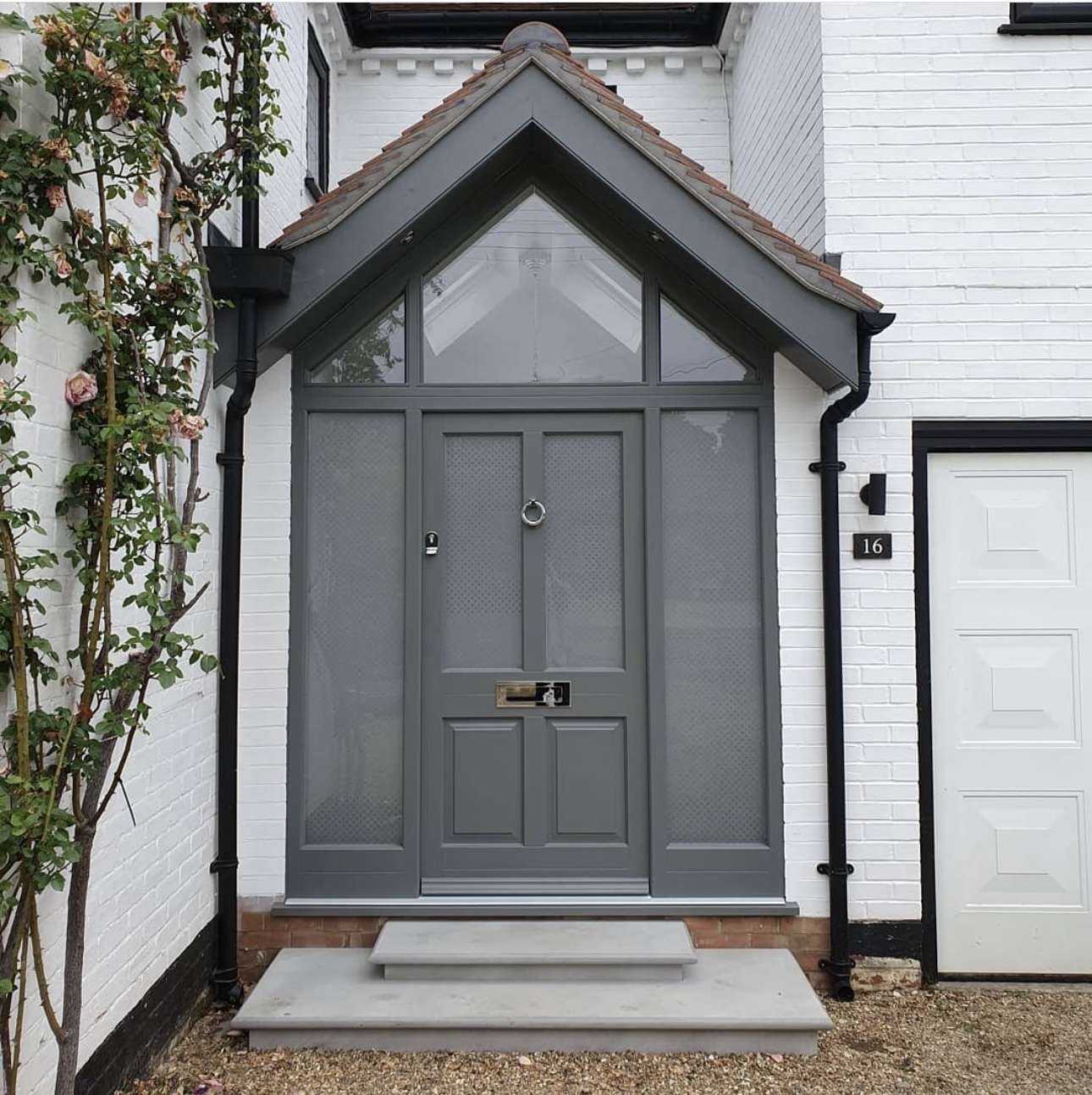 PHOTO: JESSICA REYNOLDS
2. Matte Grey Door
There are several options to explore when choosing the paint finishing for a front door. Some of these options are gloss, semi-gloss, and matte.
Most front doors tend to have a gloss or semi-gloss finish because it is easier to clean. However, matte paints give a more modern appeal and are an excellent choice for a weathered and rustic finish.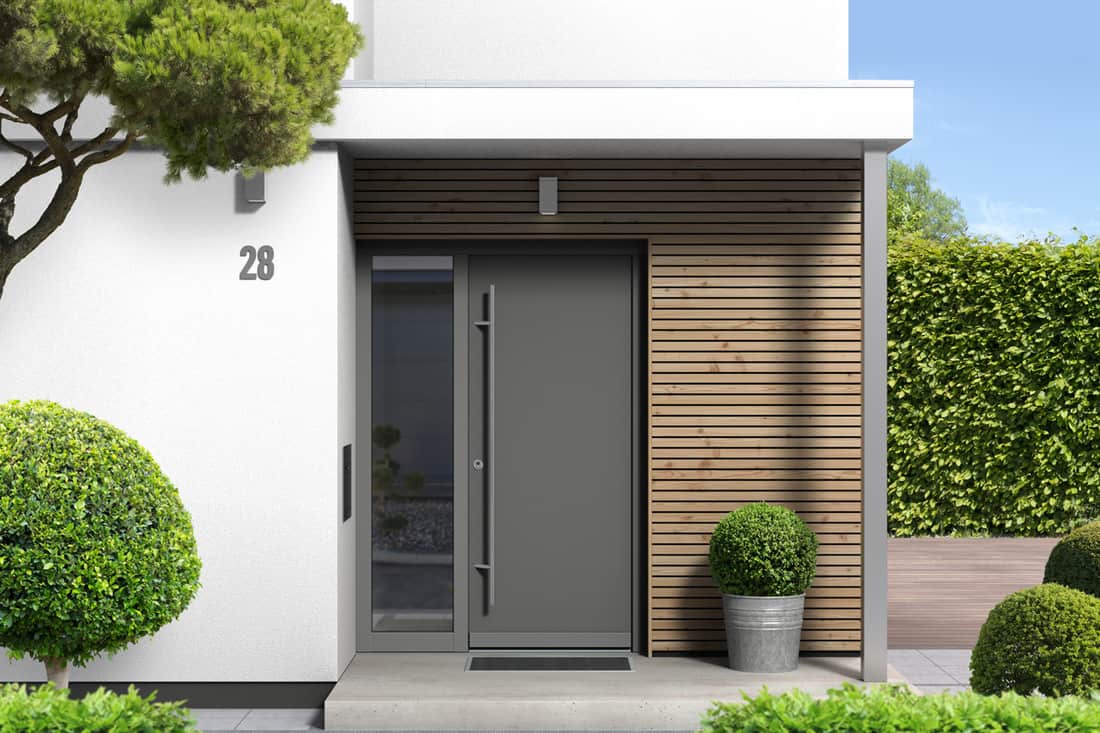 PHOTO: HOME DECOR BLISS
3. Front Door With Brass Hardware
To give your property a modern and sophisticated touch, consider investing in a door with brass hardware. Other than its visual appeal, brass hardware will last a lifetime and it is more durable than aluminium and plated steel.
PHOTO: G S HAYDON AND SONS 
4.  Light Grey Door
The best shade of grey door or paint to use for your property will depend on the color of your exterior walls.
If you have a dark exterior wall, light-medium shades of grey may be more suitable. On the other hand, darker greys will best complement a white or light-colored exterior.
5. Bespoke External Door
Custom-made front doors are designed to fulfill specific requirements. This means that the door will be completely unique as it has been manufactured just for you.
There are several reasons why homeowners choose to go for custom modern grey front doors. They can be made in just about any size and are very flexible in terms of design and color.
Several features such as handles, letter plates, and door knockers can also be added to bespoke doors. Although, they are often more expensive than ready-made doors.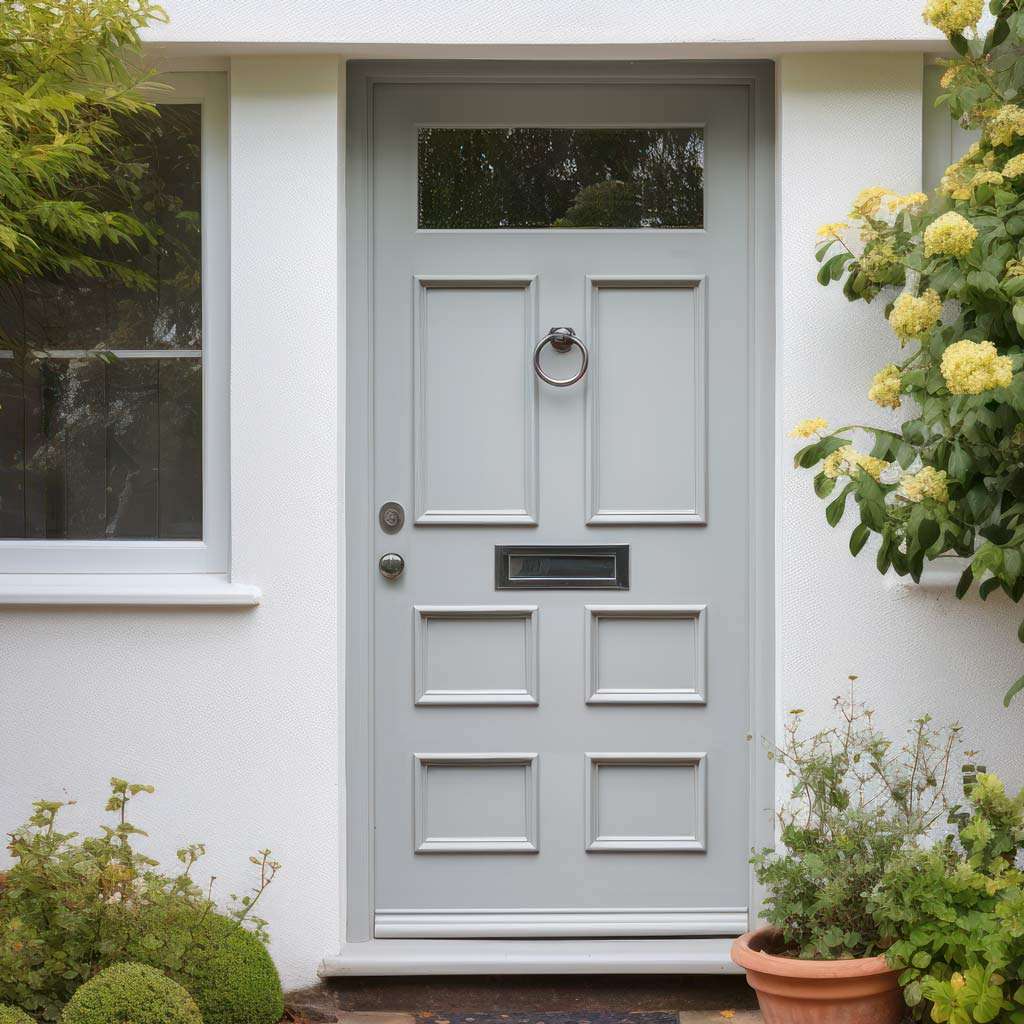 PHOTO: DIRECT DOORS
6. Modern Minimalist Front Door
Minimalism is the key to modern elegance. Clean lines, simple designs, and neutral colors are the main characteristics of a minimalist front door. However, a subtle aesthetic does not imply a lack of style. Instead, it conveys a laid-back elegance.
PHOTO: SPITFIRE DOORS
7. Medium Grey Door
Mid greys create visual balance. There is has an effortless elegant feel to it. Light and dark grey entrance doors may suit some exteriors better, but the tones that sit in the middle will work great for any exterior or property type.
PHOTO: HELLO LOVELY STUDIO
8. Contemporary Slate Grey Door
Slate grey is the hue of dark concrete or natural flagstone. It is a very popular front door color for modern properties. Slate can be grey, blue, greenish-gray, dark red, purplish-gray, tan, or even black in nature. Generally, slate grey is mid-tone blue-ish grey.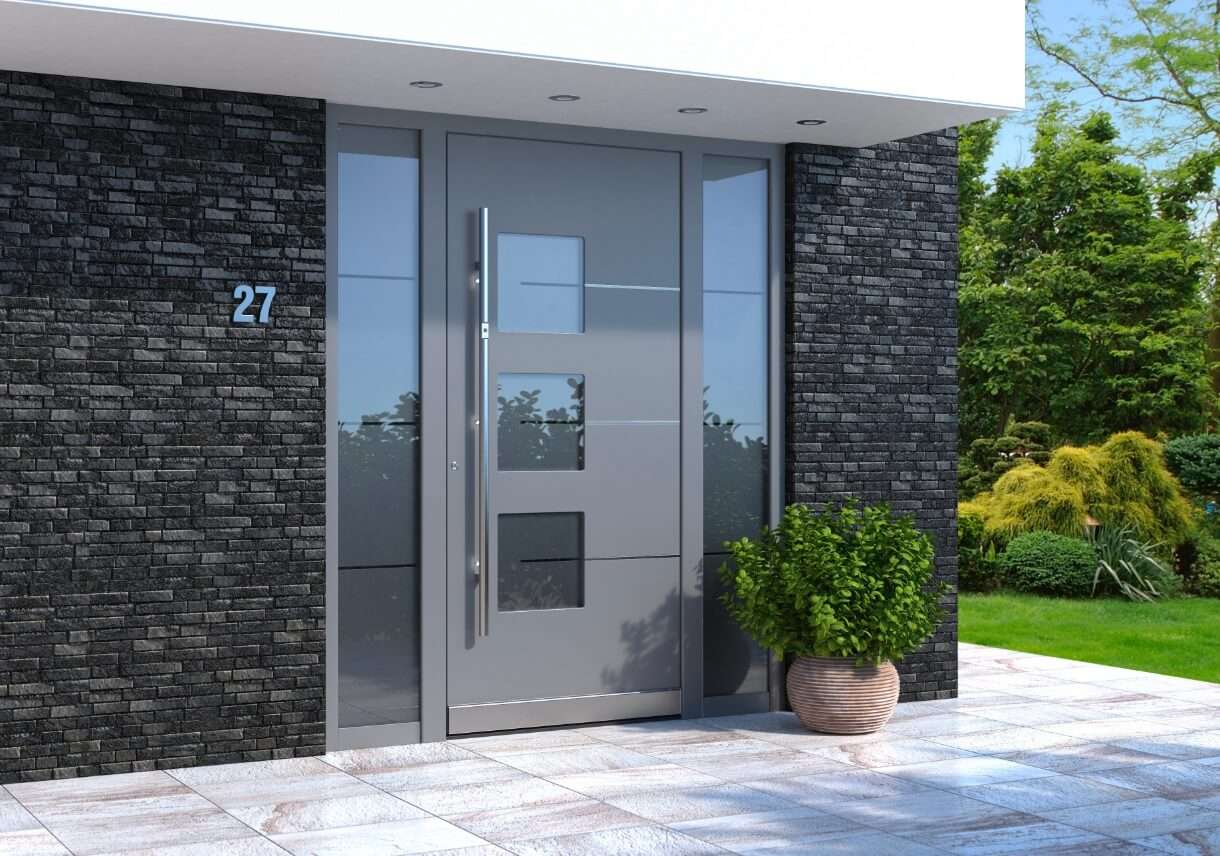 PHOTO: PIRNIR DOORS
9. Pale Grey Entrance Door
If you want a brighter and more whitish appearance, pale grey should be on your radar. Pale grey paint is just as clean, subtle, timeless, and easy to work with as white, except it has more character and is easier to work with.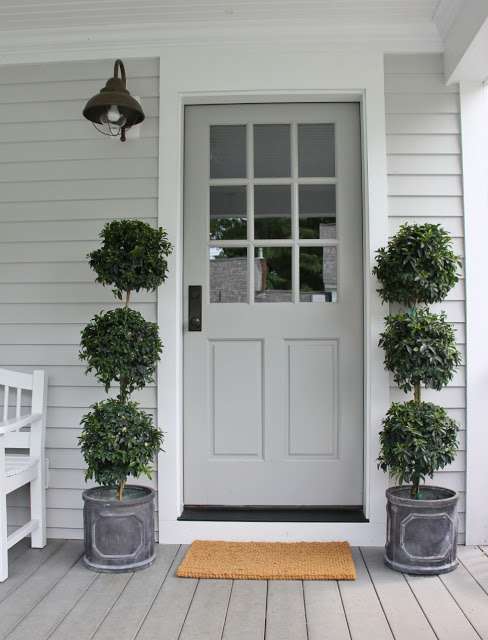 PHOTO: THE PAPER MULBERRY
10. Steel Modern Grey Front Door
Steel is the sturdiest door material. If security and durability are key requirements, a grey steel door may be perfect for you.
These types of doors are far more durable than wood or fiberglass doors and will not break or warp. Plus, steel is low-maintenance compared to its counterparts.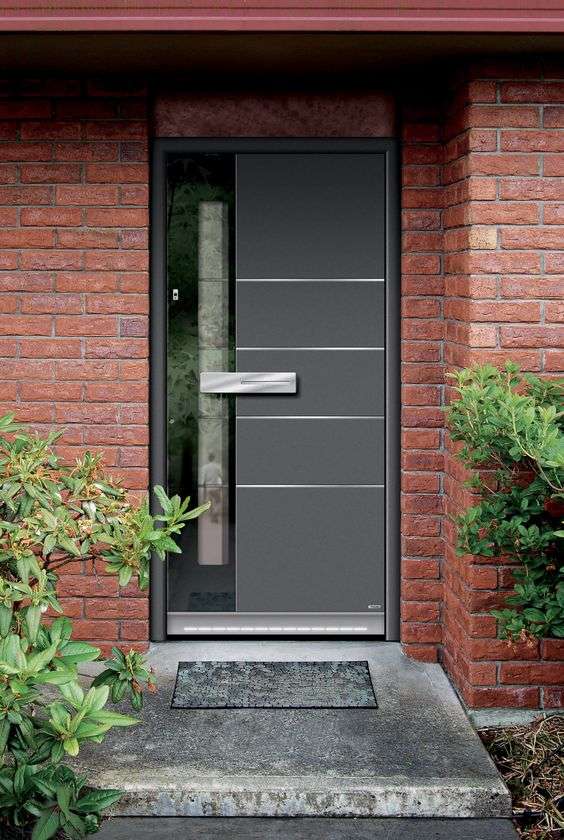 PHOTO: PIRNIR DOORS
11. Blue-Grey Door
A grey door with a blue undertone is usually the most favored choice for modern properties, as it gives it a clean and inviting feel. The blue-grey paint used on this front door is Down Pipe by Farrow & Ball.
PHOTO: MILD HAVEN & ROCKY MOUNTAIN WINDOWS AND DOORS
12. Light Blue-Grey Door
The paint of this modern grey front door is Sherwin Williams Ice Cube. This bright, clear blue infuses your property with both serenity and energetic energy.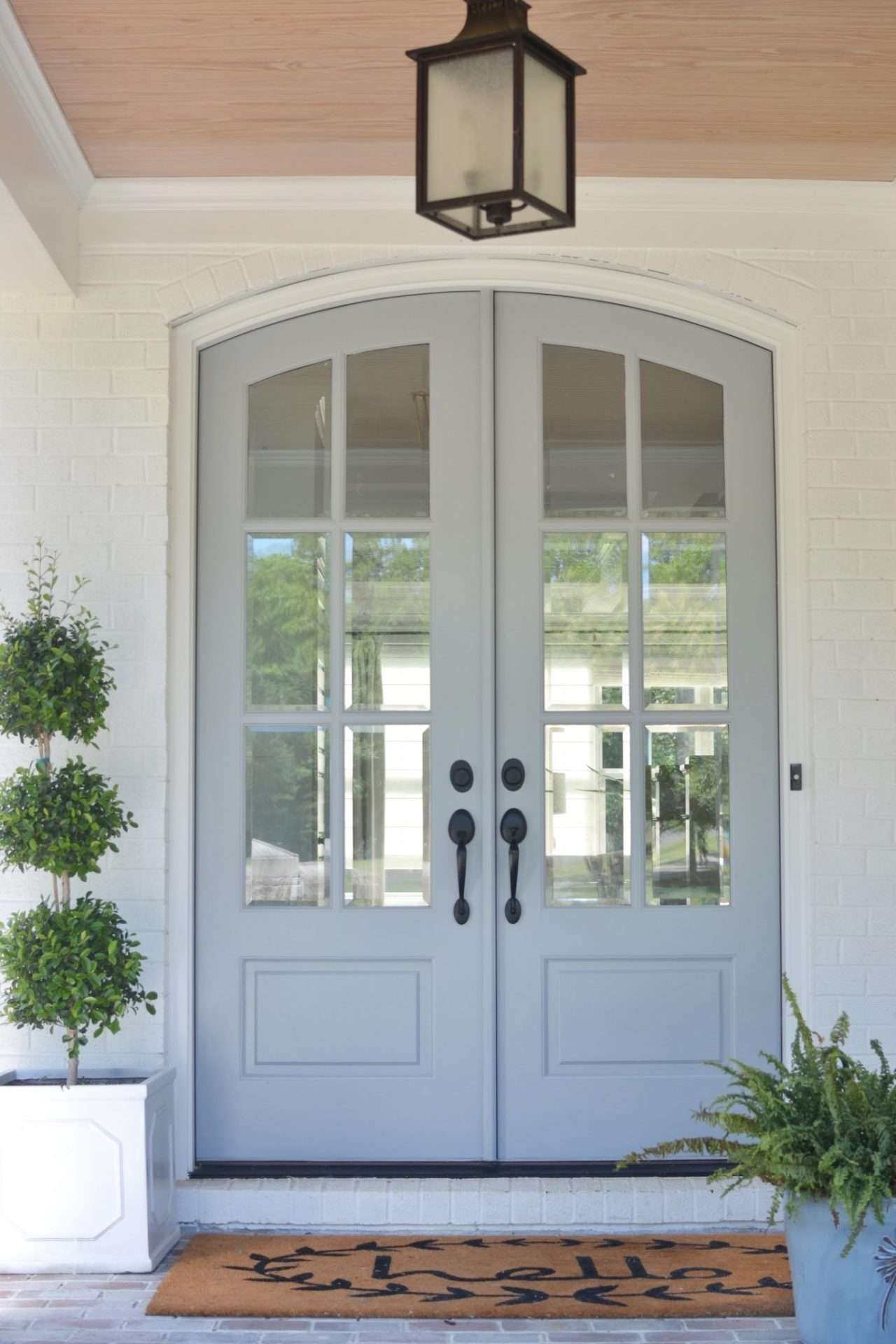 PHOTO: CHRISSY MARIE BLOG
13. Contemporary Dark Grey
The most popular color door colors for contemporary homes are black, dark grey, and blue. Dark grey may be more advantageous than its counterparts because it embodies simplicity and can hide clouds of dust, stains, and imperfections better.
PHOTO: SPITFIRE DOORS
14. Grey Composite Door
Composite doors are designed to address the common issues of older front doors such as weathering, fading, and frequent maintenance.
In addition to this, composite doors are roughly 10 times more energy efficient than regular doors. In terms of durability, this type of door can last for up to 30 years without the need to repaint.
PHOTO: BESPOKE BY RPM
15. Modern Grey Door With Stained Glass
Stained glass doors can bring a unique character and visual appeal to your property. What makes stained glass doors so popular is that they come in a wide variety of incredibly beautiful designs.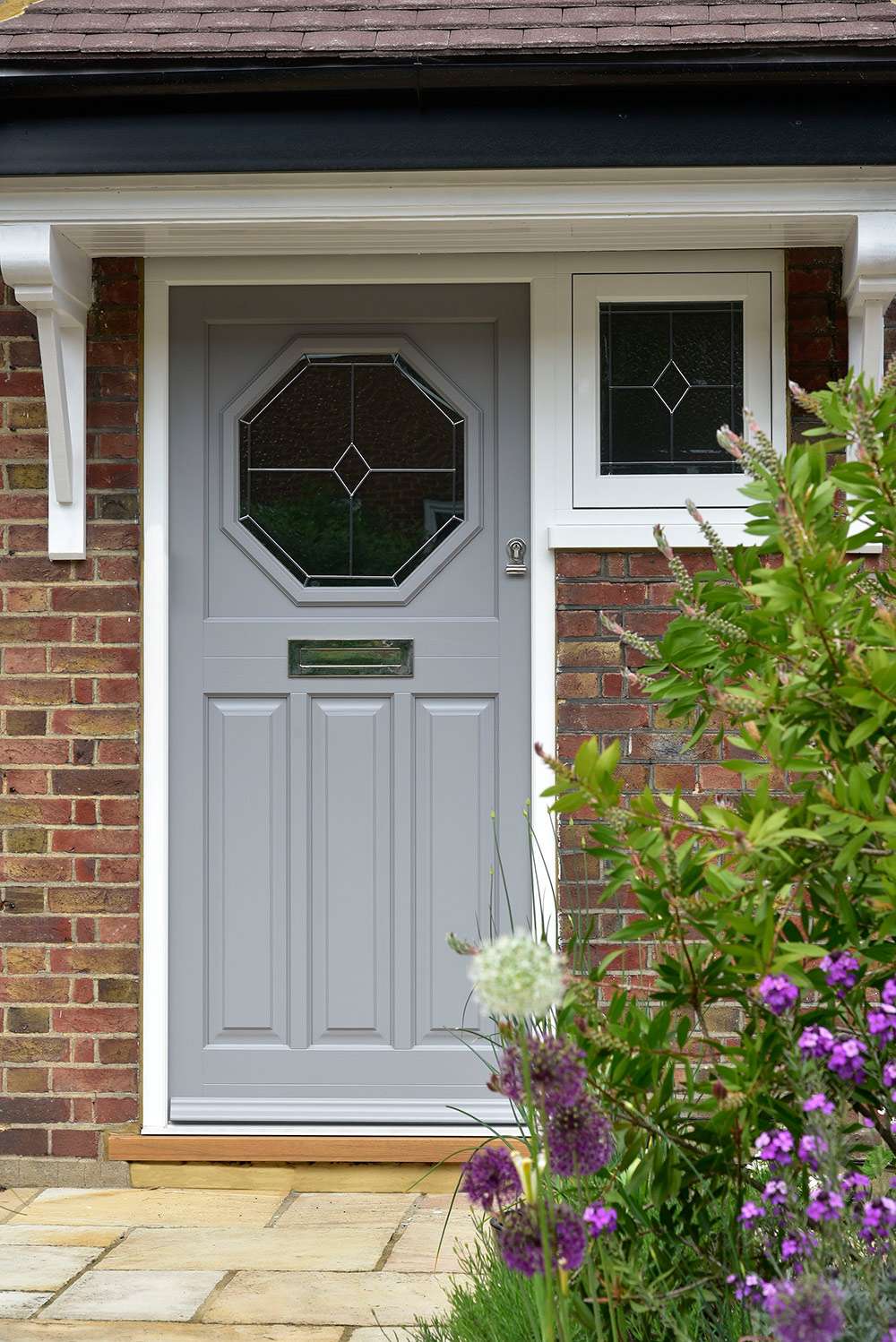 PHOTO: TIMBER WINDOWS
16. Modern Grey Front Door With Sidelights
The entryway is often narrow and poorly lit. The obvious benefit of sidelights is that it allows more natural light into your home. This flood of light will instantly make the space appear bigger and feel more airy.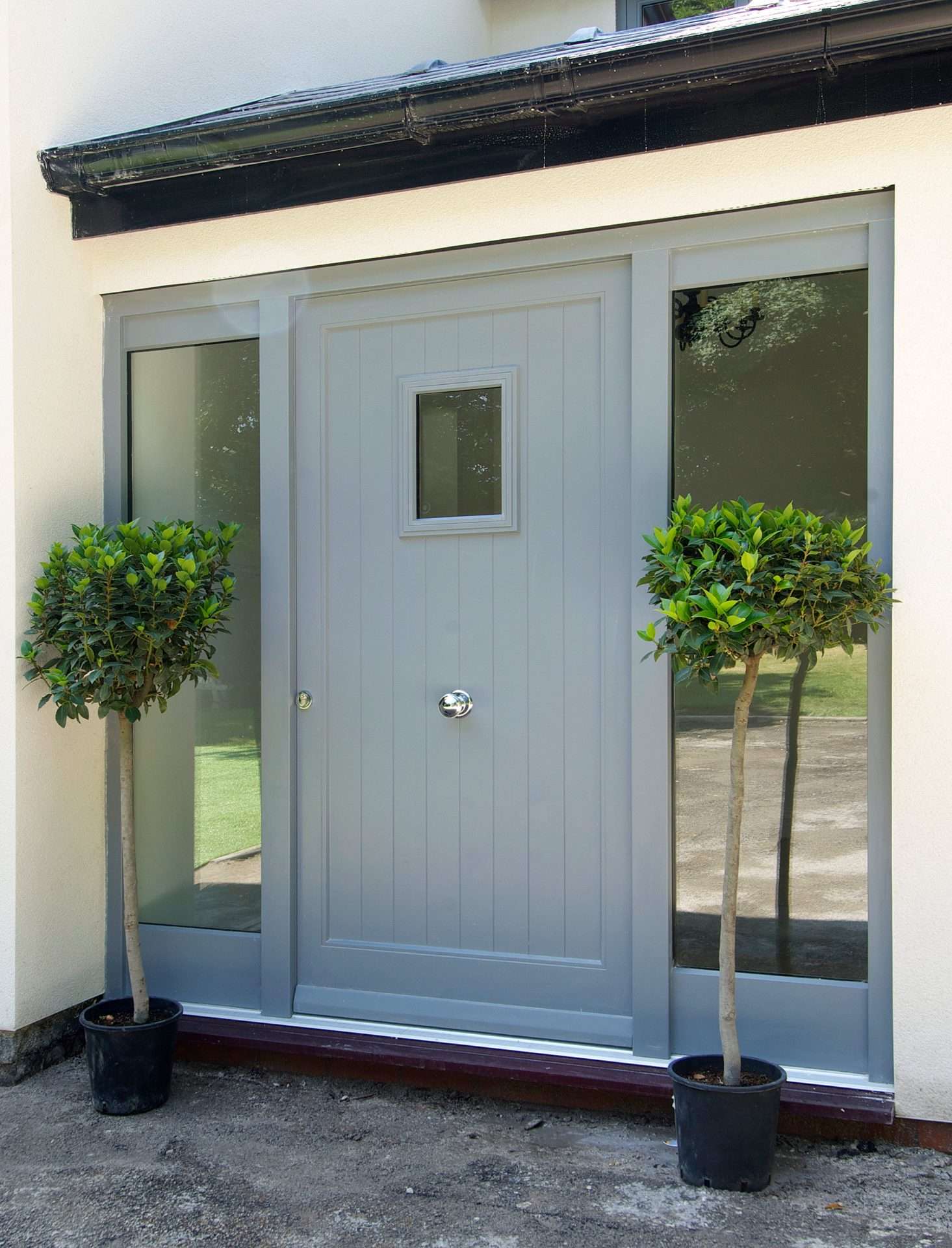 PHOTO: MUMFORD & WOOD
17. Modern Door With Rectangular Grilles
This type of doors are overwhelmingly popular for both modern and traditional properties. The grilles enable natural light to penetrate into the home, resulting in a brighter and more open entryway.
PHOTO: MUMFORD & WOOD
18. Classic French Single Door
French doors have a charming and sophisticated style that is fantastic for heritage homes and new builds alike. Simply put, they never go out of style.
With its classic glass panes that fill a home with natural light, it's easy to see why French doors have been highly sought-after since the Renaissance era up till now.
PHOTO: MASTERPIECE DOORS
19. Painted Wooden Door
You don't have to buy a brand-new door to enjoy the elegant grey aesthetics. Instead, consider repainting your existing door. This is an inexpensive way to freshen up the exterior of your home in no time.
PHOTO: COTSWOOD DOOR SPECIALISTS
20. Wrought Iron Door
A door material that works great for both modern and traditional properties is wrought iron. What makes wrought so sought after is that it is significantly more durable than steel, glass, and wood. It boosts curb appeal, provides great insulation, and is much more difficult to break into.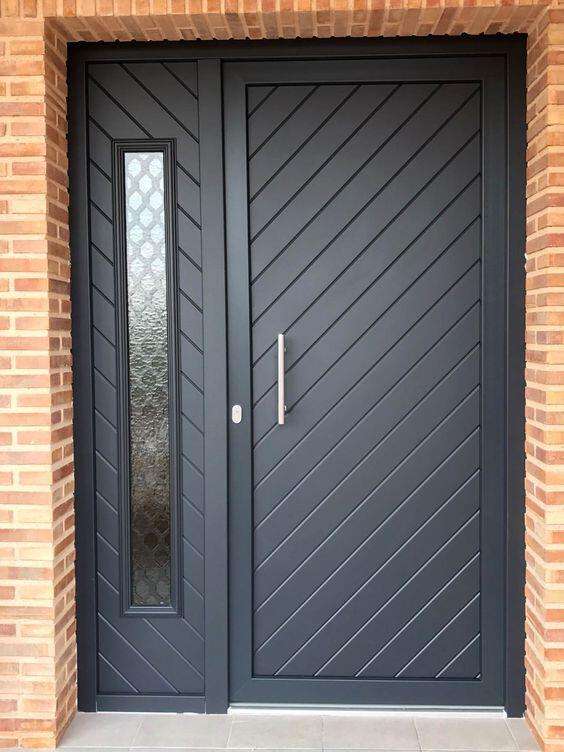 PHOTO: IRON WROUGHT DOORS
More Content You May Like
● 45 Modern Black Front Door Ideas (With Photos)
● 50 Wooden Main Door Design Ideas
● 75+ Enchanting Christmas Front Door Decor Ideas
● 24 Green Front Door Paint Color Ideas