20 Marvelous Living Rooms With Log Burners
If you're on the hunt for living rooms with log burners to inspire you, check out this post!
Or, if you simply want to know more about log burners before investing in one, we've got your back!
So, what is a log burner? 
A log burner, also known as a pellet stove or wood-burning stove, is a self-contained heating appliance. It blends cutting-edge technology with traditional wood burning.
How does it work?
This appliance is designed to produce indoor heat through wood combustion. The body of the stove is made from cast iron or steel which helps to contain the fire.
The heat produced from the burning logs radiates into the room, making it cozy and warm. The smoke from the fire goes out through the chimney.
Not only do they warm up a space but they can add a beautiful appeal to it too. Plus, the crackle of a log fire is soothing to the mind.
Dating back to the 16th century, the first wood-burning stove was invented in Strasbourg. Although it only gained traction 200 years later, during the Industrial Revolution.
Today, it is growing increasingly in popularity with homeowners due to the convenience and the stunning focal point it gives to a home.
Do you want to visualize how it will look in your living room before making that purchase?
In this article, we've curated 20 elegant living rooms with log burners to inspire you.
Whether you have a modern minimal home or a characterful traditional home, you will find fantastic ideas to inspire your living room design.
But first,
Is a log burner a good investment? Let's explore its pros and cons.
Pros of Log Burner
Energy Efficiency
Over the last few years, energy costs have skyrocketed in most countries around the world.
An efficient log burner eradicates the need for cranking up radiators. As a result, you'll be reducing energy costs– and therefore save money! Wood fuel has always been significantly less expensive than any other heat source.
For a clean heat source, consider investing in a modern eco-certified log burner (which operates at approximately 80% efficiency) and use thoroughly dried firewood.
Eco-Friendly
There are several misconceptions about the environmental impact of wood-burning stoves.
Modern wood-burning stoves and fireplaces offer a renewable, sustainable heat source with low emissions compared to their aging counterparts.
While they do not claim to be 100% eco-friendly, they are far more environmentally friendly than electric or gas heaters.
Cons of Log Burner
Preparation & Maintenance
Let's face it! If you're used to getting instant heat in your home by simply turning a dial, assembling firewood and lighting up a fire may be a hassle.
Additionally, cleaning up the ashes periodically is a chore– and there's no way around it.
Although some homeowners may consider preparing and maintaining the stove to be a more relaxing activity.
Living Rooms With Log Burners
Here are living rooms of various styles utilizing the wood-burning stove.
1. Log Burner in a Fireplace
A pellet stove can only be used in a house with a chimney. These houses often have a fireplace, which is the perfect home for a log burner.
The wood-burning stove installed in a fireplace is essentially a modern solution to warmth in a traditional setting. Plus, this installation is often a straightforward job.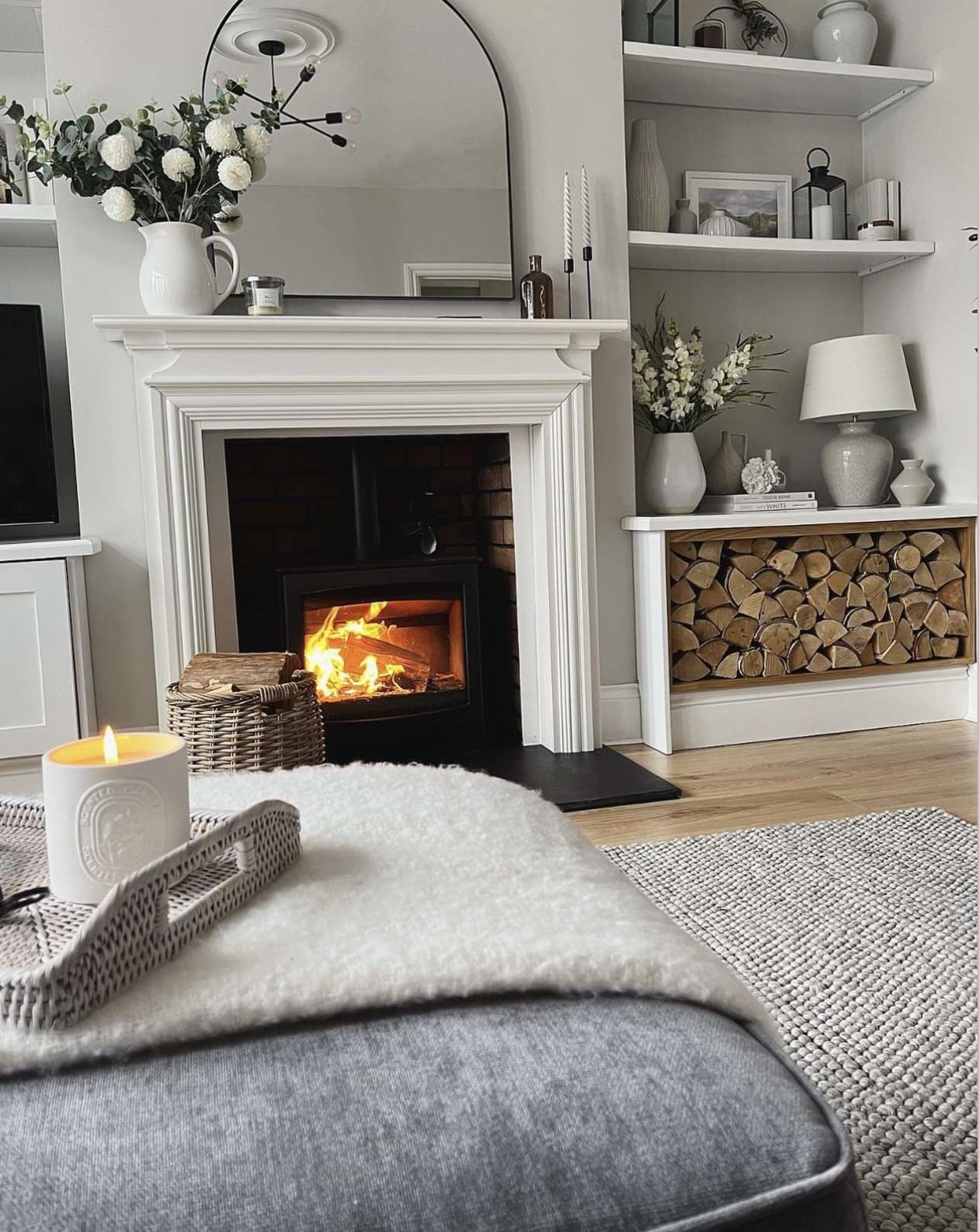 Source
2. TV Wall With Log Burner
If you're wondering if a TV can be hung on a wall with a log burner, the simple answer is YES! The fireplace wall is the focal point of the living and is often the best position for the TV as well.
However, it's important to consider various elements and take precautions to guarantee your TV's safety as well as the best possible viewing experience.
Some of these include using a heat shield, or a fireplace beam, and choosing a TV with the right temperature.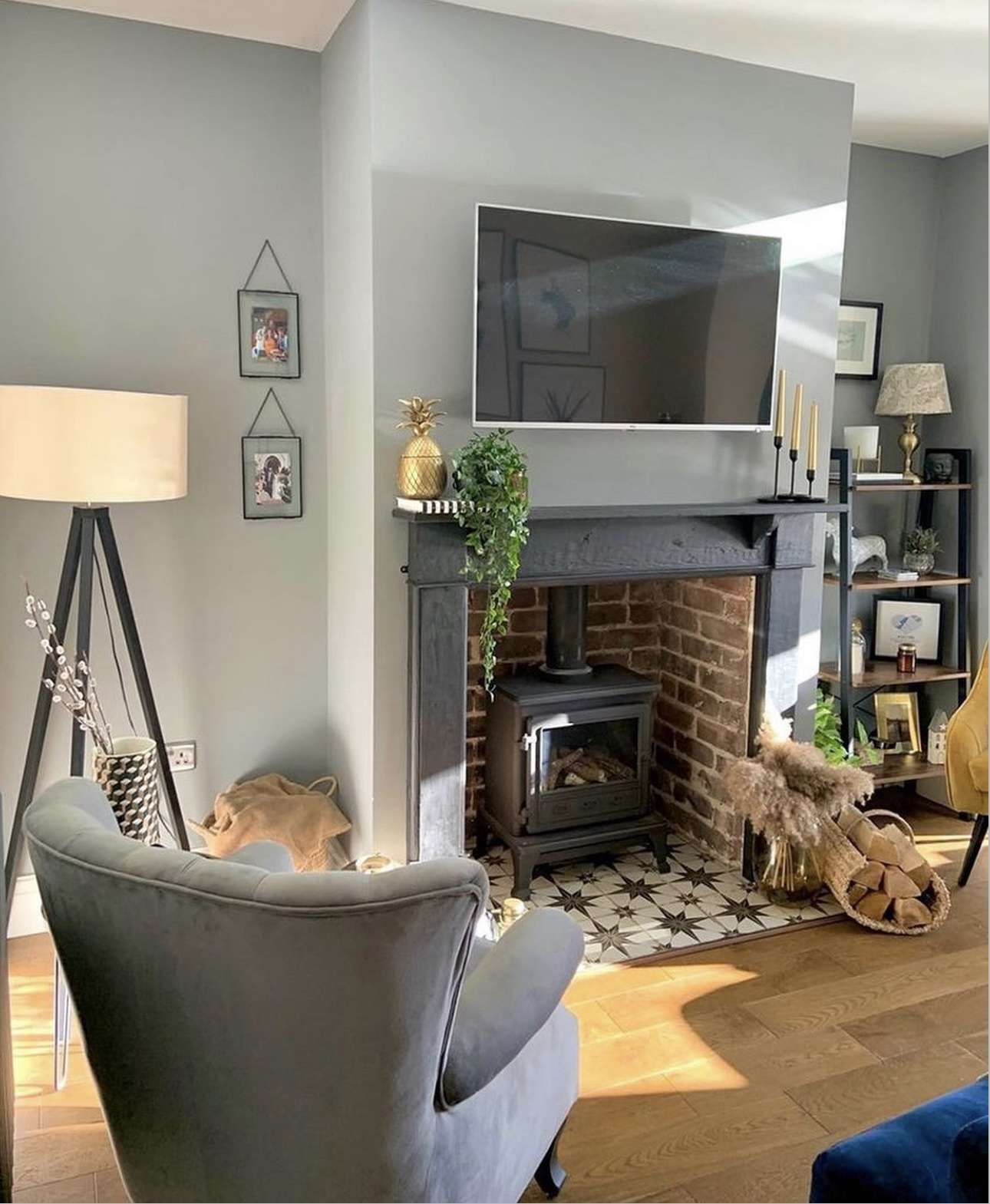 Source
3. Small  Living Rooms With Log Burner
Log burner work great for living rooms of all sizes. To determine the right size of the log burner for your space, measure the room (including the height of the ceiling).
You can determine the volume of your living room by multiplying the width, length, and height. Once you get the room's volume, divide the number by 14 to find out the required heat output in kW.
4. Moss Green Living Room
Moss green creates unique and eye-catching dynamics when used on interior walls. If you're looking for accent wall ideas for your fireplace wall, moss green should be on your radar.
The paint used for this elegant living room is Invisible Green by Little Greene.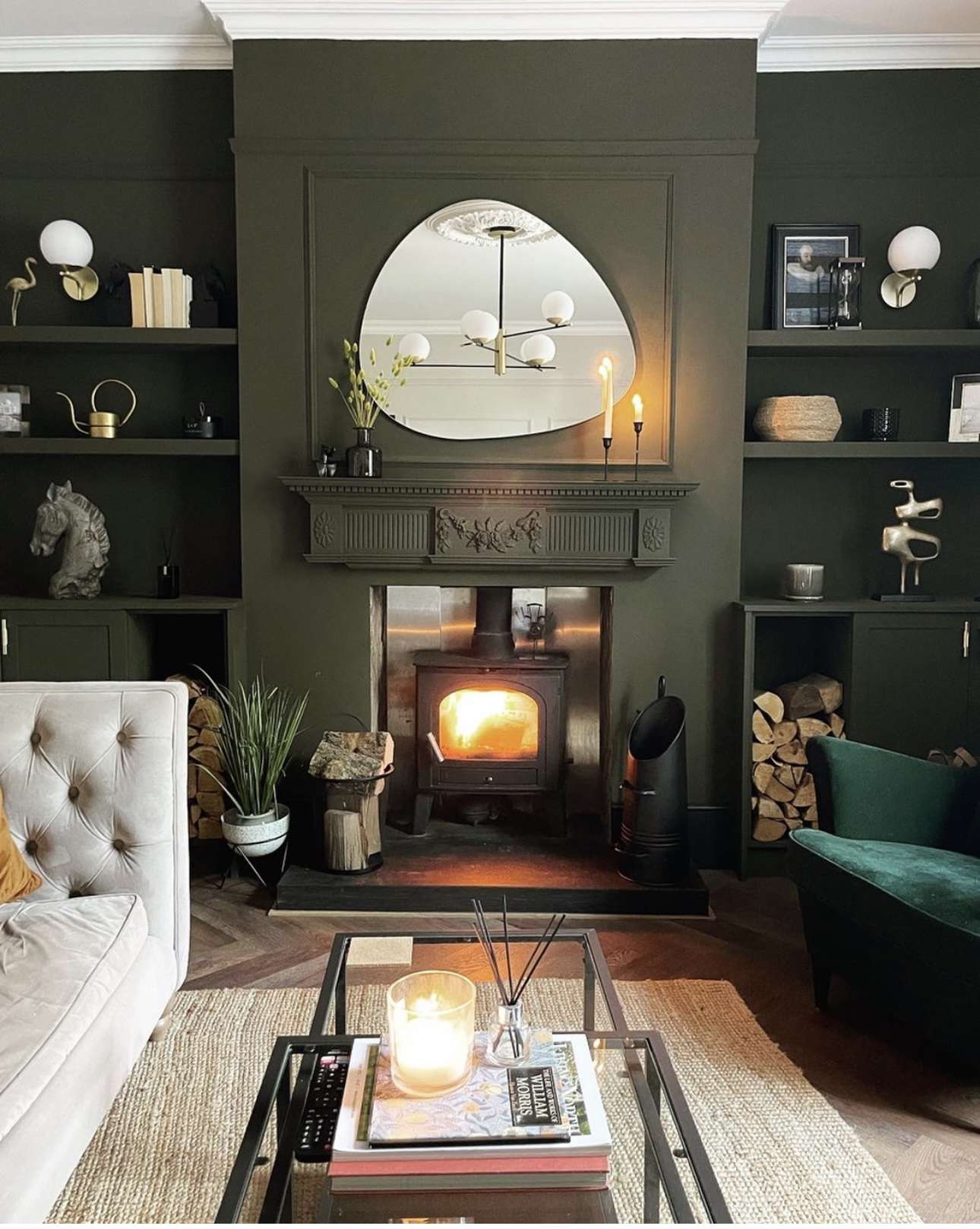 Source
5. Neutral Living Room
The classic black log burner can really stand out in the neutral-colored modern living room.
A neutral color palette is favored for its ability to visually calming, cohesive, timeless space that's easy to maintain.
Source
6. Light Blue Living Room
This light blue fireplace accent wall features Little Greene's Livid (light blue) and is paired with Slaked Lime (off-white) for a beautiful easy contrast.
Livid paint is a mid-tone, characterful yet soothing blue color, with a tinge of green and grey.  Slaked Lime on the fireplace surround is a warmer neutral paint that gives a soft appearance.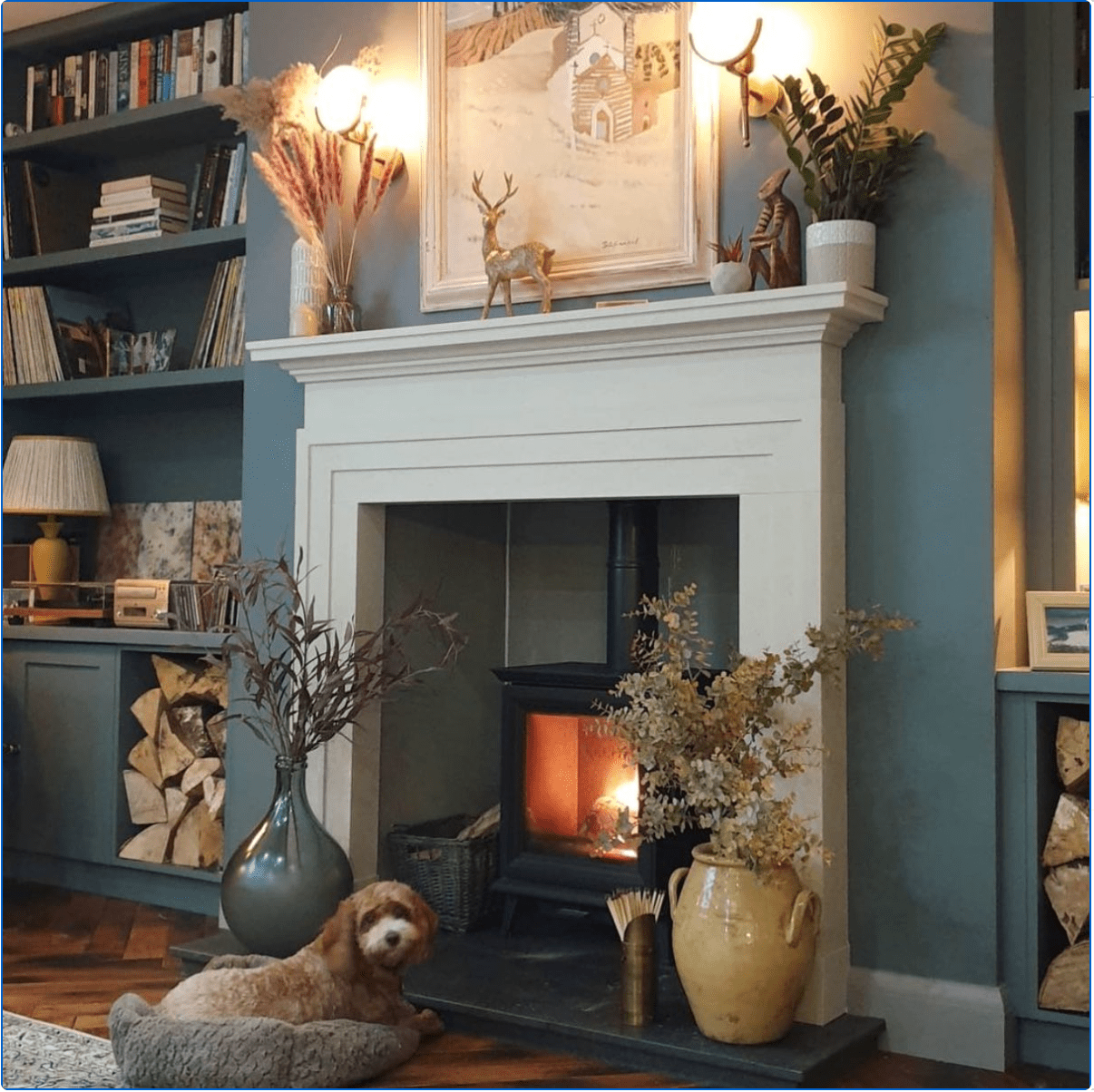 7. Grey Living Room
Grey is one of the most used neutrals when it comes to design, favored by interior designers and homeowners alike. This versatile hue never tires!
Grey is achromatic and does not reflect any color. This is what makes it a fantastic choice if you want to create an effortlessly chic living room with a log burner that can stand the test of time.
Check out these elegant grey two color combinations for living rooms.
Credit: Simon Whitmore
8. Navy Blue Accent Wall
There is an elegant feel about navy blue when used on interior walls. It is one of the most popular living room accent colors in contemporary homes.
If you're looking for sophisticated ways to style a living room with a log burner, navy blue may be perfect for you. It can instantly add a new character to an uninteresting minimalist living room.
Check out these elegant blue two color combinations for living rooms.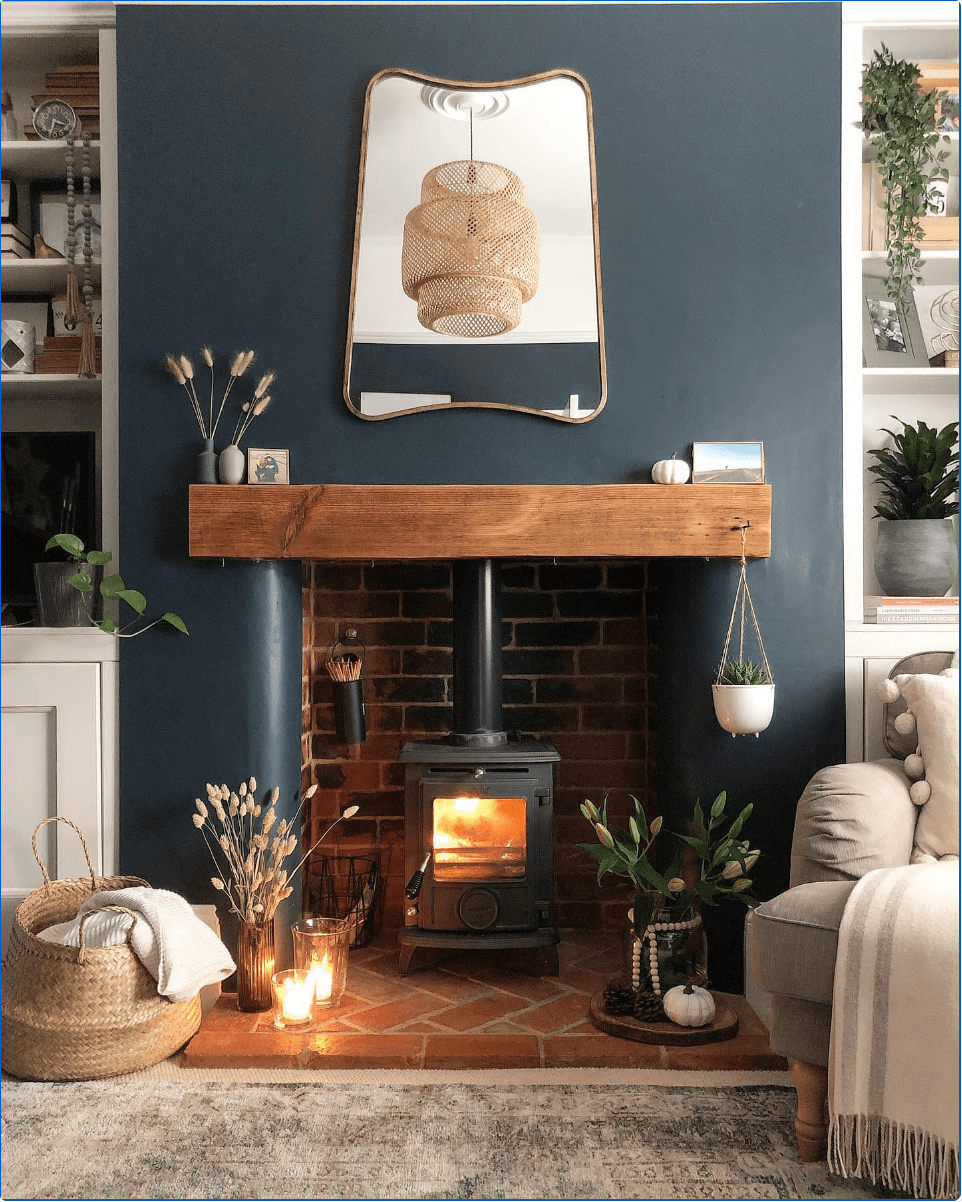 Source
9. Wall Molding
A beautiful way to add visual interest to a firepace wall is to add wall molding.
Wall molding is a decorative design element that can also conceal imperfections on your walls and make them appear higher and bigger (depending on the design).
10. Greige Living Room
The combination of grey and beige is known as 'greige'. The blend of gray to beige creates a richer and more intriguing neutral hue, that works perfectly in both warm and cool color schemes.
Greige is overwhelmingly popular because of its versatility and soothing qualities. So, if you're looking for the perfect base color for your living room with a log burner, greige may be ideal for you.
11. Shiplap Wall
A decorative wall that works great for a fireplace wall is a shiplap. A shiplap is a type of wood wall siding that has long, typically white, planks.
It is often horizontal with a small space between them to mimic exterior shiplap walls. This type of wall paneling gives a rustic, textured look while infusing warmth and aesthetic beauty to a room.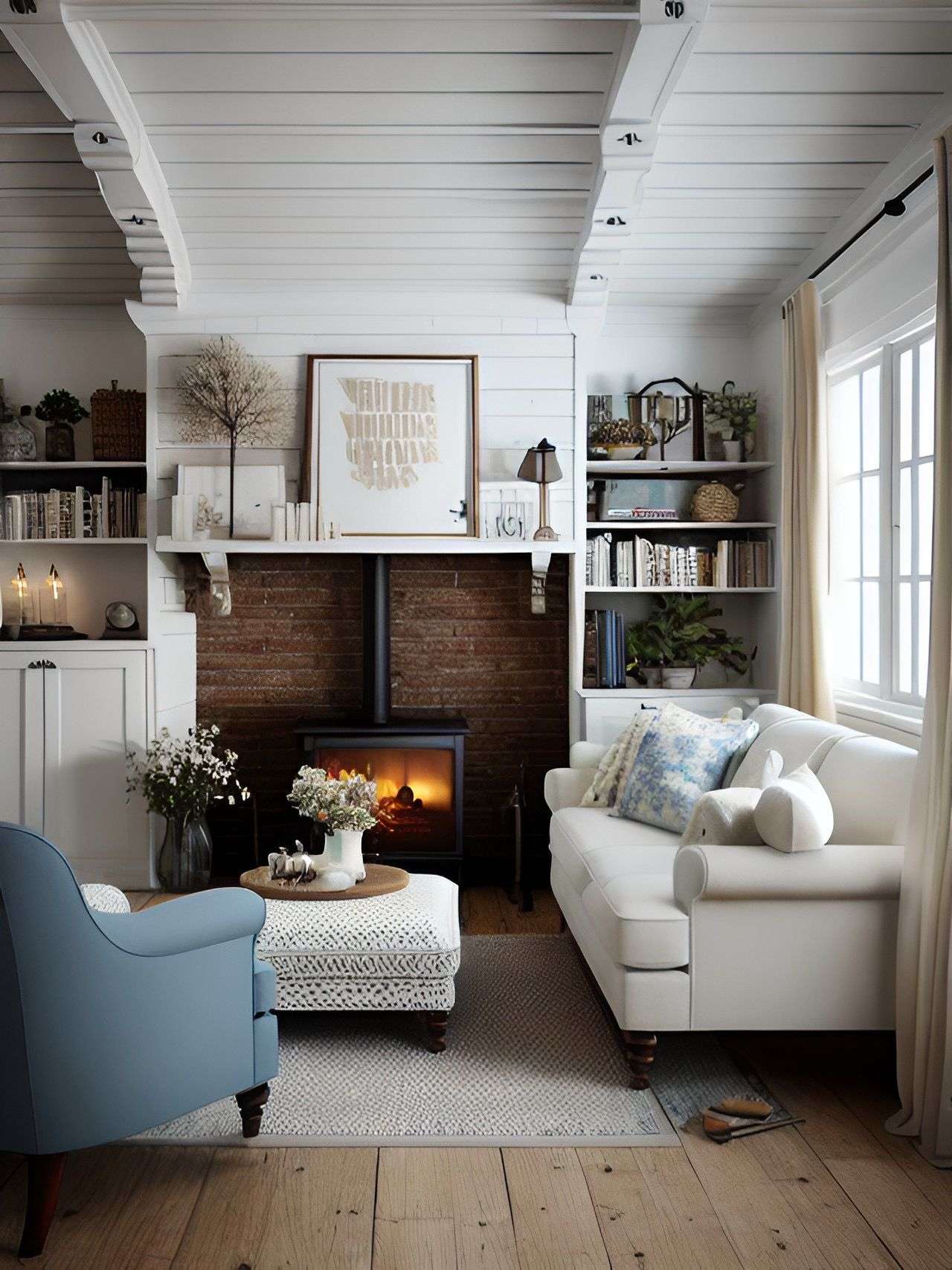 12. Aged Brick Fireplace Backdrop
To create a rustic space with an old-world appeal, consider an aged brick for the fireplace backdrop. Or, if you already have one in your home, this is a great way to style it.
This fireplace wall features crisp white wood paneling which gives the space a streamlined and clean appeal.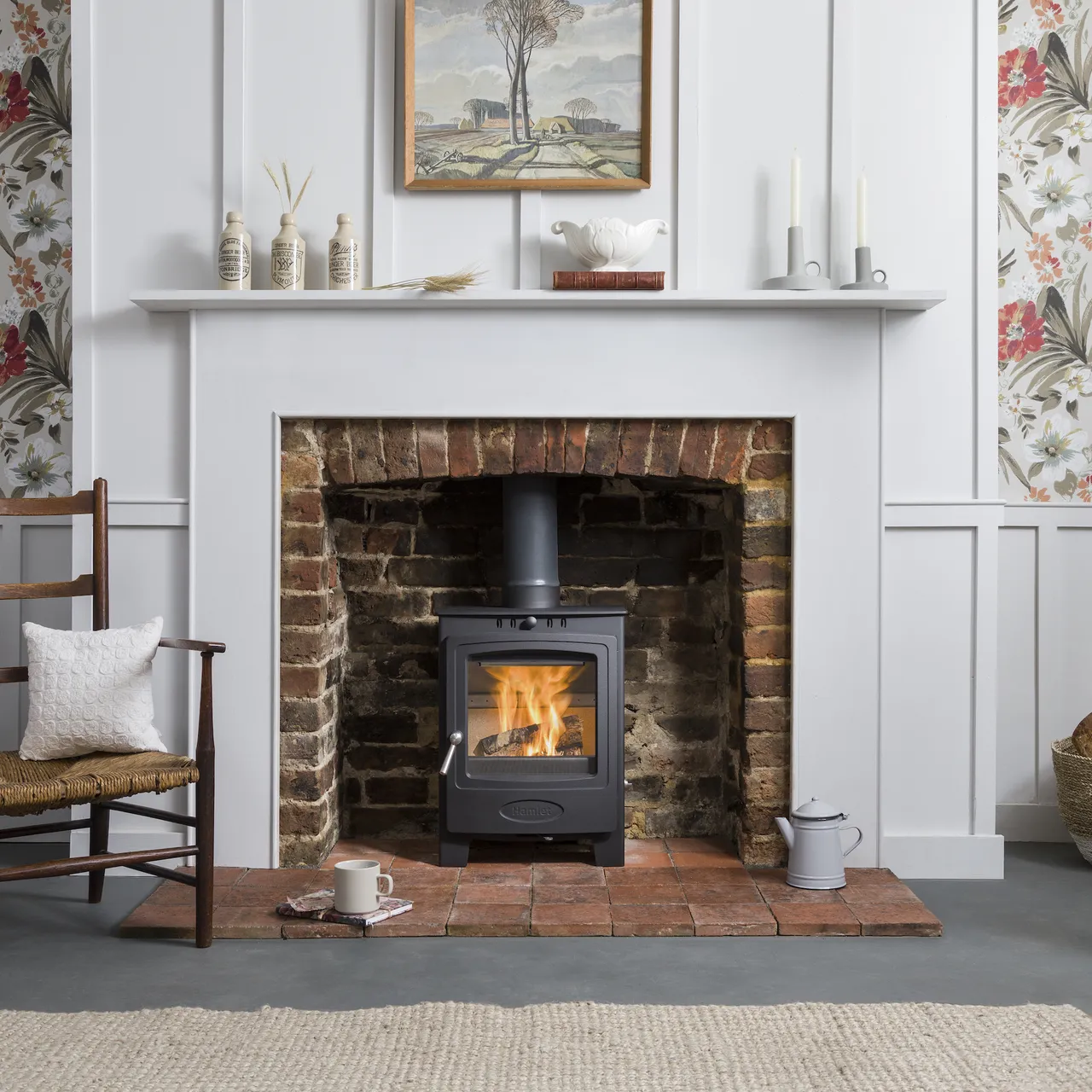 Credit: Arada
13. Freestanding Log Burner
For a contemporary and elegant appeal, consider a freestanding log burner. This type of heating appliance can placed almost anywhere within the home as long as it fits a flue.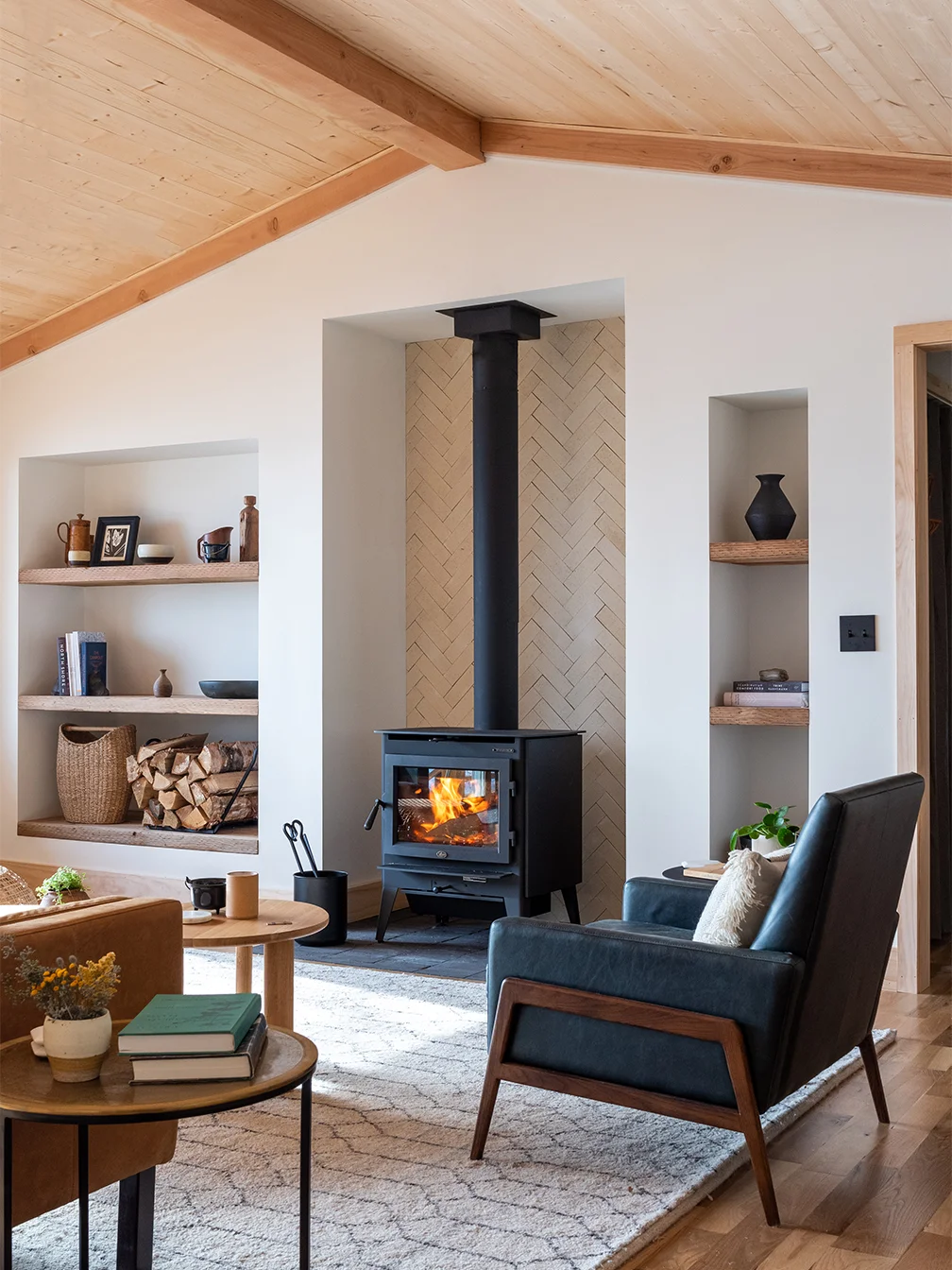 Source
14. Dark Blue Living Room
To create the perfect dark and moody living room, dark blue is often designers' go-to color. This shade of blue is the perfect combination of modernity and sophistication.
The dark blue is confused with navy blue because they have a similar, but not quite the same appearance.
While they are both dark blue shades, navy is the blue used for making naval military uniforms while dark blue is any dark shade of blue. Even so, both colors have many different shades.
Source
15. Wall Mounted Log Burner
A great way to save floor space and give your living room a contemporary feel is to invest in a wall-hung log burner.
This type of wood stove is perfect for small living rooms. It can make a space feel cozy in an instant while giving it an interesting focal point.
Source
16. Green Living Room
The color 'green' exudes an earthy sophistication. It is one of the most versatile non-neutral on the color spectrum.
Plus, according to color psychology, green communicates growth, health, and good luck. Some people believe that it promotes relaxation and productivity.
Check out these elegant green color combinations for living rooms.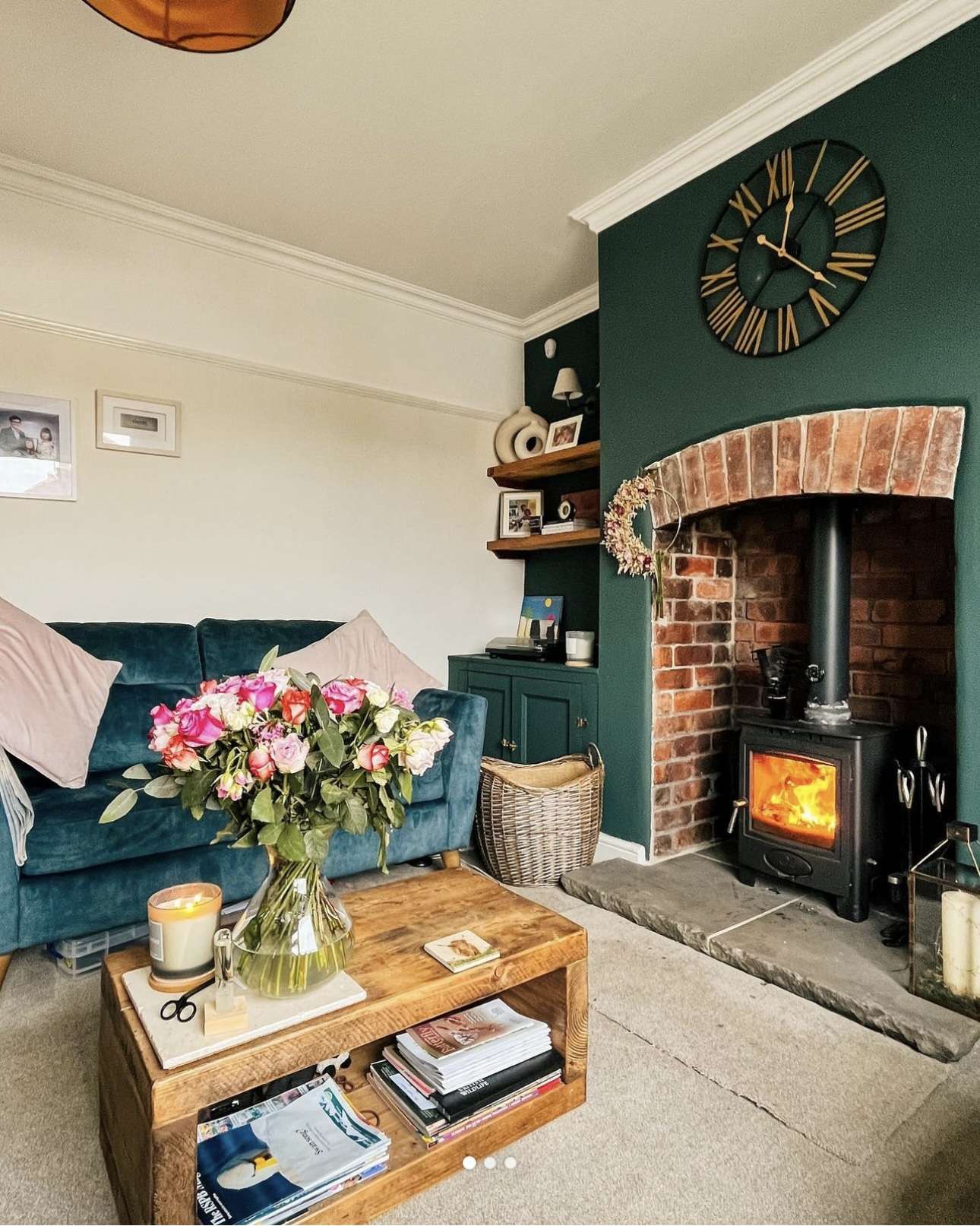 Source
17. Mirror Above Fireplace
The most common and elegant way to style a fireplace wall is to hang/place a mirror over it. Mirrors serve several functions in interior spaces.
From checking one's reflection to adding a style statement, there are many reasons to have one. Mirrors also reflect light, which in turn, makes a room feel more spacious, bigger, and brighter.
Source
18. Modern Minimalist Living Room
Embrace the 'less is more' aesthetics for for living room with a log burner. A living room design that encapsulates simplicity at its finest is often easier to execute.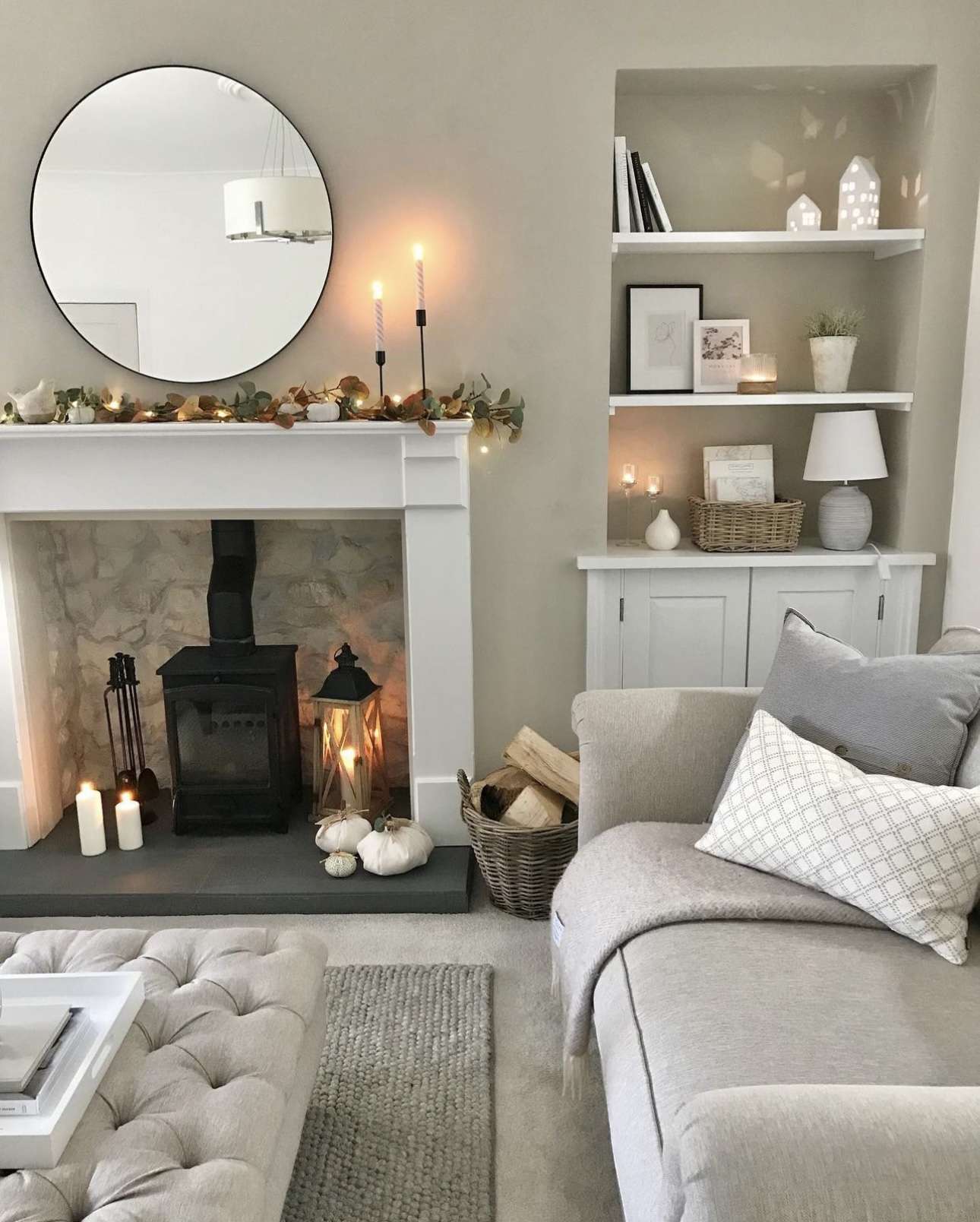 19. Beige Log Burner
Wood-burning stoves do not come in just black colors. You can opt for other colors to suit your aesthetic needs. However, black is much easier to clean and maintain. Plus, it helps to conceal stains better than bright-colored counterparts.
Source
20. Fireplace Log Burner with Front Bars
 If you're concerned about the safety of kids and pets, consider adding a front bar. Fireplace front bars provide an extra layer of safety for households with small children and pets.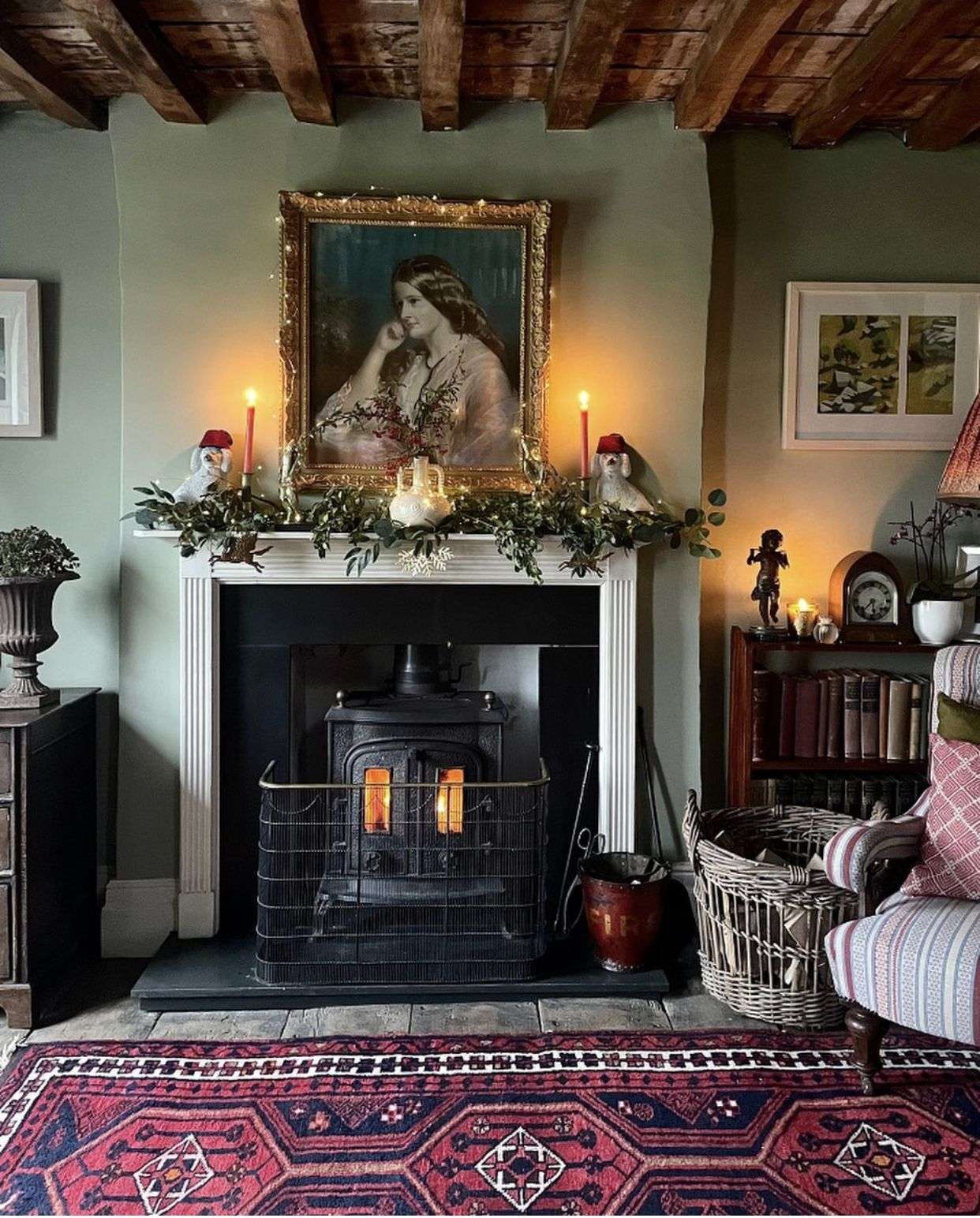 More Content You May Like
● 42 Simple POP Design For TV Wall
● 50 Modern Board and Batten Wall Ideas
● 50 Modern Two Colour Combination For Living Rooms